Hamlet
Mayhem and hilarity ensue when a scientist travels back in time and gets mixed up with characters from William Shakespeare's play, Hamlet! Guide the man from the future as he embarks on a mind-bending mission to save Hamlet's girlfriend, Ophelia, from the clutches of the evil Claudius. Solve a variety of cunning puzzles and advance from one sidesplitting scene to the next as you defeat bosses and overcome mental obstacles in this fun Adventure game.
Epic boss battles
Gorgeous artwork
Save Hamlet's girlfriend!
Game System Requirements:
OS:

Windows XP/Vista/7/8

CPU:

1.0 GHz

RAM:

512 MB

DirectX:

9.0

Hard Drive:

93 MB
Game Manager System Requirements:
Browser:

Internet Explorer 7 or later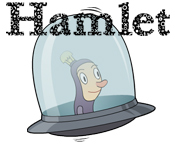 NEW299
The Big Fish Guarantee:
Quality tested and virus free.
No ads, no adware, no spyware.

Reviews at a Glance

Hamlet
0
out of
5 (
0
Reviews
Review
)
Customer Reviews
I love the game very much!
Beautiful, funny, and not that easy.
June 10, 2014
Fun Advanture Game
Try not to reveal details that would spoil a game's plot or story for someone who hasn't played it yet.
November 25, 2011
Quirky game
Stumbled upon this on my iphone but decided Id rather have it on a computer as I don't like adventure/H0Gs on the iphone screen. Too small in my opinion, prefer just arcade or word games. ANYWAYS, this game didn't get great reviews in the forums but I find it strange enough that I actually like it. Its out of the box and I like out of the box. You have to use your brain and then some! Its almost like using the illogical part of your brain. I felt stumped at first but then stopped trying so hard and looked at it the way a child would (and Im not saying its for kids) but with a very open and imaginative mind and then figured out how to play it. Its linear yes but its a puzzle and an adventure game in one. Me likey. And its on sale because of valentines. woohoo! =)
February 15, 2012
One of the few games that my kids play over and over
I had to do a couple of blog walkthroughs to figure some of the puzzles out but once you do it turned out to be a game that my kids love to play repeatedly. They go on to something else for a while but like coming back to it and racing each other on how fast they can complete it. There are definitely a variety of challenges in it. Overall I would recommend it just bear in mind you may have to search out a few answers as they challenges aren't always intuitive.
May 15, 2013
Polonius, Claudius, Ophelia and a Modern Day Bumbling Hero!
The evil Claudius and his partner in crime, Polonius, killed the king and queen, thereby forcing Ophelia to marry. When the handsome prince came to rescue her, a spaceship from the future fell on him and our modern-day bumbling hero now has the daunting task of rescuing Ophelia from a forced marriage. This is the corniest, silliest, ingenious and imaginative strategy and brain testing game I have ever come across. In each level, you have to figure out what to do and in what order to do it in to complete it and move on to the next level/task. Sound easy? Trust me, it is NOT - LOL. This is a game that will test your patience, strategizing and brain wave capabilities all the way. Unfortunately, my grey matter has lost a few cells along the way so I got stuck fairly early on, even after waiting forever and a day for the hint button to arrive so I could at least get a clue - and even that was more of a riddle than what you need to accomplish in the first place - lol. Please, please, please try this amusing and witty game of Hamlet and do your best to free the poor Ophelia from a loveless marriage. Good luck....and Happy Gaming!
July 6, 2014
Mix of the logical and illogical makes for poor gameplay
Like the first reviewer stated quite truthfully, Hamlet doesn't seem to follow the rules of puzzle design that you would expect in this kind of game, which is unfortunate because Hamlet could have been lots better had the developer only made it that way. And like another reviewer already said here, you really have to use the illogical part of your brain to get through some parts of this game. That's pretty sad because Hamlet had so much potential to be better than it is but it still holds some appeal for those who like to be challenged in this way. I took one star away because of its very short length. I finished the game in an hour and 15 minutes. Now that's not because of savvy gameplaying, as I actually couldn't get through this game without using the walkthrough. I had so much trouble with some of the strategy during the demo hour that I pulled up the walkthrough to get me as far as I could go within that hour. I liked the cartoonish graphics enough to want this game but I knew from reading the reviews both on the main page and in the forums that this game wasn't worth getting unless I bought it on a severely reduced sale as in a DD or COW, or by using a free game coupon. I used my coupon and I'm glad I did as I wouldn't have wanted to pay more than $2.99 for it otherwise. I took a second star away for the illogical thinking that's required for other parts of Hamlet. There's a section where you're in a maze and the directions you have to move the hero to are so irrational that you can't possibly get to where you need to go without looking at the walkthrough. There's only a few steps to take but choosing which room you'd go to if you were actually there is not what you have to do to get the hero out of it. Other areas involving an octopus and an hourglass were equally challenging just because it took SO long to get through them because you had to use perfect timing to click on just the right spots. And one other place has you clicking on musical notes that you need to do in rapid succession. You have to do this five times or the entire sequence starts over from the beginning. From the forums, I learned how to slow down this section by using a hint and I was able to get through it, but the other areas don't work that way and nothing can be skipped over in this game. A couple people in the forums said their elementary age children were able to play Hamlet within an hour after watching their parents play it through first. Personally, I find that hard to believe but then I'm no genius and I am humble enough to concur that some children may even be able to play this game better than some adults. Maybe that's why the one reviewer said you have to use the illogical part of your brain because we're thinking about it too hard. Children think on a more basic level and maybe Hamlet was designed that way. When I played it through the second time, I enjoyed it more since I knew what I had to do but I still needed the walkthrough to get through the maze and it still took me a long time to pass the octopus and hourglass sections. This is a game where you definitely have to think outside of the box but just be forewarned that it's a very large box. Maybe a better analogy is to think outside of the solar system as there are huge lapses in logic that you'll come across. Not in everything though but you'll see what I mean should you choose to try it. Do keep the walkthrough open during your demo hour as I think most players will need it. And I advise you to read through the reviews both on the main page and in the forums so that you can decide if it's worth your time. I have to admit that I do appreciate the colorful, cartoonish graphics and the animations in Hamlet and that's what holds its attraction for me. It's in a different genre than the hidden object adventure games I normally play and I was looking for something different. This is more of a puzzle game and Hamlet is definitely something different! However, it could have been a great classic had the story been longer and the gameplay more logical. The game is supposed to be a fractured, humorous retelling of Shakespeare's Hamlet but the title character has no prescense in the entire game other than a mention in the very beginning and ending. The main character is the "hero" who rescues Ophelia and even though I've never read the original story of Hamlet, I know that so much more of this game could have been fleshed out from the details of Shakespeare's story. I heard that there are three witches in the story but they are nowhere in this game. That's just one example of how they could have made the game longer and they didn't. I'm on the fence on whether or not to recommend Hamlet. It's worth trying the demo because you'll know for sure during that time whether it's something you'd want to play again and subsequently own. Like I said, I'm glad I used a coupon for it but don't know how many more times I'll actually play it again. Some sections are quite fun but my good time always gets ruined by the prolonged clicking that's necessary in the other areas. I still can't decide if the genius of Hamlet is in the logical vs. illogical design of the game or that you have to be a genius to play it without using the walkthrough. If I want to be honest, which I do, and still be objective on whether to vote "yay" or "nay" on Hamlet for the average casual gamer like myself, then I think I'll have to bow my head to the NAY side. There's just too much wrong with it, unfortunately.
April 4, 2013
Very neat looking game that doesn't respect the player
This game seems to go out of its way to break the rules of puzzle design and make it a very tough slog to finish. For instance, once you've clicked that object 40 times and gotten nowhere, what reasonable gamer would expect to have to just keep clicking? Or when you've observed a pattern 5 times and seen the same result, why would you keep staring to see a subtle shift? Games use a visual language and pace to help the player understand what's important. This game makes an art form of undercutting that visual logic. I can almost respect that as a subversive bit of commentary, but it doesn't make the game very fun to play.
June 27, 2012
Theme alright, puzzles too much "gotcha"
Got part-way into the game, but found that the puzzles tended to focus more on finding what's frobbable than on actually puzzling things out. Especially when the puzzle involves "click on this, then click on that within X seconds", it's annoying to have no clue as to what's clickable; and to make matters worse, some scenes have generic "click anywhere" actions that take quite a while to do. It gets tedious. However, there is something to this game that might have been more entertaining, had I stuck it out past the interface issues.
January 8, 2012
Impossible
I was really enjoying this game until I reach Claudius vs. Hero (see walk through). They made this level way too difficult. There are several music notes to click before they disappear and each time they increase in number. This would be possible if there wasn't a slowly waggling cursor and if they did not show up for a split second. Sure you can click the first one, but the subsequent one has 3, and then 4, an eventually up to 5 notes. There is no room for clicking error and oh yeah, the notes move around a little also so you have a split second to click a moving target accurately the first time. I usually like these types of games because they make you think, but this level was a sheer test of how fast you can click. The developers screwed up what started as a very enjoyable game. What a waste of money!
July 31, 2012
Didn't Like it at All
This is the only game I've ever reviewed on here, and I think it was awful. I'm very disappointed in it, and am frustrated it cost over $6.
August 3, 2014