Tiger Eye - Part I: Curse of the Riddle Box
Find mystery, magic, and tantalizing romance in this Hidden Object game! Play as the psychically-gifted Dela Reese and escape China with the love of your life! Dive into danger as Dela purchases an ancient riddle box, containing Hari, a 7-foot tall warrior who has been imprisoned for 2000 years. Help the two of them thwart assassins who seek the power of the box and find a way to return home in Tiger Eye - Part I: Curse of the Riddle Box!
Please note: this game contains romantic themes.
Romantic storyline
Gorgeous graphics
Dive into danger!
Game System Requirements:
OS:

Windows XP/Vista/8

CPU:

1.2 GHz

RAM:

512 MB

DirectX:

9.0

Hard Drive:

317 MB
Game Manager System Requirements:
Browser:

Internet Explorer 7 or later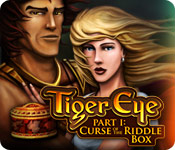 NEW299
The Big Fish Guarantee:
Quality tested and virus free.
No ads, no adware, no spyware.

Reviews at a Glance

Tiger Eye - Part I: Curse of the Riddle Box
0
out of
5 (
0
Reviews
Review
)
Customer Reviews
Tiger Eye - Part I: Curse of the Riddle Box
30
30
fun riddle
I really enjoyed this game the riddles were good you should have more like this one. When is part 2 coming out. people will enjoy this game
November 15, 2011
hidden romance
in this hidden object puzzle mystery, you are psychically-gifted Dela Reese and you are exploring China. the story begins when Dela purchases an ancient riddle box, only to discover that this teeny tiny box contains a 7-foot tall warrior named Hari who has been imprisoned inside for 2000 years. Hari has been cursed to be enslaved to whomever calls him forth from the box, and Dela was the lucky girl. in this game, you must help Dela and Hari escape would-be murderers who want to possess the box (and Hari). graphics: comic-book style art. although there weren't any junk piles to dig through, some of the hidden objects were difficult to find because they were not well defined. the item search lists were easy to remember because they took the form of "find ten of ....". many hidden object scenes included mini-games where you used items you found to assemble another item. the game also included a large variety of puzzles in a variety of forms -- puzzle boxes, doors, drawers -- and they varied in their level of challenge. some of these puzzles were new spins on old puzzles, which was fun. music and sound effects: nice, but not extraordinary. voiceovers are above average and the dialogue is realistic. storyline: although i am not a fan of romances, i am curious to know how this story progresses. i especially enjoy how Dela, our heroine, is no push-over! gameplay: there is a click penalty. hints are added by collecting hidden objects, solving puzzles and are also at the end of each level that you complete. if you manage to collect 50 or more unused hints, you unlock extras. i didn?t notice any freezes, stutters or hiccups whilst playing this game. my interaction: one hour demo. this is an interesting game in the sense that it includes scenes and words that some parents may deem inappropriate for young children. (although -- seriously -- kids see and hear far worse on TV and on the schoolyard every day!) however, that said, this game?s main strength is the storyline, so if you are a fan of romantic mysteries, then this just may be the game for you!
June 18, 2012
Romantic Love Girl Game!
This was like one of my steamy, girlie romance novels!!! LOVED IT!!! Puh-leeze BF..we need MORE like this! I believe it is so close to the novel as the author contributed to the game. (Which is why part 2 is so dissapointing - but that's another review elswhere!) The hidden objects were well incorporated into scenes, no junk piles and trash to dig through--yaay! The story carried you along and I was SO dissapointed and surprised when it ended! Cliffhanger alert!! The mini games were also incorporated into the scenes and you discovered them as you searched for HO's. So you could decide when to click on the mini game prompts to play them. I don't consider myself an "expert" but even the more daunting looking mini games were solvable without any skips! Joy! One of the more corny, dissapointing mini games though, was "dress Haji"....really?? I completed that challenge but found myself so embarrassed by it that when the Hubby came into the room I quickly turned off the game!! Not good! But everything else was so great it made up for that small irritation. There were VO's but not so much that you got bogged down. Plus you could read the dialog and speed it along if you wanted. I also loved that the female protagonist wasn't a simpering, dumb girl and she was the one that disabled bombs etc. and had the paranormal ability to solve problems and save the day! The game ends with a great cliffhanger that left me groaning when the game ended with our two character in peril! You really want to immediately jump into part 2....but that's another review!! I don't just recommend this game - I'm going to start playing it again right now!
June 13, 2012
Unique & fun game!!
This is an oldie but goodie. Its a puzzle game of sorts and it has an awesome love story entangled within it. It has a lot of dialogue between the characters but it has voiceover and the characters are interesting and attractive for cartoons LOL The plot line draws you in quick, there are lots of puzzles to solve but most aren't going to do your head in. There are also lots of items to collect and you use them to do the puzzles. I would rate this game 5 stars because thats how much I like it BUT I just played the sequel and the sequel is pretty awful especially compared to this one even though its just picking up where this one left off and this game ends with a cliffhanger so because part 2 of this game is so bad and this one leaves you hanging it changes how I feel about this game a little. In terms of gameplay, puzzles and the plot in this game, its a slam dunk, 5 star effort. A completely out of the box game especially for games that came out when this one did but even to this day, there aren't many games that have appealed to me the way this one has and Ive replayed it many times waiting for the sequel to come out and it has great replay value because if you get 50 hint points you can play in expert and the puzzles are even harder even though I have never been able to get 50 points because Ive needed help with other things in the game. BUT in terms of this game being a finished product, this game is not as it leaves you hanging and it left people hanging for years and then comes back with a lackluster sequel that tied up the story but killed all the things that were so great about this one so I can only give this 4 stars because even though this game is great, its ending 3+ years later is terrible so there is really no conclusion for a great game. Its such a shame. I completely recommend this game but you have to know that the sequel may disappoint the heck out of you.
July 26, 2012
Fantastic game has it all.
I really loved all the mini games. This was really excellent how they made so many parts of it, the story line the hogs, etc. The music was really good too. I ran into Tiger Eye part II first and saw the reviews and thought I would do part 1, then get part II. I just finished and want to play again. Excellent game!.
June 19, 2012
Where is part II ??!!!
I loved this game, the characters, story and the romance with s"xual innuendo. Very cute, hilarious and original. What I did to like is the HO scenes were almost impossible to see clearly due to the muddy graphic quality. Also, I completed the game and I'm still locked out of the extras. What's up with that? Also, too many of the same puzzles, let's put more variety in there please for the next game, it became a bit annoying and redundant. Definitely recommend this game and can't wait for the sequel, I just hope they upscale the graphics, make more crisp and defined and unlock the extra box when you finish the game!
June 2, 2012
Good puzzles
Overall this game was fun and I enjoyed the puzzles - challenging but not too hard to enjoy. I don't typically care for the stop-motion people graphics reminiscent of early gaming, and that is the only thing that would keep my from purchasing the next one.
May 25, 2012
Great puzzles
From the other reviews, you get the impression that there is a ton of romance in this game, a great storyline re: same, and all in all it's like playing a novel. The story is not to my tastes, but that's a personal judgment. It's okay, as romances go, kind of sweet, simplistic, kind of Harlequin (I assume, I should say, since I've never read one). The VO acting was well done, compared to some games when the VO folks are reading a script and many times reading it poorly. The artwork for the "personal storyline" scenes (as opposed to the game scenes) was kind of crude -- crude in quality, not in content :-). For me, all of that was irrelevant. The game play was what drew me in. You mostly find a list of 10 of this, 7 of that, over and over, in order that you can play the puzzles. Every scene has puzzles - puzzle boxes, puzzle doors, jigsaw-type puzzles, a variation on the pipes puzzle that gets more challenging as the game progresses. I was very impressed with the puzzles. They were not easy; they were fun to accomplish; they were often variations on standard puzzles, but unique variations. I had a great time with them, and was sorry that the game was over simply because I wanted more puzzles to solve :). Had a hard time rating this one. 4 stars because of the game play and the puzzles (a few of which should have received 5).
May 16, 2012
Compared to Part 2, this was just 'ok' for me....
If it weren't for the "adult content" overtones to this game, I would think it was aimed at kids more than grownups.... Precocious young teen girls would love it! :) If I could, I would've given Part 1 3.5 stars, but I just couldn't give it 4. I'm not much for gothic-type love stories, which is pretty much what this story line is.... If you like gothic novels, you might appreciate this game more than me... ;) Also, Part 1 does not have nearly the number of puzzles that the sequel does.... The graphics are beautiful but are mostly still pictures.... very little animation.... which is true of the sequel as well, but the puzzles save that one for me.... Anyway, it's worth buying and is fun, but doesn't rise to the level of its sequel imo....
July 18, 2012
Storyline...
Its storyline would be fine but those long conversations - I could barely wait for them to shut up! :D T he other side - this is not a bad game but I have had better before. I wonder if the sequel is an improved one?
May 12, 2012
The Apple logo is a trademark of Apple Computer, Inc.