Tiger Eye - Part I: Curse of the Riddle Box
Find mystery, magic, and tantalizing romance in this Hidden Object game! Play as the psychically-gifted Dela Reese and escape China with the love of your life! Dive into danger as Dela purchases an ancient riddle box, containing Hari, a 7-foot tall warrior who has been imprisoned for 2000 years. Help the two of them thwart assassins who seek the power of the box and find a way to return home in Tiger Eye - Part I: Curse of the Riddle Box!
Please note: this game contains romantic themes.
Romantic storyline
Gorgeous graphics
Dive into danger!
Game System Requirements:
OS:

Windows XP/Vista/8

CPU:

1.2 GHz

RAM:

512 MB

DirectX:

9.0

Hard Drive:

317 MB
Game Manager System Requirements:
Browser:

Internet Explorer 7 or later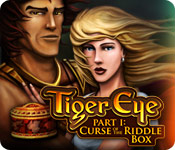 NEW299
The Big Fish Guarantee:
Quality tested and virus free.
No ads, no adware, no spyware.

Reviews at a Glance

Tiger Eye - Part I: Curse of the Riddle Box
0
out of
5 (
0
Reviews
Review
)
Customer Reviews
Tiger Eye - Part I: Curse of the Riddle Box
31
31
top fun
top game really want part 2 to come out
December 19, 2011
If you want the rest of the story...
Tiger Eye: The Sacrifice does continue this story, but with less interaction between Hari and Dela. It does have a satisfying conclusion, and both games follow the book fairly well. If you'd like to know the whole story, however (with a LOT more details--nudge, nudge, wink-wink), read the book by Marjorie M. Liu entitled just Tiger Eye. It covers both games. This was her first novel, but she's written several more in this series, although the main characters are different. I loved both games, but truly enjoyed the book and highly recommend it.
February 24, 2013
Great game!
Engrossing, lengthily story, a variety of mini games and some hidden object scenes made for a really enjoyable game. I had no problem completing the game, but if you need help, you can have lots of hints by doing the bonus rounds which involved quickly matching 2 or 3 of a kind. Hints help you with mini games, but you can also skip them if you like.
August 18, 2012
I enjoyed this game very much.
Loaded in and ran well with no problems. The graphics were clear and well defined. I have read complaints that some objects were hard to find but I found the way they were hidden fun and challenging. No junk pile but well hidden. My older eyes didn't have many problems finding anything. I enjoyed the mini games immensely. They played into the story well. Nice variations of all kinds. Only 2 hints used throughout game and thumped my head when I saw what I missed. Hints are added with every chapter so I'm not sure if you can run out. I never had a problem with it or the recharge. Cursor will go crazy for a very short time if you overclick. Had to find this out by intentionally fast clickling though as I never had it happen in the game. The story line is interesting and held my attention. I was sorry that this was a cliffhanger and was disappointed when it ended. I wanted to go on and find out the rest of the tale. The music was very complimentary to the story and not repetitive. Voice acting fairly well done. It was nice to see drawn expression and emotion as opposed to stoic faces. The length was worth the cost. No short game here. It took me about 5 hours but I'm fairly quick with HOGS and had gotten up from my desk quite a few times for varied reasons. The "Romance" warning had to do with comic book style kissing and a few suggestive comments but on the whole very tame. Looking forward to Part 2.
November 11, 2011
Steamy, story-based adventure, so-so visuals, okay gameplay.
This adventure is apparently actually based on a book, so story is paramount here. The quality of the story isn't very strong, but goofy fun with a little R rating thrown in. I'd probably buy the next in the series if it's made available, mostly because the idea of "romantic" content added to a hidden object game kind of amuses me. The graphics are fairly crude and cartoony, which can make searching for hidden objects quite frustrating. Lots of puzzles, which I like.
November 23, 2011
Can't wait for the sequel
Warning - this game ends in a cliff hanger. The story line is excellent, although I wished I could have fast forwarded through some of it. Lots of very good puzzles some of which were very challenging. The Hidden objects were frequently hidden by making them the same color as the background. You get hints by collecting objects and solving puzzles. The more hints you collect the more pages in the notebook you open. This provides extra story background. The artwork is very comic book, but it fits the story. The music is OK. The sound quits for some people occasionally, but you just have to quit and restart and you get it back. Hope the sequel is out soon.
December 27, 2011
Fun
I love these types of games. Good amount of puzzle and hidden object games. Cant wait for the next game. I actually bought all of the books because of this game.
November 14, 2011
hidden romance
in this hidden object puzzle mystery, you are psychically-gifted Dela Reese and you are exploring China. the story begins when Dela purchases an ancient riddle box, only to discover that this teeny tiny box contains a 7-foot tall warrior named Hari who has been imprisoned inside for 2000 years. Hari has been cursed to be enslaved to whomever calls him forth from the box, and Dela was the lucky girl. in this game, you must help Dela and Hari escape would-be murderers who want to possess the box (and Hari). graphics: comic-book style art. although there weren't any junk piles to dig through, some of the hidden objects were difficult to find because they were not well defined. the item search lists were easy to remember because they took the form of "find ten of ....". many hidden object scenes included mini-games where you used items you found to assemble another item. the game also included a large variety of puzzles in a variety of forms -- puzzle boxes, doors, drawers -- and they varied in their level of challenge. some of these puzzles were new spins on old puzzles, which was fun. music and sound effects: nice, but not extraordinary. voiceovers are above average and the dialogue is realistic. storyline: although i am not a fan of romances, i am curious to know how this story progresses. i especially enjoy how Dela, our heroine, is no push-over! gameplay: there is a click penalty. hints are added by collecting hidden objects, solving puzzles and are also at the end of each level that you complete. if you manage to collect 50 or more unused hints, you unlock extras. i didn?t notice any freezes, stutters or hiccups whilst playing this game. my interaction: one hour demo. this is an interesting game in the sense that it includes scenes and words that some parents may deem inappropriate for young children. (although -- seriously -- kids see and hear far worse on TV and on the schoolyard every day!) however, that said, this game?s main strength is the storyline, so if you are a fan of romantic mysteries, then this just may be the game for you!
June 18, 2012
Unique & fun game!!
This is an oldie but goodie. Its a puzzle game of sorts and it has an awesome love story entangled within it. It has a lot of dialogue between the characters but it has voiceover and the characters are interesting and attractive for cartoons LOL The plot line draws you in quick, there are lots of puzzles to solve but most aren't going to do your head in. There are also lots of items to collect and you use them to do the puzzles. I would rate this game 5 stars because thats how much I like it BUT I just played the sequel and the sequel is pretty awful especially compared to this one even though its just picking up where this one left off and this game ends with a cliffhanger so because part 2 of this game is so bad and this one leaves you hanging it changes how I feel about this game a little. In terms of gameplay, puzzles and the plot in this game, its a slam dunk, 5 star effort. A completely out of the box game especially for games that came out when this one did but even to this day, there aren't many games that have appealed to me the way this one has and Ive replayed it many times waiting for the sequel to come out and it has great replay value because if you get 50 hint points you can play in expert and the puzzles are even harder even though I have never been able to get 50 points because Ive needed help with other things in the game. BUT in terms of this game being a finished product, this game is not as it leaves you hanging and it left people hanging for years and then comes back with a lackluster sequel that tied up the story but killed all the things that were so great about this one so I can only give this 4 stars because even though this game is great, its ending 3+ years later is terrible so there is really no conclusion for a great game. Its such a shame. I completely recommend this game but you have to know that the sequel may disappoint the heck out of you.
July 26, 2012
Good puzzles
Overall this game was fun and I enjoyed the puzzles - challenging but not too hard to enjoy. I don't typically care for the stop-motion people graphics reminiscent of early gaming, and that is the only thing that would keep my from purchasing the next one.
May 25, 2012
The Apple logo is a trademark of Apple Computer, Inc.