Tiger Eye - Part I: Curse of the Riddle Box
Find mystery, magic, and tantalizing romance in this Hidden Object game! Play as the psychically-gifted Dela Reese and escape China with the love of your life! Dive into danger as Dela purchases an ancient riddle box, containing Hari, a 7-foot tall warrior who has been imprisoned for 2000 years. Help the two of them thwart assassins who seek the power of the box and find a way to return home in Tiger Eye - Part I: Curse of the Riddle Box!
Please note: this game contains romantic themes.
Romantic storyline
Gorgeous graphics
Dive into danger!
Game System Requirements:
OS:

Windows XP/Vista/8

CPU:

1.2 GHz

RAM:

512 MB

DirectX:

9.0

Hard Drive:

317 MB
Game Manager System Requirements:
Browser:

Internet Explorer 7 or later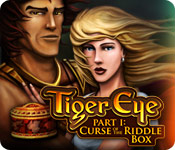 NEW299
The Big Fish Guarantee:
Quality tested and virus free.
No ads, no adware, no spyware.

Reviews at a Glance

Tiger Eye - Part I: Curse of the Riddle Box
0
out of
5 (
0
Reviews
Review
)
Customer Reviews
Tiger Eye - Part I: Curse of the Riddle Box
31
31
Great puzzles
From the other reviews, you get the impression that there is a ton of romance in this game, a great storyline re: same, and all in all it's like playing a novel. The story is not to my tastes, but that's a personal judgment. It's okay, as romances go, kind of sweet, simplistic, kind of Harlequin (I assume, I should say, since I've never read one). The VO acting was well done, compared to some games when the VO folks are reading a script and many times reading it poorly. The artwork for the "personal storyline" scenes (as opposed to the game scenes) was kind of crude -- crude in quality, not in content :-). For me, all of that was irrelevant. The game play was what drew me in. You mostly find a list of 10 of this, 7 of that, over and over, in order that you can play the puzzles. Every scene has puzzles - puzzle boxes, puzzle doors, jigsaw-type puzzles, a variation on the pipes puzzle that gets more challenging as the game progresses. I was very impressed with the puzzles. They were not easy; they were fun to accomplish; they were often variations on standard puzzles, but unique variations. I had a great time with them, and was sorry that the game was over simply because I wanted more puzzles to solve :). Had a hard time rating this one. 4 stars because of the game play and the puzzles (a few of which should have received 5).
May 16, 2012
Ambivalent
This game has much to recommend it and just about as much that is disappointing. I enjoyed the puzzles. They are challenging, varied and plentiful. The HO scenes are also challenging and different than most. The music was unobtrusive and soothing. Now we come to my real complaints. This game was one that I thought a kid could play without being freaked out by werewolves or ghosts, etc. Wrong. The comic book style graphics and choppy action weren't all that great (or to my taste, I should sayk) and the story gets "mushy" way too fast. Also, be prepared for a continuance because the game just leaves you hanging. The last disappointment was the extra levels that you could open up if you gathered enough PSI points. Not worth it! All this said, I'd still recommend it.
November 1, 2012
Half a game
I don't mean it's short, but it ends in a cliffhanger, and you have to buy the sequel in order to finish the story. Such as it is. A previous reviewer called it sticky and cloying, and I have to agree. I don't mind a good love story, but this was over the top sentimental. What I did like about the story was the setting (China), the lack of junk piles, and the mini-games. Too many mini-games for my taste, but they were good, and stretched my brain a bit. So I suppose I'll spend my voucher on the sequel, and play to the end. And try not to gag when the main characters stare at each other idiotically, and talk about shape-shifter kisses, which apparently are much superior to the human variety. Eeeeeuuuu.
March 6, 2013
Another mushy sheila's game
This games promo advertised the fact that it had romantic overtones but at the start this was not at all evident. You have to help Dela solve the puzzles of an accient riddle box that had imprisoned a 7 foot warrior for 2000 years and overcome various attempts to thwart her gaining the big fellas freedom. This game contains lots of character voice overs and written dialogue as well. It was only in about the middle of the game when things started getting really mushy. All this reading about smoochy stuff is for the shelias it is not my type of game. I have written this review without having completing the game because it has started to turn me right off. I may go on and finish it at a later date. The graphics are not that clear and are a bit hazy but most of the drawings are fairly well distinguishable. This makes most of the hidden objects quite difficult to find in the shadows. The puzzles require some thought but you can buy hints if and when they are needed. Started off o.k. but then deteriated rather rapidly.
December 23, 2012
Storyline...
Its storyline would be fine but those long conversations - I could barely wait for them to shut up! :D T he other side - this is not a bad game but I have had better before. I wonder if the sequel is an improved one?
May 12, 2012
Compared to Part 2, this was just 'ok' for me....
If it weren't for the "adult content" overtones to this game, I would think it was aimed at kids more than grownups.... Precocious young teen girls would love it! :) If I could, I would've given Part 1 3.5 stars, but I just couldn't give it 4. I'm not much for gothic-type love stories, which is pretty much what this story line is.... If you like gothic novels, you might appreciate this game more than me... ;) Also, Part 1 does not have nearly the number of puzzles that the sequel does.... The graphics are beautiful but are mostly still pictures.... very little animation.... which is true of the sequel as well, but the puzzles save that one for me.... Anyway, it's worth buying and is fun, but doesn't rise to the level of its sequel imo....
July 18, 2012
Harlequin Romance? Modified HOS? Hard to care now...
First of all - my bad for relying on reviews rather than trying the demo first. I don't like the hassle of demoing then buying and find that the reviews typically give a rounded perspective so it is rare that I get something I don't like. However this time I was a little too quick on purchase button or maybe I was attracted by the siren song of different and complex mini-games.... For the romantics out there turned on by cut scenes of cartoon characters whispering sweet nothings to each other in between bombings and ninja style supernatural attacks, read no further. 'Nuff Said. This is the game for you. For those of us who stay away from the cloying, sticky sentiments, these are the things I did not enjoy: --Not much depth, complexity, or variety in scenery and music. Scenes were recycled for multiple rounds. Don't know about anyone else but I really got sick of that hotel room. -- HOS? None of the traditional. This was pure find x number of a given thing. -- Also, I confess, this is a pet peeve for me --there was a lot of actual work involved- fixing taxis, cash registers, acting as a clerk in a clothing store, finding suits to dress our hunky animated shape shifter who has been traipsing around in a towel. Remember Race from Johnny Quest? Hari is not unlike that. Who wants to do real world work during game play? To carve out time to play this game I ignored a full laundry hamper, dishes in the sink, and the rest. After all the day-to-day work in the game I definitely needed a Calgon moment. --On to the Game Play - It was Lather, Rinse, Repeat: 1) The main character gets a psychic impression from a metal weapon which tells her what needs to happen next. 2) Next there is a cut scene filled with a mixture of whispered sweet nothings between our hunky, mostly towel covered shape shifter and our perky heroine and interruptions by squinty-eyed evil people planting bombs and using ninja style weaponry. 3) With cut-scene over, the gamer is told to disarm x # of bombs, find x number of itsy-bitsy-teeny items such as 12 cylinders, pieces of paper, toys, faces, and on and on in scenery we have seen many times. If you didn't use glasses at the start of the game you will if you are able to stick around for the finish. 4) Amid finding these various items puzzles and mini-games would pop up all over the place. Many of these were fun, creative, and increased in difficulty as the game progressed - all good stuff there. Games who don't like scrabble, boggle, or other word games will probably make good use of the skip button. 5) Level completion pops up, then we all go back to #1 with a lovey-dovey cut scene interrupted by those pesky bad guys with poor timing. Besides liking many of the puzzles, I also liked that this game structure dared to be different. I admire a company and the obviously talented staff that aren't afraid to change things up a bit. Hopefully we will see lots more bigger and better things from these guys once they get the training wheels off. suggestions - Explore fragmented object, provide a map that allows movement from one area to the next, and a "done" section for areas where there will be no more game play. Having said all of this I can recommend this game only to the hard core Harlequin Romance gamers and that is not me.
July 1, 2012
Once was enough
I didn't like this game much. Felt it was too heavy on the mush and unfortunately, no skip for the dramas in between. I could barely wait for the end and was glad when it did.
February 4, 2012
Eyestrain, mostly
In order to explain why I do not recommend this game, I do describe some of the first scene. So slight spoiler. It is too bad that my first Big Fish review has to be so negative. First scene. You are in an alley lined with shops. You are looking for objects from the perspective of standing at the end of this alley. You cannot zoom in on any of the shops. So, because of the perspective, the objects? sizes are from small to tiny. And I have a 27-inch monitor, so they are REALLY tiny. Initially, you are looking for 5 gold statutes, which are not gold, but brown, 10 bladed weapons, which are dark gray and dark brown instead of metallic and shiny, and a very small gold key. The backgrounds of the shops are neutral colors, like brown. There are often overhanging archways/roofs that the shops sit under. And these overhangs make the neutral colored shop walls dark and shadowed. So, the items you are looking for are 1) tiny, 2) dark, 3) not the colors that their titles say they are, and 4) nestled into areas that are similar colors. Even though I prefer hidden object puzzles where you find related or similar objects as opposed to a whole list of unconnected things, this was no fun, only eyestrain. I would never have found the key, even, if the game had not gratuitously offered me a hint that I could pick up useful objects and pointed a bouncing arrow at the key as an example of such an object. Also, the click penalty is more annoying than most. Bad planning, I think, when objects are practically invisible. And the hint system is one of those ones where you start with some hints and earn more (very slowly) as you go along. I used three hints in the first round, and you only start with five. Plus, objects did not look the way I expected. For example, sheet music was rolled up like a scroll. I knew where that roll was, but did not recognize it as sheet music, and so wasted a hint to find it. Second scene. When you complete the first round, you are whisked away to a discussion with an old Chinese woman who promises items you can obtain to help in your quest (whatever that was supposed to be, I never did figure that out.) ?Oh, good,? I thought. But instead, I was taken back to the same exact alley from the exact same perspective as before to look for the objects the old Chinese woman promised. That, fellow gamers, was it for me. Unfortunately, I bought this game on one of the 5-minute special deals. I think I better not indulge in those deals any more even though I did look the other reviews here before I bought it. After playing, I am surprised at the overall high rating of 4. Deleted.
May 6, 2014
If you like the book.. STAY AWAY!!!
When I first saw that there was a game made from one of my favorite books I was beyond excited! Then I started playing them.. I could barely make it through the games. Characters were missing, the storyline was all wrong.. Some of the book was followed.. But 99% wasn't. I figured it was probably just someones take on the book.. I was wrong.. I was very disappointed when I found out the author of the book "wrote" the game. If you are a fan of the book I don't recommend wasting your money on this. If you have never read the book the game could be fun for you.
November 18, 2012
The Apple logo is a trademark of Apple Computer, Inc.