Haunted Manor: Lord of Mirrors
Help Stan Riddle escape the Haunted Manor! After being trapped by the Lord of Mirrors, Stan needs you to guide him to safety! Use your Hidden Object skills to find valuable items and piece together perplexing puzzles. Discover why a beautiful mansion has been abandoned and what caused the owner to disappear. Come up with a clever escape plan to reach your friends in Haunted Manor Lord of Mirrors!
Tricky puzzles
Escape the Haunted Manor!
For a more in depth experience, check out the Collector's Edition
Game System Requirements:
OS:

10.4

CPU:

800 Mhz

RAM:

256 MB

Hard Drive:

265 MB
Game Manager System Requirements:
Browser:

Safari 4.0 or later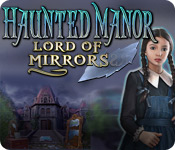 NEW299
The Big Fish Guarantee:
Quality tested and virus free.
No ads, no adware, no spyware.

Reviews at a Glance

Haunted Manor: Lord of Mirrors
0
out of
5 (
0
Reviews
Review
)
Customer Reviews
Haunted Manor: Lord of Mirrors
52
52
Surprisingly Good Graphics, Very Simple Gameplay
I would never have thought to buy this one if it hadn?t been on sale at the same time the sequel, Queen of Death, but I?m not unhappy I did. It offers a different style of gameplay than I?d prefer, but of its type, I think it?s outstanding. The first surprise was the clarity of the graphics. I don?t know how old this game is, but it seems to me that games of the same ilk never come close to the purity of this game?s artwork. It is excellent craftsmanship rather than art, but still impressive. Music includes ?Requiem?, very spooky. I?d like to see more game developers use the very dramatic music offered by the classics. I loved the story concept. Spooky manor, evil mirror, other trapped souls both good and evil. Good stuff. Travelling from room to room via mirrors is an exceptionally fun device. It also worked well with the linear gameplay. Each room is a separate chapter in itself, and each chapter is completed within that room. You have 2 HO searches and a couple of puzzles in each ? all easy - with a little point and click to get you through the middle bits. The thing that sets it aside in terms of the gameplay is that you are given a list of the items needed outside the HO scenes as well as within. This seriously simplifies the game and would put off experienced gamers, and is the reason I wouldn?t recommend it, to them it?s worth no more than three stars. I wish, though, that I?d known about this game when I first started on HOPA games after getting my feet wet with pure HO games. I had a terribly frustrating time figuring out the adventure parts of games. And the puzzles, even today, often still get the better of me. This game is the answer to a prayer for new gamers. It is excellent practice ? particularly seeing the game style is repeated over many chapters. For newbies, the game deserves five stars. I also loved the finish of this one, and if I hadn?t already decided to purchase the sequel before playing Lord of Mirrors, I would have on the strength of the potential of the story. So, three stars or five? Split the difference, four stars. If you?re still a bit muddled, I would highly recommend this game and if you?re not I wouldn?t recommend it at all.
January 18, 2012
Upside? They have great sound effects for haunted house
I must have completely misunderstood. I was led to believe this was an adventure game with some HOG. It is listed under adventure games yet when curser is placed over top it shows hidden object. Okay they all do that, but usually they give you an opportunity to actually do some investigating. This game is one hidden object scene after another, no kidding. You travel from room to room after you sweep dust off a mirror with a brush that you pick up. When you arrive in a room you are told what you need to do. You then you are given a list of items items necessary to accomplish this task. Then you get the sparkles and another list to find hidden objects. Then you go back to the room and are told to do X with whatever hidden object you were told to find. Basically you are told what to do and where to find what you need to do it with. This is not an adventure game! It is strictly a hidden object game. I personally prefer to enter into a room and search/investigate. I like to find the items myself and then figure out what to do with them, and I can put up with some HOG?s. I have enjoyed the top 10, they have a nice balance of the two genres. This game does not. If you love adventure, you will not find it here. If you love HOG you will be in heaven. Fortunately my money will not be a complete waste. My 4 year old granddaughter enjoys the hide and seek, and she?s very good at HOG, so I will be sharing/playing with her. And that will be the only good thing about this purchase.
March 29, 2012
A fun little HOG
This game was a lot of fun to play. It was a bit on the easy side, and the puzzles really held no challenge at all, but it was a good length and kept me entertained for hours. You do revisit all of the scenes at the end to collect extra pieces to the puzzle (won't say more, as I don't want to spoil it) so that extends the gameplay a bit. There are plenty of scenes to play and each scene has at least two tasks to complete, and many had more. The only annoying part was that there were a lot of things in the scenes that were very obviously needed to complete a task but you couldn't click on them and add them to your inventory until the task had opened. And a new task wouldn't open until you had completed the previous task. All in all, this was a fun little game for those new to the genre, or even for experienced HOG gamers who just want to slow it down a bit.
December 4, 2011
So much fun!!
I loved that game! It was quite long, with very little going back and forth, nice HOG scenes but not too difficult, and an amazing variety of riddles and mini-games. Can't wait to try the sequel...
November 26, 2011
Absolutely tops!!!
Basically, you make a bet with some friends to enter "that" proverbial spooky house on the corner that every town seems to have, this one being a mansion which has stood alone and empty for years.... Well, it's actually still completely furnished but a bit worse for wear, yet none of the 'usual' decrepit and depressing scenerios we've been bombarded with in games of late. So, once inside you are trapped by an apparition and must do various tasks for other spirits who had once lived or had connections in the house to free them and in return they assist you in collecting shards of glass from a mirror in order to regain your "self". So you have a dual purpose to save yourself AND the multiiple ghosts who are trapped throughout the mansion, each asking for your assistance to aid them to be free from their own curse, being trapped and in return after you fulfill their requests for assistance, they will uncover a hidden 'shard' to the mirror which will ultimately free you. The mirrors have presumably trapped all the others at varying times for varying reasons by a nemesis with quite the grudge. Although I've played many games and genres, I must put this one up on the top of the list of quality spooky games. The graphics are pure artistry, vivid, clear, crisp, H0 scenes that contain items all valid to the theme in each and every scene, which are various rooms within the mansion you are "trapped" in. Mini games ditto. All visuals were just a pure pleasure to look at. I took my time playing because I wanted to observe and take everything in along the way. The "mirror" theme is unique and compelling and although the game in general has a lot going for it in scary factors, there were none of the nasty over- the- top dark themes I dread for example, no excessive grossness, gooey eyeballs, excess masses of crawly spiders & such, gobs of gore, drippy blood, mean and nasty images, nor occult type actions required within the gameplay and unnecessary things that are distasteful put- offs to me. Just a wonderful and spooky game with some "startle moments" and lots of healthy scary format from start to finish. Gameplay penalties: Misclicks #consistant ones in a row# "crack" the screen... I thought a creative and appropriate penalty to a game where you are traveling from mirrors, yet it does not go overboard in doing so and leaves the player a lot of room for exploring. There are also player experience levels to choose in the beginning as well. The sound, music and voice all tie in to make for a perfect, fun, and 'cosy' scary game. KUDOS to the developers and I look forward to their next creation. Check this one out, I bet you'll love it as much as I did.... in fact, I now wish I had purchased the CE and may do a trade- in at that so I can add to the wonderful and spooky experience I had with the SE! Enjoy!!
December 1, 2011
Interesting game play and story line
Good combination of HO, interactive play and puzzles. Those who don't like to jump around between many areas just to get to the next level will like this one. Very good graphics and not too hard or too easy (unless you are an expert player). But still enjoyable regardless. Play is untimed and the hints come in handy. The ending has you guessing as to what is to come. Definitely a good buy.
December 1, 2011
Seems to be such a good game, but...
At first I thought it was a really fantastic game. It has so much atmosphere and is so spooky I immediately get in the right mood. I was sure I would buy it in the first 10 minutes of the game? But! There are sparkles all over, you can?t get rid of them, I find that annoying. They are not even really helpful, as they just continue sparkling even after you?ve been there. Another thing is that you right away get a list of thing you need upon entering a new room. I like to find the trouble spots myself, or even not finding them, but just roam. No such thing here. The HOGs are ok, there just doesn't seem to be much logic in where to find things. Like a thing is hidden under a rock, but in the list it is not in a specifik colour etc. Anyway, the story seems great, I just couldn?t stick with it ? I simply got too annoyed over the little things.
December 27, 2011
Nice game!
This is quite a long game, with many HOS and easy puzzles. Graphics are very good and the storyline is interesting. It's a good game, if you need a break from all the dark games and from games where you often have to look at the walkthrough.
December 10, 2011
Stay away from the Haunted Manor....
I have played a lot of HOG's, both good and bad ones. But this is the first time I actually deleted a game after only a couple of tries. I guess the graphics are overall ok, but besides that the game lacks in every other department. 1 - Too linear. You play one room at the time and after it's done you move to another one. 2 - Very very repetitive, and way too easy. You don't really need your brain in this one. 3 - A true "Skip all" story. As mentioned stay away from the Haunted Manor, and not because it's haunted, it's just dull and boring in almost every way - sorry.
January 21, 2012
Ageless
Very imaginative game. Enjoyed the mirror concept
November 14, 2011
The Apple logo is a trademark of Apple Computer, Inc.
The Windows logo is a trademark of Microsoft, Inc.