Haunted Manor: Lord of Mirrors
Help Stan Riddle escape the Haunted Manor! After being trapped by the Lord of Mirrors, Stan needs you to guide him to safety! Use your Hidden Object skills to find valuable items and piece together perplexing puzzles. Discover why a beautiful mansion has been abandoned and what caused the owner to disappear. Come up with a clever escape plan to reach your friends in Haunted Manor Lord of Mirrors!
Tricky puzzles
Escape the Haunted Manor!
For a more in depth experience, check out the Collector's Edition
Game System Requirements:
OS:

10.4

CPU:

800 Mhz

RAM:

256 MB

Hard Drive:

265 MB
Game Manager System Requirements:
Browser:

Safari 4.0 or later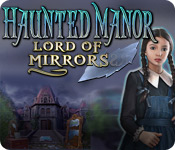 NEW299
The Big Fish Guarantee:
Quality tested and virus free.
No ads, no adware, no spyware.

Reviews at a Glance

Haunted Manor: Lord of Mirrors
0
out of
5 (
0
Reviews
Review
)
Customer Reviews
Haunted Manor: Lord of Mirrors
64
64
Stay away from the Haunted Manor....
I have played a lot of HOG's, both good and bad ones. But this is the first time I actually deleted a game after only a couple of tries. I guess the graphics are overall ok, but besides that the game lacks in every other department. 1 - Too linear. You play one room at the time and after it's done you move to another one. 2 - Very very repetitive, and way too easy. You don't really need your brain in this one. 3 - A true "Skip all" story. As mentioned stay away from the Haunted Manor, and not because it's haunted, it's just dull and boring in almost every way - sorry.
January 21, 2012
Way too easy.
Maybe I'm a glutton for punishment, but there was no challenge to this game at all. You go to one room, complete the HO and puzzles and then move to the next. There is no challenge of the hunt between multiple screens. I wasn't a fan of the graphics, the music or the plot line, either. If you are considering a first time HO game and cannot process latterally across many screens of information, this is the game for you. If you want a true challenge worth your $$ for a few hours, go elsewhere.
December 2, 2011
Juvenile
Frustratingly slow & the transistion from one chapter to another is monotonous. More silly games than hidden objects
December 3, 2011
This game just...no...NO!
I don't know why I got this game. Maybe it was because it was on discount, and I'm a cheap person? Alright, where to begin...let's start with the story line. Story Line: It was absolutely cheesy and just terrible.Terrible, cheesy script, and one of the worst villains ever. Lord of the Mirrors? Am I supposed to be intimidated by that? And, I never fully understood what that dude gained from becoming Lord of the Mirrors, or why he even did it in the first place. (They didn't really explain it all that well) I just...and the ending just flopped. Please at least let the sequel be better. Game play: I was completely unchallenged. It's too easy! You're told how to do everything, and it's just...it wasn't fun. This was actually the first game that I actually had to walk away from because I got bored with it. Graphics: meh...they were okay. I actually haven't touched it since playing it, and don't intend to ever again. This game isn't worth the money.
April 1, 2013
Not One of the Best
This game is basically a one-trick pony - hidden object scene after hidden object scene, and none interesting enough to capture one's attention. The sound effects and music, if you can call them that, are terrible. I suppose the game is trying to set up a mysterious mood, but it only achieved a steady monotony. The story line was textbook basic: find the hidden object that allows you to go to the next hidden object puzzle. The creators could have done better.
November 4, 2012
Played half of it.
Love adventure games with mystery etc. But this game was not at all challenging nor did it really have any wow factor. Ended up uninstalling it half way through as I didnt think it was worth playing the same sort puzzle again and again.
July 29, 2012
Fun, if you like many HOS.
One HOS after another. Found the game boring but I"m no expert. Glad I didn't pay for it,
May 21, 2012
Boring
This game are not an adventure, its all hidden object. Same thing over and over again, dull drawings and not very entertaining. I would not buy it again, and would not recommend it.
April 15, 2012
Upside? They have great sound effects for haunted house
I must have completely misunderstood. I was led to believe this was an adventure game with some HOG. It is listed under adventure games yet when curser is placed over top it shows hidden object. Okay they all do that, but usually they give you an opportunity to actually do some investigating. This game is one hidden object scene after another, no kidding. You travel from room to room after you sweep dust off a mirror with a brush that you pick up. When you arrive in a room you are told what you need to do. You then you are given a list of items items necessary to accomplish this task. Then you get the sparkles and another list to find hidden objects. Then you go back to the room and are told to do X with whatever hidden object you were told to find. Basically you are told what to do and where to find what you need to do it with. This is not an adventure game! It is strictly a hidden object game. I personally prefer to enter into a room and search/investigate. I like to find the items myself and then figure out what to do with them, and I can put up with some HOG?s. I have enjoyed the top 10, they have a nice balance of the two genres. This game does not. If you love adventure, you will not find it here. If you love HOG you will be in heaven. Fortunately my money will not be a complete waste. My 4 year old granddaughter enjoys the hide and seek, and she?s very good at HOG, so I will be sharing/playing with her. And that will be the only good thing about this purchase.
March 29, 2012
YAWN...
I absolutely loved the first Haunted Manor so bought this without trying it first. BIG mistake!!! This was an absolute bore. The storyline could have been good...but wasn't. Big, old, beautiful mansion, deserted for unknown reasons. Wow, isn't that going to be a blast to wander through investigating??? But you don't. You jump through mirrors to get from one room to the next, spending very little time and seeing very little. And the characters were so completely undeveloped I couldn't have cared less about them. I played in the "adventure" mode and man what a headache. It was a cross between absolute hand holding and being completely lost about what to do next. And you had to go in the order they wanted you to, no straying from the path. Sparkles? Do your HO first cuz you're not moving on otherwise. And all those other little glints, don't bother to click on them cuz you won't be able to do a thing til that HO gets done. You see a dozen candles laying all over the room and an empty candelabra hanging overhead? Forget about it til the game tells you otherwise because you absolutely will NOT be allowed to pick up one single candle until then. The "adventure" mode meant no sparkles...yeah right. But what it didn't give you was "the hand" when you hovered over something you needed. Then punished you if you clicked too often trying to figure out what the heck it wanted you to find! You're in an armory and you need to cut a rope. Can you use the swords or battle axes lying all over the place? No! And speaking of armory, or at least the word, I have a pretty large vocabulary and even I found some of the "clues" in the HO's to be pretty "Huh???". Leading to random clicking and...you guessed it...penalties! Finished it (cuz I'm stubborn like that), hated it, deleted it.
February 10, 2013
The Apple logo is a trademark of Apple Computer, Inc.
The Windows logo is a trademark of Microsoft, Inc.