Robinson Crusoe and the Cursed Pirates
Robinson Crusoe and his friend Friday are back in their greatest adventure yet in Robinson Crusoe and the Cursed Pirates! After escaping the inhabited island, Robinson Crusoe sets sail for Brazil. Four weeks later, however, he and Friday encounter an uncharted land mass in the middle of the ocean. Take on the undead pirates and find a cure for a mysterious voodoo curse in this Hidden Object Adventure game!
Gorgeous scenery
Fantastic puzzles
Game System Requirements:
OS:

Windows XP/Vista/7/8

CPU:

1.0 GHz

RAM:

256 MB

DirectX:

9.0

Hard Drive:

211 MB
Game Manager System Requirements:
Browser:

Internet Explorer 7 or later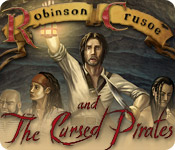 NEW299
The Big Fish Guarantee:
Quality tested and virus free.
No ads, no adware, no spyware.

Reviews at a Glance

Robinson Crusoe and the Cursed Pirates
0
out of
5 (
0
Reviews
Review
)
Customer Reviews
Robinson Crusoe and the Cursed Pirates
27
27
One of my faves
I love this game. Normally I like darker games, but this one has a humor and whimsy in it that I also really enjoy. I laughed out loud many times (a cross-dressing pirate that winks at you in a hidden object scene? BWA HA HA!). I have played this through at least twice, and I will probably play it again in the near future. There is a diversity when it comes to the puzzles- sometimes when a game is all hidden object I get bored. Not true with this one. Sure, it's pretty much centered around hidden object, but there are so many other types of puzzles that it keeps it interesting.
November 15, 2011
Loved this game - fun to look at and...
Great tongue in cheek humorous moments. I've been stuck in bed for 4 days w/ the flu & this saved me. One hint: when you get to the towards the end scene, don't "skip" the card game or it will freeze & crash the game. But hang in there! That scene is fun to solve. I'm going to see what other games this company has produced right now.
November 30, 2011
One of My Favorites
This is one of very few games that I have played more than twice. The hidden object scenes are creative and unique, not too difficult, but enough of a challenge that you don't just zip through them. The mini-games are also fun and different than what you see over and over again in these type of games. Whoever created this game has an awesome sense of humor!
February 15, 2012
So Much Fun to Play
I absolutely love this game. The humor and the graphics were so much fun. I couldn't wait for the next scene. After I finished this game I played it again. Just as much fun the second time around.
December 4, 2011
Outstanding HO Adventure with tongue firmly in cheek
Wow! What was the last seriously challenging game that also had you laughing? If you were lucky enough to play Plants Vs Zombies you will be familiar with a good belly laugh in the midst of a major challenge. For anyone that has stayed within adventure/HO genre though you may still be scratching your head thinking of even one. Welcome to Robinson Crusoe and the Cursed Pirates! This had me challenged enough that I was stumped a couple of times and had to check a walkthrough. That's rare so it gained my respect. Don't let this put you off though as that's what walkthroughs are for and there's no fun in being bored. Having said that this game is not so difficult that it is unrewarding and frustrating; it is a clever balance of both (like the first one# with the added bonus of having a great belly laugh along the way. I enjoyed this WAY more than the first one. The first is an exceptional game with heaps of minigames and outstanding graphics, but what I loved more about this game was that it is hilarious! The original was quite serious. Nothing wrong with that but this had everything fantastic about the first #long, challenging, top quality# but with it's tongue firmy in cheek. The music and graphics are top quality too. It was just so enjoyable. It is rare to play a quality adventure / HO game that isn't a really shocking or depressing storyline and the ones that are less horrifying are usually pretty bland or simplistic #I enjoyed Avenue Flo for it's lighthearted theme, but it was simplistic and short) yet Robinson Crusoe and the Cursed Pirates manages to be a perfect hybrid by combining great humor with a sometimes dark theme and some great challenges that made this a really enjoyable experience right to the end. All in all a very impressive and rewarding game!
July 18, 2012
Just a fun and funny game to play
Truly HOG. Just fun and have a laugh playing it. Not all that much challenging just fun to play.
August 8, 2012
Fun and funny game
Typical HOG but witty and funny. I laughed out loud at some of the scenes. The puzzles are just challenging enough without being impossible to solve. The only problem I had with this game is that some of the hidden objects are so small, I got eye strain trying to find them.
December 13, 2011
AWESOME, TERRIFIC
Totally absorbing game. Love the humor, hos, mini games. Loved it all and have played twice. Also played The adventures of RC. When is another coming out.
March 18, 2012
Oh you cheeky Captain!
This is quite the game. There was several things in this game that made me laugh. I love the way the Captain was a cross dresser and the sleeping pirate with the little cannibal boy watching over him. This was a great all around game. The hidden objects were played in two stages. First you set of hidden objects were mainly same kind of objects...magnifying glasses or fish. Then you were given a specific list of hidden objects. In the hidden objects game, you were given puzzles to play. Some were easy, some were challenging. I found that I had to use the hint button on several occasions. The hint button takes a little bit to recharge, so be prepared. The storyline was pretty interesting. I love stories of pirates, so I was willing to watch all the cut scenes. In all this game presents several challenges. You will find yourself cursing the game because some of the items are hidden so well...which is what I want out of a hidden object game. EXCELLENT MONEY SPENT!
July 19, 2013
LOOKS EASY BUT MOST CHALLENGING AND VERY AMUSING
QUITE CHALLENGING AND VERY AMUSING. SUMMARY: This game looks and sounds so simple. And it gets more hilarious the further you go. But, I don?t think I?ve played a more challenging HOS game nor had such a difficult time solving ?easy? puzzles. This is not a game I would choose when I just want to amuse myself on a rainy afternoon playing an easy and stress-free game. If I didn?t skip puzzles or used a lot of hints, I could easily have added another couple hours to the 6 hours it took for me to finish the game. WHAT?S GOOD: - Select timed or untimed. I suggest untimed. - STORY is told through sketches at the beginning of each chapter. - 12 chapters, each involving a different cursed pirate before you search for Captain Flint, who started it all. - Different pirates are featured in each chapter and the scenes portraying them are really amusing and get progressively funnier. I couldn?t help but laugh at them. Lifts the spirits. - Jaunty music. - Good animation (watch the eyes). - First HOS at each location is to find X number of a category of objects to help the pirate. Some of them are very well hidden. I seemed to have to use a hint to find the last one quite a bit, even though it was readily identifiable when the hint pointed it out. - Second HOS at each location is list-based. Objects are usually pertinent to the period (usually because I don?t think bras were invented by the 17th century, yet they make perfect sense for the scene involving the pirate ? you should come across this scene during the demo). Thank goodness the hint recharged quickly. Although the objects weren?t hard to find or differentiate after the hint pointed them out, they were so well blended and disguised into the scene that I just couldn?t find the last couple. After using the hint, I had to hit my head and say ?duh? when it was clearly right in front of me. - Puzzles in each chapter looked so easy. Yet I had trouble figuring many of them out. You really have to pay attention because the clues to solving them are covert. - Testing ?black spots? on the monkey, who could turn into a coconut or a pineapple man. You have to keep trying until he finally turns back into a parrot. - At the end you have to find your way through a maze to find Captain Flint, who is now an Undead. Remember he started the curse. You have to revisit each pirate to get their portion of the map into the maze. WHAT?S NOT SO GOOD: - Not a stress-free HOG because of very clever graphics. - Short on adventure, but it is so amusing that I didn?t care. - I?ve seen some people say they finished the game in a couple hours ? I have no idea how they could do that in my wildest dreams. - Instructions for puzzles are unclear. You really have to think. If you need a code, for example, it won?t be on a piece of paper anywhere, but will be in another form.
September 29, 2013
The Apple logo is a trademark of Apple Computer, Inc.