Hotel
Help Detective Bridget Brightstone crack the case and reveal the great mystery that lies behind high walls of the Bellevue Hotel! Meet the ancient Egyptian cult in a search of almighty artifact, Marcus Antonius, King Arthur and many others who tried to keep this powerful object hidden away! Stop the evil that is raising from its grave from using the artifact's powers to conquer the world in Hotel, a fun Adventure game.
Gripping storyline
Spooky atmosphere
Explore the Bellevue Hotel!
Game System Requirements:
OS:

Windows XP/Vista/7/8

CPU:

1.0 GHz

RAM:

256 MB

DirectX:

9.0

Hard Drive:

241 MB
Game Manager System Requirements:
Browser:

Internet Explorer 7 or later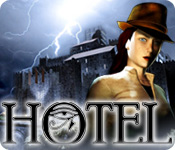 NEW299
The Big Fish Guarantee:
Quality tested and virus free.
No ads, no adware, no spyware.

Reviews at a Glance

Hotel
0
out of
5 (
0
Reviews
Review
)
Customer Reviews
Good, yet I'm Torn!
First of all, I should start by saying this is the first adventure game I have purchased from Big Fish. Second of all, to be fair, I should say the second I played after it was my first Nancy Drew. So. It is hard not to compare. This game was good. It was fun. These are things a game is supposed to be, so it should be an enjoyable game. But it has a problem: it's a good game. Definitely NOT horrible, but it's NOT stay-up-till-3:58-trying-to-figure-out-who-did-what-why fantasticalness either. It is good; nothing more, nothing less. I found myself wanting more...well, everything. What they have is good, the issue is not having enough of it. A lot of this is due to the length of this game-very short for an adventure. As in about 3 hours from start to finish short. The characters were built well in the time given, yet I kept on wanting to get to know them better. Even with the lead, who was sassy and expressive, I felt like I was never really in touch with her. Which made me sad, because I WANTED to get to know her. She seemed complex, real, and well developed- the perfect ingredients for a lovable main character. She could have been someone you wanted to win, someone you wanted to defeat enemies with! But. Uh-unh. Nope. She wasn't. Not enough time. My biggest problem with it? I did not feel like I had accomplished much by the end. It was not challenging. Fun and simple, not fun and invigorating. (That statement could pretty much sumarize it.) Your conflicts were easily dealt with (generally by other people or happy accidents). Seriously, you would start to think "Oh no, I'm going to die!" Then POOF! Problem solved. Over all, this game is good if you want to spend a few hours on something rather non-commital, but if you want something much at all immersive then I would suggest looking elsewhere.
February 13, 2012
Fun Story but tiresome too.
I don't know why this game is in "Hidden Object" -- There's not one H.O. Scene in it -- it's an adventure game. So if you like hidden object scenes - get something else. The story is wonderful - twisty and silly and interesting all at the same time. The main character was awesome I would definitely play more games with her in the lead. Slow start -- the first 3 "days" seem to drag on - then when it gets interesting - its heading for the final showdown. There's lots of "discussion" at first and the first day feels like a diversion that just eats time to make the game longer. Could have used more at the end and less set up/beginning. Graphics: horrid - but mostly just old. Choppy movement makes her look like she's walking around with some kind of hip displacement. Of course - the best part is when she pulls a 6 foot ladder out of her back pocket -- no wonder she walks so funny! :) Seriously - graphics wanting, but the mini movies in it are filmed and good looking. Puzzles are easy - which is the real flaw in this game. I loved meeting all the "old ghosts" and the story -- but most of the stuff you find you use almost immediately, so its not hard to figure out what to do with what. Mini puzzles also solvable in a few clicks. So - by the end - you don't feel like you've really done anything. You put tab A into slot B and it opened C which lead you to D. Not enough intuition, and not enough payoff. It is fun, but I think the possibilities behind the story are a lot more fun than what the game presents. Still, wish we could see Biggi some more.
March 24, 2012
What fun surprise!
I tried this game out and I still had reservations on it. But it turned out to be fun, challenging and interesting. I liked the character Biggi, and the storyline was good. It was challenging enough but not too taxing, when you just want to relax and not go too crazy over figuring things out. Good graphics, and the music very good!
February 20, 2012
Good intriguing adventure
The plot in this game is that you have to help a detective crack the case and reveal the great mystery that lies beyond the high walls of the hotel and stop the evil that is rising from the grave of King Arthur. It started off quite plausibly, roaming through the rooms and cellars of the hotel but it then drifted off into fantasy several noted characters of history requiring some assistance from our heroine whose humour and some what sarcastic wit added to the thrill of the game. There is quite a bit of conversational dialogue as the game progresses, sometimes I felt it went just a tad overboard and was a little too much but it was needed to add to the understanding of the game. The graphics were quite good, clear and colourful and some of the puzzles were just a bit challenging and needed a bit of nutting out, but were mainly quite good. The hidden objects were not your usual piles of junk but a collection of items needed for the game. A good and interesting change of pace and style.
April 17, 2013
fun for an adult player, fairly easy.
This is a fun game that takes some time to complete, unlike some of the new games I have played.
March 24, 2012
Great story, but not a long game
I got this as a DD and enjoyed the story. As others have said, I enjoyed the character's humor. It took a little while to get started and figure out what had to be done. Until you know how to do certain things and what's expected there is a lot of wandering around. Once I knew the objective and where to go, the game went really fast. I loved the story and the super natural elements. There were characters you met that were easy to like and some that were easy to not like. Several puzzles to solve. Not the hardest that I've seen, but a few were a little challenging. There is a lot of reading in the game to learn the story and you'll need to talk with the other characters to move the story along. it is a scripted game, and everything needs to be done in a certain order. Because of the length of the game, I would only recommend at DD price.
January 22, 2012
A Lame Plot With No Voices And No Real Challenge.
This games is of Croatian origin. Cateia Studios is located in Reijeka, Croatia, and continually offers games of this type, with no voices and unbelievable plots. The story's heroine, Bridget ("Biggi"# Brightstone is sent to investigate eerie happenings at a chateau near the village of Saint Georges de Longepierre, France, and she's an NYPD detective!! The story starts as an investigation by two clashing detectives #the other is a French sleuth#, and ends up with what looks like part "Ghost Whisperer" and part "The Exorcist!" I have never played such an implausible game in my life! Fantasy is good, to a degree, but Cateia just stepped over the sanity line on this one. I recommend this game with reservations.
October 13, 2012
A real mixed bag
The visuals and audio of this game are great, which sets a nice atmosphere for the story, but unfortunately that's the best part of this game. Overall for an adventure game, it is way too short, and considerably easy in comparison to other adventure games. You can beat this game in an afternoon. The biggest problem is the story - it's dreadful. The dialogue is terrible and runs on at great length when in the end no reading of the story is required to complete or understand the game. It's convoluted and boring, so I found myself clicking past the dialogue toward the end of the game just to speed things up. If the game were twice as long it might make up for the poor story and weak difficulty level. Overall, I'd recommend it but don't expect to get more than a couple hours of fun out of it.
October 4, 2012
Good game, but...
the storyline got a bit too twisted for me. The graphics are nice, puzzles are fair. Got stuck at one time, took hours to figure that one out. In overall, nice game.
April 7, 2012
No Funny
I did not like this game A lot of movement, dialogue, not many mini-games and when thou hast they are too easy. The visual is very good. In half of the game I was eager for it to finish
November 23, 2013
The Apple logo is a trademark of Apple Computer, Inc.