Coconut Queen
In Coconut Queen, the island of Lui Lui beckons you to bask amid miles of sun-drenched coastline. Disembark into its beautiful floral air, and discover that you are the island's much-awaited legendary Coconut Queen! Your own private getaway is devoid of females, so find company among the brawny native gents, who welcome you with incredible gifts, and use your Time Management skills to improve the island!
Customize your resort
Beautiful locations
Become the Coconut Queen!
Game System Requirements:
OS:

10.4

CPU:

1.0 GHz

RAM:

1024 MB

Hard Drive:

111 MB
Game Manager System Requirements:
Browser:

Safari 4.0 or later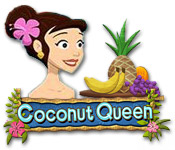 NEW299
The Big Fish Guarantee:
Quality tested and virus free.
No ads, no adware, no spyware.

Reviews at a Glance

Coconut Queen
0
out of
5 (
0
Reviews
Review
)
Customer Reviews
A Wonderful Strategy/TM/Building Game
Coconut Queen is, hands down, my favorite game on BFG. It is the only building simulation of which I'm aware where you have total control over where and what you build. In addition, it blends in simulation, a great deal of strategy, and time management gameplay, all of which makes for a unique and fun gaming experience. The only game that is remotely similar is the Paradise Beach series, although Coconut Queen is far superior, in my opinion. You are playing as a woman who has been hired to turn a series of islands into resorts. On each level, you are given goals to meet, generally having to do with earning a certain amount of money from rent and concessions and having a certain number of guests. The levels are timed, although the timer is pretty generous. There are a variety of different types of houses to build and upgrade, from simple cabanas to huge hotels. There are also tons of other types of buildings from which to choose, including restaurants, shops, tourist centers, and more. As with other building games, you also have to manage happiness by providing attractions such as umbrellas and hot tubs and minimizing undesirable features. You are free to build your resort and design it in any way that you'd like, which is a great deal of fun. If all of these options sound complicated, don't worry, because the controls are nearly flawless and everything flows organically. There is a great deal of humor blended into the game, which adds to the fun. Your work is performed by hunky natives who have made you their queen. If you leave the sound on, you are likely to get a laugh out of the things they say as they are assigned to a task. This game has great replay value, because you can redesign your islands each time you play and figure out different strategies to meet your goals. I have played this at least six times, and will happily play it even more. The bottom line: Don't pass by this game, as it's a winner for anyone who enjoys time management, building, and strategy games, and for anyone who just enjoys having fun!
December 6, 2011
Silly funny WONDERFUL game
This is a very silly TM game. I absolutely adore playing because of the voices and just...the general sillyness of the game. You play as the "coconut Queen" and have multiple handsome minions obeying your every wish. Trashy Romance novel cover parodies Big Brawny and Deep Voiced, the voice overs are cute, slightly snarky and OH so much fun. It truly makes the game more enjoyable. The game itself is mildly challenging and a nice twist is that because you're "building" an island resort, levels are done in the same area. So something you built once, is there in the next level. A definite plus. Try Coconut Queen for the zanyness and stay for the cute graphics and the gameplay. I promise you won't be disappointed!
January 7, 2012
So Funny My Sides Hurt
You know, from a game playing perspective, I would give this a Four--Very Good. As for overall enjoyment, this is definitely a Five. Graphics are ok. Music is good and voice overs (Zane) are fantastic. "As you wish, your Majesty." Sort of a city building game. Maybe more time management without the timer? Hard to decide. Plenty of replay potential. The story is irrelevent, but here it is. You work for Cococo (Coconut Company) and are sent to the island to build resorts. There are several beaches that need to be developed. Upon arriving, a big, muscular, dreamy man shows up and tells you that you are now the Queen. Zane provides constant, hysterical, commentary. "Do you like my buns? I baked them myself." "As you command, your Majesty. I can sleep later." So, you clear land, buy supplies, hire brawny workers to build things for you. No pressure, just fun. Each area has its challenges (earthquakes, dangerous butterflies, angry spirits--monkies). When you complete certain goals, you are rewared with gems that you can trade for different things: additional decorative items, faster delivery times, paths to other beaches, etc. As you build cabanas, hotels, etc., tourists show up and wander around. They are funny, too. Remember, butterflies can be dangerous, but sharks just need to be 'shooed' away. Once you adequately develop each area, you can go back in free play mode and try again. Complete enough work in free play mode and additional buildings become available. Can't wait for the sequel. Maybe we will find out how we became Queen. This is just a wonderful game. Play it and see.
March 25, 2012
Best Game on BigFish!
This is by far my favorite game on Big Fish. It is a true building game, where you choose the placement of the buildings. I have replayed this game from start to finish at least a dozen times, each time using a different layout or strategy. The goals are challenging but not too difficult.
November 27, 2011
Cute and Fun Time Management and Strategy Game
This was one of my first games that I ever played on BFG and got me hooked to BFG. I ended up playing this game 3 times in trying out different strategies with building different structures in different locations trying to maximize earnings while making sure all of the objectives are met. The storyline is cute and as a female player, it was great seeing all of these hunky islanders answering to the Coconut Queen's beck and call to build and take care of the island (even wrestle sharks!). How hot is that! I also enjoyed the storyline of starting in the island resort business and the cute humorous references to Fantasy Island. The graphics and music are just okay in my opinion, but I'm also comparing to games that I've played that hav incredible 3-D graphics and actual bands who do the music. Overall the game's a keeper and will probably be played again sometime later. Enjoy!
January 25, 2012
Show me the way ---
--- to this island! What a fantastic place for a girl to be! And what an absolutely great, fun game! I agree that it has to be about the top TM game ever. I am so glad that BF had it on the daily deal, because I missed it before then. Worth it by far, even at full price. I love the fact that you can place buildings where you want, and I love the plant and other outdoor upgrades too. Not just buildings as in other TM games. The hunks that do your bidding are funny and gorgeous. I don't know if guys will be too taken with this game --- except if they want to pretend to be one of the HUNKS! Totally and completely recommend this game.
January 25, 2012
Fun, funny and relaxing
There's not much more that can be said about this game that's already mentioned above. I just wanted to add my 5 star rating to this highly enjoyable game. I'm guessing women would definitely like it more than men because of all the "hunks" pandering to your every need. The things they say just crack me up! The game play is personalized - place things wherever you want. But the nice thing is, placement is not arbitrary. You can plan where amenities will go to help your rentals. The music was so relaxing that I want the soundtrack for background when I paint. I was sad when the game was over. Not sure if the sequel will be filled with subservient women voice overs, which I won't like as much at all, but I'm sure it'll be a fun game.
March 14, 2012
Nuts about Coconuts!
A really fun game you'll play more than once. I like games where you can build where you want (like the Westward series). This is just so fun because of the funny things the hunky guys say. Males might not like it as well but girls, this is fun!
April 18, 2012
Yes, Your Gorgeousness
Good action and hilarious storyline/commentary throughout. I've never reviewed a game before, but this one was so much fun, I felt compelled to recommend it. :)
February 5, 2012
Love this game!
I too love this game. It is fun to play and the characters are hilarious. I just want to know when the sequel will be out?!
January 24, 2012
The Apple logo is a trademark of Apple Computer, Inc.
The Windows logo is a trademark of Microsoft, Inc.