Amazing Pyramids
Jump into Amazing Pyramids and lead a group of scientists through addicting minigames and jumbled letters in the Saharan desert! Solve intricate Word puzzles to unravel the secrets of an ancient city. Use your wits and vocabulary to keep you one step ahead, and to survive the blistering sun. Earn bonuses for quick and clever solutions and explore some Amazing Pyramids! Can you piece together an ancient mystery and save the day?
Unique gameplay
Incredible atmosphere
Discover the Amazing Pyramids!
Game System Requirements:
OS:

Windows XP/Vista/8

CPU:

600 Mhz

RAM:

128 MB

DirectX:

8.0

Hard Drive:

39 MB
Game Manager System Requirements:
Browser:

Internet Explorer 7 or later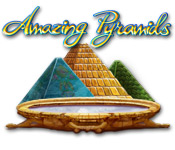 NEW299
The Big Fish Guarantee:
Quality tested and virus free.
No ads, no adware, no spyware.

Reviews at a Glance

Amazing Pyramids
0
out of
5 (
0
Reviews
Review
)
Customer Reviews
My Favorite Word Game
It's basically a dressed up version of Hangman, in which you have to figure out a series of words to fill up a pyramid. You start off with a nine letter word, and work your way up to a three letter word (seven words altogether). There are two modes, Adventure and Classic. Classic allows you to choose a pyramid from four experience modes. Each experience mode uses a different percentage of the dictionary to pick the words from: 20%, 40%, 80% and 100%. The lower the percentage the easier the words. Adventure mode has a story about an archaeological exploration that you progress through as you play the game. The first quarter of the Adventure mode pulls words from 20% of the dictionary, the next quarter uses 40% of the dictionary, etc. There is a timer, but it's only there to let you know how long the game is taking in the Classic mode. There is a level that rises or lowers depending on incorrect letter choices and correct solving of words in both modes. If the level hits the bottom without you having solved all the words in the pyramid, you lose that round. There are bonuses you can earn in the Adventure mode (revealing all vowels, revealing a single letter of your choice, etc.), that act as helpful clues. It's a well-designed, smooth-playing game. The bells & whistles add to the game instead of detracting from it, and it's not designed as one of those overly-cutesy games. The Adventure mode story has enough of a hook to keep you interested. There's a Hall of Fame that records the highest scores so the game has a lot of re-playability. Unlike a lot of word games, this one will offer a continual challenge at the higher levels for people who have a good vocabulary or want to improve theirs. It's a good single-player game, and would also be good as a family or multi-player game, due to the ability to choose the difficulty level in the Classic mode. Even in the Adventure mode, later on when the words start to get harder, the kids can still have fun trying to guess what letter is needed. This is my go-to game when I'm in the mood for a word game.
December 2, 2011
Why The Low Ratings?
I don't understand why this game received such low ratings, I really liked this game. The Adventure mode gives you a story and each day of the adventure requires you to spell words on a pyramid starting with the bottom word which is 9 letters, then 8 letters and the top word is 3 letters. You have 26 letters to choose from and you get extra energy for each letter not used. You also have the option at any time to guess what the word is for extra points and it doesn't use any of your energy, but if you guess incorrectly you have to start all over with a different word. There are bonuses that give you more time or cross off letters that aren't in the word, these bonuses are not available in the classic mode which is just continuing pyramids until all of your energy bar is depleted. Enjoy!
January 18, 2014
a year later and I still play this game
You build words starting with long words at the bottom of the pyramid and work up. As you level up, more obscure words are used. The most frustrating part of this game is when you finish a pyramid and have to wait while the endless graphics effects circle everything. If it weren't for this incredibly annoying and boring aspect, I'd play the game for hours and much more frequently. Some of the pyramids have words that are part of a category (eg things related to movies# but most are random. There are two kinds of mini-games; one where you make as many words as possible out of a given set of letters and one where you unscramble the letters to create a word. It expects a certain word so you can create a perfectly good word but if it's not the one it's looking for, it doesn't count. Same with the pyramid words; it has to be the specific one it's looking for. I can live with that on the pyramid but it seems to me like any legitimate word should be accepted when unscrambling letters. This is a game I played several times initially. Now I go to it when I need a change of pace; I play a few rounds #until I get bored with waiting for the unnecessary graphic show at the top of the pyramid and then come back days or weeks later and play a couple more rounds. With some minor improvements, this could be 5 star entertainment.
November 20, 2012
nice hangman-style Word game
The background, music, special keys, and graphics keep this from being a boring hangman-style game. It could be a little difficult for kids who may not know the bigger words, however it's not too challenging (the first round of challenges, anyway), so they will be able to play and guess anyway. It's a relaxing game, and if you're looking for something to pass the time and enjoy Word games, you may like this one.
December 21, 2011
Average
The first few levels were fun because I hand't played a game quite like this. After the first segment though it lost a lot of it's appeal because it was no longer new. Now I play it for just one pyramid at a time.
June 15, 2012
It was OK
there was nothing to assist you in figuring the word out. You just started blind, and continued all the way through.
April 21, 2012
Just for kids.
Very disappointed here. Game was really for kids. Not very imaginative.
November 26, 2011
So.....what's the story?
I took the adventure mode rather than the other offered because there is usually a story. One started. "The pyramids hold a story for all its tourists" or something to that affect but it ended there - for the entire hour demo. A definite hmmm moment. There is a pyramid shaped game board. On the left side is a rectangular block consisting of the 26 letters of the alphabet and an Ankh sign. Will get to the Ankh in a bit. This game is a LOT like hangman or that really great t.v. game show we all love to watch. Come on....you know the one I mean. LOL Pick a letter or vowel from the alphabet list. Get it right or wrong and it will be crossed off the list. Easy for keeping track of what you used - right or wrong. Sometimes you get a clue that tells you the category the words will be in. But, I didn't always see this. Another "hmmmm" moment. You start off at the bottom of the pyramid with a 9 letter word. You will lose a "letter/block/space" as you move up the pyramid until you have to guess a 3-letter word. You can bonuses (which would be helpful if instruction were given in how to use them rather than just what they were called) by getting "fast solving" of a word. These are displayed at the bottom of the game board/pyramid. The Ankh is for this purpose: If you can solve the word at any time without using further letters/vowels, press the Ankh, solve the word and save blue energy (I'll get to that shortly too. See? I DID get to the Ankh explanation, didn't I?). There is also, to the left of the game board between it and the alphabet letters, a tall pillar of blue "energy". Each time you guess a letter/vowel, whether correct or incorrect, you lose a bit of energy. At the end of the word you ultimately solve, you will regain a little energy back for each unused letter/vowel used. This is also a timed game. You have 8 minutes to complete the pyramid. I had no problems whatsoever and I am no genius at word games. Other stuff. When you start the game, it opens with an artifact that is circular in shape and is "cut" into 4 pieces - for wont of a better explanation. Each "piece" has 12 levels, I am assuming for each "day" of that particular "piece. Oh, yeah, each level that you play, once you have completed the top of the pyramid (the 3 letter word), is considered a "day". Every 2 days you get to play a bonus game - also based upon word play. Goody! It is a 3 minute timed game. After each completed bonus level you get a jigsaw puzzle piece. Ultimately, you will complete a picture. i have no idea what bearing all this has to the game play - not explained in the game. No real tutorial or instructions or help. I'm very disappointed that the supposed "story"/"Adventure" didn't take off. I think that would have given the game something exciting about it. Otherwise, it was just kind of boring. 3 stars is generous. The background was charming and the music relaxing. There were too many "hmmm" moments for this to be a purchase for me but I think it's fun and unique and "wordies" will probably enjoy it. Happy Gaming!
September 2, 2014
Guessing game?
This game is dumb. Except for a couple of "themed" days you just have to guess at letters until you find one. This game would be richly enhanced (and a lot more fun) if it gave you some idea of what kind of words you are looking for. The theme is Amazing Pyramids, why not use words that are found in each scene of the "adventure"?
April 25, 2012
Amazing Pyramids
This game is unexciting and not challenging at all.
June 26, 2012