Special Enquiry Detail: The Hand That Feeds
Help the Special Enquiry Detail crack the case, and catch a criminal, in this fun and exciting Hidden Object game! Join Detectives Turino and Lamonte, who have just been transferred to the Special Enquiry Detail unit. Their first case is the shocking death of the daughter of a wealthy family of benefactors. Dive into Special Enquiry Detail: The Hand that Feeds and become a New York City detective pursuing justice.
Gorgeous graphics
Immersive atmosphere
Crack the case!
Game System Requirements:
OS:

Windows XP/Vista/7/8

CPU:

1.0 GHz

RAM:

512 MB

DirectX:

9.0

Hard Drive:

127 MB
Game Manager System Requirements:
Browser:

Internet Explorer 7 or later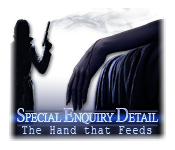 NEW299
The Big Fish Guarantee:
Quality tested and virus free.
No ads, no adware, no spyware.

Reviews at a Glance

Special Enquiry Detail: The Hand That Feeds
0
out of
5 (
0
Reviews
Review
)
Customer Reviews
Special Enquiry Detail: The Hand That Feeds
15
15
Great Kindle Fire game
I found this game in the app store on Kindle for my new Fire and I love it, enough to also get it from the PC so others in the family can play it too. Great graphics and story. It also has good hide and seek games as well as the solving of the case. Love it!!
December 25, 2011
Lots of Fun. Be The Detective, Female or Male! Finally!
Same review for both ?Special Enquiry Detail? games.. I love these! If you've been searching like I have for games where you get to be the detective? These games are exactly what you play! The team is made up of 2 detectives a Boss and the head of the forensics lab! It's male/female so everyone can step into the shoes of their choice and feel part of the investigation! No old mansions, scared kids, ghosts, knights with swords, sci-fi or back to the 1800's! Straight forward here and now engaging investigations with endings! HOS and puzzles are important to the games and not just random fillers! Sound track must be fine I can't remember it right now so it didn't bother me.. Negative: There?s only 2 SED games, I really hope they make more! Or someone dev catches on that a lot of us like that kind of game! Not for kids, mine anyway!
January 19, 2013
Engaging Story
I wasn't expecting much from this game. It sounded rather dry. Although it started as expected, the story quickly grew and sucked me in. The characters are fairly believable and their dialog is well-written, which impressed me especially since the game was apparently developed in another country. Near-perfect translations, American flags inserted, etc. It also ran perfectly on my older PC. As an old adventure gamer, there were too many HOSs for my taste, although that will be a plus for HO fans. Objects are all modern day items that make sense for their settings, and are true to scale. Hints are pretty good, and recharge quickly. The HOSs were fairly easy, so I could breeze right through them and get on with the story. And the story is where this one shines. It never deviates, it makes sense, and is not terribly predictable. There is depth to the characters. I even like the way they are drawn--very expressive. For forensics buffs, you might enjoy using all the lab equipment. I thought that was fun. You also get to interrogate suspects. It is quite linear, so you don't get to wander around and explore, but the progression made so much sense I didn't really mind. This is a nice little gem that should appeal to a wide variety of players. It's not very hard, but there are a few places that weren't quite appropriate for kids, so definitely a game for older teens and grown-ups. I highly recommend this one.
April 4, 2013
Calling all mystery game fans!!
This game is the game where you can play like a real police/ detective. If you like James Patterson's WMC series, you'll like this one too. I bought this on the 2.99 sale and I am so glad that I did. It's definitely my kind of game. The graphic is great (not so thrilled with the cut scenes though, and the voice over is like bad acting) but the storyline is nice (although a bit unbelievable), still this is a 5 star game for me. Thanks, Big Fish!
June 10, 2012
The hand that feeds..
Only played the demo, Bit too much chit-chat for me ,but really enjoyed the story line ,an the mini-games . Graphic's really good too, hidden objects were blendin with the scenery , " just the way i like it ".
March 8, 2012
Makes me want to be a cop!
Love the music, its gorgeous! Love the precision HOB scenes, the graphics are awesome, and a great story line, this is a must buy! There are 12 chapters so its not so short! Loved it!
May 9, 2013
A REAL Mystery to Solve
Granted, it wasn't all that difficult to figure out whodunit, but in this game, you actually got to solve a murder. The graphics were good, the HOS were well done for the most part--that is the biggest downfall in this game, in my opinion. The HOS were repetitive scenes/locations--the cop office, the lab, the study, the victim's bedroom, etc--but you were often asked to find different objects each time, so that made it bearable to me. The story begins with the murder of a wealthy, privileged teen-aged girl being murdered in her bed while her parents attend a charity function for Daddy's homeless shelter foundation. You play a team of detectives in a newly created department which handles sensitive cases. Since the mayor is buddies with the Daddy Warbucks character, the team is called in. For the most part, the scenes & graphics are middle-to well done. The cut scenes are junk--some sort of water colour or drawings of the characters which look as though the art budget was tapped out by the time the creators got to this part! Characters looked different than their CGI counterparts, strange looking with eyes too close together or the female having a manish look to her face but PLENTY of cleavage the rest of the time! As I said, strange, but other than the cut scenes, no real complaints. Gameplay was pretty standard--a map which lights the locations you can/must go to next, with very few choices allowed. There were puzzles in every chapter, many of which were old standards or variations on them, so nothing new or creative there...nor too difficult. All in all, a good few hours of sleuthing pleasure, where the creators did not lose sight of the storyline. Puzzles were average, not too difficult and after a minute or 2, you are able to Skip without penalty. In several situations, you do get to be the lab/crime scene tech & perform tests such as GSR or fingerprinting. Sometimes there was little or no instruction on HOW to perform them, just trial and error. There is no time kept nor points awarded in the game, either. A good way to spend a rainy evening or day. Try it--a bit of old school HOG with some crime solving--you might enjoy it enough to buy it, as I did, with no regrets.
March 17, 2012
A good "Whodunnit"
I found this game to be quite a good old detective story and who dunnit. The graphics were very good and clear and the dialogue a bit tedious but necessary to keep abreast of the case as it unfolds. The background music however is repetitive and monotonous. The plot is to find a young girl's killer and it becomes even more intriguing when they think they have the culprit only to have the evidence disproven and they find themselves back to square one. The puzzles are interesting and intriguing and require a bit of thought but they are not really hard. Some of the hidden objects are very small and blend in with the background and other objects which make them hard to find, others are ok. A good game - worth buying.
January 30, 2012
A classical criminal investigation
This is essentially a HOG on a criminal investigation background not unlike Women's Murder Club yet not as good. I rather liked the visuals, clear, brightly colored, true to life, the minigames and puzzles most of which are directly related to the story, the storyline itself which does hold the road quite well, and questioning the witnesses and suspects. Unfortunately there are too many HO Scenes and too many irrelevant items to find for me to fully enjoy the game. Although the game is of medium difficulty in general, some puzzles present a fair challenge and so do the tasks you need to perform in order to progress. The Hand That Feeds offers long playtime with 12 chapters and enough entertainment to consider adding it to one's collection especially if it comes on the Daily Deal. Note: Review based on the demo
January 28, 2012
A Very Good "Whodunit" To Be Solved
This review is for the whole game playing in story mode. The story: The newly formed Special Enquiry Detail, Brody LaMonte and Cathy Turino, are investigating the murder of Carmody, the daughter of wealthy philanthropists. * 2 modes of play: Story & Find All Objects * 12 Chapters * Voice Overs plus text on screen to read/click through. * Graphics realistic looking. * List of Task(s) that need to be completed. * Map * Hint/Skip refill pretty quick * Mini games/puzzles My overall impression of the game: I really liked this game. Definitely hope to see more like this one. If you have played and like the Women's Murder Club series then you should enjoy this as it's pretty similar to this. I sure felt like a real detective and part of the game here interrogating the suspects which this had some twist & turns. Just when I thought I knew who murdered this young girl... NOPE! Also gathering/collecting evidence. The graphics had a "realistic" look to them and I found to be very well done along with the voice overs however I wish the voice overs would of been throughout the whole game instead of parts of the game and then the rest you have to click through dialogue/text but not a whole lot of reading. There's also quite a few HO scenes to this and I must admit I had trouble finding some of them because they are so small and/or really blended into the scene. You also acquire some inventory items however pretty much used right away as there is no "wandering around" in this game. There is a map however only list 1 or sometimes 2 locations to go to. There's also mini games/puzzles which I found to be pretty easy and fun. Nothing frustrating here. As for game length: Obviously varies from player to player. Although this has 12 chapters however they are pretty short as I completed the game in about 5 hours but found it long enough and quite enjoyable. Overall I give this 4 stars. I knocked this down a star for the very small objects to find as some are very small. Also if the voice overs would of been used throughout the whole game this would of been a 5 star game for me. Thanks though Big Fish and developer for a pretty good game here. I sure hope to see more of the "whodunit" type games like this one brought to the site here.
April 8, 2012
The Apple logo is a trademark of Apple Computer, Inc.