Eternity
Travel through the time and find your grandfather in Eternity, a fun and amazing Hidden Object Adventure game! After inventing the time machine, your grandfather decided to experiment on himself and is sent hurtling through time. Use your courage and puzzle-solving skills to travel through time and find him somewhere in Eternity! Meet characters from all parts of the past and future, and solve perplexing puzzles.
Rich environment
Perplexing puzzles
Find your grandfather!
Game System Requirements:
OS:

10.4

CPU:

800 Mhz

RAM:

256 MB

Hard Drive:

279 MB
Game Manager System Requirements:
Browser:

Safari 4.0 or later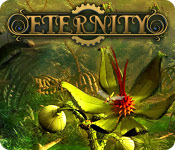 NEW299
The Big Fish Guarantee:
Quality tested and virus free.
No ads, no adware, no spyware.

Reviews at a Glance

Eternity
0
out of
5 (
0
Reviews
Review
)
Customer Reviews
HOS game
Good practice for HOS fans. Not and real story just go from one area to another looking for stuff.
May 9, 2013
Overall, just an okay game...
I have only completed the demo on easy mode (There are 2 modes...easy and classic), and I had to use the walk through in the Mayan Chapter, as previously mentioned. This game makes you think, and you really must pay attention to every detail or you will easily miss info and be lost. At some points you will probably be lost anyway, as some things are not really explained well. It takes a bit of getting used to, to figure out the mechanics of this game, and how to play it. The graphics are 3D and are okay, but not the best I've seen. The music is calming, and unobtrusive. The other sound FX can get annoying...like the sound of an incorrect mouse click. The storyline, characters, and traveling through time is mildly interesting. Some of the inventory items you must find in a scene are only pieces of a larger item that must be combined, and some are blended very well. Some of the HO in the HOS are VERY TINY!! You must search every inch of each scene with your mouse, or you will miss something, and there really isn't that much to find in each scene. The good news is that the hints recharge quickly, there is no walking around...only "teleporting", and it tells you when the scene is complete. The chapters are short. In the hour demo, I completed Chapter 5 of 14, and that's with having to leave the game to consult the walk through....So I'm guessing just over 2 hrs to 2 1/2 hrs to complete the game. I will not be purchasing this game, as it didn't really pique my interest enough, and I don't see myself replaying it. I feel it is only worth the DD price, and that's only if you find it interesting enough for your taste. Remember, always try before you buy!
April 26, 2012
Eternity needs some work
I really did like the idea behind the story. It should have been in 2 games because there wasjust too many eras and not enough story. It didn't seem too well thought out, trying to cram to many characters in. I like to see it reworked and a little more substance.
August 5, 2012
Not a lot of fun
I have to admit, the graphics and sound were quite good. But that's where the enjoyment ended for me. I have played games where you need to find elements in more than one scene but in this game it really wasn't fun. Help wasn't much help in the way of guidance .... Maybe I was just too tired when I started the demo but this game was not too enjoyable. It was borderline boring.
April 30, 2012
There's a Reason why it's only $2.99 today...
That old maxim, you get what you pay for, definitely applies to this game (unless it is regular game club price). Visuals and graphics were nothing outstanding or even above average, in my opinion; simply average. If this game was several years old, then I could understand some of the ravings of other reviewers...compared to the gorgeous graphics and beautiful scenery in most of today's modern games, this game, Eternity, just does NOT stack up--it isn't even in the same conversation! The storyline is one we have seen many times--find Grandpa who is lost in time. The novel part may be the use of a time machine, but I have seen even that before. Once you reconstruct the time machine and get his mini-machine he's sent back for you, you travel to various periods/places in time--from caveman to Egypt (with an 'ancient laser' to help cut marble for a pyramid!) and so forth. In each locale, you have to travel to 4 sites and find items to complete some mission--from making a cart for the caveman to helping construct pyramids. The format for this gameplay is unique--4 sites you click on, complete the task or gather items & click back & forth between the 4 sites until the mission is accomplished. Nothing really new, nothing intriguing, nothing very challenging. For example, in the first 'chapter' you find yourself in caveman times, complete with cave and caveman who speaks in English. He want fire, so you go have a HOS where you must find the items to make an axe.Take the axe to the forest, cut down trees for firewood; bring firewood to cave, but don't think you can just stack the wood in the fire ring, nope--you must click on each log in your inventory, put them together with the matches you cleverly brought along. Then, once the fire is in your inventory, you can place it in his fire ring. The reward is another mission--building a cart. All in all, there are at least 2 tasks per place/time. You get negative responses on finding Grandpa (naturally until the end). The game is so simple that a child can &, in my opinion, should do it...unless you are simply a bored adult who wants a minimally challenging point and click sort of game with a few puzzles. a few HOS, and several figuring out how to accomplish tasks given to you. I was seriously disappointed with the game, I tried to find SOMETHING redeeming about it, but really could not. The demo lasts about an hour and according to the walkthrough, that's about HALF THE GAME! I can't really recommend this game, but do think you should download the trial and evaluate it for yourself, YOU might like it!
April 26, 2012
Not My Kind of HOG
This may be a great game for those who are big Hidden Object fans. I'm more into "here's what to look for, now find it" than scene-switching, etc. If you're like me and just want to relax a little with hidden objects, this may not be for you. If you like greater challenges and "you figure it all out" kinds of HOGs, give it a try with the demo.
April 26, 2012
A real mixed bag.
A few aspects of this game were fun but other aspects were terrible and that far outweighed the good for me. A few places just had you clicking on everything to try to guess where something was supposed to go...not a good time for me.
April 27, 2012
Don't get your history from this rubbish
This game has a different format, lots of small sections which many will enjoy. Each section has an HOS and a game. But the "history" is at times ludicrous. In the UK we are used to people getting our history wrong - Hollywood does it all the time but 1066 for the Vikings. 1066 is the single most important date in English history - the date of the NORMAN invasion - not the Vikings. And Robin Hood in 1572! If there was any such person he would have been around 300 years earlier. And what about the pirate using papyrus in 1572. Rubbish. Who wrote this?
October 2, 2014
If you've got a couple of hours to waste...
Frustrating! If you enjoy clicking randomly then this might be the game for you but too often had to resort to the hint and even some of those were cryptic at best! No reset on puzzles so if you went wrong you had to push on until you had 'no more moves'. Dull, dull, repetitive and dull. Spelling errors made me gnash my teeth! Fortunately bought on daily deal but now regret even spending that. let the trial pique your curiosity/optimism...it DOESN'T get better.
March 28, 2013
so boring
everything about this was stiff and predictable. I fell asleep a few times, just out of boredom. I do not recommend this game, but I know others might enjoy what I do not, so try it, but if you get bored, trust me, it does not get better. It just plods doing the same thing in different locales.
March 28, 2013
The Apple logo is a trademark of Apple Computer, Inc.
The Windows logo is a trademark of Microsoft, Inc.