AGON: From Lapland to Madagascar
Travel From Lapland to Madagascar in this fun Adventure game! Help a historian working for the British Museum, Professor Samuel Hunt, learn the rules of a long-forgotten board game and remove the spell of the families who have been forced to guard the ancient game. Dive into a mystery and get lost in the immersive atmosphere. Travel across the globe in AGON: From Lapland to Madagascar and uncover ancient mysteries!
Gorgeous graphics
Fantastic atmosphere
Travel the globe!
Game System Requirements:
OS:

Windows XP/Vista/7/8

CPU:

800 Mhz

RAM:

128 MB

DirectX:

9.0

Hard Drive:

621 MB
Game Manager System Requirements:
Browser:

Internet Explorer 7 or later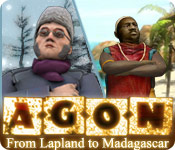 NEW299
The Big Fish Guarantee:
Quality tested and virus free.
No ads, no adware, no spyware.

Reviews at a Glance

AGON: From Lapland to Madagascar
0
out of
5 (
0
Reviews
Review
)
Customer Reviews
AGON: From Lapland to Madagascar
7
7
This Blockbuster Deserves Even More Than 5 Stars!
If I could give this second installment in the "AGON" series 10 STARS, I would do it! This was pulse-pounding adventure at its zenith, with many of the scenes in Lapland very reminiscent of "Syberia," and with a jungle that is the most challenging I've ever encountered, both AUDIBLY as well as INTUITIVELY. The snow and strange people in Lapland,in stark contrast with the steamy jungles of Madagascar, which feature incredible puzzles and challenges, and with the series of secret underground caves and very difficult puzzles, make this game one of the BEST EVER! And I must take exception to what Lao_Zi wrote about the first game and the Professor's "irritating voice." The first episode was NOT -- I repeat NOT -- disappointing. It was an excitingly short, and necassry portent of things to come in the second installment: "AGON: From Lapland to Madagascar." And furthermore, the Professor's voice was anything but unpleasant and "irritating." I like this game as much as the "Syberia series," "Voyage," "The Tree of Life," "Dracula Origins," the "Art of Murder Series", "The Scorpio Ritual," "Cleopatra: A Queen's Destiny," "Egypt III: The Fate of Ramses," and the "Pahelika Series, along with anything in the "Drew" series. THIS is one of the "Great Ones!"
September 23, 2012
Fantastic game
Like other people, I was put off by the shortness of the first game in this series and it has taken me a long time to get around to buying the second.' From Lapland to Madasgascar' is a thoroughly enjoyable game, with an interesting storyline and intricate puzzles, some of which take a lot of time to work through, but are very satisfying . It is the sort of game I will play again and again. I am now looking forward to playing the third in the series.
November 22, 2013
i love the game
i love the game agon lapland to madagascar
June 19, 2013
Now this is more like it
I regret to see that this installment of Agon only has two reviews to its name... I suspect that this is the result of a very disappointing first episode. But this is more like it! Agon is no HOG... exploration, brain-teasing, deduction, searching, association ... all this is part of this great adventure and exploration game. Come on, get into it and put those little gray brain cells to work. It will make you live longer without getting Alzheimer disease. From Lapland to Madagascar, you will live through a host of challenging moments. After the disappointing first episode, I got hooked on Agon and I even got reconciled with the irritating voice of the professor.
July 6, 2012
very nice and long adventure game
This is a very nice game. Not to many puzzles because I thought they where quite difficult. you will need a walkthrough. 1 thing was for me absolutely not good: At some point you need to find you way through the forrest. A monkey shows you the way by screeming loud. You have to follow the loudest screem. I have a little bit of a hearing problem and no boxes which shows you the loudest sound. So I got stuck! It is a shame, I realy wanted to finish the game.
April 18, 2012
If you are deaf or don't have 2 speakers or headphones then don't buy this.
If you don?t know, this adventure game by private moon studios, is being released as episodes. This game being episodes 2 and 3. The London scene, which you can purchase separately, is episode one. It is also sold elsewhere, these three chapters as ?the mysterious codex? (London, Lapland, Madagascar) They plan on eventually making around 12-14 (?) episodes in total. If you view it as an episode of a TV show, the immediate story being concluded but the long term continual backstory isn?t, you start to get the gist of it. If you haven?t played the first chapter ?the London scene? you don?t need to, there is a recap of it and as it?s so short I also wouldn?t recommend you to do so. While these individual chapters are longer than chapter one, don?t go expecting the length of some of the large file games here. Although combined it was a decent length, which is largely due to some of the really hard puzzles scattered throughout. The adventure side which I was missing in London, at last arrived. There were 3 small different locations in Lapland which you explored and Madagascar it was more of a larger area. Some of it was well done and what I expect from a pure adventure game. One scene in particular is the nicest looking scene I?ve seen in a game and just wanted to fly there for a holiday! There is an option to play in easier mode but that is just for the board game at the end of each chapter and I played both levels and honestly didn?t see any difference. I did enjoy the first board game but the second one I thought was a bit illogical. You can replay these in the main menu. Now to get to the not so good parts ? I really dislike in games when you find a document that you need but it?s not recorded either in the file location or in a journal. It was infuriating that at a cypher type puzzle at the beginning I couldn?t view the document I found elsewhere to help me to work it out. You need a large pad of paper and pencils to write everything down and that to me is pure tedium. It?s a shame as if they did that then some of the puzzles would have been enjoyable. One puzzle did record things in your file but it was the only one. I actually resorted to a walkthrough later for one puzzle, purely because I didn?t record information that was very time consuming to get and there was no way I was going to do it all again. The maze in Madagascar that relied solely on you being able to hear the directions of sounds to get through it was ill conceived and thought out. Either for deaf people or for people like me that play on a laptop with one speaker and I don?t own headphones. I was just about to give up on that part and the game when by pure luck I arrived at the destination. Walkthroughs were no help at this part either. On a personal note there is a time when challenging puzzles lose their interest and cross the line into tedium and brings no joy, here in this game it was a few times. If they allowed the recording of documents it would have made those instances less but I did resort to a walkthrough a few times during this game, it's really hard in places. If you are a beginner to adventure games this is so the last game I would recommend unless you like your nose stuck in a walkthrough. I think even hardcore gamers would find a couple of places really challenging. I?m glad I got it in the sale and that I played it but it?s not one of the adventure games I enjoy. I probably will plod on with the series and use coupons if big fish gets the others (they have the next one in the series ? the lost sword of Toledo).
May 27, 2012
Felt seasick trying to navigate round
Didn't even want to finish the free trial. I couldn't get comfortable with moving around the screen using the mouse as a pointer. The scenery kept swinging violently around. There was a lot of reading which didn't seem to be related to any of the puzzles. The things you were asked to do didn't seem to be very interesting either. Just not very gripping story or puzzle. Nicely drawn scenery if you can get it to stay still!
September 22, 2012