Farm Craft 2
Ginger's company, aptly called the Tomato Corporation, owns and works with a vast network of farms and food suppliers making quality, healthy food. Her trusty shovel hangs on the wall as a memento to her great work in past. During a trip back to her farm to visit to her grandparents, Ginger stumbles upon people making suspicious, and dangerous, experimental fruits and vegetables in her village. Dive into Farm Craft 2: Global Vegetable Crisis and save the world in this Time Management game.
Fast-paced gameplay
Unique minigames
Stop the Global Veggie Crisis!
Game System Requirements:
OS:

Windows XP/Vista/7/8

CPU:

800 Mhz

RAM:

128 MB

DirectX:

8.1

Hard Drive:

162 MB
Game Manager System Requirements:
Browser:

Internet Explorer 7 or later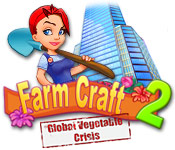 NEW299
The Big Fish Guarantee:
Quality tested and virus free.
No ads, no adware, no spyware.

Reviews at a Glance

Farm Craft 2
0
out of
5 (
0
Reviews
Review
)
Customer Reviews
Farm Craft 2
I love this game has many levels and lots of time management which I enjoy. I liked the first one but this has more challenges in a fun way.
November 17, 2011
Great
Please be aware before you buy this, if you have not played any of the Farm Craft games before, is that even though there doesn't seem to be many levels, each level is much longer than your average TM game and by much longer, I mean some of them can last up to 15-20minutes. Although it works different, so in each level you have several different 'mini' challenges to work towards. In saying that, they are amazing for playing a level at a time when you do have the time to spare. I find this be one of my favourite farming TM games ever, and I really love the fact you work your way up in each one, getting new buildings and employing helpers to help you. It gets to the point where you have a huge working farm with all the helpers you need. The especially good thing about this improvement is the added helpers to help with the animals which is what I thought the first one lacked.
January 11, 2012
Time management with a twist!
I really liked the first version of this game - but I just love this second version and have been playing it for some time now. The levels last a long time with several tasks to complete on each level. Complete them within a certain time and you can earn trophies. This is pretty tricky and I am constantly playing the game, even though I have had it ages as I determined to get all the trophies (this is not easy) and I haven't done it yet. I really like the different strategies needed to play this game and it is never boring. The storyline is good fun and the different types of tasks needed also adds to the fun value. I have tried other farming games - but this is easily one of the best. Most of the others focus on gimicky farming stories. This is a good value, quality time management game for anyone who really likes a challenge. First class!!!
January 21, 2012
Even better than the first!
I really enjoyed Farm Craft, so I was excited for FC2, & it did not disappoint! This game (along with the 1st) is without a doubt one of the best quality 'farm' games I have played. The game has many levels, which are longer & more challenging the further you progress. It has a good storyline that makes you interested in finding out what happens. It has excellent replay value & you can even go back and try to beat your best time on completed levels. Once you finish all the levels, 'Free Play' mode is unlocked, which gives you a large, wide space to develop your own farm however you want- with no time limits or objectives.... >>Bottom Line: Fun, challenging #but not too much so#, quality sound/graphics, ease of controls/navigation, interesting, and allows a certain freedom in planning/desgning that other farm games do not. Well worth the money!
November 15, 2012
Super Fun!
I must agree with the other reviews, this game delivers. I love that you're given a series of tasks, not all at the same time, but new tasks as you complete current ones. Makes the game interesting. I never felt rushed to beat a clock which is what I usually go for, so I think players who want a more relaxed play will love this too. The storyline gives a really good background to your purpose and it really was engaging. There's really nothing more than needs to be said that wasn't said before. I definitely recommend!
August 11, 2013
Farm Craft 2
I LOVE this game! The storyline is Excellent, The Quality is Excelent, and overall it's just FUN! I can't believe that 'Farm Frenzy' (The game I wouldn't recomend) is more popular than this game.
October 10, 2013
Don't miss this gem!
If you love farming time management games, do not miss trying this one, and also the prequel "Farm Craft". This is not just another farming scenario - there is so much more! As you work your way through the levels, you will deal with such real-world issues as global warming (drought, floods, changing climates), economic crises, worker strikes, material shortages, and equipment breakdowns, all while using your strategy and problem solving skills to meet goals and produce your goods efficiently. While there is a time bar slowly counting down in each level - there is no ticking clock or urgent voice telling you to hurry, which I found very refreshing. You can complete the levels within the time given for trophies - or not. I found myself getting so engrossed in designing my farm for efficiency, solving problems, meeting goals and producing goods, that I just didn't care about the time bar. I still felt a sense of accomplishment for a job well done when each level was completed. The minigame levels in Farm Craft 2 are unique, very fun little adventures that all pertain to the main story line - my favorite is the Dream sequence; it made me laugh out loud. The story continues from the original Farm Craft, with much more detail and explanation of the main character Ginger's life and history. The engrossing story reads like a graphic novel, with mystery, intrigue, and interesting characters. Farm Craft 2 and the original Farm Craft are a great value for the money, as challenging as you want them to be, and I feel certain you will want to replay them again and again. They are so much fun! I have just one question for the design/development team: how long do I have to wait for Farm Craft 3?
June 18, 2013
Fun Game
I am a huge fan of Time Management games and both Farm Craft games delivered (in my opinion). I like having to perform multiple tasks to attain your goal in a limited amount of time. Not super hard and not so easy that it's not fun, it's just right. Had to replay a few levels just to get the expert goal time! I honestly don't pay much attention to story lines, I like getting right to the game so can't really comment on the story/plot.
June 19, 2013
Want more!
I love this game so much, i have finished it and its original several times. i reset it every time just to do it over. Please, when will another Farm Craft be coming out?
April 8, 2013
More ipad games
I would like to know when farm craft will be available for ipad?
August 18, 2014