Masquerade Mysteries: The Case of the Copycat Curator
Exclusive
Help P.I. Joy Black find items and turn them into disguises and gadgets to catch a corrupt curator that is stealing from her father Sneak into a natural history museum in Masquerade Mysteries: The Case of the Copycat Curator! Shady security guards, tricky thieves, and a corrupt curator all stand between P.I. Black and her goal: catch the criminals before they ruin her father's career in this fun Hidden Object game.
Create disguises
Solve puzzles and riddles
Save Joy's father!
Game System Requirements:
OS:

10.4

CPU:

800 Mhz

RAM:

256 MB

Hard Drive:

163 MB
Game Manager System Requirements:
Browser:

Safari 4.0 or later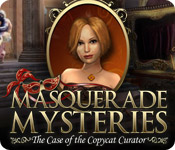 NEW299
The Big Fish Guarantee:
Quality tested and virus free.
No ads, no adware, no spyware.

Reviews at a Glance

Masquerade Mysteries: The Case of the Copycat Curator
0
out of
5 (
0
Reviews
Review
)
Customer Reviews
Masquerade Mysteries: The Case of the Copycat Curator
15
15
Great hidden object game with a story line & adventure nothing dark/creepy!
The game follows the adventures of a PI as she solves a mystery. Objects collected from various scenes form disguises (hence "masquerade" in the title) that one puts together and uses to advance. Unlike many hidden object games, this is not limited to a "collect everything in one scene, move to the next, collect everything, move to the next" mode. Instead, in several stages the player gets to travel back and forth among several rooms to collect objects before advancing to the next stage. (not too difficult since hidden objects are highlighted in the appropriate rooms). The challenges (except 1) where just challenging enough to be fun without being too difficult. Importantly, the game was engaging and fun without drifting into dark, evil or creepy (the requisite "bad guy" and accomplices were present but the game contained nothing twisted or dark - why can't more games be like this?!).
April 19, 2012
Finally a game for ME!!!
This game is for people who enjoy hidden object games but do not enjoy all the zombies, ghosts and otherwise creepy slimy things in the usual HO games. I usually play on mute so I can't vouch for the sound but the images were good and you weren't penalized for multiple clicking(something I do alot of). A cute, enjoyable story. For those people who had difficulty with the hints, just have patience and run your cursor over all the screens in every room. You'll find the tools you need. When I finally found the mask, I felt ridiculous I hadn't looked everywhere. It is a wonderful game for escapism and I wish more game developers would have a unique storyline without all the gruesome CSI stuff.
December 10, 2012
clever and different
I only did part of the demo, but what I liked was the use of objects to solve things. Puzzles were challenging. There was one with two cards with pieces that belonged to each and that was a better challenge than just having a straight jigsaw of one picture. There was a camera to take photos based on riddle clues. There was some sorting through the inventory to find things to make up a costume and that was different. There were objects that had to be created. One had to think how to get to make them out of the inventory. So all in all it was new, different, fun and workable. I am looking forward to playing the whole thing. Will report if it disappoints in the totality, but I do not think it will. I do not usually like if the objects are small, but in the main they were capable of being seen, so it got a pass on that score.
December 1, 2012
LOTS OF VARIETY
I really liked this game because it contained a lot of different things to do. Some of the hidden objects were very small and some were pretty hard to find. I did have refer to the walk through a few times to figure out what to do next. There weren't so many locations that it needed a map. The hint button worked well. It did not contain any real puzzles, just "dress the doll" and make items from pieces. Nothing too challenging in the whole game. It certainly held my interest and was just about the right length. Very enjoyable, light atmosphere game.
December 8, 2013
Not a dark tale and you get to change outfits
Though this is not my all-time favorite game, it's still good entertainment. The searches are okay and assembling gadgets to advance the story is amusing. Changing disguise outfits is sort of silly, but it also works. There were amusing changes in tasks - fixing dinner then making a blowtorch, for example.There was snarky humor here and there, too. It's not a dark story full of gloomy searches, which is a nice change of pace sometimes.
December 4, 2011
Subtle differences and a pleasant change of pace.
Just a bit different from the normal H.O. games, but a pleasant diversion. The graphics are very good and quite clear but perhaps a tad dark in some scenes. The dialogue is not excessive and just enough to explain the proceedings and helpful details of how to continue. The general background sounds and voices together with other movements in the scenes add to the reality. The plot seems to get a little lost between taking photos, dressing up and building gadgets but I don't think it takes too much away from the gist of the game. The puzzles and mini games, as I said above, involve taking pictures of items given cryptic clues, dressing up and constructing crazy gadgets with items gleaned from scenes and added to your inventory. A couple of the hints were a bit misleading, ie highlighting a door, and once entered, reaveled that you need to go to another location. With no walk through blog you will just have to move about from room to room until the task is highlighted. Some of the hidden objects are a bit difficult to find but overall an intriguing and interesting game - well worth the money.
January 11, 2012
Very logical and enjoyable
I really enjoyed this game! ?and good thing because it reset itself near the very end!! For the quick review: it is CLEAN and FRIENDLY without being "brainless." In the casual mode it is reasonably easy, yet I had to go to the walkthrough a couple times. Detailed version: The HOS are not a garbled pile of nonsense, but are designed so that items may "belong" in the picture, therefore not seen. (Hide in plain sight?) There are several cute mini games, but unfortunately they are used way too many times that they became annoying. Items are used in a logical sequence with only a minimal amount of back-and-forth. While most of the game was quite easy, there were several times that I had to close out to go to the walk-through. (The last time I went to the walk-through, the game reset. Oh-well.)
November 12, 2012
Fun Game
I like the storyline and the way it progresses in this game. I liked playing Joy, and following her through her investigation, dressing up in different disguises. The only drawback for me in this game was some of the mushy graphics in the HOs. I really put my eyes to work trying to find some of the objects, and definitely needed the hint button a few times. Overall, a fun game.
July 14, 2012
A Classic...
First of all, this game is by Elephant Games and its one of the first games ever released by them. That being said, for a click and find game, its an oldie but goodie. Playing this and seeing this was elephant, didn't surprise me in the least. This was released in 2010 and back then a lot of hidden object games were just finding random objects, however this game was ahead of its time. The best part of this game is that you get to dress up in costumes and make different gadgets that help you advance in the game. You are a Private Investigator who stumbles upon some art thieves who are painting over expensive paintings, selling them to cheap to each other and then re-selling them to art dealers for an expensive profit. It is your job to stop them however you need to get past a few locations and need different clothes to do so. You actually get to dress the character and put together the gadgets from hidden objects you find. I found this part of the game to be the most enjoyable. Then there are the hidden object scenes. Some items are darkened meaning you need to venture into another room or there will be a magnifying glass instructing you to look in drawers and boxes for the items that are now highlighted. Some of the items are quite small and the sound it makes when you hit the wrong item is quite annoying however this game is so good that I looked past it. There are a number of locations but no backtracking since its mostly a pure seek and find game. This is a classic and a reminder of how far Elephant Games have come although if this is where they started from, kudos, because not all developers were up to this standard of game in 2010. I recommend this to people who like pure hidden object games, who like costumes, the telling of a good story and putting together various gadgets. I personally enjoyed this game very much. It was relaxing to play before bed and I really enjoyed it.
June 8, 2013
NICE TWIST ON THE ADVENTURE
STORYLINE: Artworks are disappearing from a Museum of Natural History and you are investigating what happened to them. GAMEPLAY: There are a lot of rooms to explore for clues. As a bonus, you get to sort through the junk you collect to come up with various disguises ? such fun to see what you can come up with. If that?s not enough, you also get to pick out objects that will make up a handy tool or gadget to use (don?t worry, you don?t have to actually assemble them from scratch, you just need to gather the objects). HOS are clear and true to size. Sometimes you have to solve a riddle to determine what it is you?re looking for. You also have to think about what you have to do. When you?re disguised, your costume will have something to do with what needs to be done, and you have to figure out what it is. Lots of minigames and puzzles - the usual variety, difficulty is easy to moderate. Artwork is crisp and clean and, although some scenes are a bit dark, you can usually make out what you need.
November 1, 2012
The Apple logo is a trademark of Apple Computer, Inc.
The Windows logo is a trademark of Microsoft, Inc.