Midnight Mysteries: Salem Witch Trials
The famed writer Nathaniel Hawthorne has died during a freak snow storm, and his ghost has come to you, asking for help. Travel back and forth in time from the scene of the author's demise to the 17th century, where a town is going mad with rumors of witchcraft and a woman is facing the gallows. Unravel the secrets of Salem's accused witches and solve the death of Hawthorne in Midnight Mysteries: Salem Witch Trials, a fun Hidden Object game.
Collectible clovers
Fantastic graphics
Solve the Midnight Mystery!
Game System Requirements:
OS:

Windows XP/Vista/7/8

CPU:

1.6 GHz

RAM:

512 MB

DirectX:

9.0

Hard Drive:

479 MB
Game Manager System Requirements:
Browser:

Internet Explorer 7 or later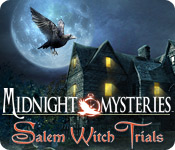 NEW299
The Big Fish Guarantee:
Quality tested and virus free.
No ads, no adware, no spyware.

Reviews at a Glance

Midnight Mysteries: Salem Witch Trials
0
out of
5 (
0
Reviews
Review
)
Customer Reviews
Midnight Mysteries: Salem Witch Trials
57
57
Great Game!
Midnight Mysteries: Salem Witch Trials is a hidden object adventure game. You play an author/detective who has an affinity with ghosts. This time, it's Nathaniel Hawthorne who comes to ask your help for his case. It's a fun game, where you travel back in time and talk to ghosts to solve the case. The graphics are dark, and just beautiful in this game, especially the cut scenes. The gameplay is straightforward. There is a special place in your inventory where you can combine two objects to make a new object. There are achievements in the game for completing certain objectives. An unlimited hidden object mode is opened if you collect enough clovers. (I haven't tried that mode yet.) I liked the puzzles in this game. The game took me over three hours to complete. Definitely worth taking a look at.
December 9, 2011
My favorite in the series!
Hands down, this is my favorite Midnight Mysteries game. The first one (Edgar Allen Poe Conspiracy) was great, but this game is really when the series found its footing. I've played this one twice and will definitely go back for more in the future (I want to get all of the awards!). Gameplay is smooth, transitioning is natural. Definitely well-written, like the graphics, and hope that there are more in the future!
November 15, 2011
Definite Repeat Playability
This game is one of my favorites. The graphics are great and the soundtrack fits the game wonderfully. I love how you are taken back in time during the 1800s and also in a couple of Hawthorne's novels. Not only are you trying to find out what happened to Hawthorne, but you pick up mysteries along the way and eventually save a life. Another interesting factor is that in this game, Nathaniel Hawthorne is a friend of former President Franklin Pierce and the time period is during the Lincoln administration. It would be interesting to know if Hawthorne's and Pierce's friendship in the game has some historical fact to it or if it was just a fictional pairing for the story. All in all, this is a great game with repeat playability due to the awards that can be won throughout the game. It's also interesting that there is a bonus HO game that can be played after collecting 50 clovers during the regular game play. For that reason, I'm playing the game for a third time. Each time, the HO scenes are a little different. The puzzles aren't that difficult, but they aren't easy either. While you can pretty much play the game without a walkthrough, it does become helpful when trying to find all the clovers.
December 22, 2011
great game
This is still one of my favorite HO games. The story is complex and engaging, moving back and forth in time, and the puzzles are challenging but not too hard. I also liked the additional challenge of being able to combine objects in the inventory to make things. Definitely recommended!
November 22, 2011
Great Adventure Game
This was a great game!! Way more adventure than just hidden objects which is what I like best. Also, the puzzles were challenging but not to hard. Highly recommend this game.
December 4, 2011
a good bit of historical fact mixed with conjecture in this fascinating game
in this hidden object puzzle thriller, American writer Nathaniel Hawthorne has supposedly died during a freak snow storm. was he murdered? since you are a detective with a particular affinity for ghosts and time travel, Hawthorne's ghost is asking you for help to unearth the cause of his death and to expose the secrets of Salem?s witches. graphics: wonderful. beautifully detailed. splendiferous blend of hidden objects scenes and puzzles, combined with a mystery thriller storyline. hidden object scenes are refreshingly neat -- almost no junk piles here! some of the hidden objects must be assembled before they can be crossed off the search list or before they can be added to your object inventory. some of your inventory items languish for quite some time before they are used. there is no click penalty. puzzles are varied and some are challenging since the instructions for what to do are minimal. music and sound effects: there is no music that i recall but the developers did make good use of ambient sounds (wind and calling crows, for example), there are special sound effects that accompany ravens and clovers and there is the sound of a quietly ticking watch in the background too. storyline: fantastical tale but the basic facts are well-researched. for example, it's true that Hawthorne really did live in Salem (and his family were active in the witch "trials"), Hawthorne and US president Franklin Pierce were friends, it's also true that they met whilst attending Bowdoin College, and Hawthorne really did die in the month of May whilst traveling with Pierce. the developers' alternative idea about the cause of Hawthorne?s death is tightly plotted and includes enough historical detail to make their story truly captivating -- and it made me dig a bit to better learn about Hawthorne?s life and the actual facts known about these events. a really engaging way to get people interested in history. also includes time travel, which i usually find tedious, but the developers use it well in this game to develop their story. gameplay: there's no hand-holding in this game: no strategy guide is included (although i don't think it necessary to this game, you can purchase it separately). there is a journal and a map, and hints are available in the form of ravens (click on a raven in a scene and you are awarded one hint, which is added to your hint meter). you also need to click on clovers during the game to unlock an unlimited hidden object mode, a "must" for HO fans. there is no sluggishness at all during the game, nor during scene transitions. an interesting feature is the meter that shows the percent of the game played thus far -- this is the first time i've seen this. my interaction: one hour demo. (the game has only one mode of play.) this is the second midnight mysteries game i've played and like the first, it's just wonderful; historical fiction with cute little innovations here and there. this game series has caught my attention and probably is my favourite series in the HOPA genre offered here at Big Fish. i've added this game to my "must purchase" list. i think you will also enjoy this game -- and you should check out the entire midnight mysteries series!
June 11, 2012
Challenging Game
Overall this was a very good game with challenging puzzles and a decent story line. The only thing that threw me was the time-line of the story which just seemed to jump all over the place with no notice. Sometimes it was difficult to follow the sequence of events in the story. Good graphics.
December 10, 2011
Loved it!
I really enjoyed both of the Midnight Mysteries that are available, and even bought one for my iPad so I could enjoy it on the go. Great graphics, a storyline that isn't boring, and you don't drown in HO scenes (sorry but I like games that offer an array of puzzles and searching for items). Wish we could get the Edgar Allen Poe version for the Mac, that would be perfect!!!
December 19, 2011
challaging
Good game with good HOG. Moves you around to find clues and makes you pay attention to be able to solve the area so you can go to the next area.
August 8, 2012
Great series
I love all the Midnight Mystery games and this is no exception. I love collecting the clovers just for the fun of it. The graphics are great, the story engaging. I love the fact that you can combine two inventory items to make a whole thing, for example two halves of a map or two parts of a tool. My only complaint I have with this game, like with all the others in this series, is the way the hint system works. The raven doesn't actually tell you what to do next if you get stuck. Instead you need to place one of your inventory items on the raven and he'll tell you where to use it. Not always very helpful, especially if you have to use it at a location you haven't been to yet. Because of this, I've had to resort to the walk through a couple of times, which I don't like to do. The puzzles are not too hard, which is just as well, because there are next to no instructions on what to do. There are no penalties for overclicking either, which is good. Some items in HO scenes are hidden, so you have to keep a close eye on your cursor to watch it change when there is a box or drawer to open etc. Because of the limited hint system, this is a fairly long game and suited to people who like to work things out for themselves.
May 30, 2012
The Apple logo is a trademark of Apple Computer, Inc.