Midnight Mysteries: Salem Witch Trials
The famed writer Nathaniel Hawthorne has died during a freak snow storm, and his ghost has come to you, asking for help. Travel back and forth in time from the scene of the author's demise to the 17th century, where a town is going mad with rumors of witchcraft and a woman is facing the gallows. Unravel the secrets of Salem's accused witches and solve the death of Hawthorne in Midnight Mysteries: Salem Witch Trials, a fun Hidden Object game.
Collectible clovers
Fantastic graphics
Solve the Midnight Mystery!
Game System Requirements:
OS:

Windows XP/Vista/7/8

CPU:

1.6 GHz

RAM:

512 MB

DirectX:

9.0

Hard Drive:

479 MB
Game Manager System Requirements:
Browser:

Internet Explorer 7 or later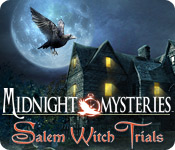 NEW299
The Big Fish Guarantee:
Quality tested and virus free.
No ads, no adware, no spyware.

Reviews at a Glance

Midnight Mysteries: Salem Witch Trials
0
out of
5 (
0
Reviews
Review
)
Customer Reviews
Midnight Mysteries: Salem Witch Trials
45
45
Great series
I love all the Midnight Mystery games and this is no exception. I love collecting the clovers just for the fun of it. The graphics are great, the story engaging. I love the fact that you can combine two inventory items to make a whole thing, for example two halves of a map or two parts of a tool. My only complaint I have with this game, like with all the others in this series, is the way the hint system works. The raven doesn't actually tell you what to do next if you get stuck. Instead you need to place one of your inventory items on the raven and he'll tell you where to use it. Not always very helpful, especially if you have to use it at a location you haven't been to yet. Because of this, I've had to resort to the walk through a couple of times, which I don't like to do. The puzzles are not too hard, which is just as well, because there are next to no instructions on what to do. There are no penalties for overclicking either, which is good. Some items in HO scenes are hidden, so you have to keep a close eye on your cursor to watch it change when there is a box or drawer to open etc. Because of the limited hint system, this is a fairly long game and suited to people who like to work things out for themselves.
May 30, 2012
Midight mysteries. Salem witch trials
I thoroughly enjoyed this game, the only problem I had was at the end of the game, where i couldnt find something, so I couldnt finish the game even though I used the walkthrough! :( I will go back and try again. Its a game well worth playing
November 15, 2011
Disappointing, compared to the other "Midnight Mysteries"
In this story, you deal with a lot of ghosts! There is only one game mode. - The sound is good. - The graphics are quite dark. But the objects in the HOS are easy to find. You have to combine some of them, before you can use them later. - The puzzles are on the easy side. - You have a journal. There is also a map, but no real use for it: you see the buildings, but no description and no path. - The hint system is also not really useful. It asks you to click an object to know the use for it. But if I want to know what to do next, there will be no help... I needed the walkthrough a number of times. - Collect ravens to get more hints. - Collect 50 clovers to unlock the Unlimited HO game. - You get also some achievements, for example for using no hints. I got bored of walking to and fro, and not remembering where a location was. I don't like it, when I need the walkthrough, just because the map is no map. I finished the game because I don't give a review otherwise. But I prefer the other "Midnight Mysteries".
November 11, 2012
Good Ghost Story
If you like a good ghost story, you will like this game. As in other "Midnight Mystery" games, you are a detective who has to solve a crime commited in the past, . In doing so, the souls of the victims are able to finally rest in peace. There are a few h.o. scenes, and some in between puzzles to solve which are not so hard they make you frustrated. There are a few times when "things" jump out at you, catching you off gaurd, which makes the game more fun, and plenty of ghostly activity, along with a great story line. The game has definite replayability, especially if you dont find all the ravens and clovers in the first round. There is also a bonus to work for, which I wont tell you about and ruin your fun . The sound effects are very good and fitting for this game, the music is dramatic and also fitting. Good scenes, good grapics, very nicely made game.
February 3, 2012
Interesting story, fun challenges, variety
Salem Witch Trials is the best HO game I've played. The gore is kept to a minimum; you meet historical figures; the interstitial games are challenging but not irritatingly so; the graphics are good and the music isn't annoying. My only complaint is that it's a pain to return items to inventory, but that's the only negative I experienced. Highly recommended.
January 16, 2012
Another Great Game in this Series
I thoroughly enjoyed this game. It was a great follow up to the first Midnight Mysteries (Poe). I've also played the third (Mark Twain). Great series. The graphics are good, the play is fun, and the story is interesting.
February 19, 2012
Salem Witch Trials
Love this game. Awesome. I like that we can choose the conversation with the characters. Loved it that we can interact with spirits and ghosts. Loved it that I can learn about American history. This game is great. Don't miss it!
July 14, 2012
Just a brill game
Been playing hidden/object adventure games for a year now. played some great games dire grove, 13th skull, but to name a few. And i can say this game is up there with the best. Not to hard and not that easy, just right to keep you there. 13th skull was a great game, but far to easy, this game gets you thinking. every thing about this game is perfect, stunning artwork. I could talk all night about this game, give it ago you will be glad you did.
February 15, 2012
SPOOKY UNDERTONES
BASICS: Diary includes a more complete synopsis of the story than you get from just gameplay. Occasionally, it has clues for some puzzles or where you need to go next. Includes a map, which expands as more locations are found. Backtracking is kept to a minimum. Inventory items are sometimes combined in a tray to make a useful tool (e.g., a pan and broomstick make an oar). Collect 28 ravens (for additional hints) and 63 hidden clovers. 50 Clovers will unlock unlimited HOS. There are frequently clovers in close-ups and also 2 clovers within a HOS ? collect them immediately because you will not be able to access them once the scene is closed. STORYLINE: Find out the circumstances under which Nathaniel Hawthorne died and where he is buried. You?ll also be involved in building the House of the 7 Gables, a witch trial, and all the fraud involved in land around that period of time and lots of ghosts, each with their own story. Mysterious to the end. GAMEPLAY: Spooky atmosphere. HOS are nicely detailed; click the name of an inventory item to see its silhouette. Click the raven to pinpoint where an item is located in the HOS or for direction of what to do outside of the HOS. Talk with several of the ghosts ? there are 3 interesting questions you can ask each ghost. Unfortunately, the questions are usually unrelated and there is no way to pursue a response from the ghost which is of interest. As a result, it seemed the story was sometimes incongruent and I was occasionally confused toward the end (1 point reduction). I like everything clarified and did not get that feeling. Other than that, top-rated production. OTHER STUFF: Plenty of scenes; very nice graphics and animation create a chilling and creepy atmosphere. Easy maneuverability - limited number of scenes at a time so you can easily keep track of what is at the various locations. Clicking on some items can cause a demonic reaction, further setting the spooky atmosphere which surrounds the time period. According to Wikipedia, much of the facts about Hawthorne in the storyline were correct, but don?t know if the story about his role at/in the witch trial location was fact or conjecture.
December 4, 2012
New Ghost: Hawthorne
Review based on the complete game. This is the second game in a series of now 4 games, preceded by a story about Edgar Allen Poe. This time it's about a man named Hawthorne, which I - unfortunately - do not know. But everything that made Poe a great game is back. You are approached by a ghost, who drags you into the story. The trademark raven is back. The lantern is back. Graphics are very good and clear, the story intriguing. In addition to the completion of the story you can collect items and finish achievements. Bottom Line: A very good installment of this series; you will get a CE version for the price of a normal game. (If you count achievements as CE material.)
February 23, 2012
The Apple logo is a trademark of Apple Computer, Inc.