Midnight Mysteries: Salem Witch Trials
The famed writer Nathaniel Hawthorne has died during a freak snow storm, and his ghost has come to you, asking for help. Travel back and forth in time from the scene of the author's demise to the 17th century, where a town is going mad with rumors of witchcraft and a woman is facing the gallows. Unravel the secrets of Salem's accused witches and solve the death of Hawthorne in Midnight Mysteries: Salem Witch Trials, a fun Hidden Object game.
Collectible clovers
Fantastic graphics
Solve the Midnight Mystery!
Game System Requirements:
OS:

Windows XP/Vista/7/8

CPU:

1.6 GHz

RAM:

512 MB

DirectX:

9.0

Hard Drive:

479 MB
Game Manager System Requirements:
Browser:

Internet Explorer 7 or later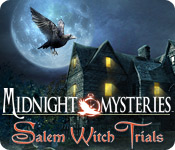 NEW299
The Big Fish Guarantee:
Quality tested and virus free.
No ads, no adware, no spyware.

Reviews at a Glance

Midnight Mysteries: Salem Witch Trials
0
out of
5 (
0
Reviews
Review
)
Customer Reviews
Midnight Mysteries: Salem Witch Trials
53
53
Complex Story; Challenging Gameplay
This game is probably best for those who are A) into literature and possibly self-described history buffs B) lovers of stories that have multiple, complex lines. While I do appreciate these elements, I'm used to HOG stories that are a little less...complicated. Thankfully, the journal you keep in-game is pretty detailed, so of course you can always go back and get your bearings. The journal acted as my saving grace, for the story would change abruptly at the drop of a hat and there were multiple characters to keep tabs on. I have never seen so many characters in one HOG. Things got really hairy when fiction started intertwining with the game's reality. But, it's a matter of taste: Some people like this type of complexity, others, not so much. I'm of the latter, and I think an engaging story does not necessarily have to be so involved. But enough about that... Graphics are excellent; the sound effects and music are appropriate and contributed very well to the atmosphere. Certain scenes are highly immersive, and I admit that this game is one of the first that had me jumpy at times. But, I also use earbuds so every thunder clap and crash of lightning can be very startling. HO scenes include aid in the form of a trusty raven to guide you along: Throughout the game you can collect ravens to go towards your hint button quota. When you call on your raven for help in an HO, you're shown a silhouette of the item in question. During puzzles the raven becomes your standard skip button. Outside of puzzles and HO scenes, the raven can also help you with discerning were your inventory items go. These hints were sometimes elusive, so I found myself relying on them less and less; it was better for me to just exit the game and check out the walkthrough, personally. One weird element: When you're finished in an HO scene, the game does not automatically back you out. At first this was confusing for a moment because I thought there was more to do. Alas, no, I was simply done and had to let it go! We're so used to HO games closing that scene for us, so I had this weird unshakeable feeling of incompletion the first couple times this happened. Even later on in the game, I still had this nagging feeling of "what if" there was something I left unfinished but I knew this wasn't the case. The achievements are a nice touch, and I especially enjoyed searching for the four-leaf clovers in order to unlock the achievement of Unlimited HO scenes at the end of the game. I wanted to kick myself, however, when I found that I collected all but one (I believe there are 63 clovers total, but only 50 are needed to unlock the Unlimited HO scenes). Even though my only qualms are the complicated story line and the raven system, I still found myself staying awake long into the night to wrap-up this game. I say play this if you are looking to be challenged with minimal hand-holding, and enjoy an in-depth story with many facets, twists and turns.
June 22, 2013
After Midnight We're Gonna Chug-a-lug and Shout!!!
This was among the first games I purchased when starting to play Hidden Object online. It was very fun the first time because this was all so new. It was very fun this time because, although there have been clear strides in the genre since Salem Witch, the game is just flat out fun. This is not a sentimental scoring. There are aspects which make this game very attractive: collectibles. There are two: ravens and clovers. About 30 of the former and 65? of the latter. They are well-placed, not disguised but blend in so well with the surroundings that they do disappear and that makes their acquisition all the more fun. I liked this the first time. I loved it the second. Among collectibles even NOW, this is about as good as it gets. These alone could account for a 5 in the fun category. The visuals are great. The "set design" is well done. Great artwork. Audio is non-existent save background music which, though played over and over again non-stop, is not boring, intrusive or annoying. There are no voice overs. Instead there's the cloud/balloon method of communication. I wasn't disappointed by it. It's not a five because this area of online games has probably evolved the most. Level of challenge: it wasn't over-taxing. Here's a twist: it's not a CE, in fact I don't think there is a CE. There is no guide. What guidance there is is more or less included in the journal. This is all you get. Unless I missed it completely, there wasn't even a way to figure out what exactly to do with puzzles. It was hit and miss. And if you invest a little bit of energy you'll be rewarded with great, fun puzzles, the completion of which is very satisfying. The story line is complex and, really, has less to do with witches than with human rights!!! There are no moralistic statements, but it's clear there was a suspect class and it's witches and they handle the subject matter well. Again, NOT just because this was among my first games played, I highly recommend it. It was more fun the second time around. This is NOT a game for a 10 year old. It's not easy. It is a challenge. And, IT IS FUN!!! If, somehow, you don't have it already, get it. I'm nearly certain you will not be disappointed.
May 24, 2013
Disappointing, compared to the other "Midnight Mysteries"
In this story, you deal with a lot of ghosts! There is only one game mode. - The sound is good. - The graphics are quite dark. But the objects in the HOS are easy to find. You have to combine some of them, before you can use them later. - The puzzles are on the easy side. - You have a journal. There is also a map, but no real use for it: you see the buildings, but no description and no path. - The hint system is also not really useful. It asks you to click an object to know the use for it. But if I want to know what to do next, there will be no help... I needed the walkthrough a number of times. - Collect ravens to get more hints. - Collect 50 clovers to unlock the Unlimited HO game. - You get also some achievements, for example for using no hints. I got bored of walking to and fro, and not remembering where a location was. I don't like it, when I need the walkthrough, just because the map is no map. I finished the game because I don't give a review otherwise. But I prefer the other "Midnight Mysteries".
November 11, 2012
Good game, horrible storyline
I enjoyed solving this one, but the storyline was extremely hard to keep up with. There points where I can say that I had absolutely no idea what was going on.
June 11, 2012
Midnight Mysteries Salem Witch Trials
I really enjoyed playing the game because I love hidden object games! Although I had some issues when I got stumped and the hint is for an inventory item to use later in the game and that it wouldn't save when I closed!!! That was the worst! I kept replaying the same stuff over and over, after three times of it not saving I gave up playing!
December 26, 2011
The second in the series is so-so
The first Midnight Mysteries dealt with the death of Houdini and was a lot of fun. The second one has the detective trying to clear a young woman of the charge of witchcraft. There is no spoken dialogue like the original and this one seems even more primitive. I wonder if they created this one first but released the Houdini one first as it is much better. It is easy to get confused in this game without a game plan. The ravens collected for hints only help a bit but don't tell you where to go next if you get stuck. That means signing off to look for answers to some of the problems. The game also throws the player all over without warning as to what is going on. That makes this frustrating and not very fun. The visuals are not as good as the first one, but they still are well done. I just can't recommend this one like Houdini. If is OK as a freebie but not much else.
October 6, 2013
Poorly Executed
A very aggravating game with its esoteric puzzles and inventory list that requires player to constantly click to open. The puzzles often have no obvious reason to be in the game other than to add another puzzle. The hint requires the player to go through all inventory items rather than give some clue related to the scene at hand.
July 19, 2013
Did Not Finish This Game
What witches??? A few witch ghosts but the storyline seemed to be more about wars, politicians and land. HOs were small and hard to see. The overall visual was dark. The raven hint was no hint at all unless you gave him an object so he could show you where to use it in some other scene. No VOs, just printed dialogue and no animation. The raven's constant cawing was annoying. Also contained the usual jumping from scene to scene. The bottom line? Boring.
July 1, 2012
Boreing game
Graphics are very nice, game play good, however I felt there was just way too much reading. I was unable to even make it through the demo before deleting the game.
June 3, 2012
I don't like the series
There's no full screen on my laptop and the separation in chapters with no backtracking brings down the fun and the challenge factor.
January 17, 2014