Flux Family Secrets - The Rabbit Hole
Jesse is back at Flux mansion after thwarting the efforts of her nemesis, Veronica, but this time 30 years in the past! With the help of an unsuspecting ally, she learns that to get back to her present she'll need to go further in the past to correct what went wrong. Along the way she'll reveal more about her family and the machines that enable them to travel through time in Flux Family Secrets - The Rabbit Hole, a fun Hidden Object game.
New characters to meet
Fantastic puzzles
For a more in depth experience, check out the Collector's Edition
Game System Requirements:
OS:

Windows XP/Vista/7/8

CPU:

1.0 GHz

RAM:

512 MB

DirectX:

8.0

Hard Drive:

225 MB
Game Manager System Requirements:
Browser:

Internet Explorer 7 or later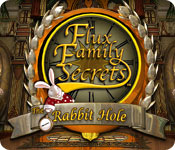 NEW299
The Big Fish Guarantee:
Quality tested and virus free.
No ads, no adware, no spyware.

Reviews at a Glance

Flux Family Secrets - The Rabbit Hole
0
out of
5 (
0
Reviews
Review
)
Customer Reviews
Flux Family Secrets - The Rabbit Hole
13
13
Very cute and enjoyable game
I bought this game in 2010 and still find a very good game. Excellent graphics, colorful and crisp, very good sound, cute story told by the pretty little girl. Many locations, good amount of HOS and several amusing mini games. Not really challenging game, but enjoyable and entertaining. It is not long, but provides pleasant and fun moments. Great for relaxing and spending time.
March 3, 2012
Fine Fun
As Jesse continues her adventures from the first in this series,I see the game has improved very well.The graphics are colorful and lush.The story line is good and there are many different locations to explore so you are not going back and forth to the same scenes.It has now added hidden object scenes in addition to the usual fragmented objects.Overall,it is a fun game that is not hard and the music is good as well as the fun sound effects.
December 2, 2011
Too many unidentifyable items
I only played a trial period of this game, but I knew I didn't want to buy it when I ran into several items that were not recognizable. Like you're supposed to find a drum, but it really looks kind of like a glazed vase and doesn't resemble any drum i've EVER seen. Or you're supposed to find a genie lamp, but it looks more like a key (don't ask how they managed that). The graphics are also kiddie stylized which puts me off as well.
November 26, 2011
Challenging but too short!
A brilliant game that unfortunately leaves a user gasping in surprise at the sudden end but 'to be continued', why is the next title not yet released? It was even better set up than the 'ripple effect' especially the byplay and how one went from scene to scene. The history put in was also nice but there was no ending to the game; one is suddenly left high and dry in the middle of the game. We are waiting for the next title, be soon or we will look at another game.
December 25, 2011
WOW!
I just finished playing this game, & it was really something! Everything was just great! Excellent graphics, beautiful scenes! The storyline was awesome & the way the history events were included was very, very clever! Younger players could learn about history in a fun way. This will be one of the games I will remember always & will talk about for a very long time!
March 4, 2012
Flux Family Secrets: The Who-Cares Hole
This game bothered me. I wasn't a huge fan of the first, but I liked the historical scenes so much and a friend told me to try this one, I gave it a go. I shouldn't have. The main story, like the first one is confusing, boring and useless. You find out next to nothing about the family and you have no reason to want Jesse to succeed, you don't know anything about her! The game kept throwing in random journal entries and letters from the family, which I thought would come together at the end to explain what it all meant... it didn't. You just get loads of random, needless information about these people who seem like jerks. Even Jesse at the end annoyed me, how she left little Jesse all alone after overhearing her mother say such mean things. The game play was okay, but could be VERY confusing. You spend forever piecing things together and then you have search for where they go... then you have a pull something or move something, but you don't know this, all you know is that it isn't working! Moving from area to area was a pain as well, having to move the mouse around, hoping beyond hope that it would finally become a green arrow so you could click to move to a new area! Then, somethings would be near the edge of the screen and you would try to click on them, and suddenly be in the last area you were in. The little badges you would find were okay, they added a little extra something to look for in the game. But, every time you find one, your game gets interrupted by a pop-up saying you found a badge. I know I found a badge, I clicked on it and it went to the owl... I don't need a pop-up telling me something I already know. Thanks. A great thing about the first game, is all the different times you got to go to! This one, you get to go to three. You fix what is wrong, then it gets messed up somewhere else in the same time period, and these people can't do anything themselves (even simple things) so you must go back to their time and fix it for them. My favorite part about this game, was a little notes and letters you would find in the different time periods. Like little notes Abe Lincoln wrote to himself or friends, you get a nice feel for the man and who he was, same with the fellows of the Boston Tea Party and Henry Ford.
April 18, 2012
An all around fun game.
It tied wonderfully into the other Flux family game. It's simple, gratifying, and impossible to quit! I played this from beginning to end in a relatively short amount of time, but the level of challenge is lower than I'm used to playing. It transitions from scene to scene quickly, and the style of seek and find is neat.
November 16, 2011
Bad game
This is one of those games where virtually every object needed is broken into many pieces, and the player must find each little (and I do mean little) piece before using the object. The little pieces are well-concealed and difficult to find at times, which makes this game one of the most frustrating games ever in my mind. The graphics are OK, but that's the only good thing I can say about this game.
April 12, 2012
Flux follow on
I'm not liking this as much as the first Flux - Ripple- game. The first one was clear in what was needed to progress. This one is really confusing and needs a walkthrough to help the player to continue forward. I'm a bit sorry that I purchased.
March 6, 2012
ok game
Different kine of HOG but fun to play. Gets a little old after awhile finding the items to put together. Not a bad game just like more storyline. Buy when it is on discount.
August 8, 2012
The Apple logo is a trademark of Apple Computer, Inc.