Kate Arrow: Deserted Wood
Return a valuable idol to a tribe in Kate Arrow Deserted Wood! Help Kate travel deep into the jungle and find her grandfather in this fun Hidden Object game. Pack your bags and use your wits to avoid dangerous situations, and make it through a plane crash! Track down your grandfather and deliver the powerful idol that he has promised to the tribe that saved his life many years ago. Set off on adventure in Kate Arrow Deserted Wood!
Gorgeous graphics
Wonderful gameplay
Return the idol!
Game System Requirements:
OS:

Windows XP/Vista/7/8

CPU:

1.0 GHz

RAM:

512 MB

DirectX:

9.0

Hard Drive:

151 MB
Game Manager System Requirements:
Browser:

Internet Explorer 7 or later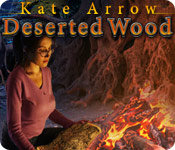 NEW299
The Big Fish Guarantee:
Quality tested and virus free.
No ads, no adware, no spyware.

Reviews at a Glance

Kate Arrow: Deserted Wood
0
out of
5 (
0
Reviews
Review
)
Customer Reviews
Kate Arrow: Deserted Wood
15
15
Good Game
I'm an avid IHOG player, and I liked this game a lot. The graphics are good, the story is interesting, and most importantly for me, the gameplay moves in a smooth, logical manner. You use an object almost immediately after finding it and your inventory list is always minimal. I was a bit fooled by the demo because I never even got out of her house in the first hour! But once you reach the jungle, things move quickly. The game is a tad on the short side. Puzzles are fun and not too difficult. Hidden object scenes can be challenging because some objects are too well blended into the background, but I've certainly seen worse. I have found the game to have good re-play value, too.
December 13, 2011
Cute... but too easy. Good for beginners.
Storyline ok - Kate has to find 5 idols and save her father,good graphics, very quiet sound (good for sleep), ... Almost only HOS. They are very easy and repetitive. Hint fills fast. Mini games like many many others ... easy too. Many sparkles on the way... Goals are on the screen, just pass your mouse it opens. But relaxes and entertains. If you have nothing better to do..., at least not have to think.
March 29, 2012
Kate has Skills!
Kate Arrow can rebuild a plane, fly it to the jungle, crash the plane, rescue herself, find missing idols, deal with jungle wildlife, repair hang gliders, meet villagers, make potions, save a shaman and do all this to try to rescue her beloved grandfather! Of course, YOU are Kate Arrow, female wonder! You figure out how to find all the items you need to do all the repairs, figure out where items are, where keys are, and find objects in several HOS. The HOS give you some of the items you need, you just have to figure out how to use them and where/when. Having said all that, it wasn't too difficult, although I did have 2 or 3 times where I got stuck and had to resort to the blog walkthrough. Once you've suspended your disbelief that anyone has all those skills (MacGuyver) the game was actually pretty good. Not sure that I'd pay full price for it, but it did have some of everything in it...it did seem like it was a bit on the short side--I think I completed it in just around 3 hours. Download the free trial, that's how I got hooked into it, and make up your own mind. I'd definitely play it again and have no regrets on having purchased or played it. I just wish I had HALF HER SKILLS!
April 23, 2012
Great Hidden Object Game
One of the best I've played in a long time; very enjoyable and challenging; graphics were great and objects were not too easy to find; mini games and overall game layout (sequence of tasks) were unique and refreshing. Fantastic game
May 7, 2012
Kate Arrow hits the target
Quite a good and interesting game - the graphics are very good clear and precise and there is just enough dialogue to get you through the game without being tedious. Kate needed to find five idols and rescue her grandfather, both held by dastardly characters, and restore them to a location in the village. Some of the puzzles were challenging but most were easy enough but you had to look for the clues. Some of the hidden objects were tricky to find as they blended in well with the backgrounds. Needed the hint a few times but overall very enjoyable. Good story line, bit of intrigue and interesting tasks. A good game although just a tad short. I bought it.
March 24, 2012
Easy on the eye; a good hidden object
This is a good solid hidden object game from MariaGlorum; the artwork is really lovely, bright & colourful & the graphics are very clear although a little pixelated compared to more modern games. There are no voiceovers & you will want to play your own music. There is no choice in mode of play so expect sparkles & glints for useful items, the hint recharges at 60 seconds & will tell you if an area has been cleared. You also get a task list. Hidden object scenes abound & you will visit most at least twice; many items are well hidden or blended & so not too easy to find; some of the objects are very small. There are some mini puzzles along the line of pipes, lights on in the right order, logic, make a picture, etc. & they range from easy to average in difficulty. There is a skip button. All in all this is about finding objects to perform a task, there isn?t an enormous number of scenes so not a lot of going back & forth, it took me just over two hours to finish.
May 22, 2012
Good, classic adventure / hog
It's been a while since I played this game, but I still hold it in my mind as one of the better games I've played at BFG. The graphics are crisp and clear, not to mention bright and sunny (until nightfall :) ) - much more like standard adventure games. (Meaning not casual games). Kate Arrow is a strong woman character, who fixes mechanical things, flies a plane, crashes on an island, and eventually takes on some bad guys. There is interaction with a native population on the island; I liked that part of it. The puzzles were challenging, on the whole, as I remember it. There were some easy ones, but I remember a few that had me going. I played this on my older XP system and had zero technical problems. I don't know how it would play on Win7. There isn't an option for difficulty level (this was made before that became common in casual adventure games). There isn't a strategy guide in the game. I've always been on the lookout for a sequel. There is a charm to this game that I really loved, and would jump at the chance to play another by these devs, whoever they are.
May 18, 2012
Ok for beginners
The storyline is good (find idols, free grand-father). The sound is relaxing. The graphics are good, although some objects in the HOS are quite tiny. The puzzles are easy. You don't have to think alot, since there are sparkles. It took me 2 hours to finish. I would recommend this game to beginners.
June 19, 2012
Enjoyable game!
This can be a great game to play in one day if you love adventure and hidden objects. A clean and fun game that is enjoyable to play. If you catch this game on sale for $2.99 it is well worth the price.
November 27, 2011
Strange Glitch
Loved the demo & bought it with a credit. The game was moving along fine until I got to the jungle & the shaman. It was there that I found out the inventory only holds 7 items & if your inventory is full when you play a HOS an error message pops up. Since your inventory is full you don't collect the item that you need. So I guess I'll start all over & make sure I use the inventory items immediately!! The devs really goofed on this one & it's most annoying.........
May 4, 2013
The Apple logo is a trademark of Apple Computer, Inc.