Brunhilda and the Dark Crystal
Embark upon an epic quest to save the Magic Realm in this delightful Hidden Object Adventure game. Help Brunhilda explore a mystical world blooming with magic and humor. Visit the flying university, talk to the dragons , and crash a flying broom in Brunhilda and the Dark Crystal! Join forces with a friendly demon companion and master minigames as you journey deeper into the Magic Realm and save the day!
Engaging storyline
Beautiful hand drawn graphics
Save the Magic Realm!
Game System Requirements:
OS:

Windows XP/Vista/7/8

CPU:

1.0 GHz

RAM:

256 MB

DirectX:

8.0

Hard Drive:

166 MB
Game Manager System Requirements:
Browser:

Internet Explorer 7 or later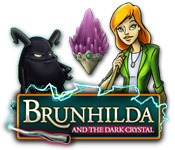 NEW299
The Big Fish Guarantee:
Quality tested and virus free.
No ads, no adware, no spyware.

Reviews at a Glance

Brunhilda and the Dark Crystal
0
out of
5 (
0
Reviews
Review
)
Customer Reviews
Brunhilda and the Dark Crystal
30
30
I am glad I bought this before playing the demo...
..or I would not have bought it and would have missed some good fun. The game is 10 chapters, each one taking 45 min to an hour, approx. To me, it was just, at first, a HO game and I was having little fun. As the game progressed, however, the story was just SOOO good, and the places to go were so very interesting, that I just used the demon (much more like an imp) as my constant partner in finding little things, and had a blast with this. The game is simply an EXCELLENT story, with the characters all asking Brunhilda to find stuff as it progresses. The items are weird things, like herbs and pulling chains and such and most very small, but a right click brings up a magnifying glass and your "demon" finds things quickly, so once I used him as a partner instead of a hint button we got on quite nicely. There are no real puzzles, just a few little skill tests and finding finding and FINDING things. Wonderful scenery and characters--terrific accents they all use. This is just one gem of an HO game. I will buy the sequel if there ever is one, even though this would not normally be the type of game I would enjoy.
December 4, 2012
Nice Change From the Norm...
Brunhilda is among the few games that seem to try and forge a new path in casual gaming, or at least give people something different. I won't get into all the extreme details of game play, as that can be found in so many other reviews rated most helpful. Yes, it is different from typical HO games we play, in that you're looking for multiples of the same object. It sounds like this concept would wear thin?but it doesn't?and somehow works really well with this game. I never once had the feeling of becoming bored or frustrated. I think my only qualm with Brunhilda are the mini games: There are only a few different types that you encounter again and again in each chapter, of which there are ten. This is why I rated the challenge level at just OK. I thought the story and plot were very engaging, and the music at times very relaxing and ethereal, sort of New-Agey. I especially liked the wise-cracking side kick of a demon who also acts as a helper. His quips are great; just see what happens if you take too long by not actively clicking on anything or moving the cursor. The artwork is delightful, and graphics wise I thought Brunhilda is pretty well done for 2010 (in fact, this game is still holding steady in the "gorgeous games" category over at the App store). For those who do not like searching for teeny-tiny objects (even with the aid of a built-in magnifying glass) this game may not be enjoyable. As a whole Brunhilda is a whimsical, humorous, and magical game that I loved devoting five plus hours to. I'm disappointed that Codeminion may not be releasing another installment of Brunhilda?at least, that's the message I garnered from their website. It seems they are once again forging a new path, but this time into realms unknown. I hope I am wrong.
December 2, 2013
Fun Adventure Game!
I finally got around to playing this game, which I bought ages ago when it came out. This game is really fun, but can also be very frustrating. Pros: 1. Great graphics! Hand drawn sketches in cartoon style. 2. Story line is fun and has lots of twists and turns. 3. Includes a lot of humor, although some a bit dark. Examples: Like when you have to send cute little bunnies to their death with evil fairies in order to progress... I'm still sad over those poor rabbits! There is also a unicorn carcass. At least one comment contained "innuendos" when it came to the sultan and his many, many wives... 4. Your side-kick, a demon, is funny and very helpful. 5. Quick fill on hints. 6. Skip on mini-games. 7. Long game! There are 10 chapters, each of which took me about 30 minutes using hints. I probably spent nearly 5 hours on the game itself. Had I not used hints, I would have spent longer, but would also have gotten a headache from squinting at the screen and I was wearing glasses! Cons: 1. The game tells you objects to find, but not like a regular HOS, instead it is your goal - usually to create a magical spell - and it lists what the item is, how many you need, and shows a sketch. Yes, a sketch. A very small sketch. Not a true picture so it becomes a sort of guessing game. Note: The hidden items are scattered in various scenes. This is not a con, just a note. 2. The hidden items can be very, very small. Frustratingly small, and because they are hand drawn, nearly impossible to find w/o a hint. 3. The mini-games, of which there are three, are easy and boring. Incredibly boring. They do not add to the game play, they take away from the game play! 4. Possible Con: There is quite a bit of swearing in the game, nothing major, but I don't think I'd want a small child to play it. As an adult, it didn't bother me. At the end of the game, if you did well on the mini-games, you can replay them! Fun! Not! The game hints at a possible sequel, to which I've discovered there will not be one. Shame, even though the game is frustrating on several levels, I had hoped to see Brunhilda continue her adventures.
September 29, 2013
If Only....
Oh, this game. It coulda been something special. I had such high hopes when it first loaded. Colorful images! A cute magic wand that distracted me throughout the entire opening scene! Wonderful voice overs! Great story! But then...you had to actually try to find the TEENY TINY objects that they ask you to find. You had to walk back and forth between rooms several times to find them. And you had to listen to (or skip over) lots and lots of dialogue. Don't get me wrong, the dialogue was great... and entertaining...and sometimes even funny. It's just that there was SO MUCH of it. I did enjoy this game. I really did. And I'll even recommend it. But, it could have been so much more.
February 19, 2012
Better for Story than Game!
This HO game is a different twist on the usual, with a bigger emphasis on the game and the characters. It's a fun fantasy adventure and the plot is fairly clever with a nice amount of gameplay over ten "chapters"--it's a bit like playing your way through a book! The gameplay does get a little bit repetitive after a while, plus there are only two styles of minigame and neither is particularly interesting or challenging, but the HO can be very tricky to find! Cartoonish but fun graphics. A fun game but probably not one I'd play over again.
April 27, 2012
I really want to love this game....
But it's just too talky for me..click some objects, listen to more talking..click some objects..talk talk talk. Warranted, the characters are charming, especially the little demon companion...and the graphics are gorgeous.. But if you're looking for lovely graphics, nice game play, plenty of HO to find...and don't mind all the talking.. This game is for you. :)
December 31, 2011
Just Fun
I'm not entirely sure why I so enjoyed this game. It has everything in it that I don't want in a game: endless back and forth, endless dialog and voice overs, really obnoxious helper critter, tiny hidden objects. The graphics weren't that good and the story was just OK. Even in adventure mode, everything was hand held and directed. But I REALLY ENJOYED this game, played through to the very end and hope for the sequel that was set up. Oh, BTW, this game has the best pointer EVER. Very accurate magic wand with sparkles on the tip that can pick up the tiniest part of the tiny hidden objects. And when the dialog gets boring or long winded, you can drag trails in shapes all over the place. If you want something very easy with a lot of wandering around (and some peculiarly interesting characters) give this game a try. Try to demo first - you'll know whether you want any more of what you get there.
January 20, 2014
Charming but oh so repetitive
This is a cute cartoonish game. There is a lot of dialogue, and I do mean a lot!!!. You basically are going back and forth between places finding objects... over and over and over again. It could have been a wonderful game with some tweaking, but it was just too repetitive for me. The objects to be found were extremely small. Even though the scenes were bright, it's very hard to see, say, 5 mousetraps in a room. There was a hint button to help out and I found I was using it just to push the game along, I was so bored of the repetition. I wouldn't recommend this game.
March 20, 2013
Not worthy!
The story is nice but the hidden objects are too easy. All I have to do is wandering around between scenes for the dozens of cheeses/apples. There are only four kinds of puzzles repeatly through the whole game, which makes me tired eventually.
November 26, 2011
Boring....
I bought this game based upon prior user reviews, however it was so boring. Yes it was visually ok, had music on mute so can't really rate that fairly. Basically even though it changed scenes (10 times throughout the game) it was the same monotones HO style and same mini games over and over again. Boring...the first level was tolerable but to do it 10 times over and over again? Also the game had a lot of reading...I just skipped the reading and even then the game would never end...I gave up at level 8 and deleted the game.
May 26, 2012
The Apple logo is a trademark of Apple Computer, Inc.