Brunhilda and the Dark Crystal
Embark upon an epic quest to save the Magic Realm in this delightful Hidden Object Adventure game. Help Brunhilda explore a mystical world blooming with magic and humor. Visit the flying university, talk to the dragons , and crash a flying broom in Brunhilda and the Dark Crystal! Join forces with a friendly demon companion and master minigames as you journey deeper into the Magic Realm and save the day!
Engaging storyline
Beautiful hand drawn graphics
Save the Magic Realm!
Game System Requirements:
OS:

Windows XP/Vista/7/8

CPU:

1.0 GHz

RAM:

256 MB

DirectX:

8.0

Hard Drive:

166 MB
Game Manager System Requirements:
Browser:

Internet Explorer 7 or later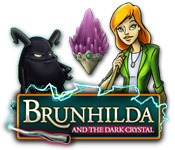 NEW299
The Big Fish Guarantee:
Quality tested and virus free.
No ads, no adware, no spyware.

Reviews at a Glance

Brunhilda and the Dark Crystal
0
out of
5 (
0
Reviews
Review
)
Customer Reviews
Brunhilda and the Dark Crystal
22
22
Can not say enough positives about this game.
If you are a fan of Terry Pratchett or the Disk World games you are going to feel right at home. This is an Adventure /HOG with the emphasis on Adventure. The graphics are wonderfully colorful and creative. The music with each scene is appropriate while very inventive and entertaining. Challenging but in a very humorous way. This is definitely a long game that will have you snickering at the characters and story. Your "Hint Button" is actually a partner in your quest with his own comments to add along the way. The great wit and imagination in this game is incredible and the developers stayed true to style from beginning to end with each hilarious scenario creating more laughs. The replay on this I would imagine to be quite high as there are so many varied requests it would be hard to remember even half of them. I ended this game with a big smile on my face and immediately went to the developers site to see when the next will be out.
November 11, 2011
Hilarious, Charming, Beautiful Game
This game is really incredible. I loved it. The graphics, music, and sound effects are really quite wonderful. Lots of detail in every scene. The puzzles and mini games are great; just enough challenge without being too hard or too easy. But the best thing here is the storyline and the characters. I was so drawn in that I played the entire game in one sit down, and the game is a good 5 hours long. I love this game so much I really wish there was a Collector's Edition, because I'd love some wallpapers of the beautiful artwork, or some of the sound files of the music. Still this is a great value game since you get 5 good hours of game play and you also can keep playing a few of the mini games even after you finish the story.
November 24, 2011
Charming
I loved this game. It has fun, likable characters, delightful retro, yet crisp graphics, awesome sound effects and music. The adventure is a fun story, and your character's tasks are not tedious, although many of the hidden objects are "life size", so if you are looking for a snail, you will be looking for a really tiny object. I did find myself using the hints a little more than I would have liked, but your hint option is a charming companion on your adventure, and you almost want to have him more involved in the story. The game is simple and your character is under very little danger, even though there is the suggestion of danger in the scenes. I like that there is no timer, but would have liked to have had a little more actual character interaction. I kept running into places in the game where I wanted to add more to the story, so I really hope there is a sequel, or maybe many of them. I ended up liking the characters that much. The main character, Brunhilda started out with very little emotion to her voice over, but it got a little better as the game went on. She was a little too nonchalant and flat and I would like to see a little more emotion and tension in her voice. She sounded a bit too much like she was reading cue cards, especially in the beginning of the game. Her companion and many of the other characters had better voice overs. I did not go back to play the unlocked mini-games yet, so I can't review those. Overall, a very clean, enjoyable game. Simple and fun for an escape into a fairy tale fantasy realm without creepy junk piles to dig through.
February 10, 2012
a fun and sassy game
This game has been around for some time now, but I just got as a punchcard freebie. Some of the cartoonish games are among the best of the HOGs and this one is no exception. Some players will be put off by the overabundance of dialogue but to me this is the highlite of the game. This storyline reads like a book. The demon who serves as the hint giver is incredibly glib and sassy. This guy has a mouth on him and I loved it. The hidden objects are small and some are really tough to find so you'll be using the hint a lot. It recharges very fast. The game is also really long so an owner gets his money's worth. Brunhilda reminds me of another cartoon HOG which has always been a favorite of mine and that is 1 Penguin 100 Cases. Give this one a go too as it is outstanding. I wish the devs would create another Brunhilda saga since there are too many doom and gloom games here today.
July 2, 2012
Very good but too much talking
Together and with the help of a friendly 'demon', Brunhilda has to explore mystical worlds in a quest to save the magic realm in a mystical, magical and fantasy game. The dialogue, though most of it is necessary, is too much to the stage of becoming annoying. Each character talks their way through the game and if you did decide to turn off the volume you can read what is being said as well. The demon anthough being a bit of a character and comes out with some comical statements does rasp on a bit. The graphics are clear and colourful but just being a tad dark in some places. The mini games and puzzles are mainly gethering drops and comparing runes amongst others and are mainly quite simple. Most of the hidden objects are very small and require quite a bit of help from the hint 'demon'. The last chapter is a little disappointing being quite dark and the hidden objucts very hard to find. Over all a good game and quite enjoyable.
May 18, 2012
What a fun game!
I was a little skeptical when I started playing. There's a character who is a demon. I don't do demons. He's black with little horns. I can see why they called him a demon but he isn't really. He's a companion of Brunhilda and part of the help/hint structure. He's funny and somewhat of a complainer. You know the type. The HOG scenes are challenging. The storyline fairly typical, but there is interaction between Brunhilda with many. They all want her to do something for them which she does. This can involve finding something or some sort of puzzle. Good graphics, sound, puzzles, etc. A very good game. Buy it.
November 23, 2011
Cute and good fun!
Brunhilda is such a fun game. Colourful, brilliant graphics, nice storyline and very entertaining dialogues. Yes, they are a bit lengthy but truly enjoyable. That cheeky demon is the nicest helper ever. If you are in for a jolly good time - go ahead!
April 11, 2012
If Only....
Oh, this game. It coulda been something special. I had such high hopes when it first loaded. Colorful images! A cute magic wand that distracted me throughout the entire opening scene! Wonderful voice overs! Great story! But then...you had to actually try to find the TEENY TINY objects that they ask you to find. You had to walk back and forth between rooms several times to find them. And you had to listen to (or skip over) lots and lots of dialogue. Don't get me wrong, the dialogue was great... and entertaining...and sometimes even funny. It's just that there was SO MUCH of it. I did enjoy this game. I really did. And I'll even recommend it. But, it could have been so much more.
February 19, 2012
Charming Game to Play with Your Grandkids or Your Inner Child
Storyline: Brunhilda must save a magical realm. A crystal is sucking up the magic and she must complete the crystal and to trap it forever. Otherwise, the magic will be concentrated in the hands of a few powerful wizards. Game length was slightly over 8 hours, casual mode. This is a good game to play with your young children or grandchildren. There are 10 chapters which are convenient breaking points. Since each is a stand-alone chapter, you won?t have to think about what has happened or still needs to be done just to continue your game. Your quests are listed at the bottom of the screen and you normally have one quest at a time. Some of the items you are looking for are rather tiny, but you do get a magnifier. A demon accompanies you to help out when needed - and he provides a lot of funny commentary. [Example: In one scene, villagers are out in the fields, leaving their homes unattended. Fires break out, and Brunhilda must collect the chickens to save them. The demon doesn?t see why they should because ?the villagers will surely appreciate roasted chicken.?] If you don?t like his sense of humor or find his voice grating, you can mute him. I must say he isn?t very cute; all the other characters are. You can?t be at a loss of what to do next. There are 3 or fewer scenes per chapter. Doors with possible action on the other side or people you need to speak to are highlighted. I don?t normally like to have my hand held so closely, but then I forgive the developers because the animation more than made up for it. In fact, it was a pleasure watching Brunhilda. The graphics and animation are artistic and creative, not to mention very colorful. Some people say it?s cartoonish. I disagree - it plays like an animated movie featuring a magical kingdom. Music is okay. You can choose a panoramic screen. The voice of Brunhilda was very pleasant and the demon?s voice fit him perfectly. It sounded like the same person was the voice of most of the remaining characters, but his dialogue seemed forced. End: A beautifully crafted, charming and enjoyable adventure-HOG game for the young at heart.
August 29, 2012
Better for Story than Game!
This HO game is a different twist on the usual, with a bigger emphasis on the game and the characters. It's a fun fantasy adventure and the plot is fairly clever with a nice amount of gameplay over ten "chapters"--it's a bit like playing your way through a book! The gameplay does get a little bit repetitive after a while, plus there are only two styles of minigame and neither is particularly interesting or challenging, but the HO can be very tricky to find! Cartoonish but fun graphics. A fun game but probably not one I'd play over again.
April 27, 2012
The Apple logo is a trademark of Apple Computer, Inc.