Echoes of the Past: The Castle of Shadows Collector's Edition
This is a special Collector's Edition release full of exclusive extras you won't find in the standard version. As a bonus, Collector's Edition purchases count toward three stamps on your Monthly Game Club Punch Card!

The Collector's Edition includes:
Integrated Strategy Guide
A new bonus adventure
Concept art
Amazing wallpapers
Game System Requirements:
OS:

Windows XP/Vista/7/8

CPU:

1.0 GHz

RAM:

1280 MB

DirectX:

8.0

Hard Drive:

388 MB
Game Manager System Requirements:
Browser:

Internet Explorer 7 or later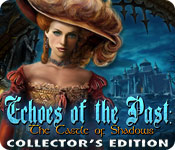 The Big Fish Guarantee:
Quality tested and virus free.
No ads, no adware, no spyware.

Reviews at a Glance

Echoes of the Past: The Castle of Shadows Collector's Edition
0
out of
5 (
0
Reviews
Review
)
Customer Reviews
Echoes of the Past: The Castle of Shadows Collector's Edition
21
21
Enjoyed the Game
The graphics and sound was good. Enjoyed the HO?s and the puzzles were rather easy. Please designers: put the inventory bar on the bottom and put the SG in so you can access it without having to close the game.
July 6, 2014
Thankfully I only paid $6.99 for this not full price
When I play games like this and then read what other reviewers write, I begin to wonder if my standards are too high. Look at all of the other reviews. They gave this five stars. That's laughable. This is a mediocre game at best. Nice graphics, but nothing you haven't seen before. Music is lousy and repetitive. The story line is sillier and more vapid than most. There were periods where there was no story, like the developer occasionally forgot they were supposed to have a plot line with their hidden object scenes and puzzles. Some of the puzzles are new. I liked having to find "missing" objects elsewhere in the game and replace them to remove curses. A few innovative puzzles, but most are standard fare. The game is VERY linear. You will not have a lot of choice over what you can accomplish next. The game doles out items in a pretty precise order, sort of like a path with very high walls to keep you from deviating. Decent length of play compared to others. I completed the game in about three hours or so. That's longer than most on here, yet it was not all that challenging. I found about 95%+ of the hidden objects with no trouble at all. The puzzles in most cases, all but solve themselves since you have gotten the codes and clues earlier. The extras are disappointing. While I got about an hour of play on the bonus content, it was totally bolted on. No story. No reason to be in the environment. It was like running an obstacle course of puzzles and hidden object scenes without any real purpose. The developers could have taken 10 minutes to come up with some sort of flimsy plot like most of these games do. Bottom line is that the game is OK but hardly the amazing experience some of the other reviewers describe. If you have been on Big Fish for more than a week than you have played a ton of similar games that are equally generic and uninspired. It's not that it is a horrible game. It's just completely undistinguished. You can skip it and your life will not be worse for it.
June 4, 2012
NOT WHAT IT PROMISED
The detailed description of this game indicated that there was an integrated strategy guide. I did not see that available at all. I played the expert mode so maybe that was why the strategy guide was not available. The hint button only worked in the HOS. I could click the hint button at other times, but the information it gave was completely useless. I had to refer over and over to the walk through to figure out where to go next, which is just unacceptable. The hint button at least should point you in the right direction. I also skipped a few puzzles when I got tired of guessing and really didn't want to go to the walkthrough to figure out how to solve them. However, there was one puzzle where the walkthrough didn't help at all. This game was too frustrating at the expert level for me to give it a good review.
November 28, 2013
FIND ALL PIECES OF THE AMULET AND DEFEAT THE WITCH
Now, this is a very old game which I played years ago and pulled it out again to play today. You have: * Regular and Advanced modes of play; * Voiceovers; * Diary; * Help people to collect pieces of the amulet. There is a Strategy Guide but you have to leave the game to read it. If you need it, then this could be annoying as it is distracting from the game. As you meet people and help them, they will give you pieces of the amulet. There are lots of HOS and mini-games. The HOS was pretty easy and the mini-games vary from being easy to medium. Mainly it can be just putting things in the right order. If you decide to skip a game then this will add 30 minutes to your time - that is, if you want to get on the Top 10 score list. The graphics are mediocre, but it is an old game. Some of the HOS were quite cluttered which make it hard to see items, but I just went very slowly. The game all up took me a little over 7 hours, so its quite a long game. There is no Bonus game. Overall, I quite liked the game. I've played it a couple of times now. Best that you demo the game before you buy it to get a feel for it.
April 18, 2014
follow the echos of time
enjoyed the game alot the only complaint is the guide for the collectors edition was not very excessable had to leave game each time to look up something i needed help with should have had link to it.
July 27, 2012
Pretty Easy Game
Good enough for a buy, Plenty to do, Beautiful graphics, Nothing annoying and Characters nicely done. Loved the twist on HO's. Reusing the list items to be placed back into their proper places.
November 22, 2014
So So Game
I really enjoyed the first game in this series, but this follow up was so-so. The good things were nice graphics, fun and inventive HOS, some interesting mini games, lots of places to explore. The bad things were almost no storyline, SG was not integrated into the game (had to exit to the main menu to access), the music was so annoying I muted after a few minutes, the voice overs were bad (accents were all wrong for the period). The bonus chapter was really odd. There was no storyline to it. There were a couple of mini games I didn't get to complete because I "completed" the bonus chapter without realizing it was the end. I don't recommend this game. However, for those that want to play all four games in the series, buy the SE of this game. The bonus chapter isn't worth the money.
November 11, 2012
review
it is not possible to finish this game. In the castle is a tower and in the tower is a gate that is not to open. There is no way out from the castle.
August 16, 2013
Awful, Awful, Awful!
GAME COMPLETED A COUPLE OF TIMES (although I?ve no idea where I got the patience, didn?t last the distance this time) Why do I hate this game? Let me count the ways... Absolutely appalling graphics. Even without the problems of low definition due to the age of the game, the visuals are ugly. And there were these ugly shimmery patches wherever an item was needed, in the shape of the item. So a missing handle showed as a shimmery handle. Yuck! It looked ghastly. Really slow game play. Each move requires multiple mini-games, puzzles or HOs. Nothing is logically apparent, so it is a constant struggle to figure out what comes next. Hardly any of the puzzles come with specific instructions, it?s all ?press the buttons in the right order? kind of stuff. Hint is useless bordering on offensive. ?This is the door to the tavern? ? well, I know that you idiot!... The categorically worst thing about this game is the fact the SG is in the main menu. You have to leave the game to look it up!! What a waste of money, I can do that with the standard game. Which is another thing. I wrote a very disparaging review of the SE of this game based on a demo a year ago, how the heck did this get on my desktop? I?m thinking evil magic! Lol It does have a couple of redeeming features, particularly for such an old game. It uses three different HOs ? slightly interactive lists, multiples and misplaced items. I particularly liked that the misplaced items were indeed actual items I had picked up in an earlier scene. There are a lot of locations and close up scenes, complex enough to have needed a map, which unfortunately we didn?t get. But the exploring through all the many castle rooms was fun. Still, not enough to justify buying this, at any price.
April 15, 2013
Mediocre game with terrible graphics
This game at first looked like it would be fun to play EXCEPT the graphics were awful. The cursor would leave "ghost trails" of itself all over the screen. And the "book" with hints was terrible in that I had to run my cursor over the whole page in order to read it. Like the first page covered the second page and had to be erased. I'm surprised Big Fish allows a game with such horrible graphics on it's site. I have been a member for years, and this is the first game that after two or three "screens" I had to leave because I could not stand the "ghosts trails" left behind of the cursor.
April 6, 2014
The Apple logo is a trademark of Apple Computer, Inc.