Classic Adventures: The Great Gatsby
Join Nick Carraway as you explore the mansions and bungalows of Long Island, the parlors of New York City, and the heart and soul of the Roaring Twenties. Attend extravagant parties and lush gatherings as you dance the Charleston with a happy couple harboring scintillating secrets. Sip bootleg gin with a mysterious millionaire desperate to bring the passions of the past into the present in Great Gatsby, a fun Hidden Object game.
Gorgeous scenes
Variety of minigames
Bring this novel to life!
Game System Requirements:
OS:

Windows XP/Vista/7/8

CPU:

1.2 GHz

RAM:

512 MB

DirectX:

9.0

Hard Drive:

99 MB
Game Manager System Requirements:
Browser:

Internet Explorer 7 or later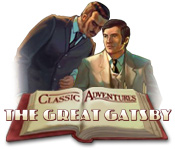 NEW299
The Big Fish Guarantee:
Quality tested and virus free.
No ads, no adware, no spyware.

Reviews at a Glance

Classic Adventures: The Great Gatsby
0
out of
5 (
0
Reviews
Review
)
Customer Reviews
Classic Adventures: The Great Gatsby
28
28
Classic Adventures:The Great Gatsby Delivers
Let me preface this review by saying that I have never read The Great Gatsby, nor did I know any of the plot before playing. Based on the novel by F. Scott Fitzgerald, this game is a period piece set in the 1920's. The developers did a very good job making sure that everything was era-appropriate, which helped to make the game more immersive. You will gain trophies as you progress through the game for things like collecting 500 hidden items, finishing a game level without a hint, using a hint before you've found any objects on the scene (oh yes, there is a dunce cap ) The game is NOT timed, but you do have the option of collecting points, which can be used to "buy" items to customize your library. Any trophies you collect will also be displayed in your library. This game is a straight HOG with a lot of story interspersed. Despite this, the game can be as immersive as you wish, for you can turn off the voiced (and visual) dialogue at any time. There are triggers during HOG scenes where text will appear at the top of the screen and voices of characters will begin. You may be 1/4 or 1/2 way through the scene before you hit the right item. It was jolting at first, but I soon became used to the sudden interruptions and actually looked forward to them so that I could learn more of the story. You get points for each item you find, and if you "stagger" the items (find as many items on the screen as possible before you start clicking), you'll get a lot of bonus points. The fast-click bonus is a plus for me, as it gives me incentive to really use my memory to remember where everything is. There are two optional "mini-games" embedded in the hidden object scenes: - Find the Books - Find one book in each scene. Each book you find will give you bonus points and will be displayed on a bookshelf in your library. - Find the Secret Word: Collect letters in the scene to spell out the secret word. When you click on a letter, it will go to a word box on the bottom right of the screen. Finding letters gets you extra points. When you think you know the word, you can try to guess it, and doing so (correctly) will get you even more bonus points. Also, if you can guess early, it will remove all of the letters from the scene and give you the points for those, as well. The hidden objects start out pretty easy - especially the letters for the secret word. As you go forward through the game, however, items and letters get more and more cleverly hidden. At times during gameplay, there are interactive cutscenes. There is narration and changing backgrounds to move the story along, but during these scenes, you have another optional "mini-game" to play: Find x-number of x-item during the scenes to get extra points. You can replay the "transition" scenes if you happened to miss any of the items, but this is also optional. There are a few mini-games like replacing a flat tire on a car, locket puzzles, type-the-falling-words tasks, etc. There are quite a few of the typing tasks, but the SKIP button is immediately available for those who are not able to type fast. Something I really liked about the game were the options. You have three sound bars you can adjust: SFX/Ambience (Clicking noise/background noises like birds chirping), Music and Voices. Now we get to the good stuff: The graphics. The coloration, art style and overall visuals really helped set the tone for the era. Very appropriate. The thing I appreciated the most about the game is that the graphics aren't "static". The scenes are not simple frozen scenes in time. There are nuances of light that play about the scenes that are so beautifully and skillfully done that you don't really notice them unless you are paying attention. This is not the usual "beam of light through the window with dust motes" kind of movement, it's minute changes that bring the scenes to life without distracting the eye. My favorite effect was on the hydrangea bushes on the outside scenes. Two more notes about graphics: First, this game has implemented a type of moving hidden object scene I've never seen before. You have a car and typical hidden object scene in the foreground, with the street and some more objects to find passing by as you are driving. Fast clicking isn't needed, as you can see them coming. Second, you will revisit scenes in this game... but the scenes never look the same. Not only do the hidden objects move around each time the scene loads, but there are daytime and nighttime views! The artists and developers really did a fantastic job keeping the scenes fresh and interesting. The story progresses well, is interesting and complete, and yet still leaves questions that make you want to read the book.
November 11, 2011
Perfect blend of art and sound
This game brings the feel and sound of the book,The Great Gatsby, to life. I really enjoyed the music: the 1st person narrator was as good as any large screen movie I have ever heard. The atmosphere of the decadent 20's is right in front of you and as a bonus you get all these neat puzzles and games. I want more like this.
November 14, 2011
The Great Gatsby Definitely Delivers: Lots Of Variety Here!
This review is based on the whole game. I'll start off by saying I've never read the Great Gatsby by F. Scott Fitzgerald nor did I know any of the plot either before playing this game but after playing this game it sure makes me want to read it though. This game is set in the 1920's which I give a huge kudos here to the developers as I believe they did an awesome job making the game era-appropriate. The graphics while some areas a little dark which I believe was to set the mood of these scenes are by far one of the best I've ever come across in a game. I also really enjoyed the music to this game as it was also era-appropriate and the 1st person narrator was also a very well done along with the other voice overs in this game. I'll also rate this by far one of the best I've ever come across in a game. This game is a straight HOG (hidden object game) with a lot of story which the voices and text can be turned off at any time. Most of the items I found pretty easily however a few were cleverly hidden into the scene. I also really enjoyed the "drive by" HOGS the car going down the road as some are found in the car and some on the side of the road. Don't worry if you miss any as it will come back around again. The hint also charges up pretty quick however there is a "bad click" penalty which I encountered a couple of times. Seems to be a "hit and miss" though as I clicked wrong a couple of times and at the end of each scene didn't list any "bad clicks." You also lose points for the "bad clicks." While this game is not timed however the faster you find the items the more bonus points you earn which there is also several ways of earning bonus points which you can buy stuff to decorate your library along with many different trophies you can earn: There are "transition scenes" - find so many clocks for example which you can replay if you wish if you don't find them all. Find the books: As there is one book in each of the HOG scenes. The secret word: You find the letters in the HOG scenes which some are cleverly hidden. Once you find one it will put it in the box down at the bottom of the screen. You can also try to guess the word and if done so correctly more bonus points and it will automatically add the letters into the box once you guess the word. If you guess it incorrectly which I did on one of them, you do have a chance to try again. Also if you read the credits at the end will also add to your library. There are a few mini-games like replacing a flat tire on a car, locket puzzles, type-the-falling-words tasks, etc. There are quite a few of the typing tasks, but the SKIP button is immediately available for those who are not able to type fast. As for the game length: For me definitely long enough as I got 5 to 6 hours out of it. I'll also go on to say while I've come across quite a few really great games I'm usually not one for replaying a game cause once I've played it, I've played it but this game does have replay ability just in case you don't earn all the trophies you can go back to try again which I didn't earn them all but earned most of the them. Overall, oh lets forget the 5 stars. I give this a 10 as I can sure tell that the developer of this game sure took a lot of time and thought in putting this game together especially making it "era-appropriate." A HUGE kudos to them. Thanks Big Fish for an AWESOME game here. I sure hope to see more like this one with all the variety this had to offer especially considering this is a standard version game as this would easily be worthy of a collectors edition in my opinion.
January 1, 2012
Great visuals and variety
I played the hour demo. I liked that there were a variety of things to do at each scene - HOGS; finding words; book search and that it was not timed. I am big fan of books and parables turned into good games and this is a good game! Of course the 1st purchase for my library was the cat! This game is definitely on my "to but" list.
January 19, 2012
Excellent Game
Totally enjoyed the game. Items were era-appropriate and I really enjoyed the piano music. This game is mostly Hidden Object, but some of the H0 scenes are completely different than anything I have ever played. There's nothing like being in a moving car and having to find items on the fly. Some of the items, in the H0 scenes are really small, but the clarity of the scenes made it a little easier. The "puzzle" games were unique. Type words as they drop from above and find a set number of items while the scenes are changing. There are trophies to be earned, books to find, and a room to decorate. The voice-overs were excellent and made the story more enjoyable. I would really like to see more games like this.
February 4, 2012
Great Gatsby is Great
After finishing "The Great Gatsby," I'm looking to read the book (skimmed it in high school, but I have a new appreciation) and hoping the folks who published this game will develop another based on classic lit. I really enjoyed the bright graphics, the music and the way the designers inventiveness developed HOS in the context of the book. I also want to put in a plea...I really wish the folks at MCF had given a look to this game when they wanted to develop variants on HOS's. Their morphing scenes failed in their last grim and gross outing. But in Gatsby HOS are varied by making them move and adding them to video cut scenes. The HO scenes were challenging enough, while not being frustrating and the additional hunts for books and such added to the general positive feel of he game. I continue to be tired and depressed by dark, rainy, gross HOGs and hope more like Gatsby will be forthcoming.
March 3, 2012
Surprisingly good!
I'd forgotten how good a game this was since I've played so many others since the last time. It wasn't until I read the reviews here that reminded me how much I enjoyed it so I went back and saw what I originally loved about it. The game follows the book and movie faithfully and there's so much to do here besides just looking for hidden objects that makes the game fun. Looking for the book in each scene as well as the hidden letters, which aren't so hidden, but are needed to spell out the secret word that's part of the story, makes the gameplay interesting as well as the typing game and driving through city streets to catch objects as they pass through the viewing area. Each of these is a separate minigame within the larger game of the hidden object scenes which make up the story, and all of these make for enjoyable gameplay. Although the graphics are hand drawn, they are clear and appropriate for the time period which adds to the challenge. And when you've earned enough money from the minigames, you can purchase items to furnish your library which is an additional thing to like about this game. During the years when I was busy playing only adventure games, I'd abandoned the Great Gatsby and regretted buying it because it was "just another hidden object game" that I'd outgrown. I'm glad I read these reviews because you stirred my interest in it again and the game has so much more going for it than just the hidden object scenes. It's so different from other kinds of games and has become one of my favorites. I'm just surprised the developer hasn't created more games from classic literature since this one is from the Classic Adventures collection. Is the Great Gatsby the first in this series and was there supposed to be more forthcoming? This is a wonderful way to introduce classic books to the gaming environment and I hate to think that this golden opportunity didn't pan out for the devs. Yes, the book may be boring and probably not the best choice for a first game but there's so many books out there so why can't the collection be continued? I love period pieces so I enjoyed seeing how the costumes and everything else looked in the movie and how exact they were replicated in this game. Very well done.
September 23, 2012
Refreshing
Lots of things going on but not overwhelming. It's a little Wheel of Fortune and money to buy prizes . A little like Gardenscapes. Trophies to win. Finding hidden words letter by letter. Finding hidden books. The graphics are fun and not grotesque. I get so bored with all the graves, and gruesome and dark. I've only played a couple of vignettes but I really have enjoyed it. I'm pretty sure I will buy this game. I tried half dozen times to read the book. Even with Robert Redford, I could not maintain interest in the movie. I don't know how closely this follows the book but I am really enjoying this game. Lots of HO's. It's really fun. Easy to follow.
April 2, 2012
Adore this game
HOG....learned a little about the book...Beautiful graphics, music...truly love playing this game over and over again! Nice story that flows easy. Game is relaxing and very pleasing to play!
December 10, 2011
GREAT...WONDERFUL...TERRIFIC
This is a wonderful HO game. All the scenes, music, and characters are period appropriate. If you haven't read the book, the story unfolds as you go. There are also different mini games than I have seen in other games. I will play this again & again.
February 23, 2012