Banana Bugs
Banana-hungry bugs are ravaging the village food supply and you're the only monkey brave enough to take them on in Banana Bugs! Shoot ropes to wall off bugs and stop them in their tracks and save the day in this fun and exciting Action & Arcade game! Unlock awesome powerups, and take on a variety of hungry bugs. Add and upgrade buildings as you make Monkeytown even more beautiful, and defend from the evil invaders.
Fast-paced gameplay
Intense action
Stop the Banana Bugs!
Game System Requirements:
OS:

Windows XP/Vista/7/8

CPU:

1.2 GHz

RAM:

512 MB

DirectX:

9.0

Hard Drive:

79 MB
Game Manager System Requirements:
Browser:

Internet Explorer 7 or later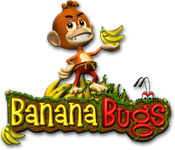 NEW299
The Big Fish Guarantee:
Quality tested and virus free.
No ads, no adware, no spyware.

Reviews at a Glance

Banana Bugs
0
out of
5 (
0
Reviews
Review
)
Customer Reviews
Excellent casual arcade game
This game really surprised me. On the surface it sounded ridiculous, but it kept popping up as #1 on "Games You'll Love", so I checked out the 1 hour trial on a whim, and am glad I did. Within 15 minutes I had to have it. This arcade game will keep you busy for a very long time, and won't drive you crazy in the process. I just finished playing it for 6 hours straight, am somewhere around level 100 and am nowhere near finished. The graphics are excellent and the game play takes a few minutes to get the hang of, but after you do, you'll have a tough time turning it off. The theory's pretty simple but I'm finding it very hard to describe: you put the monkey in the smallest section of the screen that you can, and try to "close off" the bugs. If your rope hits a bug before it makes the "wall", you lose a life. If you manage to deep six all the bugs before you've closed off 85% of the area, you get extra points and can get 100% clearage. I know that's vague, but this is one of those games you just have to play to "get" it. As you progress through the game, it gets tougher and extra powerups happen, all of which are pretty transparent but are appreciated when they come into play. The side theme of the "town" is just okay, but the real fun is just the gameplay itself. Glad I found this one.
January 17, 2012
Suprisingly fun ( :
I am 55 years old and decided to check this game out. It can put a smile on your face. Its just fun. A nice way to pass some time!
May 16, 2012
Love the Monkey
having so much fun with this one and I am over 50 yrs =) This gaem is so addicting i just want to keep playing thanks BF for hours and hours of fun!!! am at level 305 and still going.....well worth your money...go ahead and buy this -great for all ages!
July 9, 2012
One of the most fun games ever !!!
Whenever I want some "mindless " fun, Banana Bugs is my game of choice. It is very challenging in at least 1/2 of the 476 levels and as another reviewer mentioned it is virtually impossible to not lose a life or 2 in the initial 50 levels. Thank goodness for the many powerups that become available as the game progresses. Other gamers have outlined the general premise of BB. What I will offer is some hints on how to deal with the various species of bugs that haunt our monkey friend. The mosquito travels slowly but does speed up if one is facing the rope as it is being drawn. The roach is confounding as the player never knows what direction it will take. Be cautious with these pests. The dragonfly is fast but can be taken out when he pauses as it turns around. Both the fly and the moth are fast as well, but the player can get them to leave the playfield by shaking the rope over them without actually drawing a line with the rope. While they are gone, draw the line and upon their return, they are goners. The large red millipede goes slow but speeds up when a rope segment is being drawn. He can otherwise easily be trapped. The most dangerous bug is the yellow jacket who does not appear until around level 121. He generally travels slowly but every 15 seconds or so, speeds up tremendously and homes in on a drawing line so be careful with this awful pest. I have found that the use of the casino as the game progresses becomes unworthy since some of the other powerups bought with an increasing stash of bananas are better tools. The furthest I have gotten in this game without being killed off by the nasties is level 381. You will moan and groan while battling the bugs and some unapt language is a definite possibility, but it's all in good fun. As a daily deal, Banana Bugs is almost stealing.........that's how good this game is. I urge all BFG gamers to at least give it a trial.
September 11, 2012
Family Fun
This game is great for 3 yr. olds up to 64 years old. Its, great.
February 28, 2012
Fun arcade game!
Hours of fun playing this game.
December 29, 2011
AWESOME
I LOVE Banana Bugs it hours and hours of fun. I can not get enough even when you have played all the levels over 300 of them. This game is Intense and a blast I recomend it for all ages. I can't see anyone disliking this one. I have rapped it 5 times and I still can not get enough. My Husband thinks I am nuts. I get so excited when I play he gives me these funny looks and tells me he is going to wash my mouth out with soap....giggle.
February 8, 2012
Fun & Addictive Game
This is a very fun/addictive game, It`s similar to Cosmic Bugs and Water Bugs, only difference is it`s Monkeys instead of aliens, but object is pretty much the same. You trap the monkey by building lines across the box and make sure the "bugs" don`t get you or you could "die". I`m glad this was on the DD, but would buy it even if I paid the full price.
September 11, 2012
Love this game!
This is a delightful game. Lots of fun. Only thing I don't care for is once you buy the power ups, they are stingy letting you use them, but other than that, I'm glad I bought it.
August 13, 2012
Title is misleading - it's actually a very fun and addictive game!
I saw Banana Bugs as the Deal of the Day for $2.99 and the title and game picture turned me off - it sounded and looked stupid, but when I checked the reviews and saw that it was a short download I figured what the heck, I'll check it out. Banana Bugs is one of the most fun (and seriously addicting!) games I've ever played and currently ranks as my favorite. When I finish one games (all 450+ levels) I start all over again and have yet to get tired of it . . . although my forearm does from pressing the mouse button to build the walls after a couple hours of play. Level 1 starts out super easy... you'll progress up to 450+ levels before a game is completed and they go fast. The first location has only 4 levels to play, and each location increases the number of levels to complete that location. You try to build walls and cover at least 85% of the game frame - without the bugs hitting you - cuz if they do, you're zapped and you hear a SNAP! that, after awhile, might cause you to cringe, ROFL! The game starts out with a single blue mosquito who floats along but tends to speed up toward you when you start building a wall. Other bugs added are psycho bees that bounce all over the place with an annoying buzz; red ants that lumber along; predictably unpredictable roaches that change directions very quickly and race down a wall and SNAP! You just lost a life. (You start out with 6 lives; when you use them up you have the option of continuing in the same game or starting a new game.) Then there's the pink dragonflies that fly back and forth... these are particularly challenging when they don't fly in unison but staggered and opposite of each other making it fairly difficult for timing to build a wall. And there's a long red centipede that takes up a lot of space and races toward you quickly where you are building a wall. A slow moving green caterpillar that makes a really gross squishing sound when you zap it. There are white moths that like to migrate toward you and then hang out behind your head so you can't build any walls. And we can't forget the little annoying green flies that fly out of nowhere and SNAP! Lost another life. When you complete the levels of each location you get to go to Monkeytown and purchase things with the bananas you earn (each time you clear a frame 100% you'll get a 20 banana bonus, LOL) -- extra lives, 5-10-15% faster rope to build your walls, extra weapons such as disco ball (my personal favorite in the larger frames, the bugs will stop to dance, which is a hoot), flaming arrows, earthquake, rain (I don't care for the rain as it slows things down and makes it difficult to build walls, so I don't buy it anymore), a parrot you set down on a wall where it walk back and forth and pick off bugs that get in its personal space, a frog that shoots balls at bugs and takes them out of the game, and up to 4 monkeys who will help you out with peashooters they shoot at the bugs and take them out. And if you purchase the casino the spins can win you flypaper, a fly swatter, a mine that explodes when a bug bumps into it, a bug zapper, etc., or nothing at all. This game is way more fun and challenging than its cousins, Water Bugs and Cosmic Bugs.
October 27, 2012