Nemo's Secret: The Nautilus
Go on a fun and exciting Hidden Object Adventure and find Captain Nemo's legendary submarine, the Nautilus! Follow clues and hints left by Captain Nemo himself, as you track down his vessel, and become a part of the legend. Discover the sub and work your way through the insides to find treasures beyond your wildest dreams! Explore gorgeous scenes, and solve tricky puzzles in Nemo's Secret – The Nautilus.
Gorgeous graphics
Incredible gameplay
Find Nemo's sub!
Game System Requirements:
OS:

Windows XP/Vista/7/8

CPU:

600 Mhz

RAM:

128 MB

DirectX:

6.0

Hard Drive:

277 MB
Game Manager System Requirements:
Browser:

Internet Explorer 7 or later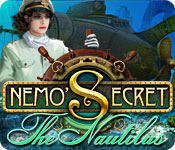 NEW299
The Big Fish Guarantee:
Quality tested and virus free.
No ads, no adware, no spyware.

Reviews at a Glance

Nemo's Secret: The Nautilus
0
out of
5 (
0
Reviews
Review
)
Customer Reviews
Nemo's Secret: The Nautilus
19
19
For addicted to HOS
Slow game, loading takes too long. Simple graphics, no voice over, music little boring. A lot of HOS, but some objects are tiny ! HO different from the usual: - the objects fit into the scene, they did not just disappear, - immediately after the HOS has a mini game to use found objects (machine building, repairing locks, etc). Not challenging, just to entertain.
January 30, 2012
Captain Nemo lives!
What a fun game! To begin with, there were no problems downloading and installing. The graphics are amazing for a Standard Edition. The game really is beautiful and the colors, textures, and environments really get you into the game. The music is unobtrusive, although I usually turn the music down in any game. The game play is routine for the most part. You play hidden object scenes to move you forward in recovery of Captain Nemo's famous Nautilus. The scenes are a bit different, as that found items don't disappear. They are returned to their proper places in each scene. A few of the scenes made finding things a little challenging, but the hint system works well and is fun to use, and Captain Nemo himself even helps direct you to places you need to go and things to do when you get there, so you never really get stuck. Mini-games were innovative and not overly-difficult, but I didn't find them simple, either. The game had good length of play, as well, keeping me playing for two evenings - about 6 hours altogether. On the less-positive side, there was, oftentimes, a lag in screen loading that averaged about 20 seconds. Some scenes came right up, but many had a bit of a wait while loading. For me, it was just the time I needed to run to the kitchen for a snack:) It's just a couple of feet to the fridge...so the lag was really short.:) All in all - an engaging game, perhaps simpler than many advanced hidden object players might like, but, for me, with beginner-to-intermediate skills, it was lots of fun and I will definitely be playing it again.
December 11, 2011
20.000 reasons to play this game - A guy's review
*review based on completing the full game* Well, maybe not exactly 20.000... but still ;o). This game is primarily a Hidden Object game, but does it with an interesting twist. Instead of just finding and removing objects, you actually find objects and fragments that you will need to solve puzzles and you never really remove the other objects from the screen. No, it's more like cleaning up the place. The objects you find are out of place, and when you locate them they move to a proper place on the same screen. Items never really leaving the screen, and the screen constantly changing adds to the challenge. I found it very entertaining. Not only that, but in several places you solve puzzles on the same screen that you actually do the hidden objects, or fix things right there on the screen. Ingenious. Many of the puzzles and assembling mini games are mechanical, but I didn't feel they were very hard. Still, I like mechanical puzzles :o). The way you move through the game is being guided from screen to screen or spot to spot. No moving back and forth trying to figure out what to do next. That might suit a lot of people, but me being the adventure fan that I am, I wish I had to do a little more thinking on my own. There is a little story, but not much, and it is not very involving. Everybody can tell what it is built on. But, even with the lack of an engaging story, you feel heavily involved in the game. That everything has a purpose. Now, the graphics is a bit dated, and especially noticeable in the HO scenes, where several things you need to find can be rather small, and usually well hidden. It's definitely not game breaking, and luckily you have a hint function to help you if you get stuck. Though, it is fair to say that if one is sight impaired, one might struggle here. The music gets annoying after a while, and I suggest to turn it down. Sound effects are anonymous, and there are no voice-overs. They could have done a lot better in this department. There is only one level of difficulty to play, and considering small objects in the HO's and some brain twisting puzzles, it can be quite challenging at times. Not all the time though. All in all it is a cleverly made game, that seemed quite original to me. I truly enjoyed it, and will surely get the follow up. Recommended to everyone who is into HOG's and puzzles. The game is appropriate for young and old, but beware if you have difficulty seeing. For the guys: You play as a female character, but the way the game is setup you barely notice. Only in the few cut-scenes. There is a cooking puzzle though, but I don't think it should cause a ruckus. TJ
June 2, 2012
Not for me
It was very difficult to play this game. It was extremely frustrating when putting objects together because even though I was placing the object in the right place it wouldn't take. Some of the words are misspelled horribly in the hidden object list and you can't tell what you are supposed to be looking for. I don't suggest you waste your time playing it.
December 9, 2011
Jherek Carnelian was here!
If you know who Jherek is, you might guess this game is full of victorian era mechanical oddities that are so alluring to some of us! Yep, it is hard but once you get the hang of it very enjoyable. If you get stuck on the door puzzle I suggest using the walk-through, it helped me understand the game's logic. Wonderful artwork, and a good music, too.
December 21, 2011
So so hidden object game
Have to agree with some other reviewers...items just don't work properly when clicking on items. Also, with the advent of spell checker, misspelling words and items in the game is a sign of poor game making. Could be a fun game if more care was taken in the preparation.
December 24, 2011
Good Playability & Very Enjoyable
Besides the fact that JV's 20K Leagues is my favorite book of all time, this game would be a good choice and I recommend it highly.
December 15, 2011
Hmmm - Could have been a great game!!
This game had the potential to be a great game, but it turned out to be a disappointing and discouraging one. You are charged with finding Captain Nemo's ship, the Nautilus with the added help of the captain himself. I doubt if Jules Verne would have enjoyed this game as it is a far cry from his exciting story - 20000 leagues under the sea. The dialogue and the Captain's assistance is just enough to let you know what is happening, and what to do next. The graphics are reasonably clear if at best somewhat dark in many scenes. A big disappointment and the main distraction of this game was the slowness of the change over between scenes, the cogs could have turned much faster. The hidden object scenes of which there many were some what dark as most were underwater, and the objects were very hard to identify let alone locate. A few were quite simple but others, small, obscure and well hidden and blended into the background too well. The puzzles, most of which were different did not give enough information of what was required to solve them, sometimes I got lucky, some I worked out easily but others I had to skip or check the walkthrough blog. I enjoyed this game in the beginning but as it dragged on slowly I almost couldn't wait for it to finish. In my opinion - could have been a lot better. I only just recommend it with a bare 3 stars.
March 26, 2013
2 thumbs up from teen son!
he finished it with joy. The one place he needed help was the code breaking machine.driving the nautilus was coooool! He liked it a lot and with a little help from the bigfish forum walk through he was able to complete it happily. Even replays are fun and boisterous!
December 10, 2011
Frustrating
the hidden object search is frustrating. terrible!
December 2, 2011
The Apple logo is a trademark of Apple Computer, Inc.