Nightfall Mysteries: Asylum Conspiracy
Help Christine explore the spooky Ashburg Asylum and find her missing grandfather in this dark Hidden Object game! Travel to the eerie grounds of Ashburg and work your way through spine-chilling locations. Solve unique puzzles to progress deeper into the asylum, and closer to Christine's grandfather. Meet interesting characters, unravel a mystery, and uncover an evil plot in Nightfall Mysteries: Asylum Conspiracy!
Enthralling storyline
Gorgeous graphics
Explore Ashburg Asylum!
Game System Requirements:
OS:

Windows XP/Vista/7/8

CPU:

1.0 GHz

RAM:

512 MB

DirectX:

8.0

Hard Drive:

191 MB
Game Manager System Requirements:
Browser:

Internet Explorer 7 or later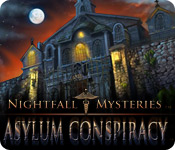 NEW299
The Big Fish Guarantee:
Quality tested and virus free.
No ads, no adware, no spyware.

Reviews at a Glance

Nightfall Mysteries: Asylum Conspiracy
0
out of
5 (
0
Reviews
Review
)
Customer Reviews
Nightfall Mysteries: Asylum Conspiracy
63
63
Multi-Room Asylum For Hidden Object Game Lovers
PLUS SIDE: It took me four hours to complete this game.Thank goodness for the map or I would never have gotten out of that asylum! If you like searching Hidden Object scenes (there are LOTS in this game) and enjoy exploring the grounds and many rooms of a multi-level asylum, I recommend this game. The storyline is engaging, and provides the background for another game (Nightfall Mysteries: Curse of the Opera). There are a few puzzles, and most are easy to solve, although the last one took me a while to complete. You will have a journal to help you, which includes a map; a task list; your clues; and a place for the 15 audiotapes that you will collect. If you find all the tapes, there is a bonus tape to play at the end. The graphics are bright and clear, and there are voiceovers for all the characters. The dialogue is also in text, which you can click on to skip. Take a few moments while playing to read the comments on the walls or comments when you click on items in rooms/hallways, some great humor, such as the Tooth Fairy comment "The fairy is a lie" written on the wall in the dentist office. Overall, a good game. MINUS SIDE: Just a few for the minus side. Some of the Hidden Object scenes were very cluttered, although well drawn. Also, it took at least a minute or more for the Hint button to refill, also the Skip button, so I wish that had been a little faster.
January 12, 2012
Great Story
This game is the prequel to Nightfall Mysteries: Curse Of The Opera. While that game definitely has this one beat for creepiness and a slightly lengthier game, this also delivers a fun HOG/Puzzle experience. The graphics are excellent. The characters are fun and mysterious. Great voiceover work! The puzzles in this one are on the easy side, and the game is a bit shorter than I would have liked. But overall, a fun game with an engaging and well thought out story.
November 24, 2011
Impressed over the length compared to what I assumed!
I'm quite impressed over the length of the game, since I assumed I would have spent only one night on the game. So, I gotta say that the length suprised me. I liked the interaction of hearing characters and other characters being around. I wish there was just a little bit more detail to the storyline, but since there is a sequel, maybe I missed a prequel? I have to say that I loved the audiotapes. I could go without the music and sounds other listening. The graphics were good, and I really enjoyed the puzzles. The Hidden Objects were not frustrating or annoying. Overall, it was a great ending to a nice beginning, and the story continues, so we'll see how that goes!
November 29, 2011
Curse of the Opera: The Prequel
Review after finishing the game: The Good: + game length + useful map! (no quick travel function though) + good voices + little used riddles + story ties in with Curse of the Opera (connection at the end) + decent difficulty (no sparkles) The Neutral: o Spider! (fairly big, you have to get rid of it; several in hidden object scenes) The Bad: - story not always logical: How did the detective get through the door that I had to open by solving a riddle? - Items are placed back into Hidden Object scenes - final door riddle slightly frustrating Bottom Line: Essential game if you played Curse of the Opera. However, since this one is the prequel you will spoil yourself the story of Opera, so play the other one first.
January 28, 2012
pretty good
I enjoyed it! Pretty good storyline. Nice dark plot. Not too short, but not one of the longest games out there either. The background art and the search scenes are beautiful, but the character art is not so great. There is a sequel to this game, Nightfall Mysteries: Curse of the Opera Walkthrough, but I don't think it's nearly as good as this one. That one is very hokey seems almost like a comedy.
November 25, 2011
Insane Asylum done right!
This review is based on a complete playthrough of the game. Ok, we've seen tons of games set in or around an insane asylum. This ones switches things up a bit and has us starting on the outside and working our way in. As a bonus we get collectibles (in a SE!) in the form of tapes you can listen to as the game progresses. Very reminiscent of the malkavian manor in that old vampire game or the video clips of Dire Grove. If you missed a tape, you could go back after you finished the game and find it without having to start over. It took me six hours to play through it all, taking the time to try and find all the objects in the HOS and watching all the cutscenes. Great length for a SE game. Now to the game: THE GOOD: It's got a wonderfully creepy atmosphere. Not over the top gory (though there is a pop anatomy quiz), but just enough to keep you on edge. Things moving when you click on them and brief cutscenes really add to the atmosphere. The music is top notch as well. Perfect ambience without getting too repetitive (ok, maybe a bit at the end). The HOS were some of the best I've ever seen, at least for the first half of the game: neat, uncluttered, and looking how a scene might actually look. Stuff was still hidden, and I really wanted to try to find the stuff, rather than click all over for the big things then see what's left. The Hint inside the HOS let you pick which object you want it to show you, which I thought was a nice touch I wish other developers would pick up on. Outside HOS, the hint gave prose instructions. Your journal was split up into sections, with one that recorded 'clues' so you didn't have to write down numbers or picture patterns yourself every time you found them. It had the standard 'journal', a task list, and the map that showed areas with 'goals' to complete. The voice acting was superb. Visually, the characters weren't too lifelike, but with the great voices you hardly noticed. The character were drawn in a way that fit the surroundings. THE BAD: No difficulty levels - you're stuck with glints and sparkles. Character development could have gone a lot deeper. There weren't any twists or turns with hidden agendas or motives. About halfway through the game the HOS started to become more and more cluttered until they became the junkpiles we see far too often. THE UGLY: Without giving away any spoilers, at one point you'll start picking up and adding things to your inventory that no sane person would carry with them: crowbars and flashlights? Sure, they have a purpose. Not these things. I had them all and used them as soon as I was able. The hint system didn't update so I was stuck with that on my task list and 'Go search for <items>' as my only hint for a long time. So my advice is don't pick them all up until after you've figured out what to do with them. BOTTOM LINE: This is a solid 4 to 4 1/2 star game. One of the best SE's I've come across in a long time. There's even a bit of 'teaser' ending a la Nancy Drew if you find all the tapes. If the HOS had stayed the same quality that they started out being for the whole game, I'd give this five stars. Unfortunately, they didn't and what was a refreshingly fun part of the game turned into the same old dreary drudgery by the end. Even with that, it's still a great game (even by 2014 standards), and I can give it a full and hearty recommendation.
July 25, 2014
Strong Follow-Up
This sequel to Curse of the Opera explains much of the backstory for the first game, and continues the series with more solid hidden object fun. Several improvements were made, and the developers did a great job of keeping the pace fast. The game looks great, with big improvements made in the artwork from the first game. Hidden object scenes in particular sparkle, with items really standing out but not obtrusively. Voice acting is solid once more, especially if you enjoy mad scientist chuckling (and who doesn't?# What I liked most about this follow-up was the plot and energy level. You're constantly moving, and the game does a great job of making it evident what you need to do next without giving it away. #Unless you use the hint, of course, which charges quickly.# You also need to collect audio tapes #optional) to learn more about the characters. This was okay, but the bonus tape you earn from doing this was in my mind a bit of a let-down. Challenges are okay, with nothing really proving too hard for your average gamer. Backtracking is present, but not ridiculously. Overall, I think the game surpasses the original technically, but lacks a bit of the challenge. Solid work.
May 19, 2012
A Less Disturbing Redrum
The insane doctor, experimenting and killing innocent people. This had the same feel as Redrum Time Lies; you're in a creepy run down asylum and you can't help but feel like something is going to pop out in front of you at any given moment. But it was far less disturbing in graphics and storyline than Redrum. You enter an asylum in search of your grandfather and try to solve the mystery as to why he's even there as well as taking down a sinister creeper of a doctor and rescuing his captives. Graphics: Good, nothing spectacular but well done. Music: Adds just the right ambiance factor without sounding redundant or redundant. :oP Length: I timed it and I honestly thought I'd been playing longer, but this game took me about 4 hours to play and I didn't skip any puzzles and used minimal hints in HO scenes. Challenge: Some of the puzzles are time consuming, but nothing that can't be solved with some patience and desktop snacks. I did get confused when I didn't find tape 10/15 in sequence with the other ones (you'll find it later). Some of the hidden objects are cleverly hidden and I used the hint button on some of those. Almost always I found myself thinking, "Um, yeah, there's no way I was going to find that." Play Again?: Yes, most likely, especially if I get the sequels. Overall: B
March 5, 2012
Lots of hidden object scenes
I really enjoyed this game. There was quite a bit of backtracking, but the map really helped. Use of objects made sense, and the inventory usually didn't get overly big. There was just enough challenge in remembering where to use objects to make the game interesting rather than frustrating. I like a lot of hidden object scenes, and this game filled that bill. I did not particularly like the puzzles, which is why I didn't give the game 5 stars. They were a bit too difficult, and I ended up waiting for the skip on most of them. Play time was long, but the progression made sense. I am eager to play the next game in the series.
August 29, 2012
Will there be a Part 2?
Story kept me on my toes. Wondering if there will be a "Part 2".
July 23, 2012
The Apple logo is a trademark of Apple Computer, Inc.