Journalistic Investigations: Stolen Inheritance
Help Mary save her friend Lora's wedding! Lora's inheritance has been stolen, and now Mary must crack the case and catch the crook! Explore interesting locations as you search for clues and try to figure out who exactly stole Lora's artifacts, and what they want to do with them. Solve perplexing puzzles to advance, and make sure to keep your eyes peeled in Journalistic Investigations – Stolen Inheritence!
Clever puzzles
Gorgeous scenes
Save Lora's wedding!
Game System Requirements:
OS:

Windows XP/Vista/7/8

CPU:

1.2 GHz

RAM:

1024 MB

DirectX:

9.0

Hard Drive:

199 MB
Game Manager System Requirements:
Browser:

Internet Explorer 7 or later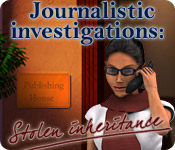 NEW299
The Big Fish Guarantee:
Quality tested and virus free.
No ads, no adware, no spyware.

Reviews at a Glance

Journalistic Investigations: Stolen Inheritance
0
out of
5 (
0
Reviews
Review
)
Customer Reviews
Journalistic Investigations: Stolen Inheritance
20
20
A very basic game
On the plus side the graphics are beautiful - clear and bright and easy on the eye. The piano music is pleasant and appropriate to the scenarios. The HO's are simple and easy to spot. The storyline is pretty basic and has little depth but I have played games with worse ones. The puzzles are simple and if you cannot work out what to do the answer is there on screen with just a couple of clicks. So if you want a pretty, simple game to relax with that does not challenge the brain this is the game for you. However if you want challenge and complexity you will be disappointed
January 8, 2012
Another Game For The Girls!
Female Journalist HOG. Pure, clean fun. Mostly girly stuff in the demo so not sure about the full version. Journalist Mary is Maid of Honor to her best friend Lora. Ooops! One of Lora's Engagement Gifts and also an early inheritance has been stolen! Casual and relaxed. No voice overs, just beautiful piano music. Did not purchase. Recommend for the gals-- beginners and casual play gamers.
January 6, 2012
Totally unsophisticated
What we have here is a pure HOG in 12 levels, with simple tasks and few minigames. The pattern of each level repeats itself and is as follows, after the intro: cutscene - HOS - Task - Place antique in display window The ultimate objective is to recover all the family's antiques that have been stolen. They are scattered throughout every level and are retrieved one by one. The HO Scenes are colorful, neat and well organized. I believe they are photos rather than drawings. That doesn't mean the objects are easy to find; some are, others not being tiny and/or hardly visible. On the easier of the two modes hints recharge fast, but only help in the HO Scenes. 6 misclicks in succession deactivate the cursor for a few seconds. When it is time for a task, you click on the notepad on the right and the full instructions get displayed on screen, all you need do then is follow the directives to the letter which consists in finding the 4 or 5 necessary items first, then using and placing them as indicated. All these tasks are extremely simple, like cutting a wire to defuse a bomb, as one example. The puzzles/minigames are pure classics without originality; here again, some are easy, others a bit trickier but not much. They can be skipped. Since this "investigation" leaves no room for deep thinking, it is indeed very "relaxing"; in fact it doesn't offer anything exciting or even slightly challenging. To be honest I found this game perfectly boring during the first 30 mns of the demo which took me roughly half way through Chapter 3 before I decided to quit. Yet, it is true it can be viewed as a relaxing break from more sophisticated games due to its straightforwardness and its being no brain-teaser. It's a pity in a way, because the storyline is refreshing, does make a nice change from ghosts, corpses and demons, and has enough potential to be the basis of a truly gripping game had it been conceived differently and a lot of suspense added to it. So, recommend or not recommend ? That is the question. Answer: "yes" but only to younger players and those who want something really simple.
January 6, 2012
Straightforward HOG
Colorful graphics. Soothing nice music, but did not help out the game. Straightforward HOG, seemed endless, mini games too easy, music made you drowsy which made the game seem monotonous, no voiceovers, so lots of reading. I recommend this game for the colorful graphics, storyline and if you like a straightforward HOG.
January 6, 2012
hidden object game
I always like it at the start of a game when you can choose your difficulty level like this one had. This game kinda starts out slow but if you play it, it really is not that bad. It is more of a relaxing I am bored and have nothing else to do kind of game. It is not a thriller I want to keep playing one that everyone likes to play. Overall I am satisfied that I bought it. The hidden object parts were fun ( and that is mostly all you do) the mini games were found wanting but oh well. If you like the Hidden Object part of the games then this one is for you.
February 6, 2012
Hard to play:no resume method
Great game BUT since the game cannot be played in several sessions, I don't recommend it.
May 24, 2012
Not what I'd hoped for.
This was a bit of a strange game. First, although it does have a story, it really isn't an adventure at all. You go from one hidden object scene to some text dialog, a mini puzzle, then straight into the next HOS. It looks like the developers could only afford two 3D rendered models, so they reused the female for several other characters by just changing the hair and clothes. Two would be on-screen at the same time so it was a little confusing. There were only two men and you didn't see much of either, and never together, so it wasn't as distracting. There is no voice-over, but the text was not overly-long and well-translated (if it was not originally in English). The graphics and colors were nice, there wasn't much sound or music, and you can play in a couple of difficulty modes. The puzzles were very easy. The tasks were often so ludicrous I couldn't get into the story at all. The hidden objects were clear, but a few were mis-named ("sprayer" turned out to be a can of aerosol paint, and "pliers" were cuticle nippers). Also, something I really hate in a HOS, there were more than one of an object that appeared on the list, so you might find what you thought was THE bird and clickety-click only to find out they wanted you to click a different bird. There is a mis-click penalty, which is irritating because the cursor doesn't change over some items you have to move in a scene in order to find needed objects, so you have to click blindly (and wait out the penalty) or use the hints. Unless you pick it up as a daily deal, or you're really hard up for something easy to play, I'd pass this one by.
March 14, 2013
Straight Forward, Simple, Easy
This game did not strain my talents, but it was a nice change of pace from the more complicated games. Graphics were good and so was the very linear story line. However, the main character could have used a better wardrobe. It appeared that the story was set in the summer (beach scenes, people in tank tops) but she wore a grey jacket and maroon scarf the whole time. Even her party outfit was the same. Her one "disguise" was to wear a wig but no change in clothes. This seems lazy on the part of the game developers after putting so much effort into the other graphics. Also some of the scenes were too dark in places, particularly at the top.
May 27, 2012
Afraid too basic for me
I shouldn't be reviewing it as I only lasted 5 minutes into the trial but I was already bored. I do like more of an immersive game these days and feel this one would only be suitable for beginners. Clear, bright graphics, though, for the HOGs.
February 10, 2013
Ugh -- I couldn't have been more bored.
You are a detective at your BFF's engagement party, lights go out and all her family's artifacts that were given to her are stolen. When you exit out of the game you are told all your progress will be lost - bummer Can't comment about music or voiceovers because there were none of either. Unlimited hints and hint button recharged in a fair amount of time. Sometimes very difficult to find items. It basically went like this - list of items to find, item you needed to find the pieces to, which would give you an artifact that you put into a cabinet or whatever - it looked more like the shelves in an achievements type game. If you like HOGs upon HOGs upon HOGs this game is for you - it's a no brainer but my brain got sooooooo bored. I believe my grandkids could play this game - great for beginners and those who want to put their toe in the HOG waters and try it out. Sorry, I don't do this often but this Glam-ma does not recommend this game.
March 26, 2014
The Apple logo is a trademark of Apple Computer, Inc.