Redrum: Time Lies
The twisted and evil Dr. Sigmund Fraud has been released from the asylum, and is up to his old tricks. Help Detective Ravenwood track him down and end his terrible crimes in Redrum – Time Lies. Dive into this Hidden Object Puzzle Adventure game and free the souls of Dr. Fraud's victims from their nightmares. Explore eerie nightmares and put an end to Dr. Fraud's cruel experiments once and for all. Warning: Redrum - Time Lies is an intense psychological murder mystery intended for mature audiences.
Eerie gameplay
Spooky puzzles
Capture Dr. Fraud!
Game System Requirements:
OS:

Windows XP/Vista/7/8

CPU:

600 Mhz

RAM:

128 MB

DirectX:

6.0

Hard Drive:

128 MB
Game Manager System Requirements:
Browser:

Internet Explorer 7 or later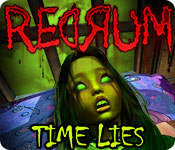 NEW299
The Big Fish Guarantee:
Quality tested and virus free.
No ads, no adware, no spyware.

Reviews at a Glance

Redrum: Time Lies
0
out of
5 (
0
Reviews
Review
)
Customer Reviews
Whimsical Horror
I know the title might seem a contradiction but the style of the graphics is kind of like a horror version of 'Alice in Wonderland' or some other slightly surreal story. This is one of the rare occasions that BF have put a warning with regards to the content of the story (not done enough in my opinion given some of the games that have dark themes), and this warning should be heeded. The story-line is dark but if you keep in context it is a game (like the Omen series was just a film), then you will I think be OK. I think the fact that the 'shrink' is a real life name and the main character is a child may to some be seen as a bit 'to near the bone'. To me though yes it is very psychological and the subject matter is not something you want to think about, but as the graphics are surreal then you can just about retain the fact that you are in a 'game'. To me though even though the graphics were surreal it enhanced to the game-play in that it all added to the story so whilst the graphics weren't realistic, they were right for the story and carried it through. The actual game-play was takes on HO, in that there was some standard HO (find random objects), but others included finding a certain number of items (such as bones etc), this added variety to the game play and also unlike in some games where the HO's were there just because the producer of the game had decided that this was of the HO genre and to stick random HO scenarios in actually carried the story. The music as in games of this genre helped carried the story, even though it was a bit 'creepy' at times it carried the ambienance of the story and in my opinion needs to be left on. Even though the subject is dark and the graphics are whimsical (and perhaps not as well done as others even in this genre), I still think if you have like Haunted Hills games and others of that ilk it might be worth the free hour trial. But heed my warning DON'T PLAY THIS JUST BEFORE BEDTIME, as you will probably have nightmares!
December 23, 2012
Great Game but Creepy and Difficult!
WARNING: This game has very graphic drawings which might bother some players; if you don't like very dark games please don't even look at this one. I had a nightmare after playing this game. Hints: There is a hint button but it is not automatically refilled as time goes by. The player must find magnifying glasses in order to refill the hint button. I ended up with 10 hints at the end of the game so this shouldn't be a problem. Minigames: Some HOS are difficult as you must find bits of what is on the screen; some are traditional & easy. They cannot be skipped. Hints can be used. This is the only place I used hints. Jigsaw Puzzles: time-consuming but easy. Can be skipped. Switching Tiles: time-consuming with some difficulty (for me#. Can be skipped. Moving Rows: time-consuming & difficult. Can be skipped. Storyline: I didn't play the first game but this is obviously part of a series with a sequel strongly hinted at at the end of the game. The storyline is intricate, interesting, & is probably the main reason I continued playing the game until I finished. There is a Walkthrough which I used a few times. I enjoyed playing this game once I understood what I needed to do. I do not recommend this game for beginners or for those who do not like dark games #although there are bits of humor). ***Playing the game after midnight is not recommended unless you enjoy nightmares or insomnia.***
May 17, 2012
This is a game for horror fans like me:)
OK: I love creepy games and this is one of my faves. If you don't like psychological horror genre you will prob freak out- so go play something else "happy". It's not for everybody. ANYWAYS-- It was really good the puzzles were tough ( wish there weren't SO many and more of adventure game play). The story line could've been bit better but I'm waiting for the devs to make a third (crosses fingers) >;'D
June 9, 2014
Definitely INTENSE
First, there is a bug- on every slide puzzle or traditional picture puzzle, when I completed it, the program froze. BUT the games is so good that I put up with working around that. Before doing the puzzle, I would close so that progress was saved, then I'd enjoy completing the puzzle, use Task Manager to kill the game, reopen it, then just fiddle at putting the puzzel together again until the Skip was active, then hit skip and the game moved on just fine. Sounds like a lotof trouble - but it is worth it. This is freakier than the first RedRum. I love it's diversity! I has truly frightening pictures and concepts. I'm not talking about something jumping out at you, I'm talking sick, creepy... twisted pics but the payoff is just as big... You get to release tortured souls and it is done very satisfyingly. There is a lot of back and forth but there is a pattern to it. If you use the hint and the map, you really shouldn't need a walkthough at all, but I admit that once I did have to go to every single room and scene. It's well balanced, perhaps a little light on HOS. If you don't like doing picture puzzles, then you might not like this because pretty much each soul has one. I happen to love them.
November 10, 2012
Heed the Warning Label
After playing Redrum, I was looking forward to this game coming out. The dark psychological plot was disturbing and the ending freaked me out. The mini-games were a lot like the first game, but that was okay and I enjoyed playing this game. May not play it again for some time to come.
December 4, 2011
Definitely For Horror Fans
This game really IS creepy and sometimes unsettling - and I felt that way 5 minutes into the demo! The feel of it is too realistic for light entertainment, even though the graphics are over-the-top psycho. I did like the very different HO games (find yoga positions, eg.) and it strikes me as a game with some genuine originality to it. I will probably buy it if it's a daily deal, but otherwise it's just a bit too much, and the graphics technical quality is below par. Probably appeal most to hardcore horror fans, and retro lovers.
January 13, 2012
Beyond gruesome -- PTSD Trigger Warning!
Twitching, desiccated corpses, adorable babies lying on mounds of syringes, mouths stuffed with live ants, impaled eyeballs and many, many scenes of suffering small children in abject terror, and you have nearly reached my limit. I love gruesome, horror-laden games like Redemption Cemetery and Penny Dreadfuls: Sweeney Todd, which have clever storylines and comical dialogue. But REDRUM: TIME LIES is just plain sick. I'm halfway through, and I will finish the game, but I know plenty of people who would suffer from PTSD triggers throughout this game, so they are warned. You aren't setting out to rescue someone in this game; you are merely hoping to free their souls from suffering. They are dead and -- yick -- have been rotting for some time. These decaying bodies are in virtually every scene. The HOS are slightly different - in some you match objects to their visual representation, but often these are so blobby and vague (an odd-shaped section of wall) and the color of the image is frequently very different from the scene you're searching. Other HOS are standard with a list. The over-click penalty is very sensitive, you may only get 2-3 incorrect clicks before getting another grim, threatening warning. The minigames are varied and none is too difficult - too many jigsaw puzzles of increasing difficulty for my taste. I understand WHY people like this game, and as I said, I plan to finish it, but won't play it again. I would not recommend it to most of the people I know.
April 27, 2013
A truly bizarre game.
The original game made me sick to my stomach and this one didn't make me feel any better, but at least the quality was much better! I tend to gravitate to the dark and creepy and am always on the lookout for my next fear fix. This series intrigued me because of the adult warning labels, but I hated the first game and expected the sequal to be better since it garnered decent reviews, so I decided to give it a whirl. This one didn't disappoint and is actually quite well done in its originality. The imagery throughout is beyond bizarre, so for those of you who tend to get squeamish at weird-looking pictures, I suggest you skim through the walkthrough to see how these images affect you. You come across some of them more than once so if any of them make you feel bad in any way, you might want to skip this title. I only played the demo but was impressed with how the story played out and how you moved through the different scenes. The minigames were also interesting and varied. Seeing the victims in their individual states was difficult for me, so the squeamish factor really kicked in at those times. Although this game is definitely creepy by my own standards, I won't be buying it. I debated about it for a few minutes as it's different from what I usually play and I liked that about this game, but it just did not make me feel good when I played it. I play games for fun and relaxation and I realized that I would never choose Time Lies over the dozens that I own that are actually fun and make me feel good when I play them. Time Lies is a game separate from the rest and has its fans who enjoy playing it but I'm guessing it's not a huge following because of its subject matter. It will appeal to those who go for this brand of horror and to those people in this specialized category, I would recommend this game. But for the rest of you who play games for the same reasons as I do, I cannot recommend Time Lies in good conscience. I don't wish to sway anyone's opinion, however, so do demo it first if you're on the fence about it.
November 3, 2012
Weird aint the word!
I cannot compare the first Redrum to the second as I have not played the first. However as my title review says the game is rather weird. There are not many HOS but quite a few of HOP which as the first time playing HOP I found it to be a refreshing change. The HOS are pretty clear although the puzzle games got a bit repetative after a while. The theme of the game is a little dark as its based on nightmares though it is not scary at all......just a little weird. Although the game comes with a warning, adults playing this shouldnt be affected though I wouldnt recommed letting youngsters play the game.
April 16, 2012
It was OK. Not as dark as made out to be.
I really dont see what all the fuss is about. I dont think is "dark" at all. I found it annoying to have so many puzzles. I would've enjoyed more HOS. The storyline was OK, not that entertaining. Overall it passed the time, but really not worth all the hype.
August 31, 2012