Redrum: Time Lies
The twisted and evil Dr. Sigmund Fraud has been released from the asylum, and is up to his old tricks. Help Detective Ravenwood track him down and end his terrible crimes in Redrum – Time Lies. Dive into this Hidden Object Puzzle Adventure game and free the souls of Dr. Fraud's victims from their nightmares. Explore eerie nightmares and put an end to Dr. Fraud's cruel experiments once and for all. Warning: Redrum - Time Lies is an intense psychological murder mystery intended for mature audiences.
Eerie gameplay
Spooky puzzles
Capture Dr. Fraud!
Game System Requirements:
OS:

Windows XP/Vista/7/8

CPU:

600 Mhz

RAM:

128 MB

DirectX:

6.0

Hard Drive:

128 MB
Game Manager System Requirements:
Browser:

Internet Explorer 7 or later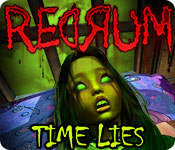 NEW299
The Big Fish Guarantee:
Quality tested and virus free.
No ads, no adware, no spyware.

Reviews at a Glance

Redrum: Time Lies
0
out of
5 (
0
Reviews
Review
)
Customer Reviews
Definitely For Horror Fans
This game really IS creepy and sometimes unsettling - and I felt that way 5 minutes into the demo! The feel of it is too realistic for light entertainment, even though the graphics are over-the-top psycho. I did like the very different HO games (find yoga positions, eg.) and it strikes me as a game with some genuine originality to it. I will probably buy it if it's a daily deal, but otherwise it's just a bit too much, and the graphics technical quality is below par. Probably appeal most to hardcore horror fans, and retro lovers.
January 13, 2012
Exceptional horror
Definitely not for anyone who isn't fond of very dark content. I wish there were more like this! Can't figure out how to say more without going into spoilers - but the plot did not disappoint. There's a basic pattern through most of the gameplay. Minigames repeat - to me, they seemed to get harder as they went on, but then I might've just been staring at the screen for too long. Was not in love with the reverse-puzzle Hidden Object-ish scenes (although they were refreshingly different). However, I really enjoyed the many jigsaw-type puzzles - the art was fantastic,and the puzzles definitely made the most of it. The general pace was spot-on. Hints are limited and can be increased by finding magnifying glasses in various scenes, which is a big plus. At the easier level, there is no penalty for multiple clicks on HO scenes, so hints are a last resort.
November 24, 2011
Not for the faint of heart!
This is a very creepy game. I am into that sort of thing, so it works for me, but this is not a game for children. I played this one first, then played the original one afterwards. I'm glad I did, because I hated the original one and probably wouldn't have played the sequel. I like the variety of puzzles, and the storyline was pretty good. It played very slow on my previous computer, but that's probably because it was an outdated computer.
November 15, 2011
Mind Challenging
This is a good a** game. It so realistic and makes me really work my mind being a detective an all. I would recommend this game to any one who like suspense, thrillers and mysteries
November 17, 2011
Possibly the most exceptional and novel BF game to date
I have played Big Fish games for many years now, yet have never felt compelled to review a game, although they have all been very high quality games. I am partial to the dark themes in hidden object games, so naturally I was drawn to Redrum. But it certainly is bounds above other games of it's type, if it can be grouped by type at all. Redrum is an exceptional, twisted and dark game sure to thrill those looking for not just creepy fun, if you are like me, creepy is as good as you will get but you want something just a little more mature, and when it says mature trust the disclaimer because it is for mature audiences only I guarantee it will leave some people downright haunted by the disturbing imagery if this is not their cup of tea but the rest of us avid horror-seekers it's just what we are looking for... if that's what you want then this game delivers. It has an engrossing storyline with gameplay and forward progression not found in any other game. I cannot compare it to other games, because it is a standalone in it's novelty. Give it one hour and you will be hooked. This is my favorite Big Fish game, and I've been playing Big Fish for years, and come with a long history of video gaming in general. This is the game you have been wanting. Trust me.
November 20, 2012
A truly bizarre game.
The original game made me sick to my stomach and this one didn't make me feel any better, but at least the quality was much better! I tend to gravitate to the dark and creepy and am always on the lookout for my next fear fix. This series intrigued me because of the adult warning labels, but I hated the first game and expected the sequal to be better since it garnered decent reviews, so I decided to give it a whirl. This one didn't disappoint and is actually quite well done in its originality. The imagery throughout is beyond bizarre, so for those of you who tend to get squeamish at weird-looking pictures, I suggest you skim through the walkthrough to see how these images affect you. You come across some of them more than once so if any of them make you feel bad in any way, you might want to skip this title. I only played the demo but was impressed with how the story played out and how you moved through the different scenes. The minigames were also interesting and varied. Seeing the victims in their individual states was difficult for me, so the squeamish factor really kicked in at those times. Although this game is definitely creepy by my own standards, I won't be buying it. I debated about it for a few minutes as it's different from what I usually play and I liked that about this game, but it just did not make me feel good when I played it. I play games for fun and relaxation and I realized that I would never choose Time Lies over the dozens that I own that are actually fun and make me feel good when I play them. Time Lies is a game separate from the rest and has its fans who enjoy playing it but I'm guessing it's not a huge following because of its subject matter. It will appeal to those who go for this brand of horror and to those people in this specialized category, I would recommend this game. But for the rest of you who play games for the same reasons as I do, I cannot recommend Time Lies in good conscience. I don't wish to sway anyone's opinion, however, so do demo it first if you're on the fence about it.
November 3, 2012
Weird aint the word!
I cannot compare the first Redrum to the second as I have not played the first. However as my title review says the game is rather weird. There are not many HOS but quite a few of HOP which as the first time playing HOP I found it to be a refreshing change. The HOS are pretty clear although the puzzle games got a bit repetative after a while. The theme of the game is a little dark as its based on nightmares though it is not scary at all......just a little weird. Although the game comes with a warning, adults playing this shouldnt be affected though I wouldnt recommed letting youngsters play the game.
April 16, 2012
Like The First, Another Mistake
I won't repeat myself in this review because it will be the same as my review for Redrum. This sequel wasn't any better than the original.
July 18, 2012
Redrum:Time Lies
Ugggggghhhhhhh......waste of time. The reviews for this game were great but I beg to differ. The mini challenges were repetitive and basic. Even a beginner would be dissapointed. Skip this one...for sure.
February 25, 2012
Sick and twisted
This is such a fun, original HOG; it's probably one of the more creative I've ever played. That being said, it's also easily the most disturbing, which is saying something in a genre rife with cemeteries, ghosts, murders, demons, and wacky asylums. Be forewarned!
June 24, 2012