Midnight Mysteries: Salem Witch Trials
Exclusive
The famed writer Nathaniel Hawthorne has died during a freak snow storm, and his ghost has come to you, asking for help. Travel back and forth in time from the scene of the author's demise to the 17th century, where a town is going mad with rumors of witchcraft and a woman is facing the gallows. Unravel the secrets of Salem's accused witches and solve the death of Hawthorne in Midnight Mysteries: Salem Witch Trials, a fun Hidden Object game.
Collectible clovers
Fantastic graphics
Solve the Midnight Mystery!
Game System Requirements:
OS:

10.5

CPU:

1.0 GHz (INTEL ONLY)

RAM:

512 MB

Hard Drive:

247 MB
Game Manager System Requirements:
Browser:

Safari 4.0 or later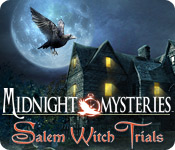 NEW299
The Big Fish Guarantee:
Quality tested and virus free.
No ads, no adware, no spyware.

Reviews at a Glance

Midnight Mysteries: Salem Witch Trials
0
out of
5 (
0
Reviews
Review
)
Customer Reviews
Midnight Mysteries: Salem Witch Trials
57
57
Spooks galore in Salem, Massachusetts
This is the 2nd of the 'Midnight Mysteries' and it's where the devs really found their feet and this spooky historical adventure series took off. The hint system leaves much to be desired but the ghostly atmosphere and haunted real-life characters are here in bucketloads. And it has the great sense of time and place which characterise all the games in this series. The devs did their homework on this one and it shows. The story concerns the supernatural and historical links between Nathaniel Hawthorne the 19th century American author, the Salem Witch Trials of the 1690s, and a fictional Salem family featured in Hawthorne's novel 'The House of the Seven Gables'. I spent some time mid-game reading up on the web about these three strands and this helped enormously to understand what was going on, since I hadn't previously known anything about Hawthorne or that one of his ancestors was involved in the witch trials. There's quite a bit of time-travelling to meet all the different ghosts, but the game manages to tie up the story strands pretty nicely by the end so it has a very satisying conclusion. Classic HO scenes are relatively few & far between and they're well-drawn, bright and uncluttered; individual items can be quite small but they're not a pain to find. One of the best things is that there are tons of objects to be discovered and used, some needing to be joined together to make a useful tool for your ghost hunt - really fun and a nice creative challenge. The many puzzles are very varied and entertaining; some easy & others more challenging. There's a bit of narrative help to get you started on each, but basically it's up to you. Very few have a reset button but you can skip all of them. General gameplay is highly atmospheric and intriguing, with just the right amount of challenge. No voice-overs so you need to read the numerous short conversations with all the ghosts you meet, but I found this adds to the creepy atmosphere. The graphics, music and sound effects are excellent. I had a display problem on my Windows 8 widescreen as the game launched in a small central window, but doing Alt+Tab out of the game and back again solved this. The hint system's pretty lousy as it only lets you select an inventory item & it'll show you where you can use it. #Thankfully the devs changed this in subsequent games in the series.# I do love collecting the beautiful ravens which top up your hints. The Journal records what's happened so far but doesn't give explicit pointers to what you should do next, and the map's just a simple drawing of Salem village with no jump function. There's no other in-game help, so I confess I had to crib a couple of times from the BFG walkthrough when I got stuck. I think the game deserves 4 stars #that bad hint system lets it down#. It's entertaining, intriguing and involving, and the use of real-life historical characters gives the game a gravitas and substance that I haven't come across elsewhere. I found I cared for the characters and their plight. I'll definitely be playing this one again to understand all the various strands and enjoy the spectral flavour of the game some more.
September 30, 2013
After Midnight We're Gonna Chug-a-lug and Shout!!!
This was among the first games I purchased when starting to play Hidden Object online. It was very fun the first time because this was all so new. It was very fun this time because, although there have been clear strides in the genre since Salem Witch, the game is just flat out fun. This is not a sentimental scoring. There are aspects which make this game very attractive: collectibles. There are two: ravens and clovers. About 30 of the former and 65? of the latter. They are well-placed, not disguised but blend in so well with the surroundings that they do disappear and that makes their acquisition all the more fun. I liked this the first time. I loved it the second. Among collectibles even NOW, this is about as good as it gets. These alone could account for a 5 in the fun category. The visuals are great. The "set design" is well done. Great artwork. Audio is non-existent save background music which, though played over and over again non-stop, is not boring, intrusive or annoying. There are no voice overs. Instead there's the cloud/balloon method of communication. I wasn't disappointed by it. It's not a five because this area of online games has probably evolved the most. Level of challenge: it wasn't over-taxing. Here's a twist: it's not a CE, in fact I don't think there is a CE. There is no guide. What guidance there is is more or less included in the journal. This is all you get. Unless I missed it completely, there wasn't even a way to figure out what exactly to do with puzzles. It was hit and miss. And if you invest a little bit of energy you'll be rewarded with great, fun puzzles, the completion of which is very satisfying. The story line is complex and, really, has less to do with witches than with human rights!!! There are no moralistic statements, but it's clear there was a suspect class and it's witches and they handle the subject matter well. Again, NOT just because this was among my first games played, I highly recommend it. It was more fun the second time around. This is NOT a game for a 10 year old. It's not easy. It is a challenge. And, IT IS FUN!!! If, somehow, you don't have it already, get it. I'm nearly certain you will not be disappointed.
May 24, 2013
A ghostly adventure with witchcraft overtones
Find out who killed a famed writer who was supposedly killed in a freak snow storm and who has come to you to help him find out who is responsible for his demise. Uncover mad rumors of witchcraft and ghosts to unravel the secrets of the Salem witch trials. The dialogue consists of the questioning the characters with pre determined dialogue and speaking to the ghosts to help you get the gist of the games progress. This is not too excessive. Most scenes are quite dark but clear, often punctuated with flashes of colour and lots of noise when various points are triggered during the game. The puzzles, most of which are quite ingenious and very challenging but with very limited if any at all help makes them that much harder to solve. Others are reasonably easy.The hidden objects are mostly surprisingly easy to find in the gloom but some are a bit more difficult. Find more crows to get more hints and collect clovers to unlock the bonus game. Well worth the money as it is a intriguing, interesting and challenging game.
February 2, 2013
Fun Game
I enjoyed this game even though it was confusing in a couple of places. The time traveling was fun, searching for ravens and clover was fun. Some of the clover was very difficult to find. There were interesting connections between the eras. The HOS and mini games were fun. The graphics were excellent. The ending was satisfying. I would recommend trying to play this game in one sitting. I played it over several evenings and I think that added to some of my confusion in certain sections of the game.
November 29, 2012
COULDN'T KEEP ALL THE CHARACTERS STRAIGHT
The storyline in this game wasn't easy for me to follow. I actually played the game completely through twice and understood the story a little better after the end of the second game, but I'm still not sure who all the players were and what their significance was. I played through twice because I didn't find all the cloverleafs the first time to open the unlimited mode. Well, I think I did even worse the second time around. So I was unable to unlock the unlimited mode, which was disappointing for me. It would have added a lot to the value of the game, as well as the length of it. Not sure I am going to waste my time playing again just to see if I get any better at it. I didn't find all the ravens, either, so I missed that achievement also. In fact, I didn't get very many of the achievements at all. Needless to say, this game was challenging,
June 19, 2014
Another good game in the series
This game is similar to others in the Midnight Mysteries series. In this game you are trying to help Nathaniel Hawthorne, you meet Franklin Pierce, and you right a wrong that happened during the Salem witch trials. Hidden objects are all over the place, either just lying there in a location waiting to be found, or in many hidden object scenes. Sometimes you need objects in order to continue, and you might have to backtrack a little in order to find these objects. The raven, as usual, offers hints if you need them, taking time to recharge after each use. Besides the listed hidden objects, you also need to look for hidden ravens in order to get more hints. Each scene usually has one or more clovers, also, and if you find 50 of them this opens the Unlimited part of the game. The only drawback to the game is that some of the hidden object scenes are a jumbled mess or else very dark. Other than that I enjoyed this game very much!
June 9, 2014
Disappointing, compared to the other "Midnight Mysteries"
In this story, you deal with a lot of ghosts! There is only one game mode. - The sound is good. - The graphics are quite dark. But the objects in the HOS are easy to find. You have to combine some of them, before you can use them later. - The puzzles are on the easy side. - You have a journal. There is also a map, but no real use for it: you see the buildings, but no description and no path. - The hint system is also not really useful. It asks you to click an object to know the use for it. But if I want to know what to do next, there will be no help... I needed the walkthrough a number of times. - Collect ravens to get more hints. - Collect 50 clovers to unlock the Unlimited HO game. - You get also some achievements, for example for using no hints. I got bored of walking to and fro, and not remembering where a location was. I don't like it, when I need the walkthrough, just because the map is no map. I finished the game because I don't give a review otherwise. But I prefer the other "Midnight Mysteries".
November 11, 2012
Good game, horrible storyline
I enjoyed solving this one, but the storyline was extremely hard to keep up with. There points where I can say that I had absolutely no idea what was going on.
June 11, 2012
Midnight Mysteries Salem Witch Trials
I really enjoyed playing the game because I love hidden object games! Although I had some issues when I got stumped and the hint is for an inventory item to use later in the game and that it wouldn't save when I closed!!! That was the worst! I kept replaying the same stuff over and over, after three times of it not saving I gave up playing!
December 26, 2011
The second in the series is so-so
The first Midnight Mysteries dealt with the death of Houdini and was a lot of fun. The second one has the detective trying to clear a young woman of the charge of witchcraft. There is no spoken dialogue like the original and this one seems even more primitive. I wonder if they created this one first but released the Houdini one first as it is much better. It is easy to get confused in this game without a game plan. The ravens collected for hints only help a bit but don't tell you where to go next if you get stuck. That means signing off to look for answers to some of the problems. The game also throws the player all over without warning as to what is going on. That makes this frustrating and not very fun. The visuals are not as good as the first one, but they still are well done. I just can't recommend this one like Houdini. If is OK as a freebie but not much else.
October 6, 2013
The Apple logo is a trademark of Apple Computer, Inc.
The Windows logo is a trademark of Microsoft, Inc.