Mystic Diary: Haunted Island
Stop a magician's ghost and free the trapped souls haunting the Black Woods in Mystic Diary: Haunted Island! Communicate with a trapped ghost, the magician's very own brother, as he guides you through the manor. Follow Victor's clues and stop the disturbed Gustav as quickly as you can! Solve cryptic puzzles and put together bizarre machines to unlock the secrets of the house in this incredible Hidden Object Puzzle Adventure game!
Perplexing puzzles
Stop a magician's ghost!
Game System Requirements:
OS:

Windows XP/Vista/7/8

CPU:

600 Mhz

RAM:

128 MB

DirectX:

6.0

Hard Drive:

140 MB
Game Manager System Requirements:
Browser:

Internet Explorer 7 or later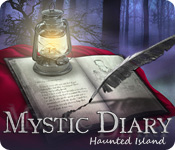 NEW299
The Big Fish Guarantee:
Quality tested and virus free.
No ads, no adware, no spyware.

Reviews at a Glance

Mystic Diary: Haunted Island
0
out of
5 (
0
Reviews
Review
)
Customer Reviews
Mystic Diary: Haunted Island
35
35
Nothing To Get Excited About...
BASED ON COMPLETED GAME FIRST IMPRESSIONS I had no idea I even had it in my collection, have no idea how it got there, and have just now played it for the first time. This game is pretty old now, so its graphics are a big downer, and don?t make a good first impression. But overall, it is not a bad game. SIGHTS & SOUNDS As I say, poor graphics, grainy, fuzzy and difficult to make out in HOP scenes. It makes a big impact on an otherwise good game. The music is quite good, pretty. And the ambient sound is good. I know we are now used to voiceovers, but it certainly wasn?t always the norm, and this game dealt with its absence in a unique way. When a ghost appeared, his/her instructions for the next part of the game are inscribed in the diary, and only the diary, so it is an integral part of the game. I like this idea, it is often useless having a diary unless you are playing over several days. Here, it helps with that, but has an even more important role. WHAT?S HAPPENING? This is the sequel Lost Brother, where Victor (a magician of the conservative stripe) searches for his more eccentric and excitable brother Gustav, who has somehow got himself trapped in a magical book known as the Mystic Diary. Now we are drawn into the search for Gustav, now apparently virtually insane, who has trapped other souls in the diary, along with Victor. There are half a dozen souls to release and each has unique skills to offer you in their own rescue. GAMEPLAY The gameplay is dominated by HOPs, with some interesting but never too difficult puzzles. The HOPs are interactive lists, and are visited twice. They are blurry and lack contrast, but that is its age. They are still doable, it just takes a little eye strain. There is the diary, which is essential reading, but no map. Which would have helped, seeing it is a large game world, covering a fair whack of locations, and there is a lot of tracking back and forth. Hint is next to useless, particularly near the very end. You must click on an inventory item, and you are shown where it is used. This is worthless if you don?t recognise the scene, because you haven?t reached there yet. And if you don?t have the needed item yet, no hint can help you. And hint takes forever to refill. Go make a cuppa while it refills. Very exasperating. At the end of the game, you must do a complete tour of all the game?s HOPs in order to collect all you need to defeat the bad guy. VERDICT Not a bad game. It did seem to drag a bit from time to time, and it was quite a long game. I will probably play it again, but not for a couple of years.
January 2, 2014
Just a run of the mill HOG
This game is full of HOS, so you better like them if you play this game. Personally it has too many for me, just HOS after HOS after HOS. Especially at the end of the game when you have to collect some items, you end up running through all the HOS you played before. There are a few minigames,the usual. Graphics are fine, nothing special. Story isn't very well developed, but you can follow it easy enough. Not at all scary or creepy. Would be an okay daily deal or on sale, but not worth full price.
December 14, 2012
A good $2.99 game.
My overall experience with the game was good. Graphics were okay for the most part, although some were dark and grainy, which left some hidden objects hard to find. The hidden object scenes were junkpiles, with many, many items out of place - like teddy bears at the bottom of the sea. There were just an awful lot of things where they really shouldn't have been and those things leant very little to the game play. They were just filling up the lists. The story continues where the first Mystic Diary game left off - sort of. It tries - it just doesn't quite get there. Hidden object scenes were plentiful and the mini-games/puzzles were fairly easy and all had the skip option. The hint sytem is adequate. Length of play was fine for a game that I paid $2.99 for, but would have been too short for the regular price of a game. If you think you might like the game, give it a try - it's not awful, and I would recommend it for an evening's game play at the lower price.
January 13, 2012
Middle of the road
This game was middle of the road all the way through. Sometimes it was a little too easy. The hidden pieces were, for the most part not so hard to find. When you visited the area a second time it was even easier since you knew where the objects were already. The puzzles weren't that hard either. One puzzle called for a little homework, but some others made me wonder what age group were they thinking of. A couple of the puzzles had technical problems but persistence got me through. Sound and graphics were also mediocre. Buy it for some gentile easy fun, but only if it is on sale.
January 13, 2012
puzzle
was ok i liked it kids did aswell
October 11, 2012
Very So-So
Well, if you're kind of bored, it's an okay game. The graphics are what spoil this a little for me. The HO's are pretty murky. I don't mind a challenging HO and love those "Aha!" moments. These HO's are more like "What the...?" The hint button recharges slowly, which forces you to keep looking for objects that may not look at all like what you are used to. Clicking the screen too many times searching for something gives you a green fog. I wouldn't recommend this unless you have everything else and just need something more.
September 27, 2012
excellent Hidden Object/Puzzle/Adventure for beginners!
very simplistic game, but quite a bit of running from one location to another at times. none of the puzzles was particularly difficult, and everything was pretty easy to find. I enjoyed the game, but was disappointed at the rather abrupt ending.
January 16, 2012
not much of a game
alot of look and fined! if u want a great story this is just not it!! It only takes a few hours and its done!
January 14, 2012
Lots of repetition
In this game you have to free some people trapped in a magical diary. You travel back and forth a lot, collect a lot of items, complete many hidden object scenes, and solve a lot of puzzles. The graphics were not always clear. The hidden object scenes are frequent, and you repeat each scene a few times, and at times looking for the same items. The cursor has to touch some of the items in the exact right place or you can't select them. At one point I clicked on an item at least 10 times (getting the green smoke for clicking too much) before the item was selected. The puzzles were OK - interesting, but if you ran into a problem there was a skip button. The hint button took forever to reload, and it was really only good in the HO scenes. In other places all you could do is drag an item to the hint button in order to see where it is used. At the end of the game you have to travel back to each area in the game again and complete a HO scene. This definitely wasn't the worst game I've ever played, and there are parts that are interesting. It seems like an older game. I would recommend it but advise you to wait for a sale or use one of your free games.
December 14, 2014
Just a standard HOG for me.
I bought this during a $2.99 sale without testing it because I liked the storyline. I'm glad I only paid that much for it. I found the game your stereotypical hidden object game complete with random objects with nothing much to do with the surroundings in scenes and overplayed sound effects. The cursor is very exacting and you must click the item precisely or you won't pick it up at all. And while the premise for the game sounds interesting, I found the way the storyline was carried out to be tedious and hard to keep my interest. It's a no for me.
January 23, 2012
The Apple logo is a trademark of Apple Computer, Inc.