Exorcist
Garret Ghostfighter was born with the gift of being able to see demons! Help him use his gift to defeat the evil Mephisto in Exorcist, a mysterious Hidden Object Puzzle Adventure game. After receiving a mysterious letter from Mephisto, Garret sets off to find the evil being, and defeat him once and for all. Discover cursed locations and remove the traces of evil before it's too late. Help Garret catch Mephisto, and learn the truth about the love of his life, Margo.
Spooky locations
Perplexing puzzles
Help Garret Defeat Mephisto!
Game System Requirements:
OS:

Windows XP/Vista/7/8

CPU:

1.0 GHz

RAM:

512 MB

DirectX:

9.0

Hard Drive:

200 MB
Game Manager System Requirements:
Browser:

Internet Explorer 7 or later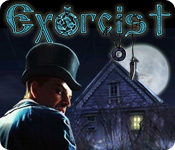 NEW299
The Big Fish Guarantee:
Quality tested and virus free.
No ads, no adware, no spyware.

Reviews at a Glance

Exorcist
0
out of
5 (
0
Reviews
Review
)
Customer Reviews
Exorcist Deserved More Attention Than it Got
I must say I'm a bit surprised that I didn't see more of a buzz when this was first released. Exorcist is an interactive hidden object game with an interesting story and nice graphics. The voice overs are very well done, and I love the font (style of writing) they chose to use during the cut scenes. The hidden objects are all story-appropriate, and some are devilishly hidden. Impossible? Not enough that I was totally frustrated. Definitely difficult to find sometimes, though. Find items on a list, occasionally by sketch (more than a silhouette, but not quite a picture of the item). Puzzles and interaction throughout. This game isn't as straightforward as some IHOG's. You have to figure out what you're supposed to be doing sometimes, and I like that - makes you think. Once you get the hang of what the developers are trying to do, it gets easier and more intuitive. Formulaic in that you skip between three scenes, then move on to a set of three new scenes. Movement is done via clicking on a picture of the location you wish to go to or by using the "footsteps" cursor. Something different that makes you think, nice environmental combination of graphics and sound effects and eerie without being disturbing. A solid thumbs up from me. I purchased after the first chapter and enjoyed it all the way through to the end.
December 17, 2011
Dark & Spooky Fun
This is a very scary hidden object game, in a fun way . . . ! The story line is fairly linear, with an interesting grand finish . . . There are various types of hidden object scenes, including straight search & find from a list (word or picture), as well as fragmented objects that are pieced together to interact with the current scene, or to help unlock hidden objects in other places . . . These fragmented objects, at times, help to solve puzzles, which, for the most part, are all of moderate difficulty, & can be skipped after a time interval . . . My only complaint is that the graphics are at times dark, as befits the theme of the story line, which makes finding some objects difficult . . . All in all, with a fairly good hint system, this a cool game to play . . .
December 23, 2011
VOICE-OVERS ARE GREAT
I really liked playing this game as the voice-overs are GREAT and the script was in perfect sync with the dialogue. What I didn't understand was the reason behind the ghostfigher's girlfriend's ghost being unable to verbalize. It may sound silly but I was intrigued as to the RESPECT that the ghostfighter was given by the local people; nowadays, sadly, many are ridiculed as there are so many frauds attempting to scam people. While, at times, the hidden objects were difficult to find I found that for the most part this game was easy to follow along with and follow through with as to the tasks needed to be accomplished to move on with the game. I also found that I was not getting lost in having to run back and forth to "parts unknown and known" to ascertain what to do or where to go to do it. Though there was some moving back and forth, it was contained enough to know that whatever object(s) you'd picked up, you knew what location to head for to use said objects.
March 5, 2012
Challenging game
I don't know why this game is getting some low reviews. I enjoyed the challenges that this game presented. I was frustrated with myself for having to use the hint more than I ever wanted. The game presented a great storyline that was haunting to say the least. The storyline was great as well at the cut scenes. The actual hidden objects were very well hidden. I became frustrated with not being able to locate a few items, therefore having to use the hint. The hint does recharge itself fairly fast, so, there is no extremely long waits. The games were pretty easy. Not once did I need to skip any of through any of the games. In all this was a great challenging game. I was shocked to see such low reviews. I'm going to have to replay this game just to say I didn't need the hints!
August 5, 2013
Aargh MORE DEMONS you say!!
This storyline was well put together and along with the sharp graphics and excellent voiceovers I was impressed. The music is of a spooky quality that fit the bill to a T. I finished the entire game and liked the final dramatic outcome, of which I will keep to myself!!..lol The HOS I admit were a little frustrating at times with some being quite spookily dark but playable all the same. Am a little surprised the ratings are not higher. I enjoyed playing this game very much.
December 3, 2012
Original and Intriguing
I've seen this game often times and passed due to the fright level. I don't believe any other game could ever shock or scare me as Dracula: Origin--which I just completed. Exorcist invokes fright with no comparison and this is not an easy game and you can't just whisk through it--which I like a challenge. Objects are challenging, yet, can be seen and the Hint system is generous. Enjoyed the mysterious, and intriguing story as well as the excellent voice overs added more depth to game playing. I know many BFG Members are very brave and courageous, however, these types of games give me quite a scare and I frequently stop and walk away. Been doing that a lot lately. If you like a challenge with a bit of fright, this is a good game. Anyway, back to the game as I did the old "walk away" so as to write a brief review. Enjoy! -Mama Mia-
September 30, 2012
Quirky? Yup, Definitely Quirky
BASED ON COMPLETED GAME I have some odd games in my collection, I?m something of a fan of the unusual, and this one rates very high billing on the quirk-o-meter. Its two brothers in the same series are, in their way, also odd, and the three together make a lovely trio of eccentricity. The STORY is fairly straightforward, at least at first. You are an exorcist, in pursuit of an evil being calling himself Mephisto, who is taunting you by cursing places that have meaning for you, and leaving havoc behind him. You must exorcise his pet demons while tracking him down. So far, so good. Later on, things will get a little weirder and a lot more personal. Where you first notice the difference from other games is in the INITIAL GAMEPLAY. The gameplay actually EVOLVES as the game progresses, changing a couple of times before you finish. This is a HOG with a FEW SIMPLE PUZZLES to break up the game. The location you are in is the HO SCENE, with 2 or 3 HOT SPOTS where close ups or puzzles help you get some of the items on your list. The LIST is your standard, slightly INTERACTIVE, although less so than most now. Sounds straightforward enough, right? Yet somehow when you?re playing it, all this gets very strange, as the LIST changes to MULTIPLES OF, then LIGHT SKETCHES of the items needed. You need to BUILD your demon-fighting equipment from items in the area, and exorcise each demon by a different method. And REPAIR machines or other items that have been damaged, while collecting pieces of the clues left behind for you by Mephisto. Some of the things I really like about this game are more commonly acknowledged positives. There is quite a lot of VOICEOVERS in this game, and they are, in their way, well done. Or well over-done. I always get a kick out of the accents. And the SCREAMS & LAUGHTER are a nice touch. The GRAPHICS are okay. Nothing to write home about, but on my large monitor they still come up okay. The scenes are mostly static, although the ticket office scene is interesting... You travel from catastrophe to catastrophe by carriage, and the transition is done very very well. The game is also quite LONG, as there are many twists and turns in the story and some interesting revelations to come. If you care for something outside the norm, this is an fine choice!
May 5, 2013
WHAT A SCARY GAME
I enjoy the scary sounds and the faces of demons. Great job ..
November 13, 2012
Fun and Creepy!
This was a game that got better as it went along. It starts out ok but the creepy factor builds right up to the end. It is middle difficulty, and has a great story line, and good voice work.
May 15, 2013
Dark Vision Required
An older game with some clunky execution, but a good story an compelling lead character make it worth wading through. Pros: Story is interesting, voice overs are done well, the graphics on the ghosts are compelling. The game tells you when you're done with a screen so you can move on. Mini games low-medium challenge. Cons: Very dim graphics. Some objects small, hard to see, or in the "corners" half way out of the scene/screen. Cursor has to be super precise. Some items required several clicks to pick up/get it. Not all minigames had good instructions on how to play/objective. Played the whole thing cause I wanted to see how it turned out but I slogged through a lot of the end.
February 18, 2013