Robin's Quest: A Legend Born
Rob from the rich and give to the poor! When an evil ruler taxes his people to near starvation, it's up to Robin to save the day! Help our brave new hero rise from humble beginnings to becoming the champion remembered in history. Gather a band of merry men to help you solve tricky puzzles, master tough minigames, and win tricky archery competitions in Robin's Quest, a Hidden Object Puzzle Adventure game.
Unique artwork
Help Robin save the day!
Classic storyline
Game System Requirements:
OS:

Windows XP/Vista/7/8

CPU:

1.8 GHz

RAM:

512 MB

DirectX:

8.1

Hard Drive:

268 MB
Game Manager System Requirements:
Browser:

Internet Explorer 7 or later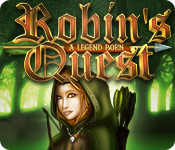 NEW299
The Big Fish Guarantee:
Quality tested and virus free.
No ads, no adware, no spyware.

Reviews at a Glance

Robin's Quest: A Legend Born
0
out of
5 (
0
Reviews
Review
)
Customer Reviews
Robin's Quest: A Legend Born
60
60
A game you can sink your "arrow" into!
This was an awesome HoG/Adventure game! Great story, fun mini games (shooting arrows at objects was the best part for me being an amateur archer), intrigue, good characters and enough of a challenge, but not mind bendingly so, to keep you playing for hours. I've played this game at least 3 times all the way through and it's just as much fun as the first time! Fun, fun, fun!
July 5, 2012
Very nice change of pace game
Not difficult but not boring. That's a good combination for just plain fun. Music is delightful. The graphics are excellent. The story carries itself well. There are not a ton of hidden objects. I have played it through twice and will do so a bunch more times. If you like a huge challenge though, you may be disappointed. Still, a lot of fun for most.
June 19, 2012
Really good
This is a very unique, fun game. Hidden objects - some hard and I did use hint more than once. Does have sparkles to help you but nothing distracting. To get more hints you click on the floating white circle. Cute story which made it fun. and when you are finished with a particular area, a sign drops down stating area is clear. Nice to have. Some have complained that this Robin Hood is female. - Who cares - Enjoy the game! Definitely worth the cost.
April 2, 2012
the feminism of Robin Hood
A delightful game in which Robin is a she. Fun for the whole family. The characters blend well into the story with its tasks.
January 14, 2012
Most enjoyable game with fun characters.
Sound and visuals surpassed most games. Light and cheerful to play. Areas cleared was very helpful. In all a childish but challeging fun endeaver making you want to play again to perk up a day.
December 28, 2011
what words are left
not very many! i agree with all the previous reviewers...this is one really good and fun game.
February 23, 2012
Great "Quest"
Loved this HOG, it's really entertaining. As most HOGs I play...that's worth the time.
May 22, 2013
Bulls-eye! - a charmer of a game! (based on demo)
It was light, fun, merry, and very in keeping with the time period as far as the music, dialogue, and the general ambiance. Others have said there are collectibles in each scene, but I noticed not all were mentioned (unless I missed someone writing it). So, in order that no one misses anything (as I almost did!) - I thought I'd list them. Besides the adventurous tasks (i.e.- having a blacksmith make things with inventory items as well as trading for other things with a merchant)- there are collectibles and extras that you usually only find in a CE game. 1) Wanted Posters of you (Robin Hood) hidden in each scene - when you grab them, they rip in half as if you are tearing them and dispensing of them - I loved that touch! 2) Gold coins, always hidden - and in many different places, so be sure and put your cursor over the scene! 3) Scraps of pardons signed by the king but torn by the bishop and scattered throughout the land. Once put together, it helps you obtain each of your merry men in your band so they will no longer be wanted and in need of hiding. You work with each man, one at a time, and once each of them joins your band, you are equipped with his "power" (strength, persuasion, etc) - skills used in the game to help the townsfolk and you in your quest. 4) Little blue will-o-wisps - a floating, glowing dot - somewhat similar to but different than the blue sparkles if you play on casual- there is only one in each scene and they seem to appear and disappear so keep a lookout - catching one helps to boost your hints, which are sometimes helpful and needed, because the map is not interactive, nor does it show tasks needing to be done, etc. That would be my only complaint with this game - the almost useless map- but it's not a big complaint at all. I just had too much fun to care! lol The gameplay is in keeping with the time period, puzzles too (maybe a few objects in the HOS scenes were not used then or too modernized, but with the fun factor, it was easy to forgive that) - also very cool how you can take a break from the adventure/quest, to play the archery mini games by "entering" the competition through the bulletin! So clever how the devs fashioned this. The voice-overs are superb (Robin's voice sounds much like Zelena's from Once Upon a Time- the TV show) and there are a lot of humorous bits in the game where I broke out in a laugh. The characters are engaging and endearing, and I also enjoyed eavesdropping on their conversations. Just one of many little touches that made the experience memorable. I can't say enough good things about this game. It will be one I play over and over again. (though I have approx. a hundred BF games, and have played double that in demos.) It just leaves you with a good, cozy feeling as you play, with never a dull moment - and I really prefer games that achieve that goal. :) This game gave me the same overall good feeling as the Awakening series - Intriguing, bright, cheery, not too dark, with music that's light and airy and bright- interesting and unique characters/story- and loads of fun! btw- I am not a child or teen. I am a woman with two grown children and am a strong period drama lover. I don't consider myself a beginner either- not after the many games I've played on here! lol But I challenge you- try the demo, and see for yourself what all the stir is about. ;-) Devs- if you're reading this- we need more SEs like this one, please! :)
October 1, 2014
NOT WHAT WAS INITIALLY EXPECTED
A new twist on an old tale: Robin is a woman and not only has to fight to right the oppression of the Brits but help her husband escape from prison. Very well done - it is as believable as the original tale. While on her quest, various villagers will ask her help in getting their money back. Your hints are in the form of fireflies and you can capture additional ones to replenish them when they dwindle. As with the tale, Robin forms a band of Merry Men, each with their own skill. Robin also has to rip down her wanted posters (62) and help her Merry Men find the pieces of their Pardons from the king. You?ll also have to search for hidden gold caches. You may need to return to an area, but once it is completed, you get an ?Area Complete? notation so that you don?t waste time unnecessarily exploring unfruitful locations. Most of the puzzles have a purpose, such as helping to build a wall or baking a pie to distract the guards (you just happened to overhear them talking about how they snitched pies from the baker while you are in his shop). SUMMARY: An average length game with 16 chapters of an old tale. Various inspired quests and puzzles which are integral to the game of helping your fellow Brits and your husband. Done with a good sense of humor and attention to detail. Good production values.
November 11, 2013
Fun & Easy Little Game
This game was quite easy (which is normally a turn off), but had so many exceptional points. Great storyline, fitting music, good puzzles, quaint characters... just a fun diversion from all the scary demonic stuff we usually see! Please more like this!!
July 23, 2013
The Apple logo is a trademark of Apple Computer, Inc.