Robin's Quest: A Legend Born
Rob from the rich and give to the poor! When an evil ruler taxes his people to near starvation, it's up to Robin to save the day! Help our brave new hero rise from humble beginnings to becoming the champion remembered in history. Gather a band of merry men to help you solve tricky puzzles, master tough minigames, and win tricky archery competitions in Robin's Quest, a Hidden Object Puzzle Adventure game.
Unique artwork
Help Robin save the day!
Classic storyline
Game System Requirements:
OS:

10.4

CPU:

800 Mhz

RAM:

256 MB

Hard Drive:

258 MB
Game Manager System Requirements:
Browser:

Safari 4.0 or later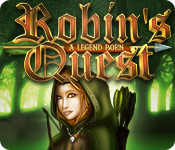 NEW299
The Big Fish Guarantee:
Quality tested and virus free.
No ads, no adware, no spyware.

Reviews at a Glance

Robin's Quest: A Legend Born
0
out of
5 (
0
Reviews
Review
)
Customer Reviews
Robin's Quest: A Legend Born
46
46
A fun game!
This is a really unique game that was tons of fun to play. The mini-games were different than the usual. The music was very fitting. The storyline was intriguing. It did get a little tiring shooting arrows at the targets in one of the mini-games but other than that this game was great.
November 12, 2011
Adorable Hidden Object Adventure Game
What an enjoyable game, & Robin's character was a nice twist. The graphics are nicely done, crisp & bright. One of the best features was the area cleared signs, extremely helpful, wish more games had this. There are quite a variety of mini-puzzles, which were for the most part quite interesting, but sometimes a little easy. As this is an adventure type hidden object, I was in my element, & really enjoyed the relaxing few hours that this game gave me.
November 27, 2011
Short But Very, Very Sweet!
A terrific little game! Robin's Quest: A Legend Born is a clever take on a familiar story and a clever take on your standard hidden object adventure game. All the usual elements are here: hidden object scenes, mini-games, and environmental puzzles but the way the game works feels very fresh and unique. There are more puzzles and interactive elements here than there are HO scenes. You play as Robin Hood, seeking revenge against the evil Prince John. As you progress through the story you recruit several followers (your Merry Men!) all of whom unlock new ways of interacting with objects, the environment and even NPCs. You meet several characters throughout who will give you quests, each moving you through a limited part of the map and progressing the story forward. The quests are simple and fun and each section does a good job of keeping you on-track. It's pretty easy to figure out what you need to do next. There is a map provided if you happen to get lost but you probably won't need it as each quest is fairly self-contained and well planned out. Each area is marked when you clear it, which is very helpful. There is a neat little crafting mechanic in the game that I loved. Sometimes instead of finding a needed object you might have to find someone in town to make it for you. I also enjoyed the archery mini-game. It's a fun little break between quests. The art style is great, cartoonish without being cutesy and the voice acting was well-done. In certain spots you can listen to NPCs having some funny conversations with one another. The sound effects were satisfying. The music is lovely and perfectly fits the medieval setting. I found this game to be pretty easy overall. I played on the "Casual" setting and found it almost TOO easy although there were still one or two puzzles I had to spend some time on. If I were to play it again I'd definitely go for the "Advanced" mode. My only real complaint about the game is that it was too short. I played through the entire thing in about an hour and half. I definitely wanted more! But even though it wasn't a long game it was more than worth it. I'd love to see more HO games like this one!
January 29, 2012
A Bullseye! Fantastic Fun
I loved this game, and wish I hadn't shot through it so fast. (Pun intended). The story is compelling, the music is wonderful and there is a bit of humor now and then. The puzzles are easy enough to get with a minimum of effort, and the minigame (optional) arrow shooting was a nice diversion between parts of the story. I loved the "Area Cleared" signs and wish all games with hidden cards, keys, etc had them. Perfect game if someone is just starting out in HOG's (it guides you - there's really no way to go wrong) and a great "let your brain take a break" game for hardcore HOG users.
March 10, 2012
FUN! FUN! FUN!
Graphics: Very Good! Sound: Very Good! And liked I could skip thru it when I wanted Story Line: Loved that there was a real story line. It made it fun, because I didn't just click thru on a boring quest. PLAY!! By far the best I have played in a long time. I will purchase this game when I can afford it, til then I will wait sad that I can not afford this and Christmas for my Granddaughter. This game had no issues, DLing, playing, did not freeze and it was NEVER slow going from screen to screen. A true fun iHOG with challange without being over the top in challenge that makes some games unplayable. Thanks BF, some day I hope to own it till then just Christmas dreams. By the way, I made this game my current favorite, I did enjoy my demo more than I can say! HAPPY GAMING ALL!
November 26, 2011
It's a Harmless Little Game, So Be Nice
This is a fun little game that is a great way to spend an evening. The first 15 minutes or so almost made me reconsider purchasing the game and consider trashing it. However, I stuck with it, and I'm glad I did. More about that in a minute. This is a great game for beginners. As an expert player, I can't really say I was challenged all that much, but that wasn't the point of this game. It's just a lot of fun - plain and simple! I've read where people have written, "Robin Hood's a girl? I don't think so." But, and I don't think this is a spoiler at all, Robin does just happen to be a girl, and her last name happens to be "Hood." However, she goes on later in life to give birth to a boy whom she names Robin, also, and HE is the legendary Robin Hood. That is why part of the title of this game is, "A Legend Born." So, let's all get over the "Robin Hood's a girl" thing. Don't go into this game expecting really challenging, serious game play. That's not what this game is about. But, don't forget that just having pure fun with a game has its value, also. It's rather linear, and there is a bit of hand-holding going on, and while that is usually a deal-breaker for me, with this game, I could forgive it. The game doesn't pretend to be nor strive to be anything it isn't, so the hand-holding didn't bother me this time. Just be patient through the first 15-30 minutes or so where there is a girl's voice that just tells you every move to make - she does go away and you are on your own. Take a chance with this game. Just remember to accept it for what it is and don't have any other expectations. It's really a lot of fun!
September 3, 2012
Awesome game, but easy
This was such a nice story, I liked that it tells you when an area is clear. It was good in that you had to collect 'wanted posters' which are optional, but are a nice way to tie into story and give additional challenge. This is also true of the archery competitions. NEGATIVE: I found that the mini games and hidden object scenes were super easy. I am not sure what their target audience is (hence 5 stars - i would like to give 4 1/2), however if they made a more challenging game with same kind of quirky story where you still have to help people (little quests) then I think it would be perfect! Regardless of the difficulty level I still found this game entertaining and enjoyed the interaction with other characters as well as the story.
January 31, 2012
Superb
Call me biased, but anything medieval is beautiful. Asides from that, the BGM is melodic, the puzzles a little challenging, but the gameplay is really good, and the characters speak. You get to use your merry men and plot how to capture people as well using their abilities. It's really cool. :D
November 29, 2011
FANTASTIC GAME
OK....so i may be a little biased as i am a Nottingham lass, but this game was lovely, and captured the sounds of Nottingham market superbly. The puzzles were fun and the game was a good length.
December 19, 2011
Very Fun Game
This was a very nice game. The story is a good twist on the Robin Hood legend. The graphics were quite nice and the puzzles and hidden object scenes quite enjoyable. It's a short game, only a few hours, but still a lot of fun.
December 8, 2011
The Apple logo is a trademark of Apple Computer, Inc.
The Windows logo is a trademark of Microsoft, Inc.