Robin's Quest: A Legend Born
Rob from the rich and give to the poor! When an evil ruler taxes his people to near starvation, it's up to Robin to save the day! Help our brave new hero rise from humble beginnings to becoming the champion remembered in history. Gather a band of merry men to help you solve tricky puzzles, master tough minigames, and win tricky archery competitions in Robin's Quest, a Hidden Object Puzzle Adventure game.
Unique artwork
Help Robin save the day!
Classic storyline
Game System Requirements:
OS:

10.4

CPU:

800 Mhz

RAM:

256 MB

Hard Drive:

258 MB
Game Manager System Requirements:
Browser:

Safari 4.0 or later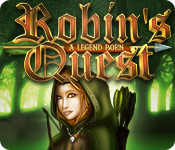 NEW299
The Big Fish Guarantee:
Quality tested and virus free.
No ads, no adware, no spyware.

Reviews at a Glance

Robin's Quest: A Legend Born
0
out of
5 (
0
Reviews
Review
)
Customer Reviews
Robin's Quest: A Legend Born
60
60
Loved it!!!
this is a cute little game, wish there was sequel game, or one like it!!!!!
August 22, 2012
LOVED IT
Im not a gushy, kinda girl. And I always listen to audio books as I play. Not this one though! Loved everything about it!! Fun and relaxing!!
August 8, 2012
It's a Harmless Little Game, So Be Nice
This is a fun little game that is a great way to spend an evening. The first 15 minutes or so almost made me reconsider purchasing the game and consider trashing it. However, I stuck with it, and I'm glad I did. More about that in a minute. This is a great game for beginners. As an expert player, I can't really say I was challenged all that much, but that wasn't the point of this game. It's just a lot of fun - plain and simple! I've read where people have written, "Robin Hood's a girl? I don't think so." But, and I don't think this is a spoiler at all, Robin does just happen to be a girl, and her last name happens to be "Hood." However, she goes on later in life to give birth to a boy whom she names Robin, also, and HE is the legendary Robin Hood. That is why part of the title of this game is, "A Legend Born." So, let's all get over the "Robin Hood's a girl" thing. Don't go into this game expecting really challenging, serious game play. That's not what this game is about. But, don't forget that just having pure fun with a game has its value, also. It's rather linear, and there is a bit of hand-holding going on, and while that is usually a deal-breaker for me, with this game, I could forgive it. The game doesn't pretend to be nor strive to be anything it isn't, so the hand-holding didn't bother me this time. Just be patient through the first 15-30 minutes or so where there is a girl's voice that just tells you every move to make - she does go away and you are on your own. Take a chance with this game. Just remember to accept it for what it is and don't have any other expectations. It's really a lot of fun!
September 3, 2012
Nottingham, but not as you know it... Good casual HOPA
Light, bright, HOPA with good pace and story. Straightforward linear game. It "does what it says on the tin" and does it _very_ well, without pretension. The well paced story line and characters compellingly draw you into the game. Premise: Run around Nottingham Market and surrounding areas as Mrs Robin Hood, who has escaped from Nottingham Castle. Gather up the Merry Men, so as to make use of their various attributes of strength, persuasion, etc.. in order to return to the Castle, save your husband still trapped in there, and bring King John to account! Pros: - Really well drawn scenery and characters and feel to the game - Excellent market and scene sounds and music, which was not distracting, and added to the atmosphere of the game. - Not particularly bright guards, with funny accents and utter drivel coming out of their mouths. Most amusing. I'd never make it out of the castle from listening in to them. - 'All clear' marking at the top of the screen if you have completed all actions in an area - I liked the cleverly weaved in'find the wanted posters' aspect of the game - Take a break from questing by taking part in archery contests, and give your eyes a break from HO. - Decent mix of puzzles and HO in the game - I loved that you collect fireflies in a jar (upto 5 can be held at a time) and these are your hints. Sometimes when you are weary of HOs and just want to get on with the story, this means you can 'hint hint hint hint hint' without having to wait a long time for a hint refresh. Cons: Or things that I think may be perceived as negatives, but didn't bother me - Might be too much hand-holding and guidance for players looking for something more hardcore. e.g. maybe you don't want to know when an area has been cleared. This is definitely a casual playing game. - A female Robin hood (not a spoiler). I don't know why some people are taking offense at the female RH angle. She is not meant to be the male RH of film and legend - that gets explained. - Perceived short duration. In advanced mode it took me about 4.5 hours to play casually. There are some reviews saying it is a short game. For me this duration felt fine, I felt I got my money's worth. I've spend credits on shorter games than this before. - Game play too easy. It is pretty easy, but if you want a casual fun game, then this fits that niche. Certainly due to simplicity I cannot give the game a 5. Summary: A solid light and entertaining HOPA for casual play. Well written, drawn, and put together. Ideal for a lovely lazy Sunday afternoon of fun and frolicks. Cheers to the Creators!
April 1, 2013
Robin Hood is a WOMAN???
This was a very good, quite long game with a few quirks. Good points. - Graphics - Voiceovers - nice puzzles - hidden objects quite easy to find - area clear signs in easier difficulty - hints easy to collect (capped at 5) - fun collection of Merrymen - objects seem to be in line with the historic time frame Neutral points: - Merrymen could have been used more often - not much to do with gold (unless for entry fee for one tournament) My quirks: - I hate it when history and literature is tampered with Bottom Line: Once you get over the fact that Robin is a woman it's a great game. Definitely recommended to buy!
April 5, 2012
Excellent graphics and setting
i really like this game because it has a really nice and light setting.and beautiful graphics.. most of the hidden object games these days are dark ..and not much fun to play
October 4, 2014
GOOD BEGINNER'S GAME
A very easy, fairly short game. The hidden objects and puzzles were very easy and the storyline and graphics would definitely appeal to kids. There is a lot of variety in the game play, including archery contests, collecting wanted posters and money. None of the puzzles repeated, nor did the hidden object scenes. I enjoyed it as a nice break from some of the darker, harder games that can be frustrating at times. A light hearted game that should not be taken too seriously, just enjoyed.
June 11, 2014
A VERY NICE GAME FOR A SNOWY AFTERNOON!
I just finished the game Robin's Quest: A Legend Born, and It was pretty good. This game was fun and relaxing for the kind of week I had in NewYork City lately. All the snow was making me crazy and I needed to relax. This is a nice game for the price. I loved the music and the voice of the actors. The puzzles did not make you crazy. Keep up the good work guys. Thanks.
February 18, 2014
Fun adventuring in Nottingham
I enjoyed this HOG adventure game a lot. Bright and innocent fun, without any doom, gloom, monsters or ghoulies! You play Robin, the heroine, who helps out the local people by righting wrongs done to them. Some of the people she helps (Friar Tuck, Little John etc) join her merry band, and as she gets more expert at solving problems she becomes the town's champion. It's very well done, the cartoony graphics are large and bright, and the HO items are generally true to the period which is always a big plus for me. The HO scenes are deliberately fuzzy but not too hard, and the challenges are suitable for the style of the game: easy but enough to make you think. The music and sound effects are fine and appropriate. I enjoyed the archery challenges too! The game's a little childish when compared to others, but I found it a nice, light change from the usual gloomy games out there. A lot of thought's been put into this game to make it a fun historical romp. I found the accents of the local characters hilarious, as they're more Irish-American than Nottinghamshire, but it all adds to the fun of the game.
September 22, 2013
A little short but fun!
This was a fun game; albeit, a little short. The game finished within about 3 hours. The storyline wasn't anymore different than other games of the same characters, but at least it stayed true to it. The only thing was that it seemed a little easy on a lot parts. Some of the hidden searches were hard, but those hints came in handy! Some of the instructions aren't incredibly clear so you might find yourself backtracking. The graphics were smooth and colorful. The music was soothing- definitely reminiscent of the Renaissance era. I just wish it had been a little more challenging and had a bit longer gameplay.
June 8, 2013
The Apple logo is a trademark of Apple Computer, Inc.
The Windows logo is a trademark of Microsoft, Inc.