Enlightenus II: The Timeless Tower
Clarence Flatt, an expert clockmaker, has asked for your help and has offered you the chance to explore the legendary Timeless Tower! While working on the incredible Ageless Clock, something goes wrong and pieces of the device end up all over the Timeless Tower. These pieces begin to unravel the very fabric of time, and only you can set things right in Enlightenus II: The Timeless Tower, a fun Hidden Object Puzzle Adventure game.
Fantastic gameplay
Explore the Timeless Tower!
For a more in depth experience, check out the Collector's Edition
Game System Requirements:
OS:

Windows XP/Vista/7/8

CPU:

800 Mhz

RAM:

1024 MB

DirectX:

9.0

Hard Drive:

228 MB
Game Manager System Requirements:
Browser:

Internet Explorer 7 or later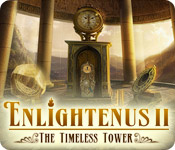 NEW299
The Big Fish Guarantee:
Quality tested and virus free.
No ads, no adware, no spyware.

Reviews at a Glance

Enlightenus II: The Timeless Tower
0
out of
5 (
0
Reviews
Review
)
Customer Reviews
Enlightenus II: The Timeless Tower
12
12
Different kind of HOPA, one of the best
I really enjoyed it. I also liked the first one. The scenes are all contained (don't have to spend too much time looking for them). The puzzles are better than the first (I love the stick drawings where you have to push buttons to 'tell' the story in the right order). The 'put the buttons' in the right hole mini game is boring though. There are 2 "E" cards in each hidden object scene to find. The hidden object scene is a reversed one. You have a list of items and you have to find out where in the scene it goes. I LOVE THIS - my favourite kind of hidden object scene. It's a really good length. I am a bit bored with straight H O games now (overplayed them) and now looking for something different which this gives. This has NO standard hidden object scenes at all. It's different, not hard. CONS - sparkles The unique play for this game makes it one of my favourites in this genre.
November 20, 2011
Good Game with a twist on Hidden Objects
I guess the first thing I should say is that this is not really a hidden object game. It's more like "Replace the Objects" game. You climb through granddad's timeless tower one floor at a time. On each floor you have to find about 9 different scenes from different periods in time, in which you are given pictures of objects and have to put them where they belong in the scene. I find this a nice and welcome chnage of pace from the traditional HOG. While light on story, the game was interesting enough and I enjoyed playing it. I played the SE version. I was trying to find all the "E" cards, there are two in each scene, and they are really tiny and hard to find, so the game took me a while; 2-4 hours per day over a period of 3 days. I did resort to the walkthrough a few times when I couldn't find the 2nd "E" card. This game was much better than the original Enlightenus. Excellent graphics give you the feel of actually being in the tower, whereas in the original you felt you were looiking at rooms in a doll house. There are also some items to be found outside the scenes, and some puzzles such as to unlock doors, none too difficult. This is an adventure replace the object game. I recommend it,
December 9, 2011
Fun and Different
It you're like me and have gotten tired of traditional HIdden Object and Puzzle games, give this one a try. Very cleverly done and requires more creative thinking than just finding something that's hidden. Not a lot of back-and-forthing, which is an additional plus. I liked everything about it.
January 24, 2012
A disappointing sequel
Perhaps my expectations were raised by playing Enlightenus 1 first, but I found this sequel to be a grand disappointment. The story that's hinted at isn't resolved at the end, and even the hidden object scenes feel strained in comparison to the first game. Gone is the humour in the naming of objects that I so enjoyed in the original, replaced instead with factual labels that convey no sense of whimsy. The game starts well, and, had I not been expecting more, probably would have been adequate, but I found myself rushing through the final stages just to get to the ending, which I ultimately found unsatisfying. Bring back the story and the creativity! I'm counting on you, Blue Tea Games!
March 22, 2012
Fun Hidden Object Game
I liked the game, it was a pleasant distraction, but sometimes felt a little bland, like something was missing. The graphics were beautiful, & the music quite pleasant. I also, liked the twist on the hidden object scene of placing objects, rather than finding them. Things don't always go where you might assume, so quite fun at times.
November 28, 2011
Original variation on the standard HOG
In this game, instead of getting a list of words in each hidden object scene, you get a few items in your inventory and you have to put them back into the scene in appropriate locations, e.g. if you have a shoe, you can place it with an identical shoe in the scene to make a pair. When you click on an inventory item it "sticks" to the pointer and you then see some descriptive text when you mouse over areas of interest in the scene. This makes the task of figuring out what goes where much easier, and are often funny. Like mousing over a "sleepy owl" and putting a sleep mask over it so it can go to sleep. This comprises about 80% of the gameplay, so if you don't like this type of hidden object scenes, you should give it a miss. ;) Personally, I found it refreshing to be playing something a little different. You have some adventure game elements (finding/using inventory items) as well, but I thought they were pretty straightforward (find a key, unlock a door). There were some puzzles as well--not many of them, but I thought they were well-designed. Most of them show you a scene with an objective, and 4-6 drawings of actions you can take. Your task is to choose the actions in the correct order to achieve your objective. E.g. you have a scene with a person, a tree and a cloud. Your actions are to make it rain, move the cloud, or cause lightning to strike and your objective is "don't get electrocuted". Different things happen depending on the order in which you take the actions. I enjoyed this type of puzzle a lot and some of the later ones required a few tries to succeed. There are also a few other puzzles that I've seen in lots of other games before. This game is a little older so the graphics were just okay, although not ugly. I liked the gameplay enough that the graphics didn't matter that much to me.
May 18, 2012
Fun Game With a Twist
I absolutely love the Enlightenus series. Instead of just finding hidden objects, it's more of an association game of matching objects together in scenes. It's unique, creative, and a nice change of pace. Cool storyline and smooth gameplay. You can excercise your noodle in a way that it has not yet grown accustomed to. May not be everyone's cup of tea, but I really enjoyed it and highly recommend both games in the series.
April 2, 2012
IMPRESSIVE AND POLISHED GAME
The main character of Enlightenus is now a city news reporter on the heels of a big news story promised by Clarence Platt provided she finds the scattered pieces of his collapsed Ageless Clock. Very polished production. Stunningly detailed artwork (some scenes are from the Getty), lovely relaxing music, creative and cohesive storyline, very pleasant narration, good length (took me over 6 hours in a slow-paced casual mode). Gameplay: There are a lot of environments, each visited several times. Find an object (usually in plain sight) and use it to expose new clock pieces or open new areas. Instead of the usual HOS, all scenes are reverse HOS. Pick up an object and hover over the scene to get descriptions of every item in the scene until you find an appropriate place for the object. It requires some patience. Some placements are apparent [ex: carving knife on the unsliced roast beef.] Others are not so obvious [Examples: the tiny rapier is for the tiny ?defenseless mouse? and the delicious peach goes to the ?peach loving baboon" and not on the peach tree.] Once placed, the objects remain in the scene the next time you visit. Your reward is an engraved token button which is put into a schematic for each of the 6 floors. [The higher you go, the more buttons you will collect to complete the floor.] Puzzles are well designed and fun. Some are very unique. My favorite is animating the pencil sketches to perform an action, like ?save the grandma? or ?catch the big fish.? You are given 5 or 6 actions which you must execute order to achieve the desired feat. You can either try to figure out the steps logically or exercise your memory using the trial and error method. Hints are specific, but slow charging. You can speed up the recharge time by finding and using e-cards, found in each scene. They are extremely well hidden. Overall, this game is as impressive, well designed and polished as the first Enlightenus. The ending is not only satisfactory, but heart-warming. If Blue Tea puts as much thought and work into the next sequel (and I would expect nothing less), I?ll be among the first buying it.
August 14, 2012
Enjoyable 'Place the Objects' (PO?) Game -- Very Cute
I'm writing this based on the trial as I've opted not to purchase the game. However, I would still give the game a good review -- it's simply too short to be worth it to me. If it goes on sale I'll snap this up in a second. As is... STORY: The story is very simple and really only meant as a skeletal justification for the different scenes. The premise is that you're in a clocktower where time itself is distorted by its own damaged clock and you need to fix it. To do this requires a good balance of adventure/complete the tasks and hidden object scenes, the latter of which are set in different place/time (for example, a Roman marketplace, an ancient Mayan temple, Da Vinci's workroom, etc.) ADVENTURE/TASKS: The tasks are fairly straightforward and, for the most part, once you find an object you'll need to use it soon thereafter or will already have a place it needs to go. You get the objects for the tasks primarily through the HO scenes but there's also the occasional puzzle. HO SCENES: In this case the objects aren't hidden so much as you have a set of objects you need to put back in place. The game relies mostly on association then with heavy emphasis on you figuring out what the game maker's thought made sense as an association. This can be frustrating but, usually, even if you have to resort to hovering over every object to see what label the coder's used, you can figure it out without a hint. When you do need a hint there's the ability to speed up the hint recharging by finding little 'E' cards so that you don't have to wait for it to recharge (so long as you keep finding the cards in the HO scenes!). This is a nice and useful plus that I wish more games had. PUZZLES: There's few puzzles in this game (even compared to other Blue Tea games) but the ones that are present range from interesting/curious to very amusing*. Most of them work on the theme of arranging things in a needed order or pressing buttons in the right order and they're not very difficult if you're good at object ordering. GRAPHICS/DESIGN: Like all Blue Tea games the graphics are quite well done and appropriately detailed. This has an intentionally storybook/fairy tale sort of look to a lot of the scenes so if you're looking for graphic realism this isn't the game for you. But the whimsical look really works for the theme and goes well together. OVERALL: The gameplay was very enjoyable, the graphics cute, the tasks engaging but not terribly difficult, the HO scenes frustrating at times but mostly fun (and an instantly recharging hint button is a wonderful thing for frustration), and I normally would buy something this fun in an instant. I'm not because it's really short. I intentionally closed the game at the end of the second floor, well short of my hour trial time, and looked up the walkthrough -- there's are a total of six floors. For me that adds up to, at best, 2 1/2 hours of gameplay and I make it a policy not to buy games under 3 hours of play. It's a pity because I'd love a game like this if it were a bit longer. *In one you have to press the buttons to animate a drawing in a certain order so that you don't get struck by lightning. I purposefully failed a couple of times because the lightning striking was adorably funny.
November 3, 2012
Very Repetative
While the graphics and music are great (you can count on Blue Tea Games for that) the game itself is tedious. There are a couple of mini games but the rest of the game are scenes where you place objects into a scene and the scenes are used several times. I finished the game because I paid for it, not because I was enjoying it. As you go the story unfolds and it was a letdown. Overall it was a disappointment and I really can't say that I recommend it.
October 13, 2012