My Kingdom for the Princess II
Help Arthur clear the land, stop invaders, and work with magical beings to save Princess Helen from a terrible dwarf! Longbeard has kidnapped the beautiful princess and now it is up to our brave hero, Arthur, to repair the entire kingdom as he tracks down the evildoer. Experience unique gameplay in My Kingdom for the Princess II, a fun and exciting Strategy game. Can you overcome the obstacles and save the day?
Unique gameplay
Magical characters
Save Princess Helen!
Game System Requirements:
OS:

Windows XP/Vista/7/8

CPU:

600 Mhz

RAM:

512 MB

DirectX:

8.1

Hard Drive:

187 MB
Game Manager System Requirements:
Browser:

Internet Explorer 7 or later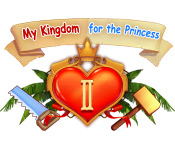 NEW299
The Big Fish Guarantee:
Quality tested and virus free.
No ads, no adware, no spyware.

Reviews at a Glance

My Kingdom for the Princess II
0
out of
5 (
0
Reviews
Review
)
Customer Reviews
My Kingdom for the Princess II
20
20
Challenging Strategy Game
This is my absolute favorite game from Big Fish! Mostly since it is the most challenging game I've downloaded. I've had to play the many of the levels three or more times to get 3 stars, and I'm actually motivated to do so. The sounds are useful in the game play which annoys others around me, but I enjoy it! Spent many hours on this one.
April 12, 2014
Great for a Challenge!
One can play this game for a long time by trying to beat the developer's record. Just the right degree of challenge for me!
March 20, 2014
AWESOME
My by far favorite game of all times
July 12, 2013
Number Two!!
If you loved number one you'll love number two. More of the same fun thank you BF for this sequel!
February 11, 2013
very funny
I and II are both my favorite funny and cute
January 24, 2013
Fun Sequel!
This game is sooo fun and I love that there are way more in this series. I just hope that one day we will see them for mac users as this was the last one released...But I digress. The sequel is very much like the first in terms of gameplay but in this one, one of the new things to do are planting and picking flowers. My oh my did they make me hate flowers. I usually am a stickler for getting gold in these games but I was happy to get through with just finishing some of these levels in the time allocated. IF you run out of time, you have to start all over, no advancing which is a little annoying. There are a lot of levels requiring you to move numerous rocks that take A LOT of gold and strategizing is very important as a lot of these levels don't have warehouses so you can only have 20 of each item at a time...when a rock costs between 12 and 17 golds and you can only hold 20.. well lets just say its a bit of challenge. I seem to love the snow levels for whatever reason although I hate that you have to hunt polar bears but its the game so its no different than playing The Oregon Trail and hunting for food. Wow that was a blast from the past game if I ever mentioned one. The achievements do not tell you what you are trying to get but once you get one, it goes bronze, silver, gold depending on how many of each you do like collecting resources or taming snakes. The game is set up where you will collect all of them in at least bronze or silver. I got gold in a lot of them but there were several ones that I did not and I am okay with that. The only downside to this game is that you can't link tasks to people so you have to wait for them to run back to your hut. Also, when you have a lot of locations to build, it can be tricky to figure out which one to do first. However at the time this came out, most games didn't include linking tasks so for its time, this was a very inventive game. I recommend this game as I love a good strategizing puzzle and this isn't just a click fest, there is a lot of thought you need to put into it at times. I will probably go back and try to get gold on some of my silver times but I felt good with the progress I made and I enjoyed playing it which is what counts! In this sequel, there were little mini games inbetween levels that I do not remember seeing in the first edition and I quite liked them but they can be skipped if you want to, you just will not get the achievement for it. This game has voiceovers to tell the story and the story line is very good but can be skipped if you don't like all that filler stuff. I consider myself an expert when it comes to hidden object games and adventure but for builder & match 3, I am definitely just intermediate.
February 24, 2014
Preferred the first one!
What I loved about My Kingdom for the Princess (original version) is that you were mainly left alone to get on with it. It was a lovely little game with all the good points of ROR, but original with it too. Now we have MKP II and what's with all the flashing yellow arrows on every level telling you what to build and when. Taken on all the bad points of ROR now as well. Lovely scenery, but has lost its originality. Hopefully the arrows will be lost later in the game (I assume the makers will realise that we finally 'got it' at some point). Will probably buy it, as these are my favourite kinds of games, but game makers - keep it different, Please!
October 9, 2013
Fun!
The narrator's voice is irritating, the story makes no sense, and the whack a mole mini games are horrendous, but the rest of the game is great!
June 27, 2013
Not As Good As Everyone Says
I really didn't like this game, despite the great reviews. Good Parts: The game was a good challenge for me Simillar to Build-a-lot OK Parts: The game started out fun but got really, really boring. Bad Parts: Graphics are terrible, very cartoon like, not a lot of detail, not modern. Terrible storyline. Skipped it as quickly as I possibly could. I just didnt' like the game in general. Everything required a lot of resources, took to much time to do, and even needed food to build. The game was very boring. I didn't like it one bit. Skipping this one and going back to Build-a-lot.
July 16, 2012
Another dissenting vote --- EXTREMELY disappointing!
For those who are really good with TM games, you will probably like this one. I am NOT a great time management player being not as fast as most but I absolutely LOVED the first MKFP so was really looking forward to playing the second. In MKFP 1 I was able to finish all levels with EXPERT except for 2 and since the only thing that finishing all levels with expert supposedly did was to add a rainbow over the castle, after several attempts to get EXPERT on those 2, I just decided to quit. But I did thoroughly enjoy playing all levels in MKFP 1. There are time management games that are so addictive that I just have to replay to get gold on all levels. Kingdom Chronicles and Royal Envoy 1 & 2 come to mind. But this game is NOT one of those... at least not for me. It was just too frustrating. As usual with most time management games, the first levels are relatively easy to get you hooked into buying the game. So it was no surprise that I was able to get gold on the first 16 levels, some of which I did have to replay to get. But starting with level 2.5 I gave up and just finishing the level was good enough because the game was not enjoyable enough to warrant replaying levels to get gold. What I found was that I usually lost the level by seconds and just didn't have enough fun to replay for gold. Graphics were just okay and although the levels were different, they were also the same. Just seemed to be the same thing over and over again with very little variety and very boring. Where MKFP1 had a cute castle building for every gold level completed, this one has a plantation-style which was not very appealing. In levels 2.5 to 4.4 (24 levels), I was able to get two golds and the rest silver except for the last one. The last one and one other I actually ran out of time on the first attempt. That tells me that this game is way too time-intensive for me. I did replay one of those two but when I hit the second one, I quit. Another thing I found very frustrating was finding some of the goals for the game. Especially difficult was finding plants and buried treasure which caused me to miss gold on several levels. Not worth wasting any more of my time on this game. I dislike not being able to chain actions and having to wait for the workers to return to the house before assigning them another task. (What a great way to make a so-so game longer, huh?) And I'm sure because of that, once a task is assigned there is no UNDO. Another drawback for me is the click-fest and/or arcade/action levels in between the islands. After the first one, I just forced a failure so I could go on to the next level. What I found so disappointing about this game is that it seems in order to get gold on islands 2+, there seems to be only one way to win and it pretty much has to be followed exactly and as fast as possible. One miss-step and gold is out the window. And most of the levels I played had to clear all or almost all of everything. There were very few levels that you could skip clearing obstacles. I know the speed-ups help but I forget to use them and find it frustrating not being able to pick the ones I want to use for a level but having to pick from the ones that were picked for the level. I have slogged through many a game because I just hate to not finish no matter how bad the game but this is not one of them. Since I found the game so boring, difficult and unentertaining, I quit! I guess from now on I won't be buying any TM games that do not include at least a somewhat relaxed version and should have known when I saw that NevoSoft was involved. I recommend the game for seasoned TM players but not for casual TM players like me.
December 7, 2012