Lost in the City: Post Scriptum
Help Hero and Ann wake up all of mankind in Lost in the City: Post Scriptum! Put an end to the curse and save the entire world! After being the guardians of the future, Hero and Ann are told to leave their city. After returning to the real world, they discover that all of humanity is asleep! Follow the Hidden Objects and make your way through this intriguing story and save the day!
Beautiful graphics
Great gameplay
Explore a mysterious world!
Game System Requirements:
OS:

Windows XP/Vista/7/8

CPU:

1.4 GHz

RAM:

256 MB

DirectX:

7.0

Hard Drive:

383 MB
Game Manager System Requirements:
Browser:

Internet Explorer 7 or later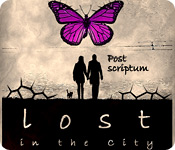 NEW299
The Big Fish Guarantee:
Quality tested and virus free.
No ads, no adware, no spyware.

Reviews at a Glance

Lost in the City: Post Scriptum
0
out of
5 (
0
Reviews
Review
)
Customer Reviews
Lost in the City: Post Scriptum
12
12
Really liked this game.
I know many thought this game was depressing but I wanted to give it a try and am so glad I stuck to it. The music is so beautiful in my opinion, it fit the mood of the game and I kept it playing throughout the whole game, that?s how much I loved it. Graphics were nice and no problems at all with the game play. You collect the pretty butterfly in most areas throughout the game, even in the sparkly HOG areas, and it gives you an extra hint for each one you find. Some items were hard to see/find but for the most part I didn?t have a problem. If you happy click about 3 times the screen will crack on you for a moment, hints work in the HOG areas and throughout the game, and the many unique puzzles have the option to skip once the skip button fills, which was fairly quick. At the end of each chapter you get to choose what your next move will be to end that chapter to get you started on the next, depending on how you answer (I think), you get an extra butterfly added to your hints (your answers don?t change the outcome of the game I don't believe). One might think the storyline is bizarre but in the end I understand what the message is. The game lasted me a bit, sorry, I?m not one to actually time a game, I notice if a game seems extra short or extra long and this one didn?t seem extra short. I tend to play a few hours for several nights and for the DD it was a great deal in my humble opinion, at one point I actually thought the game was over and it wasn't. I?m soooo glad I played it and I thoroughly enjoyed it. Many thank-u's for this awesome game.
January 10, 2012
One of the best Hidden Object Games
I found this game to be addictive. And it was longer than most, which was a bonus. It was challenging but not impossible, like some. I used the walkthrough only twice. It was an interesting story line. I often don't pay much attention to story lines, but this one had my interest. The only drawback, the music at times can be repetitive and irritating. I suggest turning it off in the "Options" menu. Bottom line -- Don't pass this one up!
June 19, 2012
I Love This Game
I really like this game. The Atmosphere is different than any other game. It made me realize that the world, is so big. And i have to live it. The thing i like in this game, is that... They have to separate, and go to their adventures of their own, and then meet again in the end. The feeling of being in deserted town really excites me. This game is telling me about pain, and love. I really want more of this game. This game is so fantastic.
September 17, 2013
Spectacular!
I don't know why this game isn't more popular. It is an amazing game. I'v never played anything like it. It's so unique! You get to pick what you want to do between scenes. I'm not sure if it makes the outcome any different, but its still cool. There's a moderate number of HO scenes, which I normally wouldn't like because I get sick of them, but this game is so well done it doesn't bother me at all. It's not super long but not short either, I'v been playing it for almost 4 hours now and I'm not quite done. This game needs a lot more people to try it. I guarantee most will love it. Especially Adventure lovers. The story is very unique as well. Graphics are great. This whole game rocks!
March 9, 2013
A fitting sequel to Lost in the City
I really enjoyed the first installment of the series and was not dissapointed in the sequel. It has a great story...the world has fallen into a coma and our hero must save his beloved and the world from an unknown force. Interesting artwork, wonderful ideas, and lots of tech stuff to do!! HO scenes are good as well.
April 4, 2013
As good as the first!
When I rated the first one, I didn't realize there was a second. I did find it and boy am I glad! I stand behind what I said about the graphics in the first one, but the hints were better this time. There is one thing I didn't like as much about this one. This is a game about a guy racing against time to find his true love. The first game had each section timed for ten minutes each. If you didn't finish in time, you had to do that section again. This edition is even more focused on time, yet the games were not timed. Maybe it's just me, but being timed helps provide that sense of urgency that really drew me into the game. I didn't have that feeling this time and it took away just a wee bit of the fun. The way the game ended makes it seem like that is it. I hope not. I really enjoy the challenges of this game and would love to see what the creators can come up with next.
July 13, 2013
If you liked the first you'll love this.
I have only played the trial and this game is not only great fun but the story line is absolutely intense. It has the twists and turns you just don't see in games much anymore. After the hour I couldn't get my wallet out fast enough. Lost in the City: Post Scriptum leaves you hoping they can keep this story going.
June 30, 2012
great
Love this game ! & I'm not a fan of h.o.g but this one is my favorite I've been playing since the first game...
March 30, 2013
Loved the weird hypnotic tone of this game
I loved the original game; Lost in the City from Elephant Games South Studio, it was all about the story of a man finding love in a place of despair & lost hope & it was seriously weird. The sequel continues the story as our hero & his love leave the city to which they became guardians; pretty soon Ann is kidnapped & the search is on. There is no frantic activity though as this is a slow game with lots of ambience & excellent background music. In order to move forward you have to make choices e.g. search the station, search outside the station although all will eventually lead you to make the right move in the game. Instead of finding a happy bustling city as our hero searches he finds an apocalyptic empty place & the story, like the original, just gets weirder as you play. You will either love it or hate it; I found it hypnotic & couldn?t stop playing. There are a lot more word list hidden objects in this game & they do seem endless but there is one fun little aspect, if you click on items you will get a translation of the Russian labels. The hint will recharge in 60 seconds & you can pick up ?free no waiting? hints by clicking on every purple butterfly you find. If you need it there is a magnifying glass & I found it useful in some scenes & there are also mini puzzles which range from easy to hard, a skip button is available. As you work your way around different areas you will find an Extras option in the main menu; this takes you to a room with gift packages scattered about. Click on these & you can see some of the original drawings for the artwork & some dialogue that adds to the story. The load time between screens is a little slow, the graphics are not top of the line & the gameplay itself is very simple but this is about the story.
May 27, 2012
PC version of 1984
This game reminds me of the old Noir games of the 1990's. I am sure that people could do a whole uni paper on this game and the questions that it throws up and the bridging of the gap between games and how they pose ethical questions both actually in the game and whether a game can actually merge the gap and make us think about our morals in the 'real world'. For me this game did make me think and all the metaphors in the game such as the 6 billion 'monks' (people in the world), and the Chessmaster (mother Earth/God), etc made me start to question exactly what was important in my life and who was actually 'controlling' me and whether I did actually control my own destiny or whether I had a 'chessmaster' controlling it. Sorry to seemingly sermonise, but I think the whole point of the game is to make you think and ponder your own little world. As for the game itself it flowed nicely, the HO screens were easy and didn't detract from the overall game-play. The puzzles in the game were various twists on tried and tested classics in the HO field, I did skip a couple one because I couldn't get the correct paint colour (even though I thought I had it spot on (obviously), so out of frustration) and the other out of confusion as I really could not understand the instructions given. There were also short cut-scenes whereby you had to drive the story on yourself with various questions being asked as to what 'path' you wanted to take, I tried just for 'arguments sake' to take the wrong path, but on both occasions it just 'looped' so thus you took the 'correct route' as it were. The music was mainly 'soundbyte' but it happened at key moments so did drive the game on nicely, the graphics overall were good and fitted in with the overall noir feeling. I do recommend this game but would also recommend getting the first game as this is a proper sequel as the is like the second (and final part) of a trilogy (know that is for three but not quite sure what the word is for two). If you don't want to spend here you may be able to pick it up cheap on online shopping sites, it is well worth getting both though.
August 10, 2013
The Apple logo is a trademark of Apple Computer, Inc.