Lost in the City: Post Scriptum
Help Hero and Ann wake up all of mankind in Lost in the City: Post Scriptum! Put an end to the curse and save the entire world! After being the guardians of the future, Hero and Ann are told to leave their city. After returning to the real world, they discover that all of humanity is asleep! Follow the Hidden Objects and make your way through this intriguing story and save the day!
Beautiful graphics
Great gameplay
Explore a mysterious world!
Game System Requirements:
OS:

Windows XP/Vista/7/8

CPU:

1.4 GHz

RAM:

256 MB

DirectX:

7.0

Hard Drive:

383 MB
Game Manager System Requirements:
Browser:

Internet Explorer 7 or later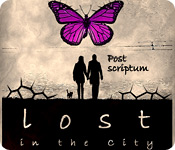 NEW299
The Big Fish Guarantee:
Quality tested and virus free.
No ads, no adware, no spyware.

Reviews at a Glance

Lost in the City: Post Scriptum
0
out of
5 (
0
Reviews
Review
)
Customer Reviews
Lost in the City: Post Scriptum
19
19
Really liked this game.
I know many thought this game was depressing but I wanted to give it a try and am so glad I stuck to it. The music is so beautiful in my opinion, it fit the mood of the game and I kept it playing throughout the whole game, that?s how much I loved it. Graphics were nice and no problems at all with the game play. You collect the pretty butterfly in most areas throughout the game, even in the sparkly HOG areas, and it gives you an extra hint for each one you find. Some items were hard to see/find but for the most part I didn?t have a problem. If you happy click about 3 times the screen will crack on you for a moment, hints work in the HOG areas and throughout the game, and the many unique puzzles have the option to skip once the skip button fills, which was fairly quick. At the end of each chapter you get to choose what your next move will be to end that chapter to get you started on the next, depending on how you answer (I think), you get an extra butterfly added to your hints (your answers don?t change the outcome of the game I don't believe). One might think the storyline is bizarre but in the end I understand what the message is. The game lasted me a bit, sorry, I?m not one to actually time a game, I notice if a game seems extra short or extra long and this one didn?t seem extra short. I tend to play a few hours for several nights and for the DD it was a great deal in my humble opinion, at one point I actually thought the game was over and it wasn't. I?m soooo glad I played it and I thoroughly enjoyed it. Many thank-u's for this awesome game.
January 10, 2012
I Love This Game
I really like this game. The Atmosphere is different than any other game. It made me realize that the world, is so big. And i have to live it. The thing i like in this game, is that... They have to separate, and go to their adventures of their own, and then meet again in the end. The feeling of being in deserted town really excites me. This game is telling me about pain, and love. I really want more of this game. This game is so fantastic.
September 17, 2013
Spectacular!
I don't know why this game isn't more popular. It is an amazing game. I'v never played anything like it. It's so unique! You get to pick what you want to do between scenes. I'm not sure if it makes the outcome any different, but its still cool. There's a moderate number of HO scenes, which I normally wouldn't like because I get sick of them, but this game is so well done it doesn't bother me at all. It's not super long but not short either, I'v been playing it for almost 4 hours now and I'm not quite done. This game needs a lot more people to try it. I guarantee most will love it. Especially Adventure lovers. The story is very unique as well. Graphics are great. This whole game rocks!
March 9, 2013
A fitting sequel to Lost in the City
I really enjoyed the first installment of the series and was not dissapointed in the sequel. It has a great story...the world has fallen into a coma and our hero must save his beloved and the world from an unknown force. Interesting artwork, wonderful ideas, and lots of tech stuff to do!! HO scenes are good as well.
April 4, 2013
One of the best Hidden Object Games
I found this game to be addictive. And it was longer than most, which was a bonus. It was challenging but not impossible, like some. I used the walkthrough only twice. It was an interesting story line. I often don't pay much attention to story lines, but this one had my interest. The only drawback, the music at times can be repetitive and irritating. I suggest turning it off in the "Options" menu. Bottom line -- Don't pass this one up!
June 19, 2012
As good as the first!
When I rated the first one, I didn't realize there was a second. I did find it and boy am I glad! I stand behind what I said about the graphics in the first one, but the hints were better this time. There is one thing I didn't like as much about this one. This is a game about a guy racing against time to find his true love. The first game had each section timed for ten minutes each. If you didn't finish in time, you had to do that section again. This edition is even more focused on time, yet the games were not timed. Maybe it's just me, but being timed helps provide that sense of urgency that really drew me into the game. I didn't have that feeling this time and it took away just a wee bit of the fun. The way the game ended makes it seem like that is it. I hope not. I really enjoy the challenges of this game and would love to see what the creators can come up with next.
July 13, 2013
Do NOT Miss This Game!
I thought that this would be too outdated, and I?m not even entirely sure how I stumbled across it since it is not a newer game. That being said, it was one of the more memorable games I?ve played this year (2014). Although you do have to read some, it?s not nearly as much as I got the impression from by reading the reviews (nowhere near as much reading as in, say, Ravenhearst). What really surprised me about this game was that I bought it DESPITE the fact that it had much more HOGs than I prefer. I am not a huge fan of more than just a few HOGs, personally. But the story was so good, I couldn?t put it down. It also is CLEARLY not just a ?crank it out? formulaic production like so many that we get from popular developers nowadays. It had heart. It was well thought-out. It was philosophical and beautiful. *NOTE: I did not, like many others here, play the first ?Lost in the City?, and that was fine (although perhaps someday I will). Just an FYI in case anyone was worried about having not played the original! LIKES: -The STORYLINE carried it. I thought this was very original, although it did take me a little while to get into it. I could go on about it, but I would really rather that you see for yourself. I?ve played tons of HOPA games, and this stands out among them despite its age and the fact that I just now discovered it in 2014! -Music was good -Long length -Diary adds depth to the experience; you get to ride the rollercoaster of his experiences and thoughts, going through the all-too-human struggles of change, leaving your comfort zone, acceptance in the face of a loss, and jumping off into the proverbial unknown for the sake of love and life. -Uplifting story despite its stark and often-serious feel, and definitely amusing at times. It?s worth it to find out what happens in the end! -Characters you can like and respect ? especially the character you are playing. Most of the time it seems that there isn?t nearly as much thought expressed about the individual character you are playing?they are not really unique or distinguishable from any other character you?ve played, usually. This character has a fierce and selfless love of his partner that is inspiring and admirable, although I wouldn?t say this is a love story. -The cat. No, you don?t need to like cats to like this game, but if you DO like cats, you?ll just like it that much more! I enjoyed that this cat was ?realistic? ? not walking on hind legs, speaking English, or whatever. Just a sweet little black cat that befriends our character and provides him a sounding board for his thoughts, as well as fulfilling that strongly powerful need for a sentient, warm companion (don?t forget to click on the cat occasionally to see the character?s thoughts and get ?feedback? from the cat). The cat waking him (you) up in the morning totally cracked me up?I am very familiar with that particular view he opened his eyes to! DISLIKES: -The graphics were where you felt the age of this game. Besides not being the best, they also just aren?t always that pretty because you?re in, well, a rundown city. But you get some cool and pretty scenes closer to the end of the game. Somehow, the subpar graphics didn?t detract from the experience for me. I have about a dozen new games that I have played the demos for, purchased, and am waiting to continue?most of them new and popular HOPA games?and this one still was the one I wanted to continue playing first, playing it long into the night (unfortunately for my work schedule the next day!) -I definitely would have preferred fewer HOS, but again?somehow it didn?t bother me as much in this game as it usually does? BOTTOM LINE: There is something about this game that I cannot put my finger on, as other reviewers have said, that made me like it so much. It?s poignant, thought-provoking, and refreshingly different. But somehow I just can?t properly describe what?s so special about it. You?ll just have to see for yourself!
February 21, 2014
U Lost?
This is the first game in hundreds I have played that made me sit back as the credits rolled and reflect on life and afterlife and basic human comfort and strength. It was?strange. And a very peaceful aftermath of an incredibly soul touching game. Reading the other reviews before I took on this game, I thought people were over-exaggerating but weirdly enough, I feel that the game has an intense meaning and is beautifully crafted to bring it across. Yes, this is definitely not for everyone. It has no voice-over at all, and it has a lot of reading compared to almost any other game I have played. It is very slow, and very full of HO's, the graphics are old-school and somewhat grainy, and the length of the game is about average. Normally these are all things I am not a huge fan of but I absolutely loved this game. The premise has been explained by other reviewers but let me explain why this game deserves five stars. The lack of voice-overs actually make the game much more powerful?you are in a post-apocolyptic world, alone, no one is with you, and the deafening silence and quiet music make you, as a player, completely ally with your character and genuinely feel the weight of an empty world. When you meet a cat you rescue and it meows, I actually jumped a bit, the sound startled me. As you travel further into the world, the cat is threatened to be separated from you, and I actually teared up a bit (call me sentimental, but it has never ever happened to me before in a game). It brought home how much we crave and need other warm bodies in our life?the epitome of loneliness was very raw. This game is sad. And stressful. And silent. And desperate. But it is an amazing amazing storyline and literally sticks in your thoughts and makes you second guess your actions in life. It's a very basic gameplay with very basic HO's and puzzles. If you don't like reading and no map and no directional hints and no voice-overs and a slower pace, then don't get this game. Maybe try the demo. But if you want a lengthy, deep and beautiful storyline with a comic-book/manga feel and serious plot, go for it. Jump in and meet the Chessmaster, save a starving cat, overcome massive odds, stand up for true love, be the white grain of rice, and make your way through the dark. Happy gaming, fellow Fishies!
January 15, 2014
great
Love this game ! & I'm not a fan of h.o.g but this one is my favorite I've been playing since the first game...
March 30, 2013
If you liked the first you'll love this.
I have only played the trial and this game is not only great fun but the story line is absolutely intense. It has the twists and turns you just don't see in games much anymore. After the hour I couldn't get my wallet out fast enough. Lost in the City: Post Scriptum leaves you hoping they can keep this story going.
June 30, 2012
The Apple logo is a trademark of Apple Computer, Inc.