Haunted Hotel: Lonely Dream
Explore the Haunted Hotel and experience supernatural phenomenon for yourself in Haunted Hotel: The Lonely Dream! Find Hidden Objects as you explore the different rooms of the hotel and discover spooky secrets. Collect helpful Inventory objects to help you progress through the building, and solve tricky puzzles. Each room brings you closer to the truth in Haunted Hotel: The Lonely Dream!
Gorgeous graphics
Explore the Haunted Hotel!
Game System Requirements:
OS:

Windows XP/Vista/7/8

CPU:

1.0 GHz

RAM:

512 MB

DirectX:

9.0

Hard Drive:

248 MB
Game Manager System Requirements:
Browser:

Internet Explorer 7 or later
Mild Blood
Mild Blood
Use of Tobacco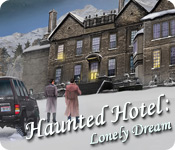 NEW299
The Big Fish Guarantee:
Quality tested and virus free.
No ads, no adware, no spyware.

Reviews at a Glance

Haunted Hotel: Lonely Dream
0
out of
5 (
0
Reviews
Review
)
Customer Reviews
Haunted Hotel: Lonely Dream
25
25
MADE GREAT FIRST IMPRESSION
The beginning of the game immediately grabbed my attention and I knew I was going to enjoy this game, and I did. I liked the Big Fish logo being nailed to a telephone pole which made me think this would be something different. This is a basic junk pile HOG. The piles are very busy and it takes some effort to be able to find some of the objects. The puzzles were varied and I skipped a couple of them. The instructions on some of them weren't that clear. The skip button was ready by the time my frustration level had reached the point where I wanted to skip the puzzle. The storyline was believable (if you believe in time travel) and flowed smoothly through the game. I did feel the game was a little short, but not sure how it could have been lengthened anymore. This game was a sequel, supposedly, and I went looking for the original. I did see a Haunted Hotel game but not sure by the description that it was related to this one. There is also supposed to be a third chapter in this series, but not sure I found it either, again by the description. But I did end up buying the other two Haunted Hotel games just in case. The hint button was very useful outside the HOS and I used it many times to try to follow the logic of the use of some of the inventory items. An enjoyable game with no dark and dreary scenes.
December 17, 2013
A Really Good Game!
Beautiful scenes, crisp and challenging. Good puzzles and HOS's, so it has just about everything I really like in a game. The story was good and the main character reminded me of Keanu Reeves, for some reason. The hotel was less "haunted" than caught in a time warp. Lots of gaming hours and plenty of interest.
December 22, 2012
Good game, weak story..
Finished the game in a little over 3.5 hours. Can't say it was a bad game. I just can't put my finger on it but just never really held me. Loaded in fine. The graphics were nice and crisp. Some of the scenes were quite imaginative. The soundtrack was there but not annoying. The items were obvious and yet still hidden. I managed to get through with no hints but was still challenged. The cut scenes were not long. I did enjoy the mini games quite a lot. They were a nice mix. Though an IHOG the interaction was quick and direct. I guess I prefer a little more guess work. I think what turned me off in the long run was the weak story line. It just seemed slightly disjointed. After the second hour it almost felt like I just needed to finish. I'm sure this all just a matter of taste and, as such, it will be well liked by others. I've played a run of really good games lately that could be coloring my opinion. Not a bad game just not a great one for me. (original review Aug 28,10)
November 26, 2011
Mostly good but story line a bit confusing
The game was fun to play with enough challenge in the puzzles and HOG aspects to keep me happy. My only gripe is that the story line leads you to believe that there is some sort of predecessor game, but I can't find it.
December 14, 2011
We?ve Come A Long Way...
BASED ON DEMO Again, this game is a genuine sequel to the previous 2 Haunted Hotel games. Unfortunately in this case, I think it really does matter that we have played the other games in order to appreciate the story. And the story is a part of this game far more than in the others. But it is still a HOG primarily, although we are introduced to the use of inventory here, as well as a sense of movement, and there is a greater number of puzzles. We have also done away with points, and time limits. We start this story at a time after the FBI agent?s arrest of the priest, who seems to be behind the strange supernatural events and phenomena found in the Lonely Dream Hotel. However, an ex-cop time travelling private investigator says we have been duped and must return to the hotel to prevent catastrophe for those still residing there. We are expected to do a little more of the work ourselves in this game. Some of the items we collect from the HO scenes go into inventory and we will need to use those items later, usually to unlock a puzzle or HOP. The rooms were the HOPs, with 12 items needed. Some HOPs actually don?t have a list. You have to find an item by the gears cursor or by merrily clicking and then find the place to use it. Something a bit different! The puzzles were still easy, but I found myself not knowing what to do next far too often for my liking. A hint that gives you the next step is useful. The cut scenes are comic style, no animation, with dialogue down the bottom. The graphics are good enough, but are nothing unexpected, and I think the second game was better in this regard. Again, the soundtrack can be a bit unsettling at times. These first three games in the Haunted Hotel series are classic examples of the history and evolution of HOGs, with this one hinting at the possibilities of true HOPAs. A good game, but dated of course. Nevertheless, ...
October 13, 2013
A good improvment from the previous ones.
Wasn't a fan of the first few games in the series, however this one is a big, big improvement. Better graphics and soundtrack and clean hidden object scenes. What I like the most about this, is that the game didn't take itself too seriously. There are times when the narrator makes quips along the lines of "I always like to keep picking up empty jars" and the such. It had some humorous parts for sure. Also a few "what the heck?" moments like in the basement. All in all, it's an OK game.
September 21, 2014
Just OK Game
Game production is awful with cartoon characters and no VO. The story is bad and discontinuous. HOS are pretty good, and the ingame hint system works well. I thought gameplay was good with some inovative actions required, not just find a key and open a door. If you can get by the poor production and story, this is an enjoyable game.
November 14, 2012
Probably more fun if you played the preceeding games
I feel that this game's story relies too heavily on your knowledge of the events of previous games. Doesn't stand alone well here at all. Really makes you feel like you're missing something. Plus the title is misleading as the hotel isn't haunted (apparently a fact discovered in previous games and reiterated at the beginning of this game)... which to me is disappointing because I like tales of the supernatural. Seemed pretty short to me as well. Not one of the shortest, but too short to be satisfying, particularly given the lack of standalone storyline.
November 25, 2011
Haunted Hotel: Lonely Dream
So what is this hotel has to do with time machine? I didn't play the previous games on this series so I have no idea. The ending is probably supposed to be scary? unexpected? but I found it weird and makes no sense. The music of this game is creepy, and they're quite a lot of hotel parts and rooms to explore, too bad the ending of the game and the topic turn me off. I don't understand why this game is called 'haunted', as I find nothing haunting at all.
June 9, 2012
bad game
This really was not a good game, the graphics were simpilistic, out dated, and the room decor was not good, the conversations and interactions with characters was stunted and wooden, I guess the challenge of the puzzles were ok, but i got extremely bored by the middle of the game and don't even know why I finished the thing, the story line was unbelievable, and they could not seem to diside if the story was a supernatural adventure or a business proposal. the only reason I have this game is that my grandson wanted to play it, but he got only through the first frames and then quit, I would not have bought this game otherwise and after reading some of the other reviews I am not at all surprised by my reaction to the game.
August 12, 2013