The Treasures of Mystery Island: The Gates of Fate
When the Gates of Fate send Alex and Lisa back in time, each to a different decade, they must figure out how to return to the present, and each other, before a rumbling volcano spews its contents! Guide Lisa as she befriends a local girl, searches for the magic tiles that can send her home, and leaves clues for Alex to find in the future. Discover The Treasures of Mystery Island 2, and use your Hidden Object skills to save the day!
Fantastic gameplay
Incredible art
Return to the present!
Game System Requirements:
OS:

Windows XP/Vista/7/8

CPU:

1.6 GHz

RAM:

256 MB

DirectX:

9.0

Hard Drive:

494 MB
Game Manager System Requirements:
Browser:

Internet Explorer 7 or later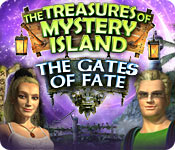 NEW299
The Big Fish Guarantee:
Quality tested and virus free.
No ads, no adware, no spyware.

Reviews at a Glance

The Treasures of Mystery Island: The Gates of Fate
0
out of
5 (
0
Reviews
Review
)
Customer Reviews
The Treasures of Mystery Island: The Gates of Fate
8
8
Really amazing game!
I bought this game last year and I dind't want to play it because I didn't like the thumbnail but I was wrong and I was missing one of the best games I played so far! The story line is no really interesting but the graphics and mini-games are AMAZING!!!! It has some challenge but nothing that you cannot resolve by yourself if you're stock...just think, go back to another place and review the items that you have. LOVE IT!!!!
December 15, 2011
solid FROG game
"The Treasures of Mystery Island: The Gates of Fate" is not quite as good as its sequel and prequel, but it is still solid entertainment and a very good fragmented object game. Strengths of this game: - The visuals are very crisp and clear and well done. - The game has a good length. - You can see how the fragments to each object look by hovering with the mouse over the object to be found. - You play two different characters in two different times, so it is fun to see how the place changes (or how you can change it) from character and time to character and time. Weaknesses of the game: - At times, the music can get repetitive. - The fragmented object scenes could be more challenging. I think it is at times too easy to find the fragments, they are not that well hidden. Overall, the mini-games offer a nice variety of different games with different levels of challenge. You can skip them. The "hint" button is useful not only to find objects, but also to tell you what to do next when you get stuck. No map, but also not needed. You have a variety of different scenes to explore and tasks to solve - many of the fragmented object scenes only unlock after you identified the task. Well done and solid game - if you like FROG games, you'll enjoy this one!
March 29, 2012
Nice long game!
This game wasn't perfect, but it was lots of fun. The two main characters find themselves in different times, 1979 and 1989, on a tropical island. They have to find hidden tiles in order to activate a gate that will bring them back together. A girl on the island helps each of them in the different times. You move around the island looking for the tiles. You have to perform various tasks, and find the materials you need by assembling fragmented hidden objects. There are many rooms and caves and temples to explore, and each moves you a step closer to your goal. In between tasks you need to complete several mini-games. These are unusual games and fun to solve. The Skip button allows you to move on if you get stuck. There is also a Hint button that will help you to locate objects and tell you what to do next. In each location there are two or more areas to explore, and there is a certain amount of moving back and forth between the areas to find things you need. Another reviewer mentioned that the characters weren't very appealing to look at, kind of wooden expressions. It did appear to be a little bit old-fashioned. This was the reason for only giving it 4 stars instead of 5. I could easily overlook these things however, and really enjoyed playing this game!
October 14, 2014
One major hesitation in 5 stars
The game itself was a blast. I loved the coupling of two different time periods (10 years apart 1979 & 1989) together. One character is in both years, but of course, older in the later date. The game was quite long, but relaxed and puzzles were mostly easy. Some times you just need a make me think, but not too much game. The bizarre part that prevents it from blowing me away, is in the interaction of the parties involved. The lips do not move, and not much expression on their faces. I suppose when a game is long, the amount of detail needs be a bit toned down. Maybe?? Overall fun and gets you wanting to see the outcome. Hardcore nitpickers won't score it high for its simplicity, and the lack of voice/face movement. I'll play it a few times over time.
May 24, 2014
Lots of mini puzzles
This is a fragmented hidden object game (you find pieces of objects which when put together form the item). The graphics are crisp & the artwork nice & bright; after all you are on a tropical island. You get a journal which contains a task list & there isn?t much of a story. You don?t need a map though as the scenes are ?grouped? so you start off with four open scenes & they are completed before you move to the next group. There is no choice in mode of play, the hint recharges at 30 seconds & you can turn off the tutorial tips. The gameplay doesn?t flow very easily & the hint is not very useful when you are stuck & not sure where to go next; it simply states what your task is & you know that already. You will spend a lot of time going to & fro the various scenes looking for items to find or tasks to perform without much guidance. This is a game about puzzles & tasks rather than H0s; you have to find objects to perform tasks such as chopping wood & there are lots of good mini puzzles, putting together pieces of paper, maze, build a bridge, move circles to make a picture, untangle wires. There is a skip button if needed. This was quite a long game due to the number of puzzles to solve so well worth playing; it took me around five hours.
June 4, 2012
ADVENTURE CONTINUES FOR ALEX AND LISA
Scour the island for four tiles from the magical gateway that landed you on the island, while you repair bridges, chop firewood and other tasks. You?ll first need to collect the tools and supplies you need to accomplish those tasks. You do have to travel back and forth a lot to collect everything for puzzles/mini-games. Nice colorful graphics (probably the best part of the game). The lead characters aren?t very engaging ? how do they manage to not bore each other to death? Similar to Treasures of Mystery Island. An okay game, but I don?t think I?d be compelled to pay full price.
December 5, 2013
...More like the Gates of...
Sometimes we characterize bad games as easy and suggest that they might be good for beginners. I think that's insulting to beginners or very casual gamers. A bad game is bad Period. I'm sure the developers weren't thinking they'd make a game for beginners. But then, I'm not sure what they were thinking at all. If this game is valuable, it's because: a) It shows us how good we have it now. b) It really demonstrates the importance of the free hour trial BFG gives us. I played about 20 minutes of the free trial on a Mac Book Pro. This game shows the earlier history of hidden object games, and not much more. It must have been quite something when it first came out, inasmuch as it has a very solid 4+ rating from the reviewers who, by in large, raved about it. If you rave about it today you've been hitting the sauce! Visual/Sound Quality: Sight: Quickly you will notice how unsophisticated the graphic techniques are. I'd draw the analogy (so to speak) of a very early cartoon, where the characters are so simply drawn they have no personality or detail. Movements are extremely limited and display no fluidity at all. Sound: Aside from the monotonous soundtrack of island-themed elevator music playing the same few bars over and over again, there is no sound. The dialog is written. No....don't even wonder about lip-synching. There are no voices overs. Level of Challenge: Overall, the challenge is sticking with the game. I couldn't. HOGs: The first thing about the HOGs is this: when you are finding things in their environment, the placement should make sense...not a dead giveaway, but not a logical impossibility either. There are FROGs and Multiple Finds: Both are very basic and except where they are so small as to be indecipherable, or ridiculously placed, they are not hard to find. Mini-games: Maybe these were special back in the day, but not anymore. Here's an example: One early game resembles the current pipe puzzles where you need to correctly orient and then place 15-20 pieces of pipe from one end of a grid to the other using every piece. It's not pipe here...but that's unimportant. In this puzzle the orientation of the individual pieces is already set and unchangeable. Having to re-orient the pieces is where I find the challenge in this type of puzzle. No challenge here. Storyline: Honestly, I have no idea. I couldn't stick with it long enough to tell you anything more than what I read in the description of the game. PLEASE, PLEASE, PLEASE use the free trial before spending any money on this game. I'll be very surprised if you end up purchasing.
February 26, 2014
15 Minutes was enough!
Awful! It was a waste of my time. I would not even buy it with a free game coupon.
March 5, 2014
The Apple logo is a trademark of Apple Computer, Inc.