Royal Trouble
Princess Loreen and Prince Nathaniel have been kidnapped, and need your help to escape from a mysterious dungeon! Control both characters and manage both of their inventories in Royal Trouble, a fast-paced Hidden Object Puzzle Adventure game! Navigate treacherous locations, and escape from the kidnappers before it is too late! Teach Loreen and Nathaniel to work together in order to solve puzzles and reach safety.
Hilarious characters
Fantastic locations
Escape from the kidnappers!
Game System Requirements:
OS:

Windows XP/Vista/7/8

CPU:

1.0 GHz

RAM:

512 MB

DirectX:

8.0

Hard Drive:

153 MB
Game Manager System Requirements:
Browser:

Internet Explorer 7 or later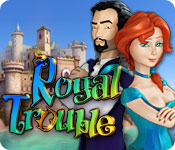 NEW299
The Big Fish Guarantee:
Quality tested and virus free.
No ads, no adware, no spyware.

Reviews at a Glance

Royal Trouble
0
out of
5 (
0
Reviews
Review
)
Customer Reviews
Lovely, humorous adventure game!
I fell in love with this game from the beginning when you're trying to escape from a dungeon and have to assemble a makeshift bomb to blow up the door... only to find out afterwards that the door was actually open! There's humour like this throughout the game, and the two protagonists Loreen and Nathaniel (who you take turns playing) have an excellent bickering/flirting relationship much like Guybrush Threepwood and Elaine Marley from the Monkey Island adventure games. Graphics were nice, with an attractive soft glow, but the music was repetitive/unexceptional. There were some interesting puzzles, but most were of average difficulty. This is an adventure game, not a hidden object game (aside from 1 or 2 scenes), and as such it will be shorter just because hunting for hidden objects is a time killer, but it's a good length for an adventure game.
November 30, 2011
Feisty, entertaining, fun
A feisty princess, a devil-may-care prince, and a desire to escape from being held prisoner. Great artwork and storyline. The hidden objects are really puzzles to help the bickering duo escape from various rooms and situations. I appreciated the hints in the diary, which started off vague and got more and more explicit as I needed them. Lighthearted, entertaining, and good fun.
December 9, 2011
so much fun that my morning coffee went cold
what happens when you take two 21st century personalities and somehow put them into two mediaeval characters? this hilarious hidden object puzzle adventure proposes one amusing answer to that question. in this game, you take turns playing the independent Princess Loreen and the appropriately miffed Prince Nathaniel, both of whom have been kidnapped and imprisoned in a castle on a remote island. somehow, you have to get these two mutually suspicious people to stop their arguing long enough to work together to gain their freedom. graphics: really lovely artwork; clean, colourful and crisp. useful objects are located throughout the story instead of being inside a series of dedicated hidden object scenes, so i don't think of this as a traditional hidden object game. a fair number of the collected objects have to be combined before you can use them -- lighting a candle, etc. the puzzles were unexceptional. most were variations on the unlock-the-lock or piece-together-a-torn-up-note themes, and were easy to solve, so no frustrations there. music and sound effects: nothing special, although i was pleasantly surprised and pleased to hear the yellow warbler song during one scene. voiceovers were well-done -- the voice sounded appropriately sardonic (or was that just my imagination?) storyline: strongly character-driven. the characters in this story are as sweet, distinctive and interesting as any i've ever seen in any video game. they are just so charming and funny that they bring a smile to your face and you can't help but care about them. the entire story is set up to showcase the interactions between the prince and princess: there's nothing sinister in this story, and the goals are simple and clear. gameplay: cursor changes to gears, a magnifying glass or a hand when you mouse over appropriate objects. no sparkles. puzzles can be skipped. no map, but there is little back-and-forth, so a map is unnecessary. a diary is provided -- with hints, each one more specific than the one prior. the diary conveniently keeps up with where you are in the game, too. scene transitions are smooth, and there?s no cursor freezes. my only complaint is this is a short game, but since it's the daily deal, i think it's well worth the price. my interaction: one hour demo. i purchased this game -- with a smile on my face! i enjoyed this sweet little game so much that my morning coffee went cold whilst i played it -- and that's quite an accomplishment!
July 10, 2012
Still Smiling!
This game is so cute and so much fun to play. The dialog makes me laugh and smile. I would like to find more games like this to play. I have gotten a little tired of the usual hidden object games. I enjoy games that require you to use several items together to solve the puzzles.
January 22, 2012
Who Knew Trouble Could Be So Much Fun !
I loved this game it was so fun and full of humor. You get to play as two characters who are trying to escape from a kidnapper and both start out hating each other but realize they have to work together in order to escape the castle. There are all kinds of little puzzles and quest's you have to do for other people in order to get them to help you. My only complaint is that the game is way too short but still worth it as it is just so cute and fun. The graphics are very nice and crisp everything is easy to see and the hint system is very generous. I do hope there will be another chapter to this one. Awesome game thank you Orchid games and Big Fish for a whole lot of Royal Fun !
February 22, 2012
GORGEOUS GAME !!!
i played the demo and enjoyed it............bought the game and played it in one sitting!! I normally love HOGs but this was entirely different, and much more enjoyable.....loved the interaction, loved the humour, to be honest.....I loved it all!!! MORE PLEASE!! I cant recommend enough, even if you only do the demo, you MUST try this game. two thumbs way up and 5 stars. fun and frothy fairytale
July 12, 2012
BUY IT!!!
Love Love Love this game. Love the concept of taking turns to be two characters Loreen and Nathaniel (who start by fighting each other) so it is like you are trying to outsmart yourself. Graphics is awesome. Its very difficult to find an adventure game without being a hidden object game. So this is a welcome change.
November 8, 2012
Royal Trouble - A Sarcastically Entertaining Adventure Game
Story: Loreen, a beautiful feisty princess, and Nathaniel, a handsome arrogant prince, are both kidnapped by some bad guy. Now, if you were to put two people in the same dungeon, what will happen.....a lot of arguing. With these two characters, they both must work together to escape this castle and with this adventure comes a lot of climbing, arguing, and.....more kidnapping. Graphics: With this game having 3-D graphics, the scenes were very bright and clean to complement the humorous story. Music/Vocal: I thought the music fit well with the games setting and scenes. I have to admit that I loved the voice actor who was narrating the story. He had this sarcastic tone that just fit so well with the story. Puzzles: I would really call this more of an adventure game because throughout the entire game I think there where at least 4 HOS. Most of the puzzles where easy to me but some I was stumped from. Length: I finished the game in less than 2 hours which is a shame because I wanted more. Characters: I think this is the first game where I have like all of the characters, especially the two main characters, Loreen and Nathaniel. They all carried a certain charm that is hard to not like. Overall: I really did love this game. It had adventure, kidnapping, arguing, a little romance, and a sarcastic narrator. I would recommend this game if you are looking for a game that has a funny story where you can relax and laugh at the adventures of Loreen and Nathaniel. Happy Gaming :)
March 31, 2012
What a great game!
Now this was an adventure game i really enjoyed. The narrated story blended in perfectly with the game, the puzzles were right and not too difficult (very easy in fact), The graphics were good, though could have been better at some points. The characters were funny and well developed. Overall, a very good game.
April 12, 2012
Fun and funny - total brain candy
Loved the main characters - it had a sort of "Romancing the Stone" vibe. Or maybe more like "Monkey Island". The challenges weren't that difficult, but the overall story was so cute that it didn't matter. A great way to spend a lazy afternoon.
December 18, 2011
The Apple logo is a trademark of Apple Computer, Inc.