Victorian Mysteries: Woman in White
Who is this Woman in White and where did she come from? Walter Hartright, a poor drawing teacher, finds himself in the middle of an inexplicable mystery. Somehow his future is intertwined with an elusive woman who harbors a dreadful secret. A secret so damaging her life is in danger! Explore Victorian mansions finding Hidden Objects, search for clues, uncover diabolical plots, root out the lies, and discover the truth in Victorian Mysteries: Woman in White.
Gorgeous locations
Immersive atmosphere
Game System Requirements:
OS:

Windows XP/Vista/Win7/8

CPU:

1.0 GHz

RAM:

512 MB

DirectX:

9.0

Hard Drive:

267 MB
Game Manager System Requirements:
Browser:

Internet Explorer 7 or later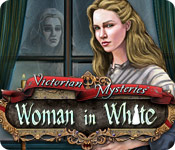 NEW299
The Big Fish Guarantee:
Quality tested and virus free.
No ads, no adware, no spyware.

Reviews at a Glance

Victorian Mysteries: Woman in White
0
out of
5 (
0
Reviews
Review
)
Customer Reviews
Victorian Mysteries: Woman in White
38
38
engaging but not difficult
in this hidden object game, you are Walter Hartright, an artist who finds himself in the middle of a mystery after accepting a job in a Victorian mansion as a private art teacher. it seems that where ever Walter goes, an elusive "woman in white" inexplicably pops up. why? who is she? graphics: not as nice as i'd like since small items were difficult to see. the mini-games and puzzles were interesting and required some thought but weren't super-challenging. music: repetitious but not annoying. my interaction: one hour demo mode, casual play (there's two modes). the characters and the story are presented in such a quietly interesting way that i am now genuinely curious to know more about the woman in white and what her connection is to Walter -- and i am especially curious to how this game ends.
June 2, 2012
Not to bad for a beginner but not to good for an expert
I feel that this game is ok, there were times that it felt like I was just repeating and repeating. The HOS are ok but I feel that there is not really a lot of thought needed to do them. The over all process is ok for beginners, but as I say often on some of these games that have been out for a while, there great for a beginner but anyone that is past that level of skill will I think--- be bored. I recommend This for beginners
February 8, 2012
Nohthing like a good old Victorian Mystery
I bought this game when it was first launched here on BFG and really enjoyed it. Compared with the modern games of this genre, I'd describe it as 'Soft Adventure HOG'. The game gives a feel of Victorian times. For some times when I think Victorian, I think: "Grey, Black, White, Braun, Rain, Mourning, Desperation, Murders, Mysteries". Not necessarily in this order, but this collection of words pretty much reflects what I associate with the term and so do graphics and sound. But that is not a bad thing as both elements of the game really go well. It's been a while since I played it, but I remember the HOG scenes being ok what concerns visualising items, but I remember coming across some items that I really couldn't make much sense of, such as "3 Face". I was wondering back then if this was a translation issue, but I don't think it is. My feeling is they have used some words and terms from Victorian times we today no longer really use nowadays and this made it all the more interesting for me. There are two difficulties (Casual and Expert), but be warned that playing in expert mode it takes a looooooooooooong time for the hints to recharge in this one. There are some elements going into the Adventure HOG / IHOG genre we so often find with the modern games. But the game seems to be from the time when the transition from straight HOG to a more adventurous game play took place. So you'll need to unlock a few doors and solve a few puzzles, but nothing like in the more recent games. It has voice overs and the story line is well written. I can highly recommend this game and especially for the price of today's Daily Deal, but I would advise to try it first.
June 2, 2012
Good Mystery
Completed game. Intriguing mystery ? heard it was based on an actual book. (Caveat: I just love mysteries and read at least one a week.) Nice to have a game without dilapidated houses, ghosts or portals. Visuals were nice. Quite a few locations with some going back and forth. However you could easily figure out where you were going next and the pathways between the locations weren?t too complex. Some of the locations were only used once or not at all except as a pass-through. None of this took anything away from the game. Really liked the ending ? all but one loose end was wrapped up. Game was fairly short ? didn?t time it, but I?d guess 3 hours at most. Game was more of a story than a straight HOG. There were a fair number of HOGs spread throughout, and it wasn?t particularly difficult to find the items. As far as I was concerned, there was one irritating con: sometimes the exact location had to be clicked whether it was in a HOG (ex: could collect glasses only by clicking the right but not the left lens) or using the inventory items (ex: weights had to be put at a particular point, which wasn?t always the obvious one, on a clock). You just have to click around sometimes, risking the appearance of a whirling cursor. Voice overs were nice; you could determine what questions to ask certain characters, and you could follow the written dialogue as they spoke if you disengaged the sound. You automatically got a message that there was nothing to do in a location.
June 2, 2012
Could have loved it but...
I actually really, really liked this game. The scenery was beautiful, the HOG's were pretty challenging, the mini games were ultimately easy once you figured out what your were supposed to do. It was the figuring out that was the challenge! I thought the hint button took awhile and I ended up muting the music about half way through because it started to get on my nerves. Great story-line, if not a bit convoluted, but that too just made you think. Technically the voice overs were glitchy, cutting out or not playing all together, but there was also script so to me it wasn't a big deal. There were lots of different scenes to explore and 2 different Victorian manors and I thought that was really cool. The reason I can't give it 5 stars is because I was really, really enjoying it, really getting into it and BAM, it was over. It wrapped everything up, but in voice overs, and I was left feeling "but, but, but!!!" It only took a few hours but I did buy it as a daily special so definitely worth that money, probably not the full price. Has the potential to be great if they just fleshed it out and expanded it.
June 13, 2012
A game I hated to Love!?
This was a game that was very frustrating for me but, I savored it and the outstanding storyline. The storyline was exceptional, other than appearing to be truncated in certain areas. The play on interaction with differing personalities gave it a touch of mystery often lacking development in similar games. If the original story led to a sequel, I would buy it as soon as I could (hopefully with more clarification)! The weaknesses of the game came in failure to take more advantage of this fascinating story to flesh out something no less than a five star game. Characters were sometimes too transient as they would come on the scene and leave without further explanation (though all characters seemed to add to the storyline). The most frustrating of all was failure to provide a hint as to how to tell what the ending point of the mini game should be. Additionally, the hints I normally use if I cannot determine where to go or what to do next would, in this game, usually point me back to the problem that had stopped my progress and would not give any explanation. Since I cannot give three and a half stars, I will give this four stars. For any of you that may plod along at times, like I do, you may want to go ahead and open the walk thru for use as needed to avoid what would normally be slight inconveniences. With all of this said, I highly recommend this game!
June 8, 2012
Victorian Mysteries: Woman in White
Caught my attention right from the beginning, had trouble during some of the HOS scenes but finally found all the items, had an enjoyable time with the game. :)
April 11, 2012
Entertaining
Love the game, maybe some locations is not as bright as it coul'd be.
November 20, 2011
I enjoyed this game.
I wasn't sure what to expect with this game, but I liked it. It's a little different but enjoyable. After playing the game , I ordered the Woman in Yellow.
January 5, 2014
A Nice Enjoyable Game ...
Graphics & Sound Are OK, But Nothing Fancy ... I Went Looking For A Game To Fill The Gaps Between The New Releases And Found This One In The Pile ... I Nice Piece Of Entertainment ... And Worth My Voucher ...
September 13, 2013
The Apple logo is a trademark of Apple Computer, Inc.