Heroes of Kalevala
Choose your favorite hero and lead your tribe towards a bright new future in the lands of Kalevala. Exciting Match 3 gameplay, powerful hero powerups, and an extensive village building game provide hours of exciting new entertainment. Experience hand-made levels featuring unique gameplay, like lock bomb combos and tar fights. Build your own village from scratch and see how it starts to thrive and produce wealth in Heroes of Kalevala.
Gripping gameplay
Exciting storyline
Explore Kalevala!
Game System Requirements:
OS:

Windows XP/Vista/7/8

CPU:

1.0 GHz

RAM:

256 MB

DirectX:

9.0

Hard Drive:

61 MB
Game Manager System Requirements:
Browser:

Internet Explorer 7 or later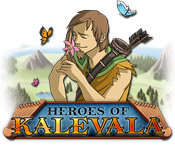 NEW299
The Big Fish Guarantee:
Quality tested and virus free.
No ads, no adware, no spyware.

Reviews at a Glance

Heroes of Kalevala
0
out of
5 (
0
Reviews
Review
)
Customer Reviews
Very Addictive
I have played this 4 times through. I love the clear, colorful graphics and have never gotten tired of the music. The cackling timer did get on my nerves sometimes, since some levels took me a few tries to complete. This game has actually encouraged me to learn about the folklore of Finland.
January 21, 2012
great replay value
This is the best match three game I've tried. You help the People of Kalevala to rebuild 4 cities, using different gods to help you. The music is great, and it's fun to build the cities, with the improvement you earn in the match 3 levels.
February 14, 2012
CHALLENGE FOR SURE
I love it...it is fun and really has challenge as you go up in levels..the colors are gorgeous and the sound fits the story..I would give my recommendtion for a DD.. since I like a game that gives me a run for my money, this one will keep you on your toes...
January 31, 2012
top connect 3 game
After reading the reviews i decided to buy this game as one comment was good and the other was bad so i downloaded the game to see for myself and it has to be one of the best connect 3 games i have bought. the levels were not hard to do as long as you used the right helper to help you get through the level. the story was excellent so thumbs from me and a must buy if you like that type of game.I would have liked it to go on and on as it was very adictive.
February 2, 2012
A Good Surprise
This game was really fun for me in a very light hearted way. There is a story and a match 3 game combined with a build a colony - wasn't expecting that. I have not finished the whole game but it looks like there will be many places to go to. A good clean fun game for the whole family. A definite buy for me!
January 31, 2012
Fun, relaxing game
I got a little tired of HOGs so I decided to try a match 3 puzzle. This is a great game. This game is based on a Finnish (?) folklore. In addition to matching 3 to beat a witches raven, you also build little villages with your winnings. You also earn Finnish gods to help you beat the raven. The music is beautiful, the game gets harder, your villages grow, and you have a fun time. Highly recommended!
February 5, 2012
Totally Fun Mix of Match 3 and Build-It!
I bought this game sight unseen as a Daily Deal and I'm so glad I did! I would gladly have paid full price. I don't usually care for Match 3 games, but this one is really fun. The ability to unlock mythical "heroes" to help you clear tiles and the adventure of building villages with the virtual money you earn from game points makes it interesting. If you love timed Match 3, build-it, money management and adventure games, you should like this one. You get to buy huts and foliage to build a town in the mythical land of Kalevala as you gain points and earn money from clearing tiles in the Match 3 portion, all the while avoiding the evil witch's crow. Oh, yes, and you have to keep your little villagers happy, so they'll love, love, love with lots of hearts! When you earn enough money, you can send explorers out to build other villages and then interact with those villages to buy-and-sell, but I haven't gotten that far in the game yet. There is also a scrolling interactive map that you can use to move from village to village. On the menu under other features, there is a guide that explains who the mythical heroes are and their powers. One issue I have: There are some funny captions and open hand symbols that occasionally appear above the heads of the villagers that I'm not sure how to respond to. It's not explained in the game, at least not that I've seen. So I'll have to go to the BFG forums to find out. The graphics are nice, the Match 3's colorful with a nice, light atmosphere overall, even with the evil witch. Level of challenge is good. Easy enough for me to win, but I still lose sometimes too. I have no technical problems at all running it with 64-bit Vista. I'm not sure how many levels there are in this game or how many game hours there are, but it looks like I'll be playing this game for awhile. Fun factor gets a HUGE 10 - a BIG THUMBS UP from me!
January 31, 2012
Lots of interesting things going on
Top marks to the designers for trying to add originality to the standard match 3 format. The iced tiles drip water like melting ice cubes. The matching icons are sharp, brilliantly colored, and have fun animations, like the oyster flipping open its shell to reveal a pearl. The timer, (which really isn't a problem), is represented by a crow flying around the puzzle and leaving a trail of fire. The power-ups are interesting and based upon superpowers of heroes, such as a hammer thrown by the game that smashes multiple tiles, or a flood of water by an ocean god that washes away tiles. But you only get one superhero per level, so you've got to decide which one will help the most based upon the layout of the tiles and the blocks, like chains. Creating the village didn't seem to be a big thing. It goes slowly, but the graphics and animations are nice. I'm not a city-builder type of player, so it's nice that you can come back to the game now and again without feeling you have to play through to the end. I'd give it a try. Oh wait, I already did!
January 5, 2013
One of my favorite games to play again
I thought I'd submit this review after playing this entire long game again -- actually, twice -- long after I first bought it. I want to start out by saying I hate timed games, and this game is semi-timed, in the sense that there is a timer, but there are oppotunities to stop it that do not otherwise interfere with game play. To be precise, you can stop the forward movement of the crow by making matches or blowing up bombs near it. (This is a part of the tutorial.) The thing that makes me love this game that I really should not like is the choice of "gods" to help with finishing each level. Some levels are very hard, but instead of trying the same thing over and over, you can change the helping "god" and the level will feel different on replay. And here is one non-spoiler secret from a long-time player of this game: you get better as you keep replaying it, so the frustration factor relating to the difficult levels goes down the more you play. Finally, building the four villages is so much fun on its own that it gives lots of additional value to the game It's not just the rote using up of credits because that's what's expected. Each time I've played the game I've enjoyed building better and prettier villages and watching happy villagers. To me, at least, this game has endless replay value.
June 29, 2012
I Love This Game!
The crow is your nemesis! While making matches, the crow flies around the outside edge of the game board and 'claims' your gems! If he makes it all the way around, you lose a life! But, fear not, as there are many Heroes with great superpowers who help you along the way to clear the board. With the gems you earn, you help to build the village and buy items to keep you villagers happy! As you village becomes more complete, you earn coins toward moving to a new location and starting a new village. Great fun...but watch that crow!
July 27, 2014
The Apple logo is a trademark of Apple Computer, Inc.