Sherlock Holmes VS Arsene Lupin
Exclusive
Embark on an investigation as Sherlock Holmes! Stop the legendary thief, Arsene Lupin, before he steals famous historical objects from England! The French thief, with an impressive track record, has crossed the Channel to provoke you on your own territory! Dive into this extraordinary game of cat and mouse in Sherlock Holmes Versus Arsene Lupin, a wonderful Hidden Object Puzzle Adventure game!
Legendary locations
Incredible puzzles
Embark on an investigation!
Game System Requirements:
OS:

Windows XP/Vista/7/8

CPU:

1.4 GHz

RAM:

512 MB

DirectX:

9.1

Hard Drive:

1759 MB
Game Manager System Requirements:
Browser:

Internet Explorer 7 or later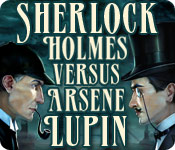 NEW299
The Big Fish Guarantee:
Quality tested and virus free.
No ads, no adware, no spyware.

Reviews at a Glance

Sherlock Holmes VS Arsene Lupin
0
out of
5 (
0
Reviews
Review
)
Customer Reviews
Sherlock Holmes VS Arsene Lupin
25
25
VERY FRUSTRATING
The way you needed to move through this game was very frustrating for me. At first, I liked the 3-dimension feel of the game, but getting the hang of moving the characters through this was just too frustrating. Also, I could never figure out how I kept changing from the perspective of one person to another. I would be trying to direct Watson when all of a sudden I was playing from Sherlock's viewpoint. Also, at the beginning, you are told to "talk" to everyone you came in contact with, but I could never figure out how to do this. I searched the forums with no luck and there is no walkthrough, so I just gave up and uninstalled the game. It looked like a neat concept, but it was just too frustrating for me.
January 3, 2014
The Game is Afoot... but Not This One!
I HATE this game. I am not a fan of games where you walk back and forth, back and forth, through rooms and tunnels and walkways again and again... seeing the same scenery until you are so thoroughly SICK of it that you feel nauseated at the thought of having to back to that place One More Time just to pick up an object that you have seen over and over. You wanted to get that object(s), you knew you would need it/them (blue sock, blue plate, blue munitions box for example) but you could not until you completed an asinine goal of sorts. And why couldn't it be picked up? For No Apparent Reason other than to make you go to that place AGAIN. Argh! There was plenty of room in the inventory. The game is chunky and you have to move Sherlock around in the lamest way possible. Click, click, click and he goes a few feet. The 360 is worthless and irritating. A map that puts your character in place immediately is called for (Eternal Journey-the best!). What good is a map if you can't interact with it and only identifies the places you have been to? Really? I need a map to know where I've BEEN?! I got to the London Towers and had to stop. I just couldn't go on. Hate, hate, hate this game.
December 20, 2012
No, Holmes, the game is not afoot. The game is awful.
To be perfectly honest, the main reason I forced myself to keep playing this game through to the end was to see how exactly it DID end. I liked it well enough at the outset, but as time went on, I came to regard it less as a game - that is, fun - and more as a chore. These are my very spoiler-laden thoughts on the whole matter. There were, of course, things I liked about the game. The graphics were usually good; during the final chapter, my cannon kept disappearing, but otherwise they were fine. The background music was nice and the voice acting was pleasing. I enjoyed the small references to another Frogware game, "Sherlock Holmes and the Secret of the Silver Earring," which I played many years ago. And I got a kick out of the fact that after Holmes fed him, the dog kept following him around Buckingham Palace. I also appreciated the interactive quality of the map, especially at the Tower of London. The final conversation between hunter and hunted (and I'm not sure which was which) was well written. Easily my favorite aspect of the game was getting to visit the two museums, the palace, and the Tower of London. I especially loved wandering around the painting gallery and having Holmes identify all the artwork for me. I was less impressed by the British Museum, though, mostly because I found the puzzles there to be considerably more tedious. Unfortunately, the list of things I didn't like far outstrips the list of things I did. For starters, I hate the way Frogware insists on having Watson behave like an idiot. I hated it about "Silver Earring" and this game is even worse in that respect. Try reading the stories sometime; he's not in Holmes's league, but Watson is far from stupid. Many of the puzzles really tested my patience, and some of them were so mind-numbing that I would have liked the option to skip them. I also despised all the running around I had to do to pick up items - I would rather have been able to collect them the first time I saw them, instead of coming back once I understood their connection to the puzzle. And my most frequent complaint about a game crops up here too... the devs didn't proofread as well as they should, and the game's written dialogue was rife with spelling and punctuation errors. The game also included some ~factual~ errors, one of which interfered with my ability to solve a puzzle. In Lady Leomunda's room at Buckingham Palace, she talks about how Henry the Eighth was the one who designed her chest to make it difficult to open. To solve this puzzle, as the strategy guide explains, you have to click on his portrait and take the crown from his head. Problem is, the portrait in question is that of Henry the THIRD. Some gamers might not realize the discrepancy, but since I've studied British royal family history extensively, I did; and so that puzzle was driving me crazy because I could not find a picture of Henry the Eighth anywhere. I didn't understand a few things about the increasingly nonsensical plot. I love Arthurian legend, but I felt like that whole subplot at the Tower of London was completely unrelated to the rest of the game, and deserving of an explanation. How would Lupin have known that such a chamber existed, since the Chief Warder himself didn't know about it? He must have figured out how to open it in order to put the bat inside, but how did he even know to look for it? What was with all that stuff in the sub-basement at Buckingham Palace, too? Are we supposed to believe that relics of the Norman kings would just be stuffed in an underground room to suffer the effects of time and moisture? And why did they have a collection of ~Native American~ artifacts? That entire sequence of puzzles was the most annoying to me out of the whole game, actually; it felt like Holmes had become trapped in one of those "escape the room" games, what with having to MacGyver different contraptions in order to keep moving forward. I deleted this from my game manager as soon as I was finished. Given everything I disliked about it (and I didn't list them all here), the replay value for me is nil, and I think I'm officially done with Sherlock Holmes games from Frogware.
July 9, 2013
Waste of Time
I bought this game when it was the daily special. Thankfully I did because if I had paid full price I would have been mad. What a terrible game. I can't believe it had good reviews! I should have suspected when there were only 5 review that it wasn't a good game. I only played for a little while and quit. The small part of the game I played was terrible. You have to "walk" your character around and spend way too much time trying to get where you need to be. It was ridiculous!! Don't buy this game.
October 5, 2012
Five star no go
I only go about 5 minutes into this totally worthless excuse for a game. The controls and such are awful. I would not accept this game if they we paying me to take it off their hand and deposit it in the dump. Worst thing I have ever come across in all the years I have been with Big Fish Games and I have played and bought a ton of games. I suppose the bottom of the pail had to show itself sooner or later.
October 4, 2012