King Arthur
Follow Arthur's rise from boy to king! Narrated by Merlin, King Arthur traces the well known tale of Arthur from the time that he was a boy, and happened to pull the enchanted sword out of the stone, to his years as the greatest king of all of England. Use magical runes as you battle the evil Morgana and Mordred, who attempt to usurp the throne of England, in this fun Hidden Object game!
Beautiful artwork
Original soundtrack
Follow Arthur's rise!
Unique hint system
Game System Requirements:
OS:

Windows XP/Vista/7/8

CPU:

1.6 GHz

RAM:

2048 MB

DirectX:

9.0

Hard Drive:

188 MB
Game Manager System Requirements:
Browser:

Internet Explorer 7 or later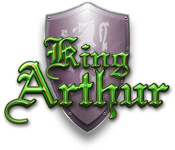 NEW299
The Big Fish Guarantee:
Quality tested and virus free.
No ads, no adware, no spyware.

Reviews at a Glance

King Arthur
0
out of
5 (
0
Reviews
Review
)
Customer Reviews
The Cure of the Insomnia!!!
Merlin speaks so much and so slowly ... I almost fell asleep! Almost only HOS, and the images are so tiny ... is almost impossible to see, even more in notebook. The mini games do not bring anything new, and they are easy and silly. Very Boring Game
January 13, 2012
Meh
The artwork on this game is really good, however some of the HO are so small, you need a magnifying glass to find them. The puzzles are too easy. The story line is interesting, however the narrating by the wizard gets annoying because he speaks so slowly. This is a good game for the 10 and under set.
January 1, 2012
My kind of game!
I love playing this game over and over. I am partial to hidden object games that aren't tough. This one is truly fun. I don't have to do a lot of thinking to move on to the next level. If I start a game that takes me place to place with no help, I loose interest, and this game keeps me peeled to the screen. It is very relaxing, and passes the time with ease. Some objects are small, but not too tough.
January 7, 2012
Fun!
King Arthur--What a classic! AND a DD! This HOG/Puzzle game is not hard, challenging if your old eyes are at play though The graphics are wonderful. The music is mellow & for once no werewolves, demons, or gore. It's good versus evil. The HOG scenes can be challenging, as some things are tiny, but the interesting hint system (you earn hints & recharge for ruins) is unique. Merlin speaks like a patient old man-like a professor of folklore. Story is skippable after awhile, no click penalty unless you click fast. Puzzles so far are rather simple, but interesting. Worth it for DD, and to fill punch card, kid friendly
February 19, 2012
Terrible
This game is terrible. The game uses endless narration to progress the "plot". The HO screens are either inanely easy or impossible with no hints.
February 19, 2012
king arthur?s online vision test
how did young wart grow up to become Arthur, the most famous king of Britain? this hidden object game promises to tell you about the legend, including Arthur?s early years, how he pulled the sword from the stone, his long reign, his conflicts with the evil witch, Morgana, and with the appropriately named Mordred, who tried to steal the throne from Arthur at the end of his life. graphics (and complaints): those objects that are big enough to be seen are lovely. the first hidden objects scene of the game (merlin?s chambers) is one that you search twice, but for different items each time. why didn?t the developers combine these two searches into one? fortunately there is no click penalty since you are not provided with a hint button so completing the scene will keep you frustrated (especially trying to find the lizard). speaking of the hint button, after you leave merlin?s chambers, you FINALLY do get a hint button, although it is quite different from what you are familiar with. in this case, the developers give you FOUR different hint buttons, each of which does different things, and each of which is recharged by finding and clicking on ancient runes. why isn?t one hint button isn?t good enough? why do we need FOUR variations on this theme when they all give the same result in the end? anywho, i decided that the developers were just being annoyingly clever by overcompensating for the lack of a hint button at the beginning of the game. i was also annoyed by the sword scene since there were many many dozens of swords to look at, and roughly one dozen of them (one-third or so) are meant for you to find, but the differences between each sword is very minor and difficult to spot because, of course, the swords are all so tiny. further, if you click on an object before it pops up in your item list, nothing happens, so you may end up clicking on the same object three or four times during your search. music and voiceovers: the music is appropriate. Merlin?s voice makes me think of a grandfather who is falling asleep whilst telling a bedtime story to his grandkids. my interaction: one hour demo. absolutely NO plans to purchase this game. i am very passionate about the King Arthur legend and have read everything i can get my hands on about it, so i was quite pleased to run across this game. but my happiness was short-lived because i was very disappointed with this game. further, i suspect this game is targeted to kids, but the hidden objects are so tiny (or so well hidden in some cases), that even kids may end up needing eyeglasses if they spend too much time with this game.
June 6, 2012
A Lot To Like About King Arthur
Interesting storyline, told by Merlin, of how King Arthur came to be. This HOG/Puzzle game is not hard, challenging with some of the smaller items. The graphics are beautiful and you go from place to place on an ancient map. The music is soft and not annoying as a background. For the challenging HOG scenes use your spells (hints by another name). The hint system is an interesting part of the game - you earn hints & recharge them by collecting the different types of runes as per the rune menu. Merlin does speak slowly and softly but I didn't find it annoying. His instructions are clear and precise. Puzzles so far are rather simple, but interesting. The most challenging puzzle is the squirrel one - you have to be very quick or just wait over the hole until the squirrel cycles round. I liked this game and it is worth buying at $3.
February 19, 2012
Couldn't get into it
This game was just awful. Though the sound and the visuals were ok I just couldn't get into it. The scenes were extremely busy which somewhat adds to the difficulty and many of the items that needed to be found I didn't recognize the items and ones that I was sure met the description were the incorrect items. I would not recommend this game.
February 19, 2012
Lesson in History
I liked this game from the very minute I started playing it. The voice of Merlin totally mesmerized me and kept my attention. HO's are bit challenging, but that's the fun part. You have a map and a journal. Be prepared to put on your racing mouse to collect the necklace fragments from the squirrels. Some scenes are repeated, but with different HO's.. Sword scene has a lot of look-a-likes, so keep a good eye. A good lesson in history with pleasant background music. I bought it.
February 19, 2012
RUNES and HINT SYSTEM
This game starts off with 2 hidden objects scenes and NO HINTS; once you complete these 2 scenes is when the 4 hint supports kick in -- visibility (shows you where object is), drawn (as you get near the object, it's brought to the hint circle), vision (it shows you the silhouette of object and where it's at) and finally, the lightening bolt which just zaps the object from wherever it was. The runes are hint specific creations and if you use a hint within the hidden object scene, you can select those 3 specific runes (there's a rune "map" on your lower left-hand side of screen) to replenish that particular hint while STILL in THAT specific scene. I found a couple of names of hidden objects to be rather, hmm..how do I say it -- INTERESTING? You're asked twice toward the end of the game to find paprika. Okay, fine -- looking and looking for the spice and finally broke down and used a hint to find out in both scenes that paprika in the game developer's mind are 2 different colored bell peppers; huh??? In what country? A sling is actually a slingSHOT. I did NOT like the fact that you had to go to the Main Menu to get out of the game to look at the walk-through; most games, you're able to click on the "start" button that's on the keyboard to peruse the walkthrough. In having to go to the Main Menu of this game to use the walkthrough forces you to lose whatever work you'd started in that particular scene forcing you to re-do that particular area. I liked the mini-games but the instructions are rather ambiguous; they're worded so tersely that I had little idea of what actions to take to complete them. Two of them I just skipped because I honestly had NO idea as to how to accomplish the tasks. Merlin, the magician's voice was great and the music was FABULOUS -- very upbeat and medieval. I really appreciated being able to read the entire script while "Merlin" was speaking.
February 19, 2012
The Apple logo is a trademark of Apple Computer, Inc.