Time Mysteries: Inheritance
Exclusive
Vivien Ambrose has just discovered how to travel through time! After an evil time traveler kidnaps her father, it's up to Vivien to follow them to the past. Using a mysterious crystal ball, visit the past, and meet Vivien's ancestors. Collect seven magical rings to power up the crystal ball in this Hidden Object game. Set off through history in Time Mysteries: Inheritance!
Awesome gameplay
Fantastic plot
Find Vivien's father!
Game System Requirements:
OS:

Windows XP/Vista/7/8

CPU:

1.4 GHz

RAM:

256 MB

DirectX:

9.0

Hard Drive:

339 MB
Game Manager System Requirements:
Browser:

Internet Explorer 7 or later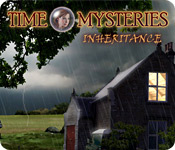 NEW299
The Big Fish Guarantee:
Quality tested and virus free.
No ads, no adware, no spyware.

Reviews at a Glance

Time Mysteries: Inheritance
0
out of
5 (
0
Reviews
Review
)
Customer Reviews
Time Mysteries: Inheritance
23
23
It's relaxing and entertaining enough to while away a chilly afternoon
This game is an light interpretation of an IHOG. Although the retained items are used immediately. Loaded and ran just fine. Filled my 22 inch screen. Separate options for sound and effects. No problem with cursor. You can skip or advance the graphic story as you see fit. Graphics are hand drawn and quite well done. Bright colors and clear lines. No dark scenes so far. Music doesn't bother me though I have it set low. It sets the feel for each time piece fairly well. I must add that it seems at times to be set on a strange loop. Either this is suppose to sound like a record that ends with a scratch or the loop is off. Mini games have been varied and simple but entertaining. Some have been refreshingly different such as the chess board. Not difficult but a nice change.They also remain consistent to the story. The only repeating one to occur divides each chapter. It is a "Spot the Difference". Though I read a lot of complaints concerning this mini it happens to be one of my favorites. I for one can not stand sliders but they seems to be popular. Bravo BF for providing options for all. I played on challenge level so hints are supposedly very slow to refill though I didn't use any. Also no sparkles on this choice. They do occur on the casual level. HOG items seem apropos to the time scene. Well hidden without strained attempts. No off color items or strange sizing. Nothing hidden behind things. Just well placed. The story line is fairly usual and on the light side but I do like the interaction with the ball. Some of the repartee has been quite glib and cute. Wish that had occured more often. Length seems fairly average. You goal is to collect 7 rings and I had 2 after the first 50 minutes with only one minor interuption for a phone call. I just sat back and took my time with this. No timer ...no hurry.
November 11, 2011
Pleasant Surprise
Story: Vivien Ambrose has just discovered how to travel through time! After an evil time traveller kidnaps her father, it?s up to Vivien to follow them to the past. Using a mysterious crystal ball, visit the past, and meet Vivien?s ancestors. Collect seven magical rings to power up the crystal ball and rescue her father. Release Date: Oct 2010 Bling!: Talking Crystal Ball? Having enjoyed Time Mysteries 2, and bought TM 3, I grabbed this on a DD, expecting to hate it, but wanting the full set. I was in for a surprise. Sure, the graphics are 2010 graphics, but good enough not to interfere with game play, and the story was just plain fun. With the help of a talking crystal ball and family magic you had no idea you had, you set out for adventure into 10 (!) different centuries. Now I?ve no idea how historically accurate the game details were, but there were no telephones where there shouldn?t be. Same goes for the music. Each century had its own soundtrack, and they felt right to me. Obviously, each adventure is short, but again with the fun. The emphasis was on HOs, which is fine by me, but there were some easy (also fine by me) puzzles and mini-games as well. Altogether, entertaining.
April 15, 2013
Nice hide and seek game
I made the mistake the play first the second game and then this one the first in series. I will not say this wasn't a good game but I was spoiled by the second in line. :) So I do my best to forget for a moment game of this serie and try to be very (ahem) unprejudiced. You are looking for your father who is kidnapped by a strange looking man. Who and where the kidnapper is you don't know. You learn that you can travel thru time and that is what you are gonna do to find your father. A lot. ;) The game is, for me, easy. I find this alway diffucult to say. It can for me be easy but for another one difficult. But overall it's not very challenging. The only thing here is sometimes to look very good for the things you need to find. The graphics are a little minor. But like I said I got spoild by the second game in this serie. It's not ugly but flat. You know what I mean when you see it. The music is sometimes annoying. Could be me, I am not in favor of game music. When you are a little long in a time period you get the same tune over and over again. Overall, it's a nice game for a boring day. And when you playd this one do the second one after it. I like it when I see a game grow. And with this serie it grows a lot. I hope we see more of it. Have a nice play Zhensu
November 13, 2011
Solid Hidden Object with some Adventure
I'm giving this 5 stars based on the release date of this game. All games are bound to become dated but for now this one holds up well. It does stick to a basic formula with some repeat actions. But, each time the theme is changed and I think the storyline keeps it interesting. It is a game you either enjoy as an entire package or not so much if you only want the game play. I love Match 3 so I really enjoyed the option of playing one for a while to earn more hints. I found myself using hints more freely just to play the Match 3 for a couple of minutes. The mini-games were fun and while "spot the difference" is not my favorite mini-game, they were short and easy to get through. This is actually the second time I played this game. I just got the sequel and wanted to refresh my memory on the storyline in case it carries over. I did not find it tedious to play even a second time. In general, if you want a basically fun game with moderate challenge and a decent storyline, you will enjoy this.
March 21, 2012
A little too easy/short
While the visuals are stunning, and the team has done some amazing things with colour in regards to the evidence room, overall the lack of sound effects and short levels are a bit of a disappointment. I appreciated their (reasonably) accurate portrayal of different time periods, and the concept itself was an interesting one, but the ending disappointed me, so I'm sorry to say it's not a favourite. I do look forward to checking out their other titles, however, and the match 3 minigame you can use to recharge your hints was a welcome break from hidden object and spot-the-difference scenes. Just try to pick it up on a $2.99 sale, like I did, and you'll get good value for your money.
December 2, 2011
Repetitive and a Bit Monotonous
While the game has a decent story line, it gets very thin in spots. The basic formula of the game is go to a *scene* in time, do 1 or 2 things to get a ring. Go back to the crystal ball area, place the ring in the orb, go to the archive room and collect objects for the time period. Repeat. It isn't a BAD game. But there really isn't much of a challenge if you're looking for a true adventure type of game. If your main desire is to play HOS's, you'll be fine. This shouldn't even be under Adventure games.
January 29, 2012
One of my favourites!
I do like this game! It was one of the early HOGs I bought and I have played it several times. True, it's not the most challenging game in the world and true, getting from one chapter to the next is a somewhat repetitive process but for me it has a number of good points: 1) It's set in England - very welcome to an ex-pat Brit. One of the HOS's even has a CRICKET bat to find. Yay!! 2) The storyline really appeals to me. The final scene/denouement is really up my street (no spoilers here!) 3) I love the music. I have a respectable collection of Mediaeval and Renaissance music and much of the music in the game is familiar to me. 4) I like the way you can recharge hints by playing a mini-game. 5) It's light and bright for the most part - no repeated dismal grey scenery. [Aside: I wish that developers would get the message that there are lots of us out here who do NOT like the Twisted-Murder-In-Dark-Valley type of game, nor the depressing stories in sordid psychiatric hospitals.] I play games for relaxation and this one fits the bill nicely. It may not be everyone's cup of tea, so try before you buy.
December 15, 2012
Did anyone else feel like they were stuck in mystery science theatre or Bill an Ted's bogus journey or Dr. Who??
What I liked: Puzzle games Interactive with characters To do list in journal mini-games to get hints I think it cured my insomnia I like the time travelling What I didn't like: The storyline was a good thought, but it came off a little corny. The HOS's weren't bad, but were not greatly amazing either. I felt like I was playing an older game, and it felt like maybe it was meant for younger audiences. The music was OK, and I did like how it changed up the sound to suit the area. I just was not impressed by this game, and it took me trying to get through the demo hoping that it was going to get better as I went along. I could see the making of a really good storyline and I like traveling and being in different places and more areas than one or two. I might change my mind if it was a 2.99 game, but even then I fear I might be disappointed in the end. I hope the people who are playing the game are enjoying it and find it to be a great decision for a game. :)
December 12, 2011
Easy, Light Hidden Object Game
The theme of the story is a bit overworked, time travel/missing father etc, but the graphics & music are quite nice. The game is a combination of hidden object scenes as well as finding items to interact with other items in the game. The puzzles in the mini-games are simple & not too taxing. The hint system however, is novel, & is recharged by playing a match 3 game if you run out of hints. Overall, I would class this game as easy, light entertainment, something to do when you don't want to stress the brain cells too much.
November 29, 2011
One of the more enjoyable titles.
I liked it! One of the earlier games I played from Big Fish as it was the first one I ever saw on sale and I was not disappointed. It's a pretty good length, so I'd say worth it even if it isn't on sale. The art is nice, storyline pretty good and the mini-games are pretty decent and fun.
November 25, 2011
The Apple logo is a trademark of Apple Computer, Inc.