Incredible Adventures of my Mom
Help Mrs. Burley, and her detective son Sammy, as they dive into the Incredible Adventures of My Mom, a fun Hidden Object game! After the Chief of police is kidnapped, Sammy is put in charge of an extremely dangerous case. Mrs. Burley decides to travel to Italy to help look after her son and ends up in an Incredible Adventure. Travel to beautiful Italy and experience once in a lifetime excitement!
Hilarious storyline
Fun gameplay
Help stop the mafia!
Game System Requirements:
OS:

Windows XP/Vista/7/8

CPU:

1.0 GHz

RAM:

512 MB

DirectX:

9.0

Hard Drive:

123 MB
Game Manager System Requirements:
Browser:

Internet Explorer 7 or later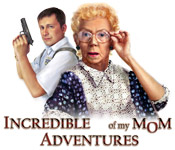 NEW299
The Big Fish Guarantee:
Quality tested and virus free.
No ads, no adware, no spyware.

Reviews at a Glance

Incredible Adventures of my Mom
0
out of
5 (
0
Reviews
Review
)
Customer Reviews
Incredible Adventures of my Mom
17
17
Lots of fun
Cute, enjoyable game. Nothing too challenging here, but a nice way to relax and unwind. I liked that it was more than just finding the HO's. There was some character action needed at times which made it fun and, IMO, actually qualified it for the adventure game category as well as hidden object. Nice, varied scenes- not just old junk piles to search. I liked the mini games as well, which weren't just the same few repeated throughout the whole game. I thought the visual quality was good. Can't comment on the sound quality as I play with the speakers off. Overall length of game was good when played at a leisurely pace. Nothing irritates me more than a game that only lasts an hour or so. Plot and story are obviously stretches of the imagination with plenty of gaps, but it didn't ruin the fun of it for me. I don't buy games like this for the storyline. Probably not for the high intensity gamer, but for those who like to sit back and enjoy the game for what it is- just for fun- I recommend it.
December 18, 2011
Just so funny!
My review after downloading perfectly and playing the whole game. The screen width can be altered, will help, some people that have found this to be a problem. The music is not annoying but I thought repetive. Reasonable easy HOG scenes, but is that really a suitcase? LOL. Predictable with having an idea of what you would have to find for the next list. I do not want to spoil it so you will see what I mean by various items of the same type lying around. The hint recharges pretty quickly,( I wanted to try it out). If an item looks out of place it is probably on the list. A definite buy if you want a lighthearted game. There is a bonus game as when I pressed the about button it showed a sign for bonus game. The graphics are very crisp and clear and could be considered an IHOG. I am not as good as some of you on my reviews but hope that this helps.
February 8, 2012
A not too heavy who dunnit
A police chief has been kidnapped and the second in charge has been promoted to handle the case. His mother hears about the mafia involved intrigue and flies to italy the assist her son Sam in his investigations. This is actually a light hearted adventure of a mother taking on the Italian Mafia in a foreign country. Not feasible but a good yarn. The dialogue was just enough to be a guide through the game and did not tie it down. The graphics were good, clean, clear and colourful and the puzzles were not that hard to find but had to be searched over two or three adjoining scenes which involved a bit of a challenge. The puzzles and mini games were reasonably simple and digestive. Overall a good lighthearted interesting game well worth a try.
June 21, 2012
better than a mystery book
This is a great game. I couldn't stop playing at the end. It was so funny, a great story and great characters. I don't usually do well with trying to put things together but the action was confined to a few locations at a time and the hints were helpful and rechargeable.
January 26, 2012
Fun game !
It was funny, it had alot of cute interactive details (like, Mom would nap if you took too long) , it had a bonus play game introducing all the developers team. The hidden object scene hunts were mostly for story relevant objects. It was entertaining! There were just a few language localization errors but they were fun, too. Like a "nose scarf" is a handkerchief
June 2, 2012
I laughed til I cried!
This is without a doubt one of the most unique games I have ever played. A man has just been made police chief and his "momma" finds out he's on a big investigation and decides since she misses him so much and he won't come home, she is going to go to Italy and "visit" him. Without giving anything away I can tell you that she is one step ahead of her son on the investigation all the way, even though she is constantly looking for him (?). Her comments and achievements throughout are enough to make me howl with laughter (she finds an unconscious man sans clothing cowering behind a barrel and collects his clothes for him so she can question him). The HO's are not in dark, dimly lit scenes, but can provide a challenge to find in that sometimes you have to "move" something else to get to them. The puzzles are frequent (too many for me) and lots I have never seen before. The scenery is gorgeous, the music unobtrusive, and the story line is fantastic. I don't normally play Hidden Object Games because I think about 98% of them are dark, ghoulish and I just don't care for that, BUT, since there are such slim pickings out there right now for anything else, I decided to try this one and I bought it about 20 minutes into the free trial. I hope you enjoy this one as much as I did!
April 20, 2013
Fantastic adventure game
I won't go into all the technical details as that's been done already - I just wanted to say this is one of the most fun games I've played in a while! Great storyline, good sense of humour, beautifully animated, great balance of HO, puzzle and adventure genres - just an all-round winner. And not a single werewolf in sight. I wish there were more games like this on BF.
August 15, 2013
Great Game!
This game has a few bad reviews and I'm trying to figure out why? Though the door on the lighthouse does seem to have a bit of trouble opening with the key still this is just such a great, fun and enjoyable game all in all! it has great graphics and the HO'S were not too easy to find though not real difficult either making it very enjoyable and relaxing. The storyline too I enjoyed and thought it funny and endearing. I really enjoyed this game and would love to see a second one. Thanks Big Fish!!
February 18, 2013
Lots of fun and very entertaining
As others have mentioned, many objects are misnamed, such as "plates" when you're supposed to find vinyl records... and when looking for "watches", be sure to check for clocks as well. Some of the objects were hard to find because they blended too well with the background, especially in dark spots; but, for the most part, they weren't too hard. The artwork is beautiful, and the music pretty decent, although it did get a bit annoying in spots. I thoroughly enjoyed this game! It's so nice to find a bright, cheery, fun game with many touches of humor! Just what I need after a hard day at work to unwind and relax. The mini-games were fun, which is more than I can say for most, and there's a skip button (a must, in my opinion). I normally loathe the mini-games and find them an annoying interruption to game play, but these were fun and easy to get through. Hard-core gamers will hate them. This game is for those like me, who want a nice, relaxing, fun game to unwind with after a hard day at work. When my brain is mush, I want something that's just hard enough to keep my interest, but not so hard that it frustrates me (as so many games do). I don't want to WORK for my entertainment! So, in a nutshell, this is good when you're mentally and physically tired and you want to be entertained at an easy, relaxed pace. Definitely not for hard-core gamers, who'll probably find it boring and not challenging. Bonus Play: Loved how you introduced the development team! You guys did a terrific job on this game overall, and I hope to see many more games from you! But please, do get someone to check the English names for things... some were funny, like "nasal scarf" (and another term I forget) for a handkerchief or bandanna used as a mask, but calling a grenade a "garnet"? Almost forgot to mention that I also loved the interactive play --e.g., you have to gather ingredients that you then mix in a certain order so can accomplish something that moves you forward in the story. Great way to weave a mini-game into the story!
November 21, 2014
Great Little Game
I really enjoyed this little game. Really cute character as the mom, and I enjoyed the scene changes and the colorful atmosphere. Easy little mini games, a little fuzzy on the HOS's, but all in all, worth a few dollars. ESL is apparent, as a handkerchief is labeled "nasal scarf" and a grenade in a couple of scenes is a "garnet." The hint button recharges fairly quickly, though, so if you can't find the garnet or the nasal scarf, the hint function will save you!
November 5, 2012