Dark Tales: Edgar Allan Poe's The Black Cat
Go on an adventure with Inspector Dupin! Monsieur Mark Davies has reported his wife, Sara, missing and now it's up to you to track her down and solve the mystery! Follow a mysterious black cat, who seems to be purposely helping you, and discover helpful clues in Dark Tales: Edgar Allen Poe's The Black Cat. Use your Hidden Object talents to tackle the case, and discover the evil culprit behind Sara's disappearance.
Incredible gameplay
Exciting story
Help Inspector Dupin!
Game System Requirements:
OS:

Windows XP/Vista/7/8

CPU:

1.4 GHz

RAM:

1024 MB

DirectX:

9.0

Hard Drive:

410 MB
Game Manager System Requirements:
Browser:

Internet Explorer 7 or later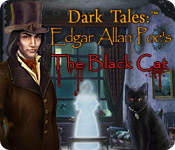 NEW299
The Big Fish Guarantee:
Quality tested and virus free.
No ads, no adware, no spyware.

Reviews at a Glance

Dark Tales: Edgar Allan Poe's The Black Cat
0
out of
5 (
0
Reviews
Review
)
Customer Reviews
Dark Tales: Edgar Allan Poe's The Black Cat
44
44
It?s A Big Step Up
GAME COMPLETED SEVERAL TIMES Ah, the charming M. Dupin is back with a new investigation, and has asked his ?talented assistant? (that?s you ? he?s so sweet!) to help find a missing woman. Mysteriously, a black cat is the one to greet us on our arrival, and throughout the game he points us in the right direction to new evidence and clues. That you are no longer an apprentice and must meet new, higher, standards of investigation soon becomes obvious. This game is a big step up from the original Dark Tales: Murders In Rue Morgue. Besides a different and more complex story requiring much more independent thinking, we have dozens of interactive HOS to scour. They are still beautifully crafted, a step closer to the pastel colours ERS are known for, and the item list still doesn?t tell you which items are interactive. We now visit all those HOS twice. We have a lot more puzzles ? though still not many by today?s standards ? and they are still easy. However, we now get instructions for some of them. And they combine with an increase in the adventure content to radically change the nature of the game play. We are at liberty to wander all the sites already opened at our leisure, and with no hint button and no map, you could be at it for quite a bit before you get back on course. The journal is a great way to keep the story in mind and describes events well, but is no real use as a guide. This is where the Dark Tales series first dips its toe into the world of true HOPA games, and the experience is a nicely paced adventure perfect for the intermediate player and/or Edgar Allan Poe fans. PS. Crazy cat ladies might enjoy chasing a black cat through the grounds of a dilapidated estate as well!
April 3, 2013
Another Edgar Allen Poe story made into a game
Review after finishing the game: The Good: + long game + adequate graphics + classic Edgar Allen Poe Story (which I did not know before)... + that for some reason sent some chills down my spine, even though there was nothing scary about it + good mixture of puzzles ranging from the brain dead easy to the impossible (slider puzzle) The Neutral: o Items are put back into a given hidden object scene o would have liked a minimap for fast movement... o ...and a little "Area clear" sign The Bad: - Items not true to size - Some riddles make no sense: Why not just move the rocking chair aside instead of building a contraption? Why do I have to light one candle on a chandelier (how do I reach it when one scene later I can't climb a fountain?) and the next in a chimney (chandelier doesn't work on the second candle)? - lots of senseless running around to find something to do in a scene Bottom Line: Despite some quirks that wouldn't have been necessary this one is a very good game.
December 22, 2011
So Very Good, A Must Buy
Great game. Challenging. Tough puzzles. Great HOG. Not being a Poe fan I wasn't sure it I really wanted to play this but thought I'd give it a try. WOW what a great game. The graphics were great. I really like games that are true to the period and relative size of things. This game was. The objects were not hidden in a column or beam unless it was a number, images or the like. If it was an object, it was or it was obviously a drawing. I like that too. It was long also. I like that too. You know where the plot is going but hey, it's Poe so that's no surprise. The HOGs were great, the puzzles fantastic. I'm going to try out other Dark Tales, even though I don't really like dark themes. If the game play is good I can pretty much ignore the rest.
November 23, 2011
Wonderful Game
This is one of the first games I ever purchased and it was well worth it. The game features an engaging storyline based on a short story by Edgar Allan Poe (if you haven't read it, you definitely should). The graphics are amazing. Along with the music, they create a wonderfully gothic/romantic atmosphere, totally in keeping with the time period and literary genre of Poe. The puzzles are really nice, not too hard or too easy, and there are plenty of them along with a nice mix of HO scenes. Definitely recommend this game to anyone, but especially to Poe fans.
February 26, 2012
Could have been great...wasn't.
I read the story after buying the game and do like the games version better since it fleshes it out more. The scenes are absolutely beautiful and the music is lovely... except that it runs on a really short loop and plays the same thing over and over again. I muted it within minutes, something I rarely do. Why do I hate it? Because there is absolutely no rhyme or reason to anything you do. There is no using your brain and working through the problem, just stumbling from room to room hoping for some tiny little crumb to go on. Example: I would say "spoiler" but seriously, who's going to remember this??? You need a gear for a telescope...found it but it's bent...here's a vise to use to straighten it out...but the handle is missing...gotta get through this door but the lock/handle are broke...use the saw the cut through the lock...but the saw is too thick, take the blade out of the handle...but the blade is too sharp, find something to wrap it with...take wrapped saw blade and cut your way into the room...puzzle on the wall missing a piece...oh here's a wax statue...melt the statue on the boiler, there's the missing puzzle piece...replace the puzzle piece and work the puzzle, get a piece of chalk...go to the table and grind the chalk in the mortar & pestle...mix the chalk with the vinegar in the distiller to make "steam" to cause the key that found its way to the bottom of the distiller, to rise to the top...take the key and open a cupboard...take the vise handle, place it in the vise and fix the gear...place the gear in the telescope and discover you're missing a lens. WHAT??? I like a game that makes me think. This one made me pull my hair out. Ignore all the great reviews, I wish I had, and try it before you buy it. Seriously.
October 22, 2012
Another Good Story
This story was good like the prior game to this Murder's In The Rue Morgue. Although, in this game I found it was a little less fun because most of the problems were repetitive (i.e. You need a key for everything to unlock every door and chest). There was A LOT of search and finds in this game more so than puzzles and the puzzles were made too easy. Basically, once you unlocked a box or a door, it gave you the answer for another puzzle, which practically did the puzzle for you so you would not have to think about solving it, but you were missing a piece to solve it so you are given yet again another search and find to get the missing piece. The search and finds were somewhat made more difficult because the graphics was made poorer on those and the image you were shown was really jammed with stuff so your eyes could not focus properly. They did draw the people and the surrounding scenery good, but just not the close ups of things. Other then what I have mentioned above. I did continue to play because I wanted to know what happened to Monsieur Mark Davies' wife. Which was worth playing until the end.
November 21, 2011
Loved it but; not as good as Premature burial
I purchased this game because I enjoyed/loved premature Burial so much but this game someone got lazy. They did not have the inspector do any talking, you had to read the coversation; which was not as enjoyable. It is a delicate balance between too much talking and not enough I guess. For those who really like alot of HO and puzzles this is excellent becase ther seems to be more in this game as opposed to Premature Burial.
November 16, 2011
Another winner for ERS games and all Poe fans
What can I say, a must have for any Poe fan! The story line was classic and kept me interested all the way through. Although the puzzles had no intructions once again they are simple enough to solve or skip if you have to. The background music was excellent for the story, no VO though. Just long enough to keep you wanting more. PS: Look out for the chicken! LOL This second story in the Poe trilogy exceeded my expectations and is one I will play again for sure! Can't wait to start the Premature Burial!
March 23, 2012
I expected better
I purchased this game largely because of the description and, more importantly, the reviews. I started playing it. I keep getting caught in circles with nothing to do. The "action" is difficult to find and very obscure. I looked on the blog. Seems that other people also get stuck for long periods of time, can't find items, have restarted the game multiple times. Items are missing. All in all, this is a very difficult game in that you know what you need,but finding it and then using it (you must click exactly the right part of an item, or it doesn't work) , well let's just say, that the game is not user friendly. There is no map function so if you can't refind a room, you are just stuck. There is no hint function so that if you are stuck, you are given a point where to go. There are items that are clicked and they have no purpose. All in all, this game is just frustrating and annoying, Don't bother getting it.
October 15, 2012
The Best!!!
I found this game to be one of the best games ever! However I was tying to get through it without the help of the walkthrough.......no way!! Expect the unexpected!
December 6, 2011
The Apple logo is a trademark of Apple Computer, Inc.