Snark Busters
Join Kira Robertson as she sets out to find the Snark, an elusive creature few people have seen and no one has caught. Can you decipher the clues, solve the puzzles, and piece together the objects you need to track down your target? Follow the Snark through mirrors, into inside-out and upside-down worlds and join the Snark Busters club in this fast-paced and exciting Hidden Object game.
Multiple minigames
Perplexing puzzles
Help Kira find the Snark!
Game System Requirements:
OS:

10.5

CPU:

1.0 GHz (INTEL ONLY)

RAM:

512 MB

Hard Drive:

218 MB
Game Manager System Requirements:
Browser:

Safari 4.0 or later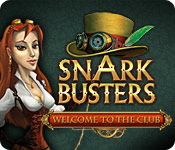 NEW299
The Big Fish Guarantee:
Quality tested and virus free.
No ads, no adware, no spyware.

Reviews at a Glance

Snark Busters
0
out of
5 (
0
Reviews
Review
)
Customer Reviews
Great game
Recommend this game. Liked it so much that I am getting Snark Busters 2 now.
February 9, 2012
Awesome game!!
I got this game on my iPhone but it looks the same from the PC preview... I loved it... definitely a lot of fun!
March 3, 2012
Love this game
The soundtrack, the art, the wit, all very fun! Same for part 2 - great game! However... part 3, not so good. Seemed they got a little lazy making it. Shoulda kept similar soundtrack, it was so funky, and it just seemed the story was a bit blah. You guys should make it up to us with a part 4 similar to 1 & 2.
July 5, 2014
Fun
This was really just fun, and gave me some good laughs. Not really challenging or stressful.....just what I needed this weekend.
April 21, 2013
clever and fun
I enjoyed this one. I shared it with a young niece and nephew and they got into it, too. Clever, funny, and cute illustration. Some corny humor and you need to remember where you saw something earlier, so a bit of backtracking. I liked playing this.
February 22, 2013
Fun, but short - A guy's review
*review based on completing the full game* This is not a hidden object game (HOG), but it is similar. In this game you look for fragments to complete certain objects that you need to progress in the game. The fragments are for the most part rather easy to spot, but you have to do some small puzzles and some adventuring to be able to collect them all. This was rather fun, and was done in quite an entertaining way in this game. You sort of travel through mirrors to...uhm... mirrored rooms, and might have to solve something in one to have something happen in the other. The tasks were fun and logical, but also a bit on the easy side. Yet, I found the game highly entertaining. You play a kleptomaniac daughter of to an over-protective father, that happens to be the richest man in this universe. After getting grounded, you escape, and set off on your adventure. The storyline is comical but thin, but suits the whimsical humor set in this game. There are no voice-overs, just text. The graphics are nicely done in a steam punk comic kinda way. It will only play in 4:3, so if you have a widescreen you will get some black blocks on the side of the screen. The music is upbeat and somewhat jazzy, and it too suits the whimsical comic way of the game. Think cartoony. There is only one difficulty setting, and that one is rather easy. Experts of the genre beware, as this will probably be a breeze to play through. It doesn't exactly help that it is rather short either. But, by all means, the game was fun, so if you catch it on a daily deal, or have a credit that you need to use, do not overlook it. I recommend this game mostly to the younger crowd and to the ones feeling most comfortable in the easy/intermediate difficulty of games. Also, if you look for something lighthearted fun, this should please you. For the guys: You play as a female character escaping her over-protective father, but the gameplay should suit anyone. TJ
May 30, 2012
Bright, colorful, cute, and lots of fun!
Although I prefer regular hidden object games to fractured, this game still kept me entertained. When I saw this on a daily deal, I decided to play the demo and was so into the game I had to buy it when the demo ended. I loved how vibrant everything was. After playing several creepy and dark hidden object games, it was really nice to see something with some color and humor in it. The graphics were nice and the music upbeat. No creep factor here. If you're a steampunk fan, you'll absolutely adore the graphics. If you want to play a fractured hidden object/puzzle game that doesn't leave you pulling your hair out in frustration, this is a great game to go with. Some of the object pieces were difficult to find, others pretty easy. The puzzles weren't super difficult to figure out, but there was enough thinking involved so that they weren't gimmes. Another thing that made it a little less difficult is that with very few exceptions, the objects you pieced together had to be used in the room you found them in. No traipsing over dozens of levels to figure out where your object was useful. If you do get stuck, the hint button is great. It recharges fairly quickly, and will point out object pieces you may have missed or point you in the direction you need to go next. Again, this game is great for someone looking to be entertained and not overly challenged. I had a great time playing while it lasted. That is probably my biggest issue with the game- the length. I was able to finish in one afternoon with no problem. Because of this I'm not sure I would pay full price for it, but for getting it on a daily deal I'm very happy with it.
April 15, 2012
Froggy Fun
This one's a great game for quite a few reasons, but for me, the fact that it's a FRagmented Object Game, "frog", makes this stand out. Other FROGs I've played work along similar lines as HOGs - scenes in which you traverse and scenes in which you seek - and the latter are usually junkpiled. Not so with Snark Busters. Each scene you come to is your FRO scene, and the objects are plentiful and obvious - all excepting a few that'll slow down your search and helps the game not feel overly easy. Add this delicious not-too-fast, not-too-slow pace to the frequent minigames and you've got yourself a recipe for a few good hours of entertainment. This one let me down only in plot. Which isn't to say the plot is no good, or worse nonexistant. It's filled with plenty of mini challenges and smaller plots to keep things moving. I personally just didn't find it terribly entertaining. It by no means would stop me from playing and re-playing this game though. The music is short and repetitive and way too cheery when you're in your second hour of play, but the volume is adjustable, and you won't miss anything by turning it off #there's no dialogue, for example.# And a side note - I'm not hugely into steampunk, but even I appreciated a few scenes. If you're a fan of it then this will definitely light a spark of delight for you.
June 11, 2012
Wanted to turn hints off!
This is the first app I've been so pulled in by the preview that I actually paid for the full game! And for the most part I LOVED playing this game. It took me a bit to get used to looking for parts of a whole, but I ended up really liking it better than many other hidden object games. And I really liked the added puzzles. My only complaint, and it is a big one, is that there is no way to turn off the hints. This made the game way too easy.
April 22, 2012
Quirky and Fun
I like the name first of all. I tried this game ages ago on a PC and liked it, so I got it for my Mac. It is fun and engaging and different, sometimes challenging. What was weird was I got right to the end, and I still had stuff to do, like open the safe, etc. and yet I was able to finish the game without doing that. Weird. It said I didn't catch the Snark that time but there were more adventures ahead...I don't know if I didn't 'win' the game, or it says that no matter what? Anyway, that was strange. But still a fun game and I will probably buy and try the others in the series.
September 5, 2013
The Apple logo is a trademark of Apple Computer, Inc.
The Windows logo is a trademark of Microsoft, Inc.