Time Mysteries: Inheritance
Vivien Ambrose has just discovered how to travel through time! After an evil time traveler kidnaps her father, it's up to Vivien to follow them to the past. Using a mysterious crystal ball, visit the past, and meet Vivien's ancestors. Collect seven magical rings to power up the crystal ball in this Hidden Object game. Set off through history in Time Mysteries: Inheritance!
Awesome gameplay
Fantastic plot
Find Vivien's father!
Game System Requirements:
OS:

10.4

CPU:

800 Mhz (INTEL ONLY)

RAM:

256 MB

Hard Drive:

149 MB
Game Manager System Requirements:
Browser:

Safari 4.0 or later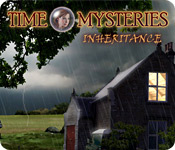 NEW299
The Big Fish Guarantee:
Quality tested and virus free.
No ads, no adware, no spyware.

Reviews at a Glance

Time Mysteries: Inheritance
0
out of
5 (
0
Reviews
Review
)
Customer Reviews
Time Mysteries: Inheritance
30
30
It grows on youA
At the start it seems too simple, too primitive, compared to more contemporary games, but then you notice that the settings tend to be beutiful, and also without obvious anchronisms. The characters we meet are pleasant enough (all members of the same family). There is enough of adventure to space the HOS. The HOS are not a random assortment of objects (except the archive room, of cour) but may be thematicallly related or be there logicallly (One HOS takes a whole room) If the HOS gets too tough, you can use the hints and then recharge them playing a match-3 minigame, which is a lot more fun than waiting for the HINT button to recharge. In the end, it turns up that it was a lot of fun
August 5, 2013
Very enjoyable HO game
This is a game about going back in time to solve problems. I liked all the characters and the dialog was kind of humorous. I thought the game was original and enjoyed following the plot to see what happened. I wasn't aware that there were two other games in the series, but now that I've played this one I'll definitely get the other two. There was quite a bit of repetition in the game, like going to the same room to find artifacts for each time period, but each time it was a little different. Once you were in a time period everything was original. Not a lot of backtracking. The hint system was good. You can earn extra hints by playing a match-3 game. There were also find-the-difference games and other mini-games. I was impressed with the game, enjoyed playing it, and definitely recommend it.
September 15, 2014
It's relaxing and entertaining enough to while away a chilly afternoon
This game is an light interpretation of an IHOG. Although the retained items are used immediately. Loaded and ran just fine. Filled my 22 inch screen. Separate options for sound and effects. No problem with cursor. You can skip or advance the graphic story as you see fit. Graphics are hand drawn and quite well done. Bright colors and clear lines. No dark scenes so far. Music doesn't bother me though I have it set low. It sets the feel for each time piece fairly well. I must add that it seems at times to be set on a strange loop. Either this is suppose to sound like a record that ends with a scratch or the loop is off. Mini games have been varied and simple but entertaining. Some have been refreshingly different such as the chess board. Not difficult but a nice change.They also remain consistent to the story. The only repeating one to occur divides each chapter. It is a "Spot the Difference". Though I read a lot of complaints concerning this mini it happens to be one of my favorites. I for one can not stand sliders but they seems to be popular. Bravo BF for providing options for all. I played on challenge level so hints are supposedly very slow to refill though I didn't use any. Also no sparkles on this choice. They do occur on the casual level. HOG items seem apropos to the time scene. Well hidden without strained attempts. No off color items or strange sizing. Nothing hidden behind things. Just well placed. The story line is fairly usual and on the light side but I do like the interaction with the ball. Some of the repartee has been quite glib and cute. Wish that had occured more often. Length seems fairly average. You goal is to collect 7 rings and I had 2 after the first 50 minutes with only one minor interuption for a phone call. I just sat back and took my time with this. No timer ...no hurry.
November 11, 2011
Pleasant Surprise
Story: Vivien Ambrose has just discovered how to travel through time! After an evil time traveller kidnaps her father, it?s up to Vivien to follow them to the past. Using a mysterious crystal ball, visit the past, and meet Vivien?s ancestors. Collect seven magical rings to power up the crystal ball and rescue her father. Release Date: Oct 2010 Bling!: Talking Crystal Ball? Having enjoyed Time Mysteries 2, and bought TM 3, I grabbed this on a DD, expecting to hate it, but wanting the full set. I was in for a surprise. Sure, the graphics are 2010 graphics, but good enough not to interfere with game play, and the story was just plain fun. With the help of a talking crystal ball and family magic you had no idea you had, you set out for adventure into 10 (!) different centuries. Now I?ve no idea how historically accurate the game details were, but there were no telephones where there shouldn?t be. Same goes for the music. Each century had its own soundtrack, and they felt right to me. Obviously, each adventure is short, but again with the fun. The emphasis was on HOs, which is fine by me, but there were some easy (also fine by me) puzzles and mini-games as well. Altogether, entertaining.
April 15, 2013
Nice hide and seek game
I made the mistake the play first the second game and then this one the first in series. I will not say this wasn't a good game but I was spoiled by the second in line. :) So I do my best to forget for a moment game of this serie and try to be very (ahem) unprejudiced. You are looking for your father who is kidnapped by a strange looking man. Who and where the kidnapper is you don't know. You learn that you can travel thru time and that is what you are gonna do to find your father. A lot. ;) The game is, for me, easy. I find this alway diffucult to say. It can for me be easy but for another one difficult. But overall it's not very challenging. The only thing here is sometimes to look very good for the things you need to find. The graphics are a little minor. But like I said I got spoild by the second game in this serie. It's not ugly but flat. You know what I mean when you see it. The music is sometimes annoying. Could be me, I am not in favor of game music. When you are a little long in a time period you get the same tune over and over again. Overall, it's a nice game for a boring day. And when you playd this one do the second one after it. I like it when I see a game grow. And with this serie it grows a lot. I hope we see more of it. Have a nice play Zhensu
November 13, 2011
A little too easy/short
While the visuals are stunning, and the team has done some amazing things with colour in regards to the evidence room, overall the lack of sound effects and short levels are a bit of a disappointment. I appreciated their (reasonably) accurate portrayal of different time periods, and the concept itself was an interesting one, but the ending disappointed me, so I'm sorry to say it's not a favourite. I do look forward to checking out their other titles, however, and the match 3 minigame you can use to recharge your hints was a welcome break from hidden object and spot-the-difference scenes. Just try to pick it up on a $2.99 sale, like I did, and you'll get good value for your money.
December 2, 2011
Repetitive and a Bit Monotonous
While the game has a decent story line, it gets very thin in spots. The basic formula of the game is go to a *scene* in time, do 1 or 2 things to get a ring. Go back to the crystal ball area, place the ring in the orb, go to the archive room and collect objects for the time period. Repeat. It isn't a BAD game. But there really isn't much of a challenge if you're looking for a true adventure type of game. If your main desire is to play HOS's, you'll be fine. This shouldn't even be under Adventure games.
January 29, 2012
Easy, Light Hidden Object Game
The theme of the story is a bit overworked, time travel/missing father etc, but the graphics & music are quite nice. The game is a combination of hidden object scenes as well as finding items to interact with other items in the game. The puzzles in the mini-games are simple & not too taxing. The hint system however, is novel, & is recharged by playing a match 3 game if you run out of hints. Overall, I would class this game as easy, light entertainment, something to do when you don't want to stress the brain cells too much.
November 29, 2011
HOG AIMED AT NOVICES; LACKS FULL POTENTIAL FOR EXPERTS
Less than 3 hours. Found myself quite disappointed in the game, which was very easy. Either it was targeted to novices or it missed its full potential by a landslide. One annoying feature was the sound the game made when the cursor went berserk because you couldn?t find a HO or you put the wrong thing together ? and it was quite loud, even at a decibel of 3 out of 100. STORYLINE: Dad left you a crystal ball (which you begin to call ?Ball? once you?ve found it) and 7 rings in the attic. Of course, dad is missing and the rings have been sent to their former owners. So you have to travel through time to recover them. Ending was sort of hookie. GAMEPLAY: Straightforward. The recovery of each ring was its own chapter and each was too short. Not very challenging except that sometimes the HOS enveloped an entire room and so some items were rather small. You have a limit of 4 hints and play a matching game to obtain more hints as needed. Your journal has your objectives for each chapter. To begin a chapter, you have a HOS in a storage room in which to find objects pertaining to the century to which you are traveling. There are a few HOS in the various locations. When you have a ring, you have to activate it by finding 7 differences in a picture of the ?now? and ?then.? If I had to do over, I wouldn?t buy the game unless I was a novice and needed experience. I couldn?t wait for the game to end and started using hints on the last ring to hurry it along. RECOMMENDED FOR NOVICES.
July 6, 2013
Just a ok game
Old HOS game. Lost to find and go places but just not all the fun.
February 19, 2013
The Apple logo is a trademark of Apple Computer, Inc.
The Windows logo is a trademark of Microsoft, Inc.